Flixster updates its Windows Phone app with unknown improvements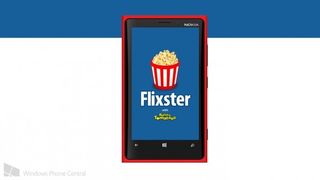 Movie app Flixster got a small bump up to version 2.2 today. There doesn't appear to be an updated change log and the "new features" section describes additions that were covered back in October, so we are guessing the update just brings bug fixes and performance improvements.
Should you not be familiar with the service, Flixster is a handy app that brings theater locations, movies times, industry news and Rotten Tomatoes reviews right to the start screen of your Windows Phone. While we're unsure as to what's new in this latest release, be sure to shout out in the comments if you notice anything.
It's fast and free and pretty to look at. You can get here or by using the tag below.
Update: This update is actually pretty cool. Version 2.2 of Flixster adds support for Ultraviolet. What's that? It's a system that allows you to stream and watch video content in your Ultraviolet collection. Just log in with your info in the "my movies" section. Enjoy!
Get the Windows Central Newsletter
All the latest news, reviews, and guides for Windows and Xbox diehards.
On a slightly different note, I wish Fandango would have done a better job supporting their app, it was really great, liked the fact that I could buy my tickets online. Strange enough, I still have the Fandango app on my HTC HD7 & it works, when it wants to.

In the new comments for the app someone says they can now watch there ultraviolet movies but you can't download for offline viewing yet. Don't know if this feature has been there or not though.

I can finally watch movies in my ultraviolet collection. The stream is steady, but it would be nice to download the movies instead.

Mapping feature still searches in bing, not here maps or Microsoft maps...

Missing the Critics Consensus section for each movie. It's what I usually go to first on the website.

Not available in Ireland for some reason. It used to be last year.

Same here in New Zealand. I can see reviews from people who have it here, but I can't download it.

I had it on my Omnia 7. I wonder if I go into my download history will it let me re download it. I don't know why they restricted regions like Ireland or New Zealand. It was a nice app when I had it before.

The Win8 App supports Ultraviolet so it is great that this is now on WP8! Cloud movie watching is the future!

Ultraviolet doesn't work on my Surface 2. It says Playback for episodic content is currently not supported. Samething on my phone. What's up?

Ultraviolet support? Finally!!!

Eff yeah. Really want a Vudu app, but this will due for now. Would love a download option. Now to me, this is news.

Yes, Vudu please! It's been a while since I bugged them about WP8 support. Time to hit their forum, Twitter and email again; thanks for the reminder.

Woohoo!! Ultraviolet support! yes!!!!! I emailed them numerous times about it so its nice to see they finally got around to it!

I complained a few weeks ago they needed to add Ultraviolet, so glad they're taking feedback seriously

Should've also mentioned Double Wide tiles... but Ultra-Violet is certainly nothing to sneeze at.

Flixter is nice, but I would still like to see a proper IMDB app!

I second that. the current IMDb works and still looks kinda nice, but it does need an update for WP8.

Flixter is a really cool app. I'm always surprised the session times are accurate for me since I'm in regional Australia.

I use Ultraviolet through Flixster. I believe I had to link the accounts the first time i did it.

Taking forever to load my movies. Hope it doesn't do this every time. Sucks a little. **Edit...well I can't confirm if UltraViolet actually works yet...it's been 13 minutes and my movies/shows are still trying to load. Anyone get their collection to load? I currently have 366 Movies and 21 TV seasons.

It never loaded my movies either, just stuck on "loading".

So glad this now supports UV streaming

Honestly still no HD trailers??

Is this US only for Ultraviolet? Just updated to 2.2 in the UK and no Ultraviolet option in my movies. That being said I don't seem to be able to install the Win 8 app at all anymore on a PC or Surface.

Likewise - I only have 1 ultraviolet movie in my Flixster account, but I'm not seeing this on the latest Windows Phone app (I am seeing my "want to see" films, though). Any UK users managed to see any Ultraviolet content in the WP8 app?

Well...it's been over 30 minutes and my movies will not load. It just continues to say "Loading".
ATT LTE 920.
I guess you need a small collection of UV titles for this to work. I will try it again at home on WiFi, but this is just silly.

Add in support for adding movies to your Netflix DVD queue, and I will forever keep flixster pinned to my home screen.

This app falls short. Still cant select an actor, director, etc from within a movie and see the rest of their filmography. As well as it is missing most of the features that make Flixter what it is (the web site).

So why doesn't UV work on my Win 8 phone or Surface 2? I only have 2 shows on UV, both are TV series. Is that why it won't work, does it have to be a movie?

This is wonderful news. Thanks so much, Flixster!

I wish Bing maps was its own app

Finally!!! I've been waiting for this day!!! Now all I need is Directv and Amazon Prime!!! I will be truly Complete!!! Thanks Flixster :)

This support is what I've been waiting to come to Windows Phone. Awesome.

Well. It will not load my movies. Worthless update for me.

Same here. Just keeps loading and loading.