Fortnite for Windows PC will soon pick up cross-play with PS4, phones... but not Xbox (Updated)
Fortnite used to be a game about building forts, but now it's a cartoony PUBG clone taking the world by storm, and soon, it'll be on iOS and Android phones as well.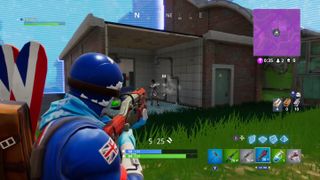 Update, March 13, 2018: Turns out that cross-play is coming for Xbox owners, but not with PS4, as Sony continues to lock Microsoft out of its ecosystem. Head over here for the new announcement.
Original article:
Fortnite is primarily a battle royale shooter, where 100 players parachute into a large map and fight to the last person standing. Unlike Player Unknown's Battlegrounds, Fortnite sports a over-the-top cartoony aesthetic, complete with wacky weapons, a robust fortress construction mechanic, and updates at breakneck speed. Oh, and did I mention that it's completely free?
Fortnite remains one of the most popular games on Windows PC right now, dominating streaming sites like Twitch and Mixer. And soon, Epic is bringing the full experience to iOS and Android, complete with progression syncing and cross-play between PC, PlayStation 4, and ...not Xbox.
In a statement on Epic Games' website, the company lauded the opportunity for mobile phone players to get in on the action with PlayStation and PC players, noting that the studio is working with "their friends at Sony" on the game's cross-play systems.
If you have an iOS device, you can jump on to Fortnite's website on March 12th to sign up for the invite event.
Considering Epic Games has "accidentally" enabled cross-play between Xbox and PlayStation before, why Xbox has been excluded here is anyone's guess, since the infrastructure is clearly there. It sounds as though Fortnite has some form of deal with Sony to make this a reality, shutting Xbox fans out in the process.
We'll reach out to Epic Games for a statement, but at least if you're playing on a Windows PC, you'll be able to get in on the cross-play action if you have a PS4, Android, or iOS device in the future.
Windows Central Newsletter
Get the best of Windows Central in in your inbox, every day!
Jez Corden a Managing Editor at Windows Central, focusing primarily on all things Xbox and gaming. Jez is known for breaking exclusive news and analysis as relates to the Microsoft ecosystem while being powered by caffeine. Follow on Twitter @JezCorden and listen to his Xbox Two podcast, all about, you guessed it, Xbox!
PUBG is exclusive to XBOX so Sony may want to have the cross platform play exclusive to PS4 for fortnight!

IIRC PC+PS cross-play was available from beginning, long before BR announce.

This happening kinda goes against Aaron Greenberg's "talks" with Sony trying to get Console cross-play happening between both consoles. Why I don't think this decision is fully Sony's doing this time but Epic's with Sony just jumping on board.

Since most of the user base is in BR, why not to make StW cross plat XB1+PC? Sony is against it?

Sony said they didn't want to cross-play Minecraft with everyone else because they were worried about exposing children to "external influences."
I guess they're over that now and are quite happy to see their PS4 gamers get raped online by PC gamers.

Can't wait to go up against Ninja on my iPhone

Still nothing compared to the crossplatform coup CCP pulled off with EVE+DUST514. I recall they explained they used PS3 + PC because MS wouldn't give them the access they needed to pull it off on XBox

https://www.epicgames.com/fortnite/forums/early-access/feedback/32123-co... Maybe it is Microsoft hindering the cross play?

Looks like my decision to sell my XBox One S and buy a PS4 Pro is already paying off..

That's the reason why? Rofl. There are plenty of reasons to like Playstation 4. This isn't one.

So sketchy. Why do they have to act all cloak and dagger about this, instead of simply telling us what the deal is? Leaves a bad taste in my mouth, definitely don't want to support company behavior like this

MS screwed Epic over big time in the past, so it shouldn't come as a surprise that they are being snubbed. Just like Platinum Games and Level 5, I doubt they're releasing games for the Xbox anytime soon.

There are rumors about a new game by Platinum for Xbox.

PG and L5... you might want to ask around if you have a chance drink with developers.

It's because of Epic games. They had a bad falling out with Microsoft so they try to not support them.

This has Epic's Tim all over it. My guess his bitter view towards MS still hasn't changed after that ahem.. attempts. But This move should not affect people from playing the game on xbox. If it does, Xbox has PUBG.

It's Xbox One X enhanced for one. Plays like a damn dream on the Xbox.

It's quite clear MS is the reason xb1 crossplay was removed. It was at their request. Read up on it.

That makes no sense whatsoever. Because when Epic accidentally put Xbox,PC and PS4 crossplay on for Fortnite Sony complained and got it switched off. Stating they wanted to protect their Children gamers. Whereas Phil Spencer tweeted at the time he thought it was great and wanted Epic to leave it on. Clearly showing it was Sonys issue. Now Sony seem to have entered a deal cutting Xbox out of it. Which is proven further By Microsoft trying to get Sony to come on over for Minecraft Crossplay. Which Sony has also refused. It seems the real truth here is Sony doesn't want gamers playing with the Xbox gamers. While Microsoft is very happy for Xbox gamers to play PS gamers. Sony are acting all arrogant. It's sad. Hopefully when PS5 comes out for £450 abd doesn't have full backward compatibility people will choose the by then cheaper One X for about £250 and still be able to play all new games till around 2023/24. Sony need a reality check right ow.

You should really look it up: "Per policy discussion with Microsoft, removed ability for PC friends to join players on Xbox One" "That makes no sense whatsoever. Because when Epic accidentally put Xbox,PC and PS4 crossplay on for Fortnite Sony complained and got it switched off. Stating they wanted to protect their Children gamers." Do you have a link with this or are you being your usual self?

Try google. It's on the news months ago.

http://gametyrant.com/news/phil-spencer-wants-fortnite-to-continue-allow... Also if your referring to the Epic forums regarding a claim Microsoft asked to turn off Xbox v PC its bogus. It was all speculation by the community. Not a single word was said by admin or anybody at Epic. I think Phil Spencer is far more trustworthy source than one forum speculation by people who don't know a thing behind the scenes.

and further. Sony need to get a grip. They won't allowing Switch and Xbox gamers to play with PS4 gamers due to safety concerns. But will allow PC and any mobile players to play with them? For real? http://www.eurogamer.net/articles/2017-06-13-sony-defends-decision-to-bl...

Sony talked about this for minecraft not Fortnite. Thanks for proving that you were talking bs. :)

And yet the same thing is happening with Fortnite? It's obvious Sony were lying with Minecraft. And now their customers are left without the latest version. because Fortnite proves they had no safety concerns. It was they didn't want their players playing with Switch or Xbox. Pathetic. And sad.

Sony have WAY more crossplay games with non-sony system, than MS with non-MS system. I guess you find them even MORE pathetic and sad...? I'll guess not because you're an hypocrite MS fanboy... LOL

https://kotaku.com/microsoft-says-sony-is-holding-back-fortnite-cross-play-1823707508
"Me 2," Spencer replied. Even Fortnite creators, Epic Studios, chimed in. "We 3!"

No it's a prediction. LOL
Windows Central Newsletter
Thank you for signing up to Windows Central. You will receive a verification email shortly.
There was a problem. Please refresh the page and try again.