LTE Tablet showdown: Lumia 2520 vs Surface 2; our readers weigh in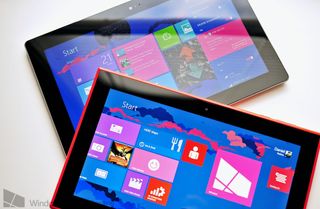 Our forums here at Windows Phone Central is the place to hit if you are seeking advice, support, or friendly chat for anything Microsoft related.
This week, within our Microsoft Surface 2 forum, reader, ThoughtHalo, wanted to know if he should keep his Nokia Lumia 2520 or trade it for one of Microsoft's brand new Surface 2 units with LTE. Let us see if we can help him out.
ThoughtHalo writes,
Our Editor In Chief, Daniel, recently posted a quick impression post of the latest Surface tablet to come from Microsoft and quickly addressed some of the main differences between the Surface 2 LTE and the Lumia 2520.
The Surface 2 (with or without LTE) has one of the best displays around – we are not just talking about the resolution, we are also talking about the color reproduction, contrast, and viewing angles. Screen sizes also differ between the two devices that might affect portability (but, just by tad); the Surface 2 LTE includes a 10.6-inch display, while the Lumia 2520 includes a 10.1-inch display. While the difference sounds minimal, the Nokia Lumia 2520 does feel a tad smaller to handle in person.
The Surface 2 LTE really scores points when it comes down to ports; the Surface 2 LTE does include USB 3.0, which may be a major factoring depending on what you are doing.
Microsoft and Nokia's keyboards are also very different beasts. While Microsoft's Surface Touch, Type, and Power covers provide wonderful typing experiences in a super thin and efficient form factor, Nokia's 2520 keyboard can feel like a bit of a bulky mess (although it would then provide you with USB ports).
Looking between the two tablets, it can be hard to pick which one you like better. Here at Windows Phone Central, we prefer the Surface 2 LTE to the Nokia Lumia 2520 due to the better screen, attachable keyboards, port array, and the overall better feel (metal vs plastic exterior).
If you want to get extremely technical, then here we go. In terms of hardware, the Lumia 2520 comes in at a height and width of 6.6 inches x 10.5 inches, while the Surface 2 LTE comes in at 6.8 inches x 10.8 inches – both devices are .35 inches thin. The Lumia 2520 weighs in slightly less at 1.35 pounds, while the Surface 2 LTE sits at around 1.5 pounds.
Both units have 1080p screens, but due to the fact that the Surface 2 LTE has a 10.6-inch screen and the Nokia Lumia 2520 has a 10.1-inch screen, the Lumia comes in with a slightly higher PPI of 218 (Surface comes in at 208).
Under the hood, both units perform very well within their Windows RT environments. The Lumia 2520 is powered by Qualcomm's Snapdragon 800 (2.2 GHz), while the Surface 2 LTE is powered by NVidia's Tegra 4 (1.7 GHz). Both units included 2GB of RAM to work with, so you will not be using these machines as multitasking monsters.
Also worth noting is that Nokia's Lumia 2520 is available in a 32GB version, while Microsoft's Surface 2 LTE is available in a 64GB variation.
The Nokia Lumia 2520's biggest selling point was the fact that it had LTE connectivity, but now that Surface 2 LTE has moved into that segment of the market, it is up to you to decide if Nokia's tablet is still a worthy competitor. Note: While the Lumia 2520 is available on both Verizon and AT&T, the Surface 2 LTE is only available on AT&T - something to consider if you have a lack of AT&T LTE support in the area.
Be sure to check out our forums here at WPCentral and to join in on the Surface 2 vs. Lumia 2520 by clicking here!
Get the Windows Central Newsletter
All the latest news, reviews, and guides for Windows and Xbox diehards.