Forza Motorsport 7 shows how 'Games as a Service' can hurt a beloved franchise
Forza Motorsport 7 might be a solid racer, but its ecosystem built for monetization only harms the franchise going forward.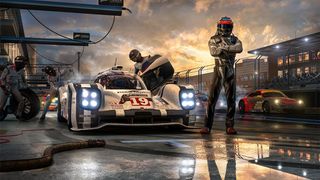 Late last week, Forza Motorsport 7's "Ultimate Edition" hit store shelves on Xbox One and Windows 10, ahead of the game's wider release. This $100 package not only provided access to the game four full days prior to other editions – it also granted a range of additional digital bonus content through VIP and Car passes.
In terms of its core racing mechanics, Forza Motorsport 7 still shows Microsoft's ability to consistently release expansive and robust racing games on a yearly basis. The game still feels great to play, looks stunning on standard Xbox One hardware and encompasses a wide range of racing experiences all under a single price tag. But at the same time, this year's Forza release has been met with a wave of controversy – in terms of raw gameplay Forza might feel great to play, but underlying systems have brought some unwelcome changes for its most dedicated players.
Rolling the dice
Since initial impressions of Forza Motorsport 7 have surfaced, one of the most frequent complaints has revolved around changes to the game's ecosystem. Although somewhat common in the industry today, Forza Motorsport 7 has been criticised for ushering a heavier focus on "loot boxes," which reward players with randomized drops of cars, "Mod cards," and cosmetic driver gear. This isn't the first instance of randomized drops being implemented in a Forza game (far from it), but this time around, they play a much heavier role in progression.
I'm no stranger to loot box reward systems – if you've played any triple-A game in the past few years, you'll have likely encountered them too. By redeeming "CR," which is primarily used for purchasing cars and upgrades, players can also secure one of these crates from the in-game store. Various tiers of crate pricing are offered, with the more you pay guaranteeing a higher chance for better rewards. This has become the standard for loot box implementation throughout the industry and Forza Motorsport 7 embraces a similar approach.
While cars and cosmetic gear might be the main draw of prize crates, the most frequent rewards at lower tiers are Mod cards – consumable items which can be applied to races for increased CR earnings. Whether posing a challenge to complete or changing race conditions, these cards provide access to additional bonus CR for straying away from your usual playstyle.
Nevertheless, in previous Forza games, these assists and their CR rewards were simply settings to enable before a race. Now, Turn 10 is clearly pushing to gamify these rewards, by requiring players to earn the right to even benefit from them. This makes for a vicious cycle of grinding for the opportunity to grind, that can fundamentally change the gameplay loop for some players. With CR essentially defining the game's ecosystem through cars and upgrades, placing high rewards for those who invest prize crates make these only the more tempting.
Not-so Very Important Persons
One of the main bonuses of the Forza Motorsport 7 Ultimate Edition is the "VIP" pass – a membership that grants access to an exclusive set of cars and cosmetic driver gear, while also speeding up progression. This pass has been a standard add-on across Forza releases for some time now and generally intended for regular players.
One of the most appealing benefits of VIP has been a CR multiplier, which permanently doubles earnings throughout your time with the game. This made investing into VIP a long-term investment, which significantly helps those grinding for specific high-end vehicles.
With the reintroduction of Mod cards in Forza Motorsport 7, Turn 10 has taken this as an opportunity to drastically change the contents of VIP passes in the process. This time around, the $19.99 purchase provides access to five consumable mod cards that double player CR earnings, despite not advertising this in the store listing. Furthermore, these cards can only be used five times, meaning only 25 races can benefit from these bonuses in total. And where will regular players go after these bonuses expire? You guessed it – loot boxes.
As of publication, neither Microsoft or Turn 10 have shared a statement following the backlash. However, they have quietly amended the VIP listing on the Microsoft Store to outline the consumable nature of CR benefits. Despite DLC not being covered by the Microsoft Store's self-service refunds, some frustrated players have managed to secure refunds, though results have been mixed.
The road ahead for Forza Motorsport 7
In terms of core mechanics, a lot of racing franchises can learn from Forza Motorsport 7 and it's worthy of much of the praise its received so far. But with changes to its ecosystem with prize crates in mind, it pushes the limit of what's currently accepted from a full-price triple-A title. While some of what Forza Motorsport attempts might not be new in the industry, the changes it makes beyond its predecessor are neither beneficial to the player or necessary to iterate on the franchise. Instead, its implementation only harms long-term progression and adds needless complexity to otherwise standard features.
What's worrying about Forza Motorsport 7's ecosystem is its potential to expand in the future, opening up a clear route for monetization. In interviews prior to launch, Turn 10 has even explicitly expressed plans to re-implement a "Token" system fuelled by real-world currency, assumedly based on the sales of the prize crates.
This leads toward uncertain territory, seen with many franchises, in an attempt to explore new monetization methods around pre-established content. Microsoft, like many games publishers, has continued to push franchises into a "Games as a Service" model, where regular content updates, expansions, and other purchases all build onto a single base package. Halo 5: Guardians and Gears of War 4 are both examples of games offering content updates and randomized loot boxes, and Forza Motorsport 7 is the latest to jump on the trend.
What lies ahead for Forza Motorsport 7 is still uncertain, although following recent events, Turn 10 should maybe reconsider how these systems are developed going forward. If anything, this hopefully sends a clear message to other triple-A publishers, in an industry where these models continue to harm long-standing franchises.
Get the Windows Central Newsletter
All the latest news, reviews, and guides for Windows and Xbox diehards.
Matt Brown was formerly a Windows Central's Senior Editor, Xbox & PC, at Future. Following over seven years of professional consumer technology and gaming coverage, he's focused on the world of Microsoft's gaming efforts. You can follow him on Twitter @mattjbrown.