Watch the archive of our Forza Horizon 2 Twitch preview right now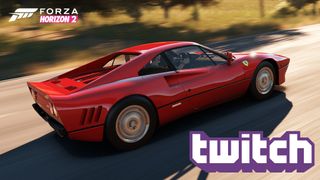 The latest in Microsoft and Turn 10's Forza racing series, Forza Horizon 2, will arrive on Xbox One and 360 next Tuesday, September 30. We plan to have a comprehensive review ready to go at that time.
In the meantime, Windows Phone Central is celebrating Forza Horizon 2's upcoming release with a Twitch streaming session! Tune in to my channel at Twitch.tv/EastXTwitch tonight at 7pm CST (-0600 GMT) to see me play the full Xbox One version of Forza Horizon 2 for one hour. Let's chat and have some fun as we preview one of this year's hottest Xbox titles.
Read on for a quick rundown of Forza Horizon 2 and why we're so excited to play the game on Xbox One.
Watch live video from EastXTwitch on Twitch
Prepare for Forza Horizon 2
The Forza Horizon games present an open world setting in which players can freely explore beautiful terrain and cityscapes, participating in scores of races and events as they encounter them along the way. These games still offer all of the main Forza game's best features, such as realistic handling that can be adjusted based on your skill, loads of cars to collect, and more.
Forza Horizon 2 on Xbox One uses the Forza 5 graphics engine, which runs at 1080p and looks absolutely stunning. Horizon 2 one looks even prettier than Forza 5 though, as it adds new touches like a day and night cycle and rain!
Some racing games aren't much fun to play by yourself thanks to the unrealistic AI drivers you have to race against. Luckily, Forza Horizon 2 (like Forza 5) uses the power of the cloud to create Drivatars – AI driver profiles – based on the racing styles of actual players. As you cruise the roads and terrain of Horizon 2, you'll encounter AI versions of your actual Xbox Live friends and other players. It's an exciting feature that we look forward to showing off on our stream.
Naturally, Forza Horizon 2 offers strong online multiplayer features. Players can take online road trips together or simply enter online events. You can also create your own car club and recruit other players, much like the clan features in other games. Again, we'll dive into some of those features tonight.
Join us at Twitch.tv/EastXTwitch tonight at 7pm Central (5pm Pacific and 8pm Eastern) and be sure to say you're from WPCentral in the channel chat! Subscribe to my Twitch channel and follow me on Twitter @PaulRAcevedo to keep up with future streaming events.
Update
The streaming event was a blast! Thanks to everyone who showed up. We had some microphone issues for the first 22 minutes or so, but fixed them up eventually. The archived version of the video is now available to watch, and has been embedded in this story. Twitch has unfortunately muted the last portion of the song due to one of the game's songs hitting the site's copyright protection detector, but we'll try to get that fixed soon.
Windows Central Newsletter
Get the best of Windows Central in in your inbox, every day!
Paul Acevedo is the Games Editor at Windows Central. A lifelong gamer, he has written about videogames for over 15 years and reviewed over 350 games for our site. Follow him on Twitter @PaulRAcevedo. Don't hate. Appreciate!
Cool beans. I kinda liked the demo, but I will be waiting until I play/see the demo for The Crew before I chose my open-world racer for 2014.

Choose #englishNazi but yea demo looks nice

You can try on PC. Hint: It is not as good as FH2.

Drive Club will be good,but Horizon 2 is definitely better than The Crew, having played a demo of both.

You won't find a better racing simulator than Forza Motorsport and a batter arcade racer than Forza Horizon.

Very nice... @paul, your cockpit play s***s:) but thanks for sharing

@Paul Acevedo will the x360 version run at 60fps also, obviously at a lower resolution.

Xbox One version is 30fps.

Oh I didn't know, forza 5 runs at 60fps I thought horizon did too. But thanks.

This is an open world game hence the 30fps. 1080p.

No Xbox 360 games run @ 60FPS.

Forza 2,3, and 4 ran at 60fps, did the replays at 30fps. There are many games on 360 that ran 60fps, including Ninja Gaiden 2 & 3.

Horizon had much higher detail than Forza.

Dang, I'm not home. I'll watch the archive I guess

You do since you cared to comment :-)

No, really, no one cares about you in particular. It's funny how you were saving this reply for a chance to use it. You're not special.

If no one cared then there'd be no comments on this article. You so you just disproved your first comment with your last one.

He's right, aside from your parents, very few people care about you. In the grand scheme of things FH2 is much more important than you. So, yes, you could disappear tomorrow, no one would care.

Lets not invite suicide, kids. Not specifically from him but anyone reading.

Too bad Windows phone doesn't have flash... bla bla yes I know flash "is dead" however if flash is running on Windows RT Tablet why not on windows phone if now will be one Microsoft one experience? Well I'm not feeling that experience¬_¬+

Exactly, it is time to get Flash from IE11 RT onto IE11 WP. The RT tablets are using Snapdragon processors so it is doable on WP even as it was doable on Android with much older Snapdragon devices. If Symbian devices can run Flash Lite with 332 MHZ processors, all Windows Phones could handle a version of flash, especially the newer SD 200-800 series.

No thank you. I'm good without flash. Web developers are finally getting the message to drop it, and that's because of mobile devices refusing to support it. I use the LiveGaming app to watch Twitch on WP.

I love apps and I also love a real browsing experience and it will not be real one without flash sadly. Hopefully after Windows 9. Let's what MS announces on Build// 2015

Flash on Windows phones will never be a thing, android doesn't even support it now...

So is he playing the demo for an hour or the actual full game!?

If you read the note, you will find the answer to your f@cking question. I hope you know how to read, cheers.

Well thank you kind sir. I missed that little tidbit.

My pre-order copy of Forza 5 LCE has yet to be played and it's almost a year old. I'll have to grab Horizon 2 as well when I finally get an Xbox One. I've been waiting for a white console. :p

Subset Overdrive has a white console bundle. Looks amazing too.

I also will like a nokia -now Microsoft Mobile- to make a look-alike galaxy note device, sometimes I have the need to write stuff instead of always tapping my screen. The Galaxy Note 4 has better pressure sensitivity -like surface pros- and looks so cool. God DAMN IT Microsoft make my Surface phone and take my $

If you want to watch on your phone LiveGaming is a great Twitch client for WP.

This comes out for 360 but F5 never did...

Does forza 2 have split screen mode for local multiplayer? Not all of us can afford online multiplayer games lol.

Forza Horizon 2 does not have local multiplayer, unfortunately.

im still playing shift 2 every day lol

You have no one to blame but yourself for this.

$68 for 6 months. Wasn't so hard for me!

I'm so getting this when I get my Xbox!

This game is ridiculously good--even if you don't think you like racing games (this game will prove to you that you do). Free demo too.

Shame I have to wait till the 3rd Oct to play it. My most wanted game
Windows Central Newsletter
Thank you for signing up to Windows Central. You will receive a verification email shortly.
There was a problem. Please refresh the page and try again.