Four more Xbox 360 games added to Xbox One backwards compatibility list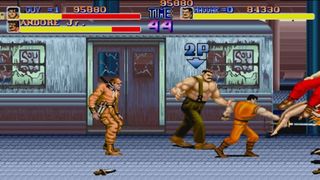 The Xbox 360 games Final Fight: Double Impact, Faery: Legend of Avalon, Frogger 2 and Puzzlegeddon can now be played on the Xbox One via its backwards compatibility feature.
The four new additions to the list were revealed by Microsoft's Larry Hryb on his Major Nelson Twitter account. Final Fight: Double Impact is the 2D action game from Capcom that combines the "ultimate" versions of Final Fight and Magic Sword. Faery: Legends of Avalon is a fantasy RPG from developer Spiders and publisher Focus Home Interactive. Frogger 2 is, of course, the sequel to the classic arcade game from Konami and Puzzlegeddon is a sci-fi themed puzzle game from Tecmo.
Keep em coming Posted via the Windows Central App for Android

Can't wait till they add Crackdown I,II and all call of duty titles.

Wow... Final Fight... serious throwback. I remember playing that game on SNES back in high school

Surprised they don't save them up and announce loads at e3.

The fans pushed for this type of release announcement. This is what we get now.

That still might be happening, but with bigger titles.:)

Still wish we could get Mafia 2 with part 3 coming fall time I would love to replay it on my Xbox one.. (I own it for the PC and 360)

Yes! Final Fight!! Is this the first Capcom arcade game on backwards compatibility? Let's hope for some of their fighting games!

Maybe, but old school megaman is there in a retro xbox one pack...

Yes... they have released a bunch of new content for Xbox One (Resident Evil games, etc). I'm talking about backwards compatibility... hoping they may release Street Fighter 3, Darkstalkers, etc. I'm sure the Marvel fighters are off the table, but they have lots of 360 Arcade games I would love to see backwards compatible.

Mike Hammer! @.@ Ugh, I'm at work...so boring lol =p
Windows 10 RULZZ yer FACE!!!

we know if they will add or make a remaster of Turok's series? Posted From my PC.W10 Master Race

How about Top Spin 4 since there aren't any tennis games at all on current generation consoles?

Promised: Bioshock franchise. Delivered: Frogger 2. Woo. I feel whelmed.

Yawn...give us games we can be excited about...

What about GTA IV & Episodes of Liberty city as well.

I really liked Faery, that game was fun.
Windows Central Newsletter
Thank you for signing up to Windows Central. You will receive a verification email shortly.
There was a problem. Please refresh the page and try again.