Four things you might have forgotten to do after installing Windows 10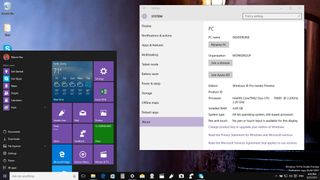 Windows 10 is out the door, and millions of users have already upgraded to the latest version. In part is because the new operating system packs a lot of new features, such as a more useful Start menu that combines part of the Start screen in Widows 8.x and functionality found in Windows 7. The Action Center, which is the new centralized location to review system and apps notifications. There is also the new Settings app that slowly begins to replace the Control Panel; Cortana arrives on the desktop with Windows 10 as well, and many new features.
However, it's also helping to the fast adoption that Microsoft is making the operating system a free upgrade for computers running a genuine copy of Windows 8.1 and Windows 7 Service Pack 1.
Today, in this new Window 10 help guide, we're going to go through a few things you might have forgotten to do after installing the operating system. These tips are also useful information for those who are planning to upgrade to Windows 10 in the near future – perhaps when Windows 10 Threshold 2 releases, as the operating system will be even more stable.
1. How to rename your Windows 10 PC
Since the beginning, users had the ability to name their computers anything they want, and it has been relatively an easy task to do for some people. Most of the time, users will simply choose a name during the installation process, but if you're performing a clean install of Windows 10, you'll notice that you won't be prompted to choose a computer name.
For some reason to speed up the installation process, Windows 10 will randomly name your computer on your behalf, instead of letting you pick a custom one.
In previous versions of Windows, you needed to go to System Properties in Control Panel to rename your computer, and while it's still true in Windows 10, for regular users this can be considered an advanced task to perform.
However, the new operating system also includes the Settings app. This is the centralized location that hosts many of the Windows 10 configuration options, (eventually, it will host all the Control Panel options, but it will take time until that happens). It makes a lot easier to configure many aspects of the operating system, including renaming your PC.
If you like to know or change your computer name in Windows 10, do the following:
1- Open the Settings app by clicking the Start button and clicking Settings, or use the Windows + I keyboard shortcut that will get right into the app.
2- Go to System and navigate to the About page.
3- On the About section, like in System info, you'll find your computer name, operating system edition and architecture, processor, installed memory, and more useful information about your system.
In this section, you're also going to find the button to change the name of your computer. Simply click Rename PC and enter the new name in the dialog box. You can choose anything you want, but you want to avoid using unsupported characters, such as < > ; : " * + = \ | ? ,.
As you can see in the screenshot, the length of the name doesn't seem short, but in practice, you don't want to go with a name longer than 15 characters (letters and numbers). You don't want to use spaces either. If you need to separate the name, a hyphen will be a better option.
4- After you enter your desired name, click Next, and then you'll need to restart your computer for the setting to take effect.
Note: If you have upgraded your PC to Windows 10, and it carried over your previous PC name, at least now you know how to change it.
2. How to change Date & time
Another setting the setup process doesn't let you configure is your time zone, and you probably have been using Windows 10 with the wrong time or zone.
To change the time zone and correct the time in Windows 10, do the following:
1- Open the Settings app by clicking the Start button and clicking Settings, or use the Windows + I keyboard shortcut that will get right into the app.
2- Go to Time & language and navigate to the Date & time page.
3- Under Time zone, choose your current time zone and that's it.
3. How to setup File History on Windows 10
In the same way Microsoft included a tool to backup files on Windows 8, Windows 10 also bundles the File History feature.
For those unfamiliar, File History is a tool in Windows that allows users to keep the all their files backed up on an external drive in case you need to restore one or all your files due to damage, accidental deletion, etc.
Compared to the previous version, setting up File History is much easier in Windows 10 than in previous versions.
To configure a file backup using File History, do the following:
1- Connect an external USB hard drive to your computer that know you won't be disconnecting very so often. Also make sure to the external drive has enough space, and space to the backup to grow over time.
2- Open the Settings app by clicking the Start button and clicking Settings, or use the Windows + I keyboard shortcut that will get right into the app.
3- Go to Update & security and navigate to Backup.
4- Click on Add a drive and from the list select the USB drive you connected.
5- Click More options. Here you can configure many options, such as how often to make a backup and how many versions of the of the backup to keep. Also, you can control which folder locations to include or exclude from the backup, and you have the option to stop using the drive for backups.
If you ever need to restore a file, simply use the Restore files from a current backup link from More options or right-click a file or folder, click Properties, and navigate to Previous Versions to recover the file or folder.
4. How to reclaim space after the upgrade
If you have performed an upgrade of Windows 10, to protect your previous installation and allow you to roll back, the setup saves a copy of your old installation. And this could take a lot of valuable space in your system, especially if you have a device with limited storage.
As such, if you're not planning to revert to the previous version and the upgrade went through successfully. You can easily get a lot of gigabytes back doing the following:
1- Go to This PC, right-click the Windows drive (C:), click Properties, and then click Disk Cleanup.
2- Then click the Clean up system files.
3- Make sure to select "Previous Windows Installation(s)" and click OK to delete files.
Now you might have free up between 10 to 15GB, which you can use for more important files.
Wrapping up
While the setup process of Windows 10 is pretty straightforward, there are still a few things you need to configure manually. However, with today's reminder your system should be a little more complete and safer from data lost.
If you have other suggestions, don't forget to share them with everyone in the comments below.
Windows Central Newsletter
Get the best of Windows Central in in your inbox, every day!
Mauro Huculak is technical writer for WindowsCentral.com. His primary focus is to write comprehensive how-tos to help users get the most out of Windows 10 and its many related technologies. He has an IT background with professional certifications from Microsoft, Cisco, and CompTIA, and he's a recognized member of the Microsoft MVP community.
Might "have forgotten", no?

Also in 3rd line Widows 8.X (priceless :D)

No problem. Thanks for the info

Well, who could forget anything with so many articles about how to plug in the power cord, how to press enter in Windows 10, etcetera...

Hey, everybody has to start somewhere, right?

You can put windows in Spanish but the keyboards in English's? Please tell me Dan or one of your staff

I can use Windows in English and keyboard in PT-BR, so I think so...

However, Spellchecking and Keyboard (And auto-correction on touch-keybord) are linked. I'm used a German Keyboard layout, but often (like now) write english. When I switch language to English, the keyboard layout also changes. Things like the dot, coma are different, which makes it very complicated for me. Or is there a way to change keyboard layout and spellchecking / correction independently?

I know it's 3 months old. Settings>Time and Language>Region and Language. Choose the English Language>Options. Add Keyboards, find the German style that you use. The layout of the German Language probably is already the right one.

Yes you can, you can have it in any language and add any keyboard you want. Just search for "region e idioma (creo)" in the control panel and go to the keyboards' tab. I think it can also be done from settings app but not sure how.

Ok thanks for the help... I will try any help Dan?

Yes you can, in my case, I have spanish language and both english and spanish keyboards installed. which of them, I use english keyboard setup when I do programming and the spanish one for everything else like chat or redacting documents

Removing Quick access while using shortcut win+E also important using new setting

Hey that was really a nice suggestion. I didn't know about it. Thanks :)

That was the first thing I did as most of the other things were carried over from 8

What I am seeing that '@' position has changed in keyboard. It might be irritating for some people

It's because of either the keyboard or region problem. Happened with me in Win 7 also. Try changing one of these.

I've always wondered why the option for a 24 hour clock isn't just a toggle instead of the current way of changing it.

Please hire a copy editor.

What about forgetting to turn off all the intrusive rubbish?

Unplug your computer from the internet.

That's not helpful. If you don't want to be helpful keep the snark to yourself. Just because you want to bare all doesn't mean everyone does. People caught and died for our freedom. Get educated.

Wasn't being snarky, that's pretty much the only way. We're all spied on in some way no matter what OS we're on etc.

Not a snarky tip: You can compile your own Linux kernel distribution, and then every package of every product. There's also some already packaged Linux distros for the paranoid (again not being snarky), not sure if they actually useful for the regular user, but you should try if that makes you feel safer and complaint with those who were killed for your country.

You're really bringing up the "people died for our freedom" bit here? Really?

What freedom Poirots? You're throwing that word around like most Americans. The freedom to be spied on and told what you can and can't do? Sounds a lot more like slavery, bro.

What if you don't use internet?
2 problems solved:
They don't watch you.
We don't read your comments.

There are instructions and freewares online that teach you how to turn off and remove those unnecessary "features" that came with the windows 10

Does file history work like apples time machine? Does it keep versions of files?

It's better, it doesn't require an external drive. It's been around for a long time (Windows 7?), an you can access a "previous version" of a file by right clicking it, selecting properties, and then selecting the "Previous Versions" tab. This is all from memory, but I think that's right. It's saved my bacon numerous times in the past. You can even use it to recover accidentally deleted files! All you have to do is right-click the folder the file was in, go to a previous version of the folder and find the deleted file. This is a feature worthy a feature article all by itself.

Thanks for all the information. I remember seeing it but never used it. It sounds more useful, I will check it out more.

Actually since xp but xp home version lacked many of the functions pro/mce/tablet had that were partially added to vista hp Posted via the Windows Central App for Android on WM10

That is helpful and definitely worth an article, thank you!

Actually, it does require either an external or secondary drive, or a network location. In Windows 7 you could configure previous versions on the same drive if you wanted to, really handy if you always wanted up to date previous versions. Now, unless you always have that second drive available, your 'file history' won't be as current. I actually think this is worse than the Win7 implementation and it would have been good if they allowed PV on the same drive in conjunction with another full backup solution for less frequent periodic backups.

Yes, that's why it's called File History. It's not just a backup feature, it also lets you browse through old versions of files and folders.

Time Machine is better...

What about battery tips? I feel like my Surface 3 just doesn't last as long as it used to.

We've done it before, here www.windowscentral.com/how-optimize-battery-life-windows-10-settings Thanks,

Awesome. Through that I see the Facebook app that likes signing me out was eating 23% of my battery in the background.

Can anyone tell me how can I reset to 'an early point when I try to reset the pc to an early point, it doesn't show any restore points.

Windows 8-10 deletes restore points after a period.
I use to manually create a restore points after a stable installation and after installing all drivers and apps.
Only to discover they've been deleted when I needed them

That's the reason I prefer buying Lenovo PCs because they offer "Onekey Recovery" which backups all partitions of the entire HDD and restores whenever necessary. Search for more info. More intensive search may help you to install it on your PC as well.

Well, if you search ""Create a recovery drive"" in control panel you can achieve the same thing as your Lenovo software.
But this method is different from System Restore.

Nope. There is an added advantage of onekey recovery over the recovery drive creation in control panel. You can backup and restore the exact state of your hard disk. Everything including data and apps will be restored without any hiccups. Boom. Easy.

You can make a system image of all hard drives in recovery options (Control Panel). It's the same as your onekey solution, with all Apps and data.

If you're using homegroup for things like sharing a printer, you may have to restore your sharing settings. I was getting "access denied" when trying to print from another machine on my home network, and tracked it down to homegroup sharing settings on the upgraded PC.

Can anyone tell me
How to change time format in lock screen..?
Lock screen shows time in 24hrs format
And
Desktop main screen shows in 12hrs format...

To adjust date/time just right-click on date/time and click Adjust Date/Time.

I only change the name of my PC, the rest is stuff I don't use, or I get it right like the date and time.

Four things you might have forgotten to mention: 5. Unpin unwanted advertisement for crap like Candy Crush
6. Remove inferior preinstalled apps (that actually allow uninstall) like Money and Sports.
7. Carefully check the privacy and telemetry settings of app, Windows and Edge
8. Disallow third-party cookies and enable tracking protecting on Edge, or install your favourite browser instead.

Lol you can also use nas for backup Posted via the Windows Central App for Android on WM10

If you remove MSN apps like money, you might as well go back and install Windows Vista.

Is it weird that I did all this given in the article right after I installed windows 10? I'm a nerd... Posted via the Windows Central App

I wouldn't encourage anyone to use disk clean up
Disk cleanup is known to break Quick Access.

5) Installing Office Mobile Apps
But 5) should be 1)

You need an Office 365 subscription to edit files.

File history is retarded! "Previous versions" in win 7 you could have file history stored locally using VSS. I dont want an external drive attached to my laptop to be able to restore files I accidently deleted or what ever.

Yes, this, completely agree!

You'll want to avoid using a numerical only name to identify the computer.

Well I've not forgotten to uninstall it and go back to win 7 and win 8 on my 2 pcs as they both have additional internal drives and win 10 just messes with the security privileges and ownership of these drives.

10 is a security mess.
I swiped my fingerprint and was logged into someone else's account.

I am unable to higher the resolution of the screen. It was 1200x800 but after upgrading to win 10, maximum resolution available is 1024x720 and it looks really bad! I don't see any way of changing that! Plus, I can't change the screen brightness! (please e-mail to achyutarjun1997@outlook.com if you have some solutions)

Sounds like your graphics driver is the problem. I'm not sure what kind of computer you are using and what graphics card you have, but before you upgraded to Win10, the compatibility report should have told you if there would be an issue. Your best shot is to hit up the forums and start a thread. Give specific details and we could all help you. Posted from the Nexus 6, Nexus 5, or the Surface Pro 3

You shouldn't give out your email here. You could ask for a private message instead.

How to get rid if the black screen after logo

The first thing to do after installing Windows 10 is immediately roll back to Windows 8. Win 10 is an unfinished mess.

Seems pretty good to this Mac user. Still buggy if using 10547 but overall I'm finding it nicely polished in most areas.

No Format the drive, Put on WIndows 7 or 8.1 for 6 months, then upgrade again, by then it should be at service pack 1 and it should be solid as a rock. Just wiped it again (Not in the preview program on my dual boot), Sometimes opening windows explorer, it just hangs, settings is unfinished, dead ends and missing settings compared to the old CP. Buggy responces on apps, start menu is funky. And performance is good but, no where near even Windows 7 or 8.1 (on a brand new i7 5820 DDR4 OC memory on a top of the line SSD, not a cheap-0 system by any means). First thing I do when I install Windows 10 ? Is I remove Edge Browser from the start menu and quick launch, replace it with IE and install Firefox for a backup. Edge is even worse than IE... and I tried to give it over 2 weeks before I finally said I give up, I will try it again in a few months but, having a browser crash for NO REASON, just boggles the mind.

How did you get that "set time zone automatically" feature? I don't see it anywhere on my SP3 and would be a huge nice to have since I travel cross-country for work regularly.

One other top that's been missed - I like to turn that ' distribute updates' feature off under Settings|Updates|Advanced. At the very least I restrict it to only sharing on my local network and make sure it isn't feeding back out to the net!

I would add- Compress folders for limited storage devices. I got 2 GB back on a 16 GB tablet.

Install "hostsman" to remove ads from pretty much anything. I use the MVPS host file with it. Really speeds up the Internet.

I changed the computer name the same way in this lame Windows 10 as I have in all previous versions. From File Explorer. Right-click on Computer or This PC and go into properties. Piece of cake, always.

OR change Date & Time by bothering to CLICK on the Date and Time and choose "Date and Time Settings". Sheesh.

Haha I know! I thought the same thing. The problem with less-experienced people using new technology is that they don't know how much easier previous versions were to use. ​The reason Apple iOS sucked so bad for so long is that no one knew any better! Only the BB, Palm and Win Mobile users were angry you couldn't cut and paste, for example. ​People make fun of those resisting the change to Win 8 or 10 and say they're just old. But usually it's bc the new tech makes thing slower and harder than they were before, but the young users don't know any better. ​Thanks for the reminders ScubaDog. ​ ​ ​

What about window10 taking long time to starting untill then blank screen.. I don't know what's the problem. Have any idea?

When PC goes sleep after then also it is taking same time as it was taking while boot

no. 4 is useful for me! thanks

10 things every user of windows 10 must do to stay productive. Every user of Windows 10 should know this. Do you? Most people forget these tips. Take this quiz to see how you score. Users in your area are using Windows 10 efficiently. See if you are too.

You do not want to rush reclaiming the space. I installed it on my ancient Surface Pro, from the times they did not have numbers yet. It all went smoothly, all updates installed, but the battery went from 98% in the evening to 2% in the morning. When display was turned off, it did not go to hibernation apparently. I don't have time for this. If MS can't sort out their own products, I don't want to use them. So it's handy to be able to go back to 8.1 without too much hassle.

Previous Windows 7 Installation on my desktop is 46GB! I'm glad I found this article right before I was about to to a system image of my upgraded 10 - it sure will save a significant amount of space. I think I will do a system image first though, before I delete it, in case something gets messed up after its removal. If nothing is messed up, I will create another system image afterwards and get rid of the early one of Win10.

Update - no issues seen after the deletion of the Previous Windows Installations!

Still having problems with MS Solitaire game and MS Store loading in a continuous loop.

Imo the setup should have a "name your PC" step. As soon as the setup is done, If you check OneDrive you already have an online backup for "DESKTOP-125628bagah". Also while they are at it, there should be a way to name your personal folders too. One of my pet peeves is the fact that my personal directory is my first name all lower case.

Thanks for the great suggestions and reminders. I will watch for more!
Windows Central Newsletter
Thank you for signing up to Windows Central. You will receive a verification email shortly.
There was a problem. Please refresh the page and try again.