How to upgrade Windows 7 to Windows 10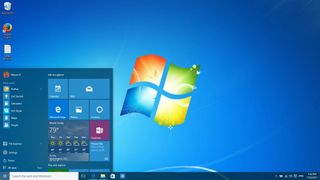 The Windows 10 release is fast approaching, and it's time to start thinking about the upgrade. Have a Windows 7 machine and thinking about upgrading to Windows 10? Even though this could be a relatively easy task for many users, it may not be as easy for everyone else. There are few things you want to keep in mind. As such today, we're going to go through the basics to try to minimize any friction that may appear upgrading to Windows 10 from Windows 7.
Now that Microsoft has ended the support for Windows XP, Windows 7 has jumped in the list as the most popular operating system in use today. However, the software maker hopes that Windows 10 will make a huge difference, not only because the next version packs a bunch of new features, such as a new Start menu, Cortana, universal apps, the new Microsoft Edge web browser, and much more, but because it'll be a free upgrade. The company is expecting a faster adoption of Windows 10.
So, yes, as you probably already know, Windows 10 will be free for the first year after it's released on July 29. It will be free for those users running a genuine copy of Windows 7 and Windows 8. However, before you jump into the upgrade, there are some things you need to know.
For example, you'll be getting the operating system free of charge, but only if you're running Windows 7 with Service Pack 1.
You can check if you have Service Pack 1 by opening the Run command with the Windows + R keyboard shortcut, typing winver, and below the operating system name, it should read "Version 6.1 (Build 7601: Service Pack 1)".
If you don't have it, you will have to install the update via Windows Update, or by visiting this Microsoft support page (opens in new tab). You can manually download the update. Make sure to download "windows6.1-KB976932-X64.exe" if you're running a 64-bit version or "windows6.1-KB976932-X86.exe" if you're running a 32-bit version of Windows 7.
Once you have the latest updates installed and made sure Windows Update is enabled, the "Get Windows 10" app should soon appear in the notification area with a Windows icon. At this point, if you don't see the app, your computer is probably not compatible with Windows 10. It's also possible that Windows Update isn't configured correctly.
In case you don't want to deal with Windows Update, you can download the update KB3035583 (opens in new tab), which will install the "Get Windows 10" app in your system. (You also want to make sure you have installed KB2952664 (opens in new tab))
After you install the app, click the Windows icon in the lower-right corner of the screen, and then click the Reserve your free upgrade button. Enter an email address to get a confirmation when the operating system is ready to install, click the Send confirmation, and you're good to go.
On July 29, Microsoft will begin rolling out its new operating system starting with machines that are part of the Windows Insider Program. The company will continue rolling out Windows 10 gradually to everyone else who reserved the copy using the "Get Windows 10" app and those who bought a new PC. Later on, everyone else will get the upgrade as well.
So, this means that as we have previously reported, Windows 10 won't be available for everyone at once on July 29. Making a reservation before it releases will ensure your PC will get the new operating system as soon as possible.
If you were able to make a reservation, it means that your computer or tablet is compatible with Windows 10, but it doesn't mean you won't encounter any issues at the time of the upgrade. You also have to make sure your apps, all your hardware, peripherals, and drivers are compatible as well.
Luckily, the Get Windows 10 app also includes a PC checkup tool that will list any problems with your computer, and various other information you need to know before the upgrade. To check your PC compatibility, open the Get Windows 10 app, click the hamburger button, and from the menu click Check your PC.
Once Windows 10 is available for your computer, you will get notified. Even though the installation should be straightforward, you should make a backup of all your personal files to an external storage and make a full backup of your system using the built-in System Image Backup tool. (You can use my previous guide to perform this task, but note that even though the guide was written for on Windows 10 and 8.1, the same instructions will work on Windows 7.)
Next, you want to disable or uninstall your antivirus and other security software, and you want to disconnect any peripherals other than your keyboard, mouse, and monitor. You may also want to uninstall any applications that you don't use or apps that have been listed by the "Get Windows 10" as problematic. Sometimes antivirus, peripherals, and certain software could be the cause of an unsuccessful installation.
You also want to make sure you have at least 10GB or more of free storage space available to perform the upgrade. Windows 10 requires at least 16GB of space to install the 32-bit or 20GB to install the 64-bit version.
Once Windows 10 is available to you (time that will vary from PC to PC), a notification on your desktop will appear. Just accept the Important Legal Stuff, and then the Windows setup wizard Your upgrade is ready to install will pop up. You can schedule a time to upgrade, or you can click Start the upgrade now to begin the process.
Now, sit, relax, and wait for the setup will take care of the rest. The upgrade process to go from Windows 7 to Windows 10 could take some time, so make sure to plan ahead and free up at least an hour of time for the upgrade process. (You may also want to do this on a weekend.)
After the installation process completes, you'll be presented with the out-of-the-box experience. Choose the settings you feel more comfortable using, and let the setup finish the process.
That's all! Now, you should be all upgraded to Windows 10. Enjoy!
Here are some additional information
Yes, your files and programs will be kept after the upgrade
You won't be prompted to enter a product key during the upgrade of Windows 7 or Windows 8 to Windows 10
Make sure to re-enable or re-install your antivirus software and other software you need
Make sure to go to the Settings app, Update & security, and check for new Windows and driver updates
Open the Windows Device Manager and make sure all the drivers are working correctly. If you don't see a yellow exclamation mark or anything on red, you should be fine.
If you're upgrading Windows 7 Starter, Windows 7 Home, or Windows 7 Home Premium, you'll be upgraded to Windows 10 Home. If you're upgrading Windows 7 Professional or Windows 7 Ultimate, you'll be upgraded to Windows 10 Pro
Windows 10 Home won't be able to opt out from automatic updates
Windows 10 Pro will be able to choose how to receive new Windows Updates
You'll need to switch to a Microsoft Account if you want to take advantage of installing Windows Store apps, Cortana, and various other features -- here is how
Wrapping things up
The upgrade from Windows 7 to Windows 10 should be a very simple process. With the new operating system, Microsoft is working to deliver the upgrade with the best experience possible by rolling out the new bits in stages. It starts with savvy users and works its way down to make sure every upgrade is successful.
While this guide focuses on Windows 7 users, the upgrade from Windows 8 to Windows 10 is almost identical, with the difference that you'll need to be updated to Windows 8.1 Update first before upgrading.
Windows 10 will launch on July 29, but it will take some time to reach everyone.
Are you upgrading to Windows 10 on July 29 or will you be waiting for a later date? Tell us what you'll be doing in the comments below.
Mauro Huculak is technical writer for WindowsCentral.com. His primary focus is to write comprehensive how-tos to help users get the most out of Windows 10 and its many related technologies. He has an IT background with professional certifications from Microsoft, Cisco, and CompTIA, and he's a recognized member of the Microsoft MVP community.
Can i get an iso file for free?

Yes, in a near future, Microsoft will make the ISO files available for download (that's what I hear), but in order to do a clean install, you'll need to upgrade through Windows Update first, then you can do whatever you want. Thanks,

What I wonder. If I do a factory reset after upgrading my Windows 8.1 pc to Windows 10, wil it terurn to 8.1? Or wil it just clean install Windows 10 back to the factory settings? I hope you could explain this to me?

You installed to much junk and your PC became slow or if a system file got corrupted.

So, I don't completely understand. i have to reinstall 8.1, update to 10, then download iso, and wipe everything clean and re-install again? and what ties my new ISO install to my free upgrade? Separate key? Do I use my 8.1 key? If I have TP 10240 installed, can't I just somehow "legitimize" it using my 8.1 product key?


What I don't understand is why everyone keeps saying to wipe out everything, if MS is giving us the possibility to upgrade without losing our data?

Some of us need a clean computer, it's easier to manage

process as I understand it is the device gets registered as a w10 device with the upgrade so the info retained from the valid upgrade is the "key/license" for reinstalls if you need them. which is inline with the MS language of the license being good for the life of the device. Note: a change in hw will probably require a call to ms to clear the old device.

Yep. Especially for those odd applications that just wont work after upgrade but wont uninstall properly either

Microsoft has offered the ability to 'upgrade' os's since way back in the 90s. Until windows 10 this has been a joke, and the conventional wisdom is to NEVER do this. Prior to 10 I would have agreed. However, MS has made the ability to upgrade cleanly a cornerstone of it's current development model. My PCs have all been upgraded, first from Windows 8.1 to Windows 10, then to build after build in the Windows 10 insider program OVER 60 TIMES. Only one build had significant problems. The conventional "do a clean install...always" is well meant advice that was true in the past...but not so much any more. You can always do that if the upgrade goes badly...and in addition you can roll back the upgrade to your old version of windows also.

@tricotec yes, you can do whatever you want. but for now, we don't know the availbility of the ISO. so better wait if you are going to do a different upgrade/install process. "Can I reinstall Windows 10 on my computer after upgrading? Yes. Once you've upgraded to Windows 10 using the free upgrade offer, you will be able to reinstall, including a clean install, on the same device. You won't need to purchase Windows 10 or go back to your prior version of Windows and upgrade again. You'll also be able to create your own installation media like a USB drive or DVD, and use that to upgrade your device or reinstall after you've upgraded." http://www.microsoft.com/en-us/windows/windows-10-faq?ocid=win10_auxapp_...

My Windows 7 OS is not genuine. Will my PC get the Windows 10 Upgrade?

My Windows 7 OS is not genuine. Will my PC get the Windows 10 Upgrade?

Yes, eventually it will be offered to you but obviously your copy of Win10 will not be genuine (i.e. activated) either. What this means and how an unactivated copy will behave or nag you is not clear however at this point.

in order to do a clean install, you'll need to upgrade through Windows Update first, then you can do whatever you want

Can you provide some proof for this assertion? Although Microsoft hasn't clarified so far, there are indications that it will be possible to boot using the Win10 ISO and clean install (even on a blank HDD) and activate by using a qualifying Win7 or Win8 key.

Unless it has changed, the ISO is offered if you are accessing the web page thru Linux.

You can get one now. Just google "build 10240" and you will find them. Be careful that you download one from a reputable source. As reported MS has and will not release these for a while, so you're stuck with leaked copies for the moment.

You can also create your own ISO from the build files using a built-in program from Microsoft. This has been available since Windows 8, but from my personal experience, I've NEVER had to completely reinstall from an ISO. (Only exception is a crashed hard disk.) I have it save my personal files, delete all programs, and reinstall Windows. It's just like a clean install, only better. No need to back up files (though you should anyway).

Will Microsoft start allowing the update files to download in the background prior to the release date?

No, they will inform you that you're upgrade is ready and you get to decide when it starts.

Will Microsoft start allowing the update files to download in the background prior to the release date?

Yes, this is what will happen. Read the FAQ:

What happens when I reserve? When you reserve, you can confirm your device is compatible with Windows 10. Between reservation and when your upgrade is ready, the files you need for the upgrade will be downloaded to your PC to make the final installation go more quickly. Then, when your upgrade is ready after July 29, 2015, you get a notification that lets you get started with your upgrade.

Yes, My computer already has them in a folder on the c drive. They won't allow you to install untill tomorrow.

What will happen after the first year? Do we pay again to continue using them?

The upgrade, for those who have not done so within a year, will cost money. Those who have already upgraded can continue using and are not required to spend any money. Posted via the Windows Central App for Android

No. Everything goes back to Windows 8 economics. You pay if you want to update. "Free Update" means they are charging you $0 for the update for a limited time. Nothing else about the economics of Windows is changing.

Yes, you'll have to pay after one year. Otherwise, you can still use it, but you'll have banners/watermarks on the way and Microsoft will bug you into buying W10, forever.

I'm sure someone makes "Windows activator" for W10.

That's not consistent with what I've read everywhere. Once you upgrade, it is as if you had paid for it. No banners, no watermarks, no nag screens. You will continue to get patches for the life of that machine, just like someone who paid for Windows 10 or bought a computer with Windows 10 preinstalled. What changes after one year is that if you have a computer with Windows 7 or 8.x that has not yet been upgraded to Windows 10, you won't be able to upgrade that particular computer for free.

Only if you use a pirated copy of Windows 7 or Windows 8!!!

Even after all the times Microsoft has said that this is absolutely, completely not true, the FUD machine is still working over time to scare people away. The Mac users certianly are desperate to get a point or two more marketshare, and the Linux community is pushing really hard to get into the tens of users.

I thought people here is well inform for this kind of things..this is website about MS ecosystem afterall. Posted via the Windows Central App for Android

For those that qualify for the free upgrade and take advantage of it within the first year, your license remains free like any other upgrade and MS will support it with updates for 10 years.

and you have this confirmed by whom and where ?

You can read Microsoft licensing agreement sent on mail to people who have reserved copy or goto MS windows 10 site and check. You can check the video of Gabe Ul from microsoft. Its free for life time till windowss 10 supports only if you upgrade within a year. No hidde agendas behind it. There are multiple article on WC too, just check it. Its confirmed and official.

Quit spreading false info VAVA is right upgrade in the first year it's free for ever

Its free forever after you upgrade. Dont worry about that. FUD is being spread about it but its free. Basically, you get a real upgrade key (even though its not a key) for free. They wouldnt make someone who bought the upgrade pay after a year so you wont have to either. Free, free, free.

It continues running after the first year. You only have to pay if you didn't upgrade direct from 7/8.x within that year.

This has been answered many times. No, you will not have to pay. It is a promotional offer. It's free the first year and then anyone who wants to upgrade after that will pay the normal price. After you update, they will continue providing updates for the supported life of the device.

You don't need to pay to continue using if you've install in the first year.

I am still stuck on a issue. I have a legitimate copy of Win7 (came preinstalled with the Dell Laptop I bought). I started using the Win10 TP in January 2015. Till date I have not been offered the option to reserve my copy. I am not sure if I will be offered the upgrade or not. And if not, why is that? I am sure I meet all the criteria.

Do you have update KB3035583 and KB2952664 installed?

Are you still using Win10 TP since january? otherwise you will be updated to build 10240.

If you are on 10240 you already have it. No need to reserve anything. You might want to turn off preview builds if you want to stay at RTM.

If you did a clean install and not an upgrade, you will need to run the factory restore discs then install SP1 or you will be stuck in Insider preview mode if/when they stop the preview.

windows insiders don't have to reserve a copy as insiders will get it free on July 29

@Aashish: This article may be of interest to you: http://www.zdnet.com/article/with-a-nod-and-a-wink-microsoft-gives-away-... If Ed Bott is correct, Insiders will get genuine Win10 for free even if they do not own a genuine copy of Win7 or Win8. Obviously this is not guaranteed though.

But with the caveat that you will remain on the insider programme indefinitely along with the deeep rooted analytics. When the insider programme ends (whenever that is) and the last build expires - you are no longer covered by the terms of the windows insider programme as that would have ended.

Does anyone know if Bluetooth is working properly....only reason I uninstalled win 10 preview was because Bluetooth speakers connection was hit and miss, it works flawlessly on 7

I have problems with Bluetooth on windows 8.1, it was ok with windows 7. Hope windows 10 sorts it out.

My Bluetooth on Win 8.1 works flawlessly aswell after trying several adapters figured out some chipsets work great and some are just a pain.

my laptop bluetooth drivers are really bad they barely work on win7 so im pretty sure its will suck at win10

I don't care this issue anymore. I forgot that I had BT since I was on Windows 8 (incompatibility of the drivers).

Works absolutely fine on my laptop. I suppose it depends on your hardware. If you upgrade again and have problems I'd install the Windows 8 driver for your gear before you give up.

No problems with Bluetooth here. :) check your manufacturer's site for 8.1 drivers. You'll need them for Windows 10

didn't you mean "downgrade"?

No, upgrade. There are little reasons not to upgrade (done people may have legitimate reasons) Windows 10 is a faster, more secure OS that also comes with some nice features.

What do YOU mean by "some people"?

Windows 7 is truly archaic today. Especially given the immensity and popularity of cloud services and syncing. Windows 10 gives you amazing cloud syncing, but also, you don't have to! You can still have a local account, should you choose, and just get better service, faster performance speeds, and virtual desktops. Dude...Win10 is definitely worth it. ESPECIALLY if you prefer 7

If you upgrade using the free upgrade method then you will have Windows 10 supported on that device for it's lifetime. If you want to upgrade after July 29 2016 then it'll cost money.

great article man , i am bookmarking this link to share to many freinds who do not see the windows icon on the task bar

Great how to! Book marked, so I can just link this to the worry warts who keep pestering me lol. Explaining the same thing for the trillionth time... is just...

Still no mention of whether the OS is tied to the motherboard for "the lifetime of the device"? Am I correct to assume?

I Imagine it would function like a OEI (system builder) license.

Nope, it will function as a retail copy that can be transferred to new machines. Machines pre-loaded will have the OS tied to the motherboard.

No it is for the life of the machine.

Usually a quick call to MS will solve hardware upgrade licensing issues.

Lifetime of the device. A product key was not given for my upgrade as an Insider. But just a call to their activation line fixes it if being transferred from one machine to another.

Still no mention of whether the OS is tied to the motherboard for "the lifetime of the device"? Am I correct to assume?

If you upgrade an OEM version of Win7 or Win8 then Win10 will be tied to that particular device. A retail or System Builder version that's upgraded can be transferred to another system just like before. Moreover sufficient changes to the hardware will cause the OS to treat it as a new device and require reactivation. Nothing has changed in this regard. (Of course this is how it legally works as per the EULA. In practice you may be able to phone Microsoft and get your illegally transferred OEM version or even multiple copies using the same key activated, but that's a different issue altogether.)

OEM licenses are tied to the device. However, that has been true for all versions of windows.

I wonder if you can downgrade w10 to w7 if god forbid its awful?

Yes, you can roll back the windows 10 install for a short time. Once you update windows 10 to a newer build later that option will disappear.

It's great and you have 30 days to go back in time.

You can through Settings and "Restore your previous version of Windows". But trust me...I've been beta testing it for six months now. You'll want to upgrade. It runs smoother than 7 any day. The first few tries, have it do a clean install, then restart the computer a few times to allow the "SuperFetch" to learn how to boot quicker. My system is ready to go in no more than 20 seconds.

If you have been reading the reviews on tech sites, you would already know that it is not awful. I haven't seen a bad review yet. The only criticism is the automatica updates. Frankly, if you are running a home edition, there is very little reason why you wouldn't want to have automatic updates. If you are a more advanced user, you are likely running the pro edition and the updates can be delayed for a while.

So I remember an article that said even those with... Less than legitimate.... Copies of win7 will still get the upgrade for free. Is that still happening?

that's what I came here for. I have friends who have bootleg copies.

Yes, friends.... I have friends that do that too.... lmao

My friend had a dream and when he wake up he asked me what that dream is all about and he is worried because i am the computer expert guy (nerd), so He told me he was using a cracked version of windows 7 ultimate in the dream, aw how awful, and he wonder what would happen if he upgrade to windows 10, and what will happen after the upgrade, do he still need to activate it? Ps I use legit windows in both reality and dreams.

They will get the upgrade, but it still won't be legally activated Posted via my Blackberry Q10 or Lumia 820

No genuine Windows. But it will still work...ish.

Yes, you will get the update. No, you won't have a legitimate copy after the update. Since the activators probably won't work anymore on windows 10, you will probably get annoying messages about buying a license and you might have issues getting updates. I guess we'll find for sure tomorrow.

Generally, it surprises me how this confuses so many people. You have one year to acquire the software free of charge. Once you have the software it is yours to use. No one will bill you anything. If you don't get the software within the one year window, it will cost you same as any copy of windows 7 and 8 did. There is no subscription service here. I am not sure where that idea came from. What happens after the first year? If you have windows 10, nothing. If you don't, it's not free anymore. Source: Microsoft.

Because of the beauty of language ambiguity.
Honestly both meaning can be put in the exact same sentence lol until they use the word "forever"

"So, yes, as you probably already know, Windows 10 will be free for the first year after it's released on July 29." Exactly, something as simple as phrasing it: "So, yes, as you probably already know, Windows 10 will be free *to upgrade* for the first year after it is released on July 29." or more acurately: "So, yes, as you probably already know, Windows 10 will *cost $0 to upgrade* for the first year after it is released on July 29."

As for 32GB devices like the ASUS Transformer T100TAF: Best to use one USB drive for a recovery image first, then set up a 2nd USB drive using RUFUS and the ISO. With the W10USB inserted and leave it in until the end of this process. backup your bitlocker key, disable secureboot, reboot from USB if it detects it (if not, boot into windows normally) and then start the upgrade. Tell it not to keep anything. Once its done, reboot into bios, re-enable secureboot, then boot back into windows normally. Now you can remove the usb drive. Reinstall your apps, and its good to go. Just be aware that it does not switch automatically to/from tablet mode based on the keyboard dock being attached, and screen rotation is locked by default. Not ideal, but it works.

If i upgrade to Windows 10 can i still use and play windows 8.1 apps and games?

As far as I know everything that works on Windows 8.1, should work fine in Windows 10. Thanks,

Windows 8 apps work pretty well. They don't always (some do) force full screen anymore though. Love running Tweetium in a window!

Yes. Of course. It runs well.

That's good to know, It was the only thing that was going to stop me upgrading strait away. Thanks

how about some games and apps in windows 7, can i use/play in windows 10? before i use windows 8.1 but some games didn't work in windows 8.1 so switch back to windows 7.

Haven't found any compatibility issues with 8.1 apps so far on PC or WP.

Of course! ;) 10 is just 8.1 revamped and better! Uses pretty much the same options, just a better visual appeal and more features. 10 is worth the upgrade, people. :)

Just shared this to the FB page Highperformance Pc Of Cape Cod great info.

1 Year is free because their Development is not FULLY Completed. lol.
They have to most important thing to bring the actual market shares. Even same strategy on W10M.

couldn't disagree more. Windows 7 is an aging OS. From start-up to security, Windows 10 is significantly better. With automatic scheduled clean-ups and disk defragmentation in the background, many average users that face the problems of bogged down PC's after months of usage will feel that bog down much less. And with forced automatic updates, security risk just went down at least 25%.

A few people have said this now but havent stated why. Why is this a downgrade? What are you personally sacrificing? The only way it might be a downgrade is if you had Media Center imo. But I may be missing something so please share :).

Even with Media Center leaving, users still get a free DVD playback utility for their computers ;) and really, Media Center is 2005 at best...it just isn't used much anymore, IMHO. Chromecast, Fire Stick, Xbox One, PS4...that's where media went today.

You seem to be in the minority with this opinion.

Want to update to Windows 10, but with clean install on new ssd. How?

I think they will release an ISO for it. They did with Windows 8.1 so I am almost certain they will with Windows 10.

If you want to upgrade for free, you'll need to upgrade via Windows Update first to upgrade your current product key to Windows 10, then you can download (when available) the ISO files to do a clean install of Windows 10. Thanks,

But ny main question is if I do aclean install from ISO. Where do I get a key or is it just possible to use the one from Windows 8.1?

According to unconfirmed reports the Win10 installer will accept Win7 and Win8 keys. If that's the case then it should be possible to format (or use a new HDD/SSD as in your case) and then clean install Win10 directly using your existing qualifying key. Hope this is the case; let's wait and see. *Just to add to the above, if your system came with Win8 preinstalled then you shouldn't even need to enter a key as the Win10 installer should auto-detect the embedded key in the motherboard's BIOS (UEFI), unless of course you changed the motherboard as well along with your system drive.

Wait for the ISO. It'll show up very quickly from Microsoft's site online.

So, there is no way to remain on Windows 10 from Insider preview build 10240? No way to license the Insider Preview with a valid key and stop receiving new builds? No valid path without reinstalling either Windows 7 or Windows 8 with thei respective service packs? What a major PITA.

Should be used to that by now...was exactly the same way in Windows 7 and Windows 8. Once you get on the preview, you have to go back to the old system and then upgrade. However, I'm certain I have seen something regarding Windows 10 allowing for people to move seamlessly from the preview to a full version. I'd search around, Windows Central had an article not too long ago.

what you talking about willis?

Yes there is. Just go to update advanced and turn off preview builds. Done.

Actally, there is a button... (Windows Update -> Advanced), that will allow you to "Stop Insider Builds". I read someplace that if you select that button it will provide you an oportunity to enter a qualifying Windows activation key converting it to a certified Windows Pro copy. I am not sure what happens if you try to activate it with a Home version key. It will probably require you to reinstall in that case - as it would not be a "qualifying" activation key. That's why I always go Pro!

This is different from last time if you havent noticed. Build 10240 can be divided by 16. That means it is what RTM would have been if Windows wasnt a service now. But Windows is a service now, you are on the "RTM" version, its free if you have a proper key, and you will get updates to keep you current for at least 10 years. Like others have said, uncheck the builds box and enjoy. No PITA at all actually :)


Turn off the preview in settings. And you're done. :) that's your upgrade, muh dear

I hope to get windows 10 on the 29th since I was in the insiders program but had to revert back to 8.1 because I neglected to write down the product key. Posted via the Windows Central App for Android

I was able to get it working by installing 10240 with a product key I found online. My hard drive crashed, then I installed it. Worked like a charm. Bing it. You'll find it. :)

If your PC came preinstalled with Win8 then there was no need to revert, since the key is embedded in the BIOS (UEFI) and can still be extracted even if you have Win10 installed.

What happens if you have Windows 7 with WMC (Windows Media Center), and upgrade to Windows 10, which doesn't have it? Does it warn you that this feature won't eb available? Offer some way of salvaging the WMC license and/or installation? I can't upgrade my two Windows 7 PCs to Windows 10 until Microsoft has a replacement for WMC that allows CableCARD based decryption of TV channels.

? Windows store have video and music app

They have nothing to do with what I asked about though.

I am sure it will either delete WMC on install or give you a launch error if you try to use it after the upgrade. If you want to keep WMC, do not upgrade.

I just hope there is some sort of indication that it will be removed. I feel bad for anyone with a W7 HTPC for cable TV that upgrades and finds that WMC is no more. :/

Don't worry, most people don't use it and won't care

Obviously I'm not worried about the people that currently don't use it. What a dumb reply.

Yeah, you're so bright you didn't even understand my point. You're worrying about a situation that will affect a handful of people at most, therefore you don't need to worry at all. If people are technical enough to setup WMC then they're bright enough not to upgrade without having an alternative in mind. WMC wasn't included in Windows 8 either, but instead offered as a separate add-on. It's been well known for a couple of years that WMC won't last forever, so people should be looking for 3rd party alternatives already.

Of course I understood your point. There are more than a handful of people using CableCARDs with their PCs, and they will all be offered a free upgrade to Windows 10. I am asking if there is any warning that upgrading will remove their ability to use the CableCARD. I think that's a valid concern, but obviously that doesn't matter for the people that don't already use WMC, which was your only comment. Also, there ARE no third party alternatives. That's the point you don't seem to understand.

FYI I looked at the "Get Windows 10" reservation thing today on my PC with WMC, and if I view the report it says "Windows Media Centre will be uninstalled during the upgrade. It isn't available in Windows 10." I'm sure it will offer a similar warning when people go to install it.

You'll get a DVD Codec player for your drive, but yes, Media Center is considered legacy software. It won't be included in 10. However, "Movies & TV" and "Groove Music" will be your Media players going forward through the Windows Store. It's transitioned more to Google and Apple-like Media stores.

Yeah, unfortunately WMC is the only way to watch and record encrypted cable TV on a computer. Believe me, this is a big deal for many of us.
Unfortunately, we're a small percentage of users and CableLabs is notoriously difficult to work with, so Microsoft is literally the only one that has software that is certified to decrypt cable TV. I can only hope that some company manages to take over, or that Microsoft releases an update for legacy WMC licenses (it was an additional fee in Windows 8 for WMC).

The installer should warn you, but I'm not a 100% sure about this. Don't hold your breath for a WMC replacement though.

Can i upgrade from windows7 x32 to windows10 x64?? or i will need to do a clean install??

Changing architecture requires clean install, sorry.

I already upgraded my machines using either the 10240 ISO I built from the esd, or the wzor leaked one. No need to wait.

I did the exact same thing ;) worked like a charm!

Anyone know how to upgrade a Windows 7 PC with a license obtained from MSDN (through my son's college). I am not seeing the Windows icon in the notification area. The correct KB updates have been installed. Will I be able to get ISO files and use the MSDN product key to update?

I have heard if you dont see the icon and you have the right update then that means the system may have a driver or hardware that isnt ready to go yet. I also heard that its a staggered rollout so you may not see it right away. As far as upgrading you should be able to do a clean install during upgrade if you select "dont keep any personal files" and it wipes the computer away, including your personal files. You can also refresh the computer after upgrade and that is a clean install as well I think. But they most likely will release an ISO and let you either validate your key or they know by your hardware configuration that you had a valid Windows 7 license and upgrade you from that. There is a small chance that MSDN upgrade keys wont be upgradeable but the way they are giving Windows 10 away for free it would shock me if that was the case. But, I would check the update again to make sure you have it and wait a little bit to see if you get the box :).


You should eventually see the icon some time after July 29, or can use the ISO (when it becomes available) to upgrade. I'm sure the MSDN Win7 license will work. I too would be shocked like Scabrat if it didn't.

How big is the update size?? How long will it take to download windows 10? I don't have great internet connection at my place..

about 3GB if not mistaken. Posted via the Windows Central App for Android

2.5GB for 32-bit, 3.6GB for 64-bit. I highly recommend a Starbucks location. Their partnership with Google Fiber is awesome! Libraries also work, too ;)

It freaks me out that i haven't see the get Windows 10 app, my laptop is up to date, windows update fully enabled, Service Pack 1 ----> Check KB3035583 --------> Check KB2952664 --------> Check Everything seems ready, but it doesn't show the app. And the worst thing is that an old lady neighbor who bought the same laptop, all ready saw the app, so the not supported argument is not valid here. Of course that i had made some upgrades to my hardware and it doesn't sports all the original pieces, but are ( most part of them ) upgraded hardware!
I replace my unuseful death battery, my also death 320 GB HDD for a shinny new 128 GB SSD ( had less than 20 GB free by the time those update were installed but i allready made some space and have > 20 GB free space ), i also added the bluetooth card that didn't came from factory ( it is official supporte hardware anyway ), and a 4 GB RAM going up to 6 GB of RAM. \ I'm happy with my 5 years old laptop, it is really fast at boot up ( after installing the SSD i clocked the start up, with a clean installation just took 18 seconds to fully boot up ). So, if anyone here knows where my problem might be, please tell me. I'm not whinny anyway, because i'm planning to wait until November/ December to upgrade ( i'll buy a bigger SSD -NO way i'm going back to HDD for my OS Drive- so i can restore all the original content, i was very disappointed when i realized i couldn't use my backup because a smaller storage drive ), but i'm worry about, if i finally see the app, i'll rest in peace of mind knowing i'll be able to upgrade later. By the way, my laptop is a Dell Inspiron ( N5010 ), with the Pentium P6100 and all the changes i said before.
Somebody had this laptop too?
Any advice?

I'm in the same situation here. I have XPS M1330 with Intel Core 2 Duo T9300, so I think it's not compatible, but MS says it should be compatible :) so I don't know why the app doesn't start (I've tried many ways found on MS answers, without luck)

If you have tried everything, keep in my that Microsoft said that PCs that can't be determined as compatible for Windows 10 for any reason won't see the icon. However, after July 29, the icon will appear. Thanks,

After installing windows 10 on my pc running windows 7, I want to do a factory data reset. How and where do I get the windows 10 reg key to do so? I've already backed up all my data on an external hard drive. I just want a clean slate.

Search Bing for "Belarc Advisor". I use it to do inventory of the hardware and software I have installed and it should give you the reg key for Windows and other software you have on it.

Settings > Update > Recovery > Reset my PC. This deletes all files except your personal files, and removes all programs as if in a fresh state.

As terrokkinit said, use the OS' in-built Refresh and Reset features. Since you apparently skipped Win8 I'm guessing these features are new to you. Just read up about them a bit.

I work in IT, so I'll try to answer a question that has been posed in various ways by a few people about what happens if they need to "wipe out" their device and reinstall Windows, and whether it will reinstall to W10 or W7/8/8.1 if they upgraded from that. When you wipe and reinstall from the recovery partition on your device, that recovery partition was loaded up with whatever OS originally came with your device. So, for example, if you upgrade your PC/Laptop/tablet from say, the 8.1 that it came with to W10, and you later need to wipe out and reinstall from a recovery partition that came with your device, it will reload 8.1, not 10. Based on everything I've been able to find, the upgrade process only upgrades your active Windows partition, and makes subtle changes to any system/boot partitions, but does not change any recovery or utility partions on your device. My suggestion? Before you upgrade, create a full disk bit-level backup of all partitions on your device. Any recovery, system, or OS partitions, and store them on an extrenal hard drive. Then upgrade to W10. Why do this? Because, if you don't like 10, the upgrade goes wrong, or your device has unresolvable issues with 10, you can just restore your 8.1 backup and it will be just like it was right before you upgraded. No need to reinstall Windows, all your programs, settings, etc. like you would have to do if you "downgraded" back to 8.1 by using your device's recovery partition. It will be like stepping back in time to the point right before you upgraded. I also recommend running another backup immediately after doing the upgrade. Assuming you like W10 and keep it, but down the road (especially after July 29th of 2016) you ever have a problem and need to wipe your device and start over, you'll be able to restore to that fresh upgrade of W10 without having to buy another copy, and spend hours or days reinstalling all your apps and programs. To facilitate this, I recommend Macrium Reflect Free Edition. I use the paid version for all of my personal devices in the house (3 desktops, 2 HTPCs, 2 laptops, 1 Surface Pro, 2 Venue 8 Pro tablets), and I use it at work for our 9 servers and 45 desktops and laptops. It's a great program, and relatively easy to use. Be sure to create a recovery disk when Macrium prompts you to after you install it. Keep that disk in a safe place, as you'll need it to restore any of your disk backups.


That's a might big assumption re: recovery partition.

Correct. The recovery partition usually isn't touched in these scenarios. Windows 10 makes a "Windows.old" folder to allow restoring of the prior OS through Settings, but if done through the BIOS/UEFI/OEM path, it could very well switch back to 8.1. Clean installs, however, usually aren't necessary, from my experience in doing Insider builds. Doing the in-place upgrade and then clicking "Keep Nothing" does the same thing as a clean install, provided the HDD has the available free space. I've done clean installs on builds many times just to clear out the Registry, and it's made a difference. 8.x got that feature right with upgrades and installs.

Assuming you like W10 and keep it, but down the road (especially after July 29th of 2016) you ever have a problem and need to wipe your device and start over, you'll be able to restore to that fresh upgrade of W10 without having to buy another copy, and spend hours or days reinstalling all your apps and programs.

Wow, you work in IT and still spread FUD? Any device that has Win10 activated on it in the first year will

NOT

require a fresh purchase if you need to reinstall on the same device after the first year has passed. Only if the device never had Win10 activated on it in the first year or if the hardware is changed sufficiently that it is treated as a whole new device by Microsoft will you need to purchase Win10 for it after July 29, 2016.

RajeevT,
Wow, someone tries to come on here and offer some helpful information, and you respond by insulting them and being a complete tool. As I said, I posted what I did based on what information I had been able to find online, along with my own experience. Further, working in IT, I can confirm that would SHOULD happen when reinstalling Windows with legit copies/keys, and what ACTUALLY happens are sometimes two different things. For just one example, I have 5 legit full boxed copies of Windows 7 Pro that I bought 7 years ago from an actual Microsoft management employee, and starting about 2 years ago, they will no longer install with the keys that came with them, and MS is unable to tell me why. Further, I'm happy to be mistaken on that one point. But you could have been a decent human being and just politely pointed out that I might be mistaken. Instead, you jump on here throwing insults and focusing on the one portion of a sentence that might be off, and completely ignore the rest of the valuable and legitimate information I took the time to post in the effort to help people, even inconsiderate jackwagons like you. It is trolling morons like you that give forums like this a bad vibe, and drive decent people away. Grow up and act like you have some manners.

Is there any solution for an Intel 3600 graphic card, my laptop says w10 won't work due to it

Wait till Intel releases a W10 driver package for it.

Are they actually going to do that?

I have the same problem because of the Intel 3600 graphics card. Hope it gets updated soon.

Does WC have an article how to revert back to Windows 7/8.1? Link please? Posted via the Windows Central App for Android

I'll give you the instructions. Settings app > System/Updates > Recovery > Revert to previous version of Windows. This works, assuming you did an in-place upgrade of Windows 7/8.x to Windows 10. :)

Should I change the product key of my Insider preview?

If you have 10240, you've already downloaded the RTM version. Disable Insider previews in settings, and you're set to go :)

I've checked my PC hardware capability for Windows 10 and it shows the Bluetooth services won't work correctly after the update (the driver is from broadcom corp) How can I fix this please???

Check Broadcom's web site for 8.1 drivers. Those drivers work with Windows 10 at launch. :)

I have an ho mini 210 with windows starter....i hope to be able upgrade to 10. :(

People who are using windows 7 cracked version will get this update ? Got windows 10 reserve option and also enrolled. will we get windows 10 update ?

You'll get it, but it won't be genuine. It will only be Windows 10. You'll need to find a way to get a product key from Microsoft for your current version of Windows to get a genuine copy of Windows 10

How much will be the download size for this any idea ?

It's about 2.5GB for 32-bit, 3.6GB for 64-bit. Don't do this on a metered connection, like your jetpack or your smartphone tethering.

I have the notification, but I can't be bothered "reserving" my copy. I'll get the upgrade either way, so why bother doing a pointless step?

It's pointless for average user, but for techies, developers, IT guy, etc, it's important to get the latest version ASAP. Since you don't reserve you'll get it several days later, or weeks, or months. Posted via the Windows Central App for Android

Perhaps for testing environments, but as a developer there's no way I'd be upgrading Day 1 simply due to the fact that these things never go smoothly and I can't afford the downtime. I'll happily wait 3-6 months until most of the critical bugs have been fixed and I'm sure it'll be a painless process. Perhaps I'll reserve one copy, just in case :)

Of course it's your choice. :) All the 'reservation' does is inform Microsoft that one more person is eager to upgrade, and also downloads the installer to your PC slowly in the background so that at some point on or after July 29 you'll be able to immediately start upgrading without having to manually initiate the installer download and wait for it to complete. For those who plan to use the ISO to clean install it makes no sense to reserve because they'll only end up downloading GBs of data twice.

Hey @Mauro! I had tried to reserve a copy of Win10 in my Win 7 SP1 PC but after clicking on "Reserve your free upgrade", i am getting the final confirmation of successful reservation. I didnt get any option to enter my email id. :( Is my Windows 10 reservation correctly done? Kindly suggest.

You can try to cancel the reservation in the same way, then try to reserve it again and see what happens. After you can cancel the reservation, you can also try to reserve it from Windows Update and clicking reserve and then you'll presented with the screen to enter your email. Thanks,

Check the App itself. If it says "Complete", no further action is needed. You just won't get a confirmation email. The download is done directly through Windows Update with no further action on your part.

I have a PC with Windows 7 SP1 32-bit running. How can i upgrade to Windows 10 64-bit ? I know i can only upgrade from 32-bit to 32-bit. After upgrade, how can i change to 64-bit ? Any idea ?

Just install it twice... 32 + 32 = 64 :) :) :)

You can't and in this case you need to do a clean install of the operating system. First upgrade to Windows 10 32-bit, then perform a clean install. Thanks,

You have to do a clean install from 32-bit to 64-bit or vice-versa. Wait for the ISO of the 64-bit version and install it as a clean install to the hard drive. Granted, that you've saved your program install discs and also backed up your personal data, of course. Clean installs delete all data off the drive.

thanks terrokkinit and Mauro Huculak, if i do a clean install from an ISO, dont i need a License Key ? Will microsoft be providing me the key at the time of upgrade ?

Yes, or you can use something like Magical Jelly Bean KeyFinder (https://www.magicaljellybean.com/keyfinder/). Use the free version and make a note of all your keys before you reinstall.

I have a PC with Windows 7 SP1 32-bit running. How can i upgrade to Windows 10 64-bit ? I know i can only upgrade from 32-bit to 32-bit. After upgrade, how can i change to 64-bit ? Any idea ?

Do not waste your time and bandwidth upgrading to Win10 32-bit in that case. Wait for a while. Once it is clarified that the Win10 installer will accept Win7 keys, you can then directly use the Win10 64-bit ISO to install. Worst case scenario you'll need to install and activate Win7 64-bit and then upgrade, but hopefully that won't be required.

I will be upgrading to windows 10 on July 29 itself :-)

We should help out these people as much as possible on here. Many readers of this article will be newcomers to Windows 10, so give info! We WindowsCentral regulars forget many people have been left in the Windows 7 realm, so any info we can pass along will only make Windows 10's adoption rate flourish. Spread the word, citizens of WindowsCentral!! ;)

I am helping them. I'm helping them by telling them to stick with Windows 7.

i tried to upgrade to win 10 a week ago now my win 7 laptop has stopped working, cant do a thing with it, no pointer, can only use f2 and f12 no help to me what-so-ever. keep getting a message saying "the comp restarted unexpectedly or encounted a unexpected error win cannot proceed to install click "ok" to restart the comp and restart instlation" done this loads of times and keep getting same message. now iv,e had no laptop for over a week. p.s. should of left it alone and stuck with win 7. will phone pc world (where i got it from) and ask advice will not be happy if i have to pay to get it back to win 7.

I downloaded the free wd10 from wd 7 now my computer is stuck in a status oxcoooooof.And cant do anything Can some one help me get it back to windows 7 .Any info will be greatly appreciated

Does this also mean I have to reinstall all my windows applications, such as Office, Spotify, SQL Server, Visual Studio, Skype?

Does this also mean I have to reinstall all my windows applications, such as Office, Spotify, SQL Server, Visual Studio, Skype?

If you do a clean install, then obviously all your apps will need to be installed afresh. If you do an in-place upgrade of your OS (Win7 or Win8/8.1 only), your apps will keep working as before. To check for apps that are incompatible with Win10 use the

Check your PC

option in the Get Win10 app as mentioned in the article above.

Good information! Looking forward to seeing W10 in action and playing around with it before actually installing it. Glad they're offering a year to get it; plenty of time to try it out in stores and let bugs get worked out.

I just need a dark themed File Explorer with tabs feature... :)

I did install the update. But how to access it? I mean how to run the app? I am running Windows 8.1 Pro on my desktop PC.

If you mean how to access the Get Win10 app, it should be running by default. Just check for its icon in the tray (it might be hidden too so don't forget to check the hidden icons area as well). If you don't see the app, just read the FAQ and wait. You should eventually see it some time after July 29, or you can download the ISO once that's available if you're impatient.

I plan to upgrade ASAP on my gamer rig As for my laptop it will continue to ru, soon with Insider Previews as soon as that program is turned on again :)

There is no compelling reason to move from Windows 7 to Windows 10. None.

I received notice from Sony Support for Vaio PCs not to update until Nov 2015 because their drivers won't be ready. Bummer!

Hi, I've a question related to mklink, which is currently in use because of I'm using a rather small SSD.
By using mklink all my profiles are located on a normal/classic disk.
Will the update from Windows 7 to 10 respect these mklinks I made for all my family profiles?
I've one preview running on a very old portable and after the update I saw a Windows.old folder in the root .... and this worries me.
Thanks in advance.

Using symlinks and moving your profile folders has never been supported by Microsoft. For least headaches and best results I advise you to back up all user data from those folders, then empty them (as far as possible) and try and squeeze them back onto your system drive. Upgrade and then re-do the move once Win10 is up and running properly.

Will this update work on non genuin windows 7??

Will this update work on non genuin windows 7??

Yes, and will result in non-genuine Windows 10.

if I update to Windows 10 from Windows 7, its files do not disappear? and whether to require its product id windows 7?

if I update to Windows 10 from Windows 7, its files do not disappear? and whether to require its product id windows 7?

If you do an in-place upgrade via Windows Update (as opposed to a clean install using an ISO), your files and apps will be retained. For peace of mind however you should back up all important data before doing something as major as an OS upgrade. The Win10 upgrade installer will auto-detect your genuine Win7 key (which you've activated with) and use it to activate Win10.

I can't find the windows update in my laptop but I have a genuine copy of windows 8?solve this pls.

I can't find the windows update in my laptop but I have a genuine copy of windows 8?solve this pls.

If you fulfill all the requirements and still don't see the Get Win10 app for some reason, just wait. It should show up eventually some time after July 29 (no set date though), or you'll be able to download the ISO and install once that becomes available.

Hi, I'm currently running a legitimate copy of Win 7 Pro 32-bit and have reserved the Win 10 update. Would it be possible to upgrade to 64-bit as part of the updating process? I'd like to so that I can run some 64-bit only apps like latest version of Lightroom.

For those linux fans out there, does the Windows 10 interface seem to look more like Cinnamon to you?

"Check your PC" is not working since the day I get notified! It says "This report isn't available right now".

You don't have to enter an email for comfirmation when reserving the upgrade.


I reserved my copy on the first day possible and still Windows 10 isn't downloading. Everyone who reserved a copy on the first day should get it on July 29. Microsoft is really unfair.

Edge why does it hiccup when i scroll with the Logitech K400 or Microsoft Media Keyboard !? It literally hiccups , stutters and than freezes - has a brain fart that quickly shotts up pages from the numerous 2 finger swipes i had already previuiously done!! And or it freezes and give me the blue ring until it decides to work !! Does this on every website even Facebook !! Yesh wen i hold the Mouse icon ( right button ) and this holds down the side slider and i scroll with my fingers no issue!! I jever had this issue with Win 8.1 nor did i have this issue with Chrome, Firefox or I.E in Win 8.1 or Windows 10 through out the testing and currently I'm expericanig it with 101240 rtm! 2 different Keyboard with scroll pads !! What gives !! ??

I just reinstalled my OC with a fresh legit copy of Windows 8 i bought from Microsoft back in 2012 - didn't update or anything and threw in ISO of Win 10 101240 rtm i put on a thumb drive instantly upgraded and was full WINDOWS 10 Pro activiated LEGIT !! As of Last Friday no insder program no waiting for the 29h !! Did 3 updates a critical Security Update M$ released the other day and a few for my Hardware ( sound card and Graphic card /AMD ) and it has been smooth sailing !! Just as quick as a ful install minus the WIn 8 install first ( waving the updates )

How to see that windows 10 is downloading or not?

i'm wondering if i should wait a few days to upgrade from 7 to 10 or update as soon as I get the notification? my sl410 is prepped and ready to update! *and it wouldve been nice to move to 64bit as my CPU is made for it and I'll have wasted some of my 4GB or RAM

I have an unofficial(pirated) version on windows 7. Can I upgrade to windows 10

Is there a way to upgrade with a completely fresh install? I don't want to keep any file and just start over again.

The biggest question is whether everyhting will be wiped out or not, it seems to be foolish one as MS is providing the files after the install. However, people are confused between the lines of Upgrading and getting ISO files. First I upgrade then later on MS will provide ISO files like that. It'll start a viscios cycle for the same. Whether I do, or not.

I just updated from 7 to 10. Easy, fast and flawless. Loving Windows 10!

Ok...where my cursor/pointer goes??

my windows is original windows 7 bit i did'nt get notification to update to windows 10 yet.... why i didnt get or when i'll get

http://www.microsoft.com/en-us/software-download/windows10

please will my files be deleted if am upgrading to windows 10

if it fails during installation, will it keep the previous version and run with no issue? thanks.

hi, i wish lenovo would let me upgrade my Y530 pentium dual core t3200. it meets all the pre requisits but lenovo dont upgrade the bios. so it crashes every time during instalation

HI. I have a PC with W7 that came with it and no Installation disc. I made a W7 Repair Disc easily enough. I have upgraded to W10. 3 weeks ago. At first no problems and working fine. THen it developed various BSOD issues and error messages. using another computer I tired to find what was causing these messages. Its complicated to say the least and lots of people seems to have similar problems. I tried the W7 Rescue Disc but that didnt help it just kept going through a loop if messages. After 3 days of trying different rescue discs and programs it randomly decided to go through a Disc Repair program when I switched it on.... after hours of chuntering away on its own ... it WORKED.... that was 3 days ago and no problems since but... but Question... how do I make a Rescue Disc for W7 upgraded to W10 ????? . Ringing Microsoft I got a message saying I had to buy W10 installation disc and do a clean re-install ...... Any clues please???? Peter

same like if you wanted to do it with windows seven.... make the back-up from where your going. not beforhand you know i meen?

I am in the middle of upgrading to 10 from 7. The message says: Installing Windows 10 Please wait 99% complete It is stuck there for 2 hours already. Wait some more?

I've upgraded to windows 10 pro on my laptop and searched on Google and found many product keys to activate my OS, But all in vain.
A product key is 25 digit characters, Which can be used to activate Microsoft windows 7, 8 or 10 using online or telephone activation.
Then I searched again, find an Indian site and buy windows 10 pro license from ODosta Store
Now I have activated my windows 10 pro, You can also do it within cheap rates. Thanks for Windowscentral team for providing kind support here.
Windows Central Newsletter
Get the best of Windows Central in in your inbox, every day!
Thank you for signing up to Windows Central. You will receive a verification email shortly.
There was a problem. Please refresh the page and try again.