Freda vs Kindle: Which is best for reading on Windows 10?
By Sean Endicott last updated
Even the thickest PC is lighter than a stack of books, but picking a reading app on Windows 10 isn't cut and dry.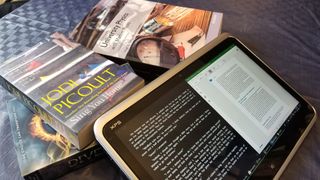 Reading books on electronic devices as about as mainstream as reading off of ink and paper, but picking an ecosystem to read your books on can be challenging. You have to weigh your decision based on the devices you own, what you plan to buy, and the type of content that you'd like to read. In addition to picking an ecosystem or setup that works for you, having an app to read your content is essential.
The Microsoft Store has quite a few reading apps and two of them, Freda and Kindle, take two different approaches. Amazon has a vast ecosystem that spans across devices where Freda can read a number of formats from a variety of sources.
Amazon used to have a touch-friendly version of their Kindle app, but they pulled it from the store a couple of years ago. That means that I'll compare the older PC version of Kindle to Freda in this head-to-head.
Libraries of content
Amazon has built up an empire from the humble beginnings of selling books. While you can now use Amazon to buy anything from sugar-free gummy bears to drones, it still has firm roots for readers. Amazon's Kindle apps and line of e-readers have access to a seemingly unlimited number of books, but when you purchase that content through Amazon, you're getting a DRM-protected version that will be restricted to Amazon's Kindle devices or apps. The Amazon store is easy to navigate, has the latest titles, and is a simple one-stop shop for grabbing content to read. Additionally, Amazon Prime members get access to a large collection of content and Amazon also has kindleunlimited which is similar to Netflix, but for books.
In contrast to Kindle, Freda has the ability to read content from a variety of formats and doesn't have a dedicated store. You can grab EPUB books from your local library or download them from sites such as the Gutenburg Project. Freda supports EPUB, MOBI, FB2, HTML and TXT which makes it great for viewing content from different sources but you might have to jump around to different stores and sites to get all of the content you need.
Design and features
In terms of design, it's less of a competition. Freda is more modern, is friendly to either mouse or touch, and has a clean feel. Freda looks a bit more in line with Windows 8.1 than Windows 10 but in comparison to the Windows 7-styled Kindle client for PC, Freda looks crisp and new. If you're on a 2-1 or a tablet, Freda is going to provide a much smoother experience, but if you're reading on a desktop or a laptop you don't touch, the design differences aren't going to be as much of a factor.
While Kindle is available for PCs, it seems that Amazon is more heavily focused on tablets, phones, and their own Kindle devices. The website that you download the Kindle PC client from doesn't have any images of the PC app in action, only a browser being used to preview a book and share it. In contrast, Freda was built for Windows and has earned its 4.5 star review from quite a few users.
Both Freda and Kindle support cross-device syncing, but Kindle will do it regardless of which operating system you're on. Freda is available on Windows 10, Windows 10 Mobile, and Windows Mixed Reality, but if you use devices that aren't running these operating systems, your progress won't sync across. Both also support notes and annotations so you can markup while you read. While I found Freda's interface to be more inviting, Kindle works well on the PC and I've used it in the past to read textbooks for university with success.
Which way should you go
As stated earlier, picking a reading app isn't cut and dry. Kindles have access to a massive library of books that are available for purchase through Amazon. This library of content ranges from textbooks, to best sellers, to self-published authors but the Kindle platform doesn't support EPUB which is a popular format for open-source and free books. Freda is going to be able to open EPUB, MOBI, FB2, HTML and TXT formatted content but won't sync your reading progress to devices that don't have Freda available.
Ultimately, these two readers meet different demands and could be used in conjunction, but using two apps isn't as nice is only having to open one. If you want to only have to use one reading app you'll have to take a look the specific content that you want to read and the devices you'll be reading that content on, and then pick the one that lines up best to your individual needs.
Sean Endicott is the news writer for Windows Central. If it runs Windows, is made by Microsoft, or has anything to do with either, he's on it. Sean's been with Windows Central since 2017 and is also our resident app expert. If you have a news tip or an app to review, hit him up at sean.endicott@futurenet.com.
What about Edge for reading e books? Go compare it sometime?

Amazon treated windows phone & tablet users very badly from the start.

In terms of design Freda is the ugliest reader on Earth. Try Fiction Book Reader. Supports FB2, EPUB, MOBI. Bookviser Reader looks nice too, but lacks MOBI support (only FB2, EPUB, TXT) and has its own buggy synchronization service

Freda's main UI isn't that great (the background is ugly, but it can be changed/removed). Where Freda excels is its book rendering, which coincidentally is the most important part of an ebook reader. There is no equivalent to Freda on Windows when it comes to configuring exactly how you want your reading experience to look. If you're spending more time in the UI than in the book, then you don't need an ebook reader. You need a library manager, a la Calibre. Bookviser will never get my business, because I don't trust them. Their first couple releases way back in the WP7/8 days required you to send your books through some russia-hosted proprietary server in order to sync to your device. That's unacceptable, even if they do now support standard mechanisms (OneDrive/Dropbox, OPDS, etc) first impressions are important and their first impression was of a scam app.

I use the touch-friendly Kobo app on my Windows tablets.

Epub In Windows has always been a problem, never found a good app for it. The best I've found so far is Adobe Digital editions, but it's an ugly and outdated app that deserved significant improvements and even a more modern UWP.

The Nook reader app works fine for me.

Kind of an apples and oranges comparison here. You're comparing an ebook reader with a bookstore. That said, Edge reads eBooks just fine. Definitely wouldn't be paying for a 3rd party app for that purpose.

Hi, and thanks for the write-up :-) One small point of fact: you mention that Kindle works across several operating systems, but you didn't note that Freda is now also available on Android, and Freda's cross-device synchronisation does work between Windows and Android. You can even install Freda on Amazon Kindles (though you'll need to use Google Play or an APK download, because for some weird reason, Amazon are resistant to putting Freda in the Kindle section of their app store). Freda isn't available on the Apple ecosystem, though. To Foxard, who reasonably notes that the Freda UI is ugly (well, let's say "it is not to his taste"), you do have the option to change the colour of menus and control screens, and to replace (or suppress) the background image. So if your tastes don't favour funkily coloured renderings of the letter 'f' (and why should they?) it's easy enough to change. BTW, I am the author of the Freda app. I'm always happy to answer questions, so do by all means get in touch (contact options are available in the app's support page).

Sugar-Free Gummy Bears. You MUST read those reviews. Make sure to use the bathroom first, or there's a good chance you'll wet yourself.

As a long time user of Freda on Windows Phone and Surface RT, I do agree that the UI layout still feels deeply rooted in Windows 8, but the book rendering is excellent. The big bonus for me is the Calibre ebook library application integration!

Overdrive/Libby and my library card does it for me.

2 local library districts here. One uses the 3M reader I'm not fond of it at all, and the other uses Libby (OverDrive) and on that one all/most books come from Amazon. Beings that Freda won't sync across devices, then why even bother? Ok, so my Kindle isn't syncing to my Windows 10M but hey, not a biggy anymore, because I'm generally reading on either my Kindle Fire, or Kindle Paperwhite. I've only needed or wanted to buy a couple books over the last 4 years, when I looked the titles up Microsoft like they are/were in their music selection was a $1.00 higher than anywhere else. That coupled that devices to read it on were limited to Edge, shut that down rather quickly. Maybe if they get books on the Google edition on Edge, I might take another look.

Reading books on any device with an LCD screen is not great, and certainly not on a computer. I have a Kobo E-ink ereader and it is the best way to read books other than a proper book printed on paper.

Bookviser Premium is the best one out there. https://www.windowscentral.com/e?link=https%3A%2F%2Fclick.linksynergy.co...
It syncs across devices which is all I needed. Plus it links to OneDrive where I keep a massive library. It costs a little but it's worth it to get their premium features. It can read aloud to you, you can swap colors and fonts, etc and even the button themes can be changed depending on what book you're reading. Spy novels, Sherlock Holmes, sci-fi themes, etc.
Windows Central Newsletter
Get the best of Windows Central in in your inbox, every day!
Thank you for signing up to Windows Central. You will receive a verification email shortly.
There was a problem. Please refresh the page and try again.