Free Lumia 950 deal with Lumia 950 XL purchase now live in the US too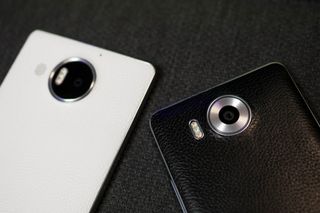 Earlier this morning, it was reported that customers in Canada could pick up a Lumia 950 ($549) for free when they buy the more expensive Lumia 950 XL ($649). That deal is now live in the US too for customers willing to buy through the online Microsoft Store (it is not yet clear if physical Microsoft stores will honor the deal, but they likely would).
Last week, Microsoft reported their Q3 FY2016 numbers and only 2.3 million Lumias were sold. That number is a reflection of the low-key launch in the US and other markets where there was virtually no advertising. Combined with a reduced portfolio and the underperforming Lumia line is expected.
Interestingly enough, Microsoft during the post-earnings conference call noted a higher level of unsold stock of Lumias meaning even what they did project to sell did not. As a result, you are now seeing Microsoft evidently dumping extra stock through their stores through this deal.
While the Lumia 950 and Lumia 950 XL have trouble competing with higher-end phones from Samsung or Apple the phones have improved significantly since their release with consistent and frequent OS and firmware updates. Indeed, picking up a Lumia 950 today is a vastly better experience than five months ago.
It is not yet known if Microsoft will expand this buy one, get one free deal to other territories.
The "free Lumia 950" deal is for unlocked devices (non-carrier), and the Lumia 950 comes only in black while supplies last. Customers can also grab a $25 T-Mobile pre-paid SIM for just $15 during the checkout process. The 10% student discount also works on this deal reducing further the overall cost. Both phones appear to be Dual Nano SIM.
See the Lumia 950 XL deal from the Microsoft Store (opens in new tab)
Thanks, Aakash, for the tip!
Windows Central Newsletter
Get the best of Windows Central in in your inbox, every day!
Daniel Rubino is the Editor-in-chief of Windows Central, head reviewer, podcast co-host, and analyst. He has been covering Microsoft since 2007 when this site was called WMExperts (and later Windows Phone Central). His interests include Windows, laptops, next-gen computing, and for some reason, watches. Before all this tech stuff, he worked on a Ph.D. in linguistics, watched people sleep (for medical purposes!), and ran the projectors at movie theaters because it was fun.
Just bought mine. And the 10% student discount works on this.

How did you do it? I went through the student discount process by choosing my school and went to the phone page. However, it still shows 649?

Add the 950XL to the cart and it will give you the deal with the discount.

I had to try it a couple of times before it showed the correct amount with the discount.

Sweet! I was ambivalent about buying the 950 XL before cause I wanted to wait for the new surface phone but now I'm probably gonna take the plunge, and the student discount is a plus!

About to vent. Feel free to skip now. This is what frustrates me about Microsoft. We all knew the phones were not priced correctly and said as much. We pointed out that it did not look premium enough to warrant that pricing. We were yelled at by some here and told they couldn't afford to lose money. OK. Now, fast forward a few months and they (Microsoft) are given away one of the phones for free. Please, understand, this is not a carrier subsidized "free" phone. This is a fully unlocked phone being given away for free. While this is good for those of you that did not buy the phones on release date, it screws those of us that supported the phones from day one. I get that as a Day One buyer I am taking some risks. However, I thought it would be "bugs" and performance risks, not value risks. Now, good luck selling your Lumia 950 or 950XL on eBay or anywhere else. Completely devalued. Now, I know the fans will yell at me and say I knew the risks when I got it on day one. That is true. But, why do we hardcore Windows Mobile have to get pooped on all the time. For once, why can't we get rewarded instead? This is especially frustrating because they didn't have to do it this way. Release it a little cheaper and you get more people buying it. Better market penetration. Better credibility. Better value. Sure you will not get as much revenue on the front end but long term you win! Now, Microsoft has devalued the phone. Still, I am happy for those hold outs that are getting the phones now. It is a great phone. I just wish Microsoft will encourage us day one fans to continue to be D1s. At this point, they are losing me to the hold out crowd. And, that is not good. We, the D1s, can make or break any product release in its first quarter. We should be treated better.

But if you bought day one, did you get your free Dock? Also I look at this as a great way to bring people who wouldn't normally be on board with windows phones or a family looking to get new phones an easy way to jump in.

This kinds of deals happen all the time with Samsung Galaxy phones too... He'll isn't it going on right now too?

Yeah, they are two for one at Sprint (or at least they were very recently)

Difference is that is carrier "free" this is right from the manufacturer and actually getting a phone for free (not the BS where you still get charged monthly line fee..)

Thanks for the warning, I skipped ridiculous rant.

Welcome to the club man. Been in this club since Windows Mobile

Fanboys, not fans, will yell at you. True fans don't get butthurt over every little criticism about MS. In fact, we criticize MS because we want them to succeed. Unlike Apple, MS doesn't think customers are a bunch of idiots, and actually care about what we think.

Save the crap about being a hardcore windows mobile fan. No one gives a crap, not even Microsoft. Get an android or iPhone for a life, and get back when windows mobile becomes alive again.

If someone is wanting the 950XL only, how much will you sell the free 950 for?

I mean I was itching for a device, I have both now trying to sell my ATT 950 but I like this deal as well if you like dual sim. I am only on ATT but good deal for others.

Microsoft is clearing the store shelves, ~40% off sale. Anyone who paid full price must be feeling that buyer's remorse. I know I would be if I bought one of the Lumia flagships a mere five months ago. I'll be watching eBay and Amazon third party sellers to see how many of the free Lumia 950 phones get put up for sale and at how much of a discount.

I bought my 950 unlocked in February at full price (well, sort of; I got price matched the March $100 off sale via my credit card). I'm not upset, because I only want one phone. I suppose for $200 more than I paid I could get two phones, but I don't want or need two phones.

I felt modest buyers remorse back in 2012 after buying a Lumia 710, WP7 model only to find out weeks later it would not be WP8 eligible. Fortunately the cost was only $130, overall I liked the phone and it still works perfectly fine as my alarm clock, MP3 player and web browser.

I'm kind of annoyed at this. I'm a loyal Microsoft customer and bought mine a week after it came out. The continuum dock offer never worked for me. Now you get two phones for one. They should do something extra for us fanboys.

They only did pre order 950XL's here in Ukraine. It wouldn't surprise me if this was the case in more countries. My company tried getting 80 phones, only got 7. It's really frustrating as the market share was high, until all MS phones disappeared from stores. Why not try keeping a high market share in MS countries? Now people had no choice but going for Chinese Android phones like Lenovo, xiomi, OnePlus. They won't return easily.

They do this everytime..and cry that their phones did not sell..

They do. It's called milking. ;-)

No they shouldn't. Do you get pissed when you buy food and it goes on sale the next week? No you eat the food and go about your life. Stop being so damned entitled.

I am the farthest from entitled. It's this is a crazy generous offer and it should gave been available for hardcore fans. It's frustrating. I never comment on posts. Even when the naysayers are predicting doom. I root for this damn platform like its my sports team.

I sympathize, but at the same time you have to realize that you pay for being an early adopter. It's always been the case.

Actually, companies charge a premium price to the fanboys because fanboys want it first and will buy at almost any price. Take every dollar possible from the fans. After that market is served, then companies work their way down the demand curve with lower prices to sell to more people. In this situation though, Microsoft is clearing the store shelves like after-Christmas sales to get rid of old inventory.

only exception Apples refund in 2007 , i remember a few got refunds then.. http://www.macnn.com/articles/07/09/05/iphone.price.drop.redux/

Fans like you are why Microsoft is in a pickle. This is not food. Phones are not perishable. They can be an investment. When you do things like this, you devalue the product. When you devalue your product, you cause hardcore fans like me to have alligator arm when you release a new product. When we do not buy during the first quarter, your numbers look putrid. When your first quarter numbers are putrid, it can only go downhill. You can have your opinion about feeling entitled but I love the platform and want it to survive. I am not a "Microsoft cannot do anything wrong" type of fan like a lot of you guys are. The truth is, when you continue to disregard your "entitled" fans, you will not survive very long. Honestly, I believe Microsoft has given up on this iteration. I believe they know they cannot do this and continue to grow. They are not stupid. If they are doing it, it can only mean one thing.......

I just want to say thank you for introducing me to the phrase "alligator arm". Posted from Windows Central for Windows 10

Insert Geico commercial here.lol That is one of the funniest ones. "Almost...there..." :D One picture at a time -- LG V10

Nothing to do with entitlement. You're a shill Posted via the Windows Central App for Android

They did. We got Office for a year for free.

Actually that's still an offer even with this 2 for 1 deal... which I just bought about 5 minutes ago

I wonder if I can return the 950XL I just bought less than 2 weeks ago?

You probably can. There might be a restocking fee though. Usually it's 10%.

Sell it off for a bargain. Buy a new one and sell the new 950 too, keeping the new 950 XL.

They should do a 30 day price Protection. You will have to go to the store if you bought it in store.

UPDATE: I went in the store and they very cheerfully rerang me and gave me the phone. Best Customer Service ever (outside the fact I got the 950, which is outstanding too) Now to get my wife to use it instead of her flip phone

If so, make me a pruchase offer on the free 950.

Great deal for two phones.

Just bought one bundle. Keep one for my wife and sell the other one after 5/1.

They should make it permanent deal actually. Instead of giving just a price drop coupled with abysmal sales, this will help them more. At least that's what I think.

Sigh!!! "No1's buyin so lets give it out for free"!!!

Sure, even though Best Buy and others had a Buy a Galaxy Edge 7 and get a second one free deal as well.....

In fairness, those were tied to subsidized carrier contracts IIRC.

Drink that hatorade baby...lol

Are both phones dual or single SIM?

N American variants are only Single sim, I guess.

They should give us who bought the xl on release a deal to.

Exactly. Like a Lumia Offers deal for a $300 discount on the Surface Phone.

Haha, the guy that offered me $500 if the Surface Phone arrived deleted his comment. Must have seen this article: http://www.windowscentral.com/surface-phone-slated-april-2017 :D

Sure just like you should pay us for such a dumb comment.

LOL 10% discount and free lumia 950? RIP WALLET, I have no other option here. Added to cart while I contemplate starvation for a couple of days, heck I might just beg for a couple of days... don't you just love the student life?

look for meetins with "free pizza"...always worked for me haha

Can always swallow your pride and visit family for a few days.

"what they did project to sell did not" hmmm... No advertising, limited initial supply, release on only 1 carrier and even then only for 1 model, no Verizon or Sprint support... Who could've ever seen that coming???

Cue the "this means that WM10 is DOOMED!" comments.
Wait for it...

We will see articles on BGR and The Verge... The only time they report Windows news is if it can be described negatively. If these were Nexus devices they'd say DEAL ALERT and that it was a stellar deal.

Just wait for vhyr or coip

Where have I ever said that WM10 is doomed? I've only said the opposite. I'll be the last one standing using my Lumia 928 if that's what it comes down to.

You mean vhyr and DJCBS....

Hmmm...sell mint condition 1520 for this deal?

That's what I'm leaning towards. I love my 1520 but given I could also get $150 for an old 925 I have lying around it seems like it should be a no-brainer. Plus I'd probably try to sell the 950 from this deal too...

IF I were to decide to go for this deal, I wouldn't sell the 950. I'd give the 950 to my wife and keep the XL for me. BUT, I'd have to splurge for the dock. Got the monitor, keyboard, and mouse, no prob. Just need a dock. Problem is, I don't think I could ever justify it. We just got 2 new 640s, and those are good enough for what we need. I think, "But.. Continuum!" <sigh> Putting away $3000+ per month into savings, and I'm retired and I still can't part with the money. LOL. I'm retired. I don't really need it. It's just really cool, and I want it. Want ≠ Need.

Browsing web on the Continuum TV in the couch is exactly what retired people do. :-)

I'm in a similar bind however if your phone works fine then why spend more cash? keep your 1520 until it breaks or sell it off it you really need these phones, or if you have family members in need of a new phone. If its in your budget go for it.

Gaah I wish I could take advantage of this. It's only a week long so the only way I could do this right now is some kind of financing or monthly payment system. Windows Central for Windows 10-Microsoft Lumia 640

The $150 credit for a 920, from a week ago work with this?

I was wondering the same. That would be great: Two $650-$65 edu discount - $150 trade-in discount = $435 for two flagship phones. Now we're talking. :)

According to the webpage, it's possible because under add to cart button they put the deal so, will pass thru the store today, will update after...

The problem is Microsoft won't issue the promo code until they receive and review your phone. I mailed mine in on Friday, April 22nd with their prepaid Fedex label. Tracking said that it will be delivered on the 27th, no idea how long it takes to review phone and send the promo code (via email). This offer ends May 1st, doughtful you will have the code prior to that date if you have not sent it in all ready. Of course you can trade it in at a store if you are close.

They won't stack the deal at some stores. It seems other people had better luck than I did with that. You also can't trade in the phone at a physical location to receive an online credit for it. I called the store and asked about that and they said I could, but when I showed up at the store they said I couldn't, which is incredibly frustrating. I understand why they can't, but if they had just told me that on the phone I wouldn't have wasted the time driving over.

Sadly, even then it's not sweet enough for me. No double-tap to wake is a showstopper. When will MS learn to add features WITHOUT TAKING AWAY features? I just replaced my 1020 with another 1020, and EVEN THEN they removed a feature I had with my old 1020 (turn off vibration from the nav bar). Holy crap, this might be my last WP. One can only take so much frustration...

Something that insignificant puts you off a deal like this? Double tap to wake was a nice convenience, nothing more.

Are all qualified phones $!50 credit? I have a 925...

Some of them, I think the l920, l925 and l1020. Please do confirm first, that article was wrote last week, or go to the ms homepage

Not all phones, but the 925 is one of them. The online trade in page is here: https://msmobiletrade.cexchange.com/online/home/index.rails?enc=AJFr0hu9hpaoQgNrEWBLcqZE927qQmcuhGHP6YwNB42Nn/PTtMJqp001EUFAbUxYHv+Ss2rtW15XkXjUNVBkVA==

Local store told me I can't stack those two deals. I told them the Store web page seems to suggest I could, but the staff says I will probably get an error if I tried to check out.Not sure if she knows what she's talking about. Anyway, I just left with the BOGO deal since it's still a good deal.

Yeah, wasn't able to stack 'em either, bough 'em anyways

I stacked my 920 deal with this. Got 950 XL+950 for $500! Yay!

in store or online? lucky you.

Lucky you! What you told them?

I went in around 8:30 PM and asked the guy about the 950 deal and said I also have a 920 trade-in. I even asked if I was allowed to stack the deals and he said yeah...so, there we go!

According to a representative on the website, officially the answer is no. They admit there is a bug on the site that is allowing it for some, but they are working on closing that loophole. No one in store should allow the trade in as part of the deal.

I can vouch that I just did exactly this in-store. Full $150 for my old 925, so $557.41 out the door for both 950's, including tax. The only catch for me was that the SIM card is a different size in the 925 (micro) than 950XL (nano). Rather than pay for another T-Mobile SIM, I figured now was as good a time as any to jump to Cricket. So, I was without a phone or nav for a bit while a tracked down a Cricket store (which I fortunately had looked up online ahead of time). The whole process from old phone to new plan took maybe 90 minutes. I could not be happier.

Not at all. I was prepared not to be able to get the $150 off after reading the comments here, but did have a ray of hope at the end when someone said they got the deal in store. I started by asking to turn in my 925, then about the 2-for-1 deal, and followed by asking if it was okay to combine both. The two girls looked at each other for a sec, and said they had done so for a guy yesterday, so it should be no problem. It was very friendly. I did try to call their store before to check in the morning, and the call center guy I was routed to told me that he could not look up inventory at local stores "due to the popularity of the promotion" and that the two promotions could not be combined--but that this was at the discretion of the store itself--which he could not connect me to. When I told them this at the store, they gave me their direct number, and were much nicer and better informed than the help center. If you (or anyone reading this) is in the LA area, go to the Glendale Galleria Mall. There is a Microsoft kiosk and they will hook you up!

...and in Finland and northern Europe we pay full price for both...no deal here ...never

Wait a little. Depending on how that works out for them it may come to us too...

Do you seriously think so, I would buy instantly

I wouldn't buy this ish for free.

warranty doesn't ship though, no? Posted via the Windows Central App for Android

Interesting, because a couple days ago there was a special deal only for Europe that put the price at a couple hundred Euros cheaper than available in the US. When I asked why we in the US don't get that deal, my comment was downvoted into oblivion. Once again, those in Europe feeling entitled.

Wait, smile. There is no 950 in Brazil

Come on.... bring it to India now..... MS has to do all these because of their poor pricing policy. Had they sold these phones at a reasonable price the could have sold in good numbers. Now... how about the 650? I know the sales should be worse than any other lumiia phones. They need to price it at INR 8000 if they wish to sell these phones. They can no way sell even hundreds with their current pricing.

I would like to know the reason from the guys who down voted. Will you guys get a lumia 650 for INR 15000 (approx 225 USD)?


Why not sell them for 325. Posted via the Windows Central App for Android

It would mean one user less like that. With this they "force" you to give a smartphone to a friend or just couple up with one to get the smartphone. It is quite brilliant...

Coz MS want to push their stocks out at the same time show more numbers in their sales.

Blaming the lack of sales mainly on lack of advertising is misplaced, the main reason for poor sales was the phones werent competitive on price, design or OS wise when released, lots of fans didnt buy for those reasons then add on the poor reviews. Other Lumia's have been released with the same lack of advertising but none were disliked as much as these two, they just arent very appealing devices. And no, buying a replacement cover then waiting weeks for it to actually show up is not a reasonable solution to the poor design.

The other primary reason for lacks of sales is availability: these phones were carrier exclusive, which has been the bane of WP from the get-go. People can't buy what they can't buy.

The design is much better than the GF's iPhone 6 or my brother's Galaxy. The problem is people like you who go out and personally attack anyone who my use a device that you don't approve of; people like you who are devoted fanboys of the competition but need to make sure that you go into forums like this one and go on your usual rants but then whine and complain about haters if anyone says anything against your favorite.

No he's right, what killed the Lumia 950 and Windows Phone as a whole was being an AT&T exclusive and cutting of Verizon customers who now haven't had any new Windows Phones to upgrade to for a couple years now.

Generalheed, and CDMA certification happens without CDMA carrier support, no? :P. Verizon also has less than stellar track record when it comes to Wp.

It can actually because Verizon has an agreement with the FCC regarding the spectrum they own that prevents Verizon from blocking any phone that uses the bands on that spectrum. In fact, people inititally believed Verizon was violating this agreement and complained to the FCC, but it turns out Verizon was innocent and were willing to certify the Lumia 950. They also mentioned Microsoft was free to get a CDMA version of the 950 certified through a 3rd party as well. Basically it was discovered that Microsoft bares the sole blame for all this. The Lumia 950 does contain the necessary hardware and chipset to support CDMA. However, Microsoft has disabled the CDMA radio as well as Verizon's LTE bands via the firmware. This was a deliberate action on Microsoft's part and they intentionally crippled the 950 so that it can be an AT&T exclusive in the US. So this time, Verizon is actually innocent.

I gather he is speaking relative to other MS WP/WM models. Posted via the Windows Central App for Android

I agree with you, the failure of these phones is not the poor advertising, is the lack of commitment to the WP environment (sorry it's not called WP anymore), lack of consistency, lack of common sense. It is not conceivable to have a new mobile OS every 3 years and tell your millions of users that you're going to deprive them from many things that they (we, I included) already have. It's not responsible to not work immediately on all the things (apps, etc) that are not working properly (email, calendar, off-line maps, camera, phone crushing, apps,etc) or are missing (basic apps). How can MS expect companies to commit to this OS if not even them are making their own apps (skype) or just simply eliminating many of apps that were already working. I also bought my 950 in the first sales batch last November and this will be probably my last WP or W10 mobile or whatever the next name will be.

Hmm...good deals but I don't want to buy 2 & sell one. They should just drop the price of both phones. Unless I can find someone to go in half&half...

Stop by in the forums, you'll find folks

Dang it tight budget! Lol too bad I don't have the money to spare. Posted from Windows Central for Windows 10
Using the Alcatel OneTouch Fierce XL for Windows 10 (Redstone)

Instead of giving it as free, just reduce phone prices, so that it will be affordable to common man and can have a good competition to other highly spec'd android devices...

It's a complete failure of Microsoft's smartphone segment unless their plan was to fail, in which they succeeded. Had Microsoft shown more interest in smartphones, their market share would have crossed 6%.

And had Microsoft not struck carrier exclusive deals with AT&T, they would've had access to the carrier with the most customers (Verizon) instead of just limiting themselves to AT&T. After all, the majority of US mobile users are still on CDMA networks through Verizon or Sprint.

If this comes to Mexico, I would be very happy and will buy that combo! I can keep the 950XL and give the 950 to my GF, her Lumia 620 is already old.

Once again, loyal fan(boys) who rushed to buy a phone on launch day get screwed. Can we at least get some kind of deal?

MS said upfront that its 'flagship' for fans. Fans are exhausted and now is the time for landfill.

The only thing deserving of landfill is your usual garbage comments.

Any phone you buy on launch day will eventually get some kind of discount/deal later on, sure for microsoft phones maybe it comes sooner since it's obviously not as popular/in demand as an iphone or android. Just plan things out a little more in the future. I purposefully did not buy at launch thinking there would be a deal at some point (and wasn't able to get anything at launch anyways because I didn't have the funds at the time).

does the $150 trade in offer work with this as well as the student discount?

Trade in offer: No. Student Discount: Yes.

Darn it, I just switch to G5 (just trying out, no hating) an awesome phone, giving back the 1020 feel, which I'm previously using. Posted via the Windows Central App for Android

Is this offer applicable in India.?

US and Canada only (for now)

Does anyone know if this deal good in-store too, or only online?

Hmm.. I found a note saying that it was good in store as well... (Most of their deals are.)

It's available at store, that's how I got it

People in Norway wants this offer

@wpkevin, abit of a stretch to think everyone shares the same opinion as you, don't you think? :P It's best to buy from an official channel for the RMA process.

"People" is a bit of a stretch. "Person" *maybe*

Too late. Already bought a Galaxy S7 Edge and got one free from T-Mobile. Best thing I ever did. Posted via the Windows Central App for Android

Haha good going. Posted via the Windows Central App for Android (5x or V10)

I would rather have two 950s than a 950xl and a 950. or a single 950 for ~$350 would be nice.

What's wrong with the 950xl?

the xl part. too big for a phone.

Buy this deal, sell me the brand new XL for $300, and you'll have your 950 for $350 :)

Did MS ever fix the issue with not having Glance or Double Tap to Wake with these 950's? Maybe it was just no Double Tap? I'd love to upgrade my aging L830 to a white 950 XL but no Double Tap is a serious deal breaker for me. Will probably hold out for the Elite x3 later this summer anyway.

It's does have glance, not the tap to wake though. I think they were gonna add that as an update at some point... Good phones though!

had they priced this device around 350- 400$, I would have bought it. Now I am stuck with 640XL :(

Ya people in India also want this Offer Seen on Lumia 640 Xl

Only if it would have worked on Verizon ☹

Now if only we could put Android on them..

and ruin an otherwise good phone? Why would you want to do that?

You MUST be joking.... or you've never used Android before

You MUST be joking.... Or you've never objectively used Windows before.

I did. For 5 years. That's why I can say rld082982 is correct.

I was an early adopter of WP7 all the way till this past fall, and have a S.Focus, 920, 925, 520, 640... and it's been a steady downhill plunge in quality almost to the point of being currently unusable compared to android/ios.

If it has been a "steady downhill plunge in quality" it would only be part of "catching up" to android. But if tempermental instability is your measurement, Android is still in the lead. Windows has a long way to go before it is as bad as Android.

You're incredibly delusional

I'm delusional?! You're the one that thinks Android is the better OS. That's delusional!

@rld082982. Replying to yourself, hmm... Maybe you need some fresh air. It would do you some good :).

Android will be good on that phone. Posted via the Windows Central App for Android (5x or V10)

Why not in India!!!!!!! Microsoft says India is a unique and powerful market and you ditch it at offers!!

I wish this was available in the UK as I would be all over it especially with the current pricing as it would for a nice replacement for my wife's 925 and bring me back to Windows. Posted via the Windows Central App for Android

Is anyone really surprised these did not sell well in the US considering how they blocked the largest carrier in the US (Verizon) from carrying these phones? I would've gladly bought this phone the day it came out if it was available for Verizon. In fact, the company line has about 50 people on the plan and they were planning on moving all 50 people to the Lumia 950 if it became available for Verizon. But with no clear upgrade path on Verizon, they were forced to upgrade everyone to the Galaxy S6. I'm sure there are numerous people and companies that were in similar positions. A Verizon Lumia 950 would've increased sales a lot considering Verizon is the largest carrier in the US.

I just left Verizon today and bought these phones.

I would if I could, but I'm on a business plan so I can't just switch carriers on a whim.

Been proven time and again, sales of WP on Verizon dont really amount to as much as you think and wouldnt really move the needle sales wise. One carrier in one country isnt the problem here.

App development often is heavily influenced by U.S. market share though.

I am only one but that's the only reason I didn't buy and a couple guys at my work would like to upgrade as well but we can't due to no VZW support. There are bound to be a lot of other people in the same boat as me. If we had an upgrade path, we'd take it.

For the record, Verison blocked Verison from carrying the lumias NOBODY else.

I wish that were the case, but according to FCC investigations as well as FCC rules surrounding Verizon's spectrum, it was Microsoft that blocked the 950's from running on Verizon's network. You can look up all the FCC documents if you want. The Lumia 950's have all the necessary hardware to run on Verizon and because of the FCC spectrum laws, Verizon is legally not allowed to block any phone that uses their spectrum. Verizon confirmed it themselves too in a memo. Therefore, it's obvious Microsoft deliberately crippled the Lumia 950 via firmware and refused to certify the CDMA radios to prevent those phones from working on Verizon, hence the AT&T exclusive. So just for the record, Verizon is actually 100% innocent this time. Why did Microsoft choose to block the 950's? Who knows, but it's definitely angered a lot of their fans and helped contribute to the demise of windows phones. Posted via the Windows Central App for Android

Does this support wifi-calling and Band-12 on T-mobile? I'm interested if it does.

Band 12, reportedly yes. Wi-Fi calling, reportedly "not yet."

Fire sale! Fire sale! (in my chanting voice). Now if they did one for $325, I would do it.

I am trying to find an excuse to get another one....help me find an excuse.

MS should also offer the free Lumia 950 with a SP4 or SB purchase. Would help drive sales of a successful product line and in the process maybe get a few WP adopters.

My order is in.
Interesting question should be; What does this do to their own partners who are about to release premium wp like jade primo, hp x3 and at least couple of companies with mid wp using as 617?

Real good question, I thought MS was supposed to give some breathing room to other manufacturers and only create halo products...

the numbers are likely not very large, maybe some tens of thousands to a few hundred thousand, max. it doesnt help but probably won't have a huge impact. not that the 3rd party OEMs will likely do any better. as MS is not pushing it, it highly unlikely these 3rd tier OEMs can make the needle move much at all. Posted via the Windows Central App for Android

Well it's the first time Microsoft has ever screwed over its partners then. LOL far from the first time actually

Just bought these great deal.

Just bought mines with the student discount.

I already have 950XL still purchased...most probably give away as a gift to my ex-girlfriends!

Can I be one of your your ex....?

This is a fantastic deal... but switching my carrier (Big Red) to one that supports these phones isn't practical (for me). I have an old Lumi Icon, I just installed a new OEM battery in it two months ago... to prolong it's life. I'll just wait until this one dies, as the lack of security on Android makes me say no, the lack of evolution of iOS has me yawning... hopefully Windows Phone will get their act together by the time my Icon truely dies. I'd like to have the 950XL and the 950 for the wife... but getting stuck with a carrier without the same coverage and bennies isn't worth the switch for me.

Bought them. Selling XL on eBay.

$650 for two phones is still too much now that US users are accustomed to what I just now invented as "Lumia 640 Units" 21 640 units is too much Microsoft!

All dem new shrink wrapped units on ebay!!!

Damn. I bought on day 1 in-store and couldn't get a student discount because "we can't prove it's for school use. Sorry!" Jerks.

Not all that surprised, given that I've recently seen buy-one-get-one-deals for iPhone and Galaxy S7

Thats on carrier locked with plan commitments. Unlocked direct from factory is quite a different thing.

Actually, not really. I've seen S7 promos for both carrier-locked and unlocked.

They are clearly clearing stock in hopes of recouping lost cash from inventory sitting on the books. Don't blame them, but it should never never come to this. There has never been such a sale on a desirable device. Hoping devs keep seeing the future in the one OS platform MS is pushing. Even while they fail to push your own mobile devices.

afaik, an universal app does not work on phones without some modifications. or am I mistaken. why bother even with that minimal effort when MS has killed of the chicken? no chicken, no eggs, until there are.. err.. chicken. and doubt that the 3rd party OEMs will hatch enough of them for the app developers to care for the mobile version. I hope to be wrong again. :) Posted via the Windows Central App for Android

You speak as if you have solved the biggest riddle of all times; which was which came first the chicken or the egg. You comment implies that the chicken came first, I'm still not convinced that the egg didn't come first...lol

@uxo22. Maybe they both came into being at the same time? :P

Just ordered mine early and it said that it will ship by April 27th. Now I just checked the order and it shows "back ordered" Is it like this for everyone?

That happened on mine too. Very frustrating, especially since the page still says "Ships by April 27, 2016".

Perhaps they expect a shipment in this week.

Both my phones are also on backorder. I was also charged shipping for each phone.

Might be my fault though. I ordered the white version by mistake.

Is anyone interested in splitting this deal? Split the cost and one of gets the 950 and the other gets the XL?

I'd buy a $325 XL from you, especially if you can use a student discount to negate the tax.

I'm interested. If you haven't accepted any offers, shoot me an email at emarckley4 at hotmail. Thanks.

"Give it away. Give it away. Give it away now." :D One picture at a time -- LG V10

I really wanted one of these when they came out. Being on T-Mobile it was never offered to the carrier, yes I know that I can buy it unlocked from Microsoft but it was always just easier to do an upgrade with Jump. We'll, if there would have been a price drop or more incentive a while back I might have taken the unlocked plunge. I realllly like Windows Phone but the lack of availability has just turned me off. I ended up getting an LG G4 and G5 for my last two phones which I love. If Windows phone was at the T-Mobile store (in flagship status), or if Microsoft had more competative pricing earlier, I would have stayed Microsoft. They really are great phones though, I really hope Windows Mobile isn't a dying platform, it is my favorite amongst all the competition for its speed, reliability and simply how different it is.

they were both high in price. the XL is like $349 and the 550 is $199 from the built and looks of it. so technically you got the both phone for $649 is still high!

Whatever, the phones sold for $649 and $549 respectively, regardless to whatever self imposed theory you are dreaming up. Getting both phones for 649 is a great deal.

Show me one comparable phone (android or iOS) with similar spec sold at 349.

Wow, just called ms to see if there was any way they could honor some sort of customer appreciation after having just bought my 950 xl 60 days ago, and having had every wp since 6.5.... Their response, and I quote, "No, that's just the way it is"... Phone is going on Cl and I'm out. F-MS

If you have a store nearby might want to try there sometime they are more useful. it is 60 days so, might be tough.

even amazon won't let you return a phone after 60 days. 30 yes but 60 no.

Yeah, wasn't expecting a return, or really much to be honest... I was just appalled by their response. Not a sorry, but thank you for being a customer, or anything. Just a, sucks for you, done with your call now? Bye... Lame customer service. I give up on advocating for them to my peers. I'll just quietly hide in the corner, ashamed to be seen with an expensive brick in my pocket.

It's interesting that these phones were pretty hard to come by when first launched. I remember the 950XL selling out w/in the day and the 2nd batch just as quickly. It seemed that it was a real challenge to get these and now they're saying they have overstock?

that one thing that can happen when you fire all the people who know how phone markets and supply chains work? just a thought. Posted via the Windows Central App for Android

The Nokia folks, if nothing else, were known to be masters of Supply Chain Management and logistics; when Microsoft got rid of them, that expertise probably walked away and went to Samsung/Apple/LG etc etc

Perhaps it took a bit of time to catch up with the demand. It happens with all sorts of products.

lumia 650 is on its way back lol just have ordered this deal ...cant go wrong i figure with this offer plus got me the leather brown back for the xl.

Do they ship to Singapore?

There goes the value on my phone. **** for 650 I can sell the 950 for 300 boom xl for $350 then I can sell it ima year for 200 and lose all my money...... O wait I day it day 1 **** me harder why don't u...

Because why not? Everyone wants to buy two phones. Sigh. Why not just halve the price on a single unit? I might actually jump in, then.

Please add apps in store like android and ios

Produce Lumia 520 improved version,like4 inch device front and back camera with flash

Bought the 950xl and 950 today. Used my old Lumia 920 to get an additional $150 off too.

I bought them to, but asked in the store for that and they didn't let me apply both offers.

Go back and make them give you the credit. I bought mine at the Stanford store.

Did you have to argue about it, or was it smooth the transaction? I asked the sales representative and she asked like 4 different people trying to help but no luck

Same here (sorry for repost, but same topic from page 1) I can vouch that I just did exactly this in-store. Full $150 for my old 925, so $557.41 out the door for both 950's, including tax. The only catch for me was that the SIM card is a different size in the 925 (micro) than 950XL (nano). Rather than pay for another T-Mobile SIM, I figured now was as good a time as any to jump to Cricket. So, I was without a phone or nav for a bit while a tracked down a Cricket store (which I fortunately had looked up online ahead of time). The whole process from old phone to new plan took maybe 90 minutes. I could not be happier.

Oh nice!!! When in India?? O.o Posted via the Windows Central App for Android

Purchased Posted from Windows Central for Windows 10

I feel like an even bigger fool. I could have a Galaxy right now. Hopefully my job can get me an Elite X3 because from what I understand there selling it though "business channels"

If you hold out another couple months, all these phones from the BOGO deal will all mostly wind up on ebay, and you'll find a Lumia 950 for only a couple Hundred Dollars.

my order is showing as on backorder here in Microsoft Canada ...quick to take my money but no news on when they will ship just my brown leather back is in stock and its being shipped . This sucks ...hope the April 27 shipping is for real plus I payed for fast shipping ...like wtf!

In the same boat, paid for next day. Now, I have to wait. By chance did you order the white version?

I ordered the white 950xl and black 950

I'm curious if only the white 950xl is on backorder.

It's not just the white version on backorder. I bought both in Black yesterday evening, paid for expeditied shipping, and am showing both being backordered.

I ordered yesterday and both were showing back ordered, now they show complete.

ok i ordered white xl with black 950 was backorder at noon now it shows as complete and have tracking numbers , looks like two orders one for leather back other for the phones ...so they should be here by end of week i hope did pay for extra shipping.

I just ordered mine over the phone because the student discount stopped working online. Also purchased a Surface pro 4 with student discount, surface dock for $100 off and they gave me $20 off the new type cover because the student discount wouldn't work for that either online. $863.80 in discounts! Crazy.

only accept US billing address, then how to use shipping company to ship from US to outside US?

haha. i bought a 950 in march and kept it for a week. i have two phone lines with my unlimited t-mobile data so i thought i'd try out windows phone again. i loved my htc trophy and my nokia 925. i switched to iphone though because my 925 battery died so fast after 2 years and there was just never that app support. the camera in the 925 is leagues better than my iphone 6 and 6s cameras, esp in low light. the 950 camera was amazing too. i returned it though because i couldn't find any reason to use it over my iphone 6s. the camera is way better, esp in low like like the 925. but man i shouldn't have to wait for the camera to pop up anymore. it should be instant like the iphone. the iphone sucks in the dark but it has apps... i also returned it because $600 for a phone was crazy if i couldn't justify using it over the iphone. i also figured that no one was buying these phones and microsoft would pull a move like this down the road and i could get a $600 for maybe, $200. like i ended up putting a moto-g on my second line. and guess what. a month later they do a 2 for 1 deal. lmao

At Microsoft Store, I was able to use the Lumia trade-in Offer ($150) against buying the Lumia 950 XL (/w 950 free). Awesome Deal!!

At the beginning I think MS have made a good move with this promotion but at the end I was really disapointed with the result. The promotion started on 25 Apr and originally it was said it would run until 1 May (though it has stated availability will be subject to demand). On 30 Apr morning I found that both colors of 950XL were out of stock and that meant the promotion was over (just about 1/2 before its original deadline). Of course I was not happy but to accept the 'fact'. However, on the next day (1 May), it was found both colors are available again on the store! This is a very bad example of marketing. MS should be more generous to let customers-to-be who were attracted by the offer to enjoy it according to the original end-time. In view of the current market share of Windows Phone, a renowned promotion would be key to the success of gaining their share but now it just ended with a black dot on a white paper.

We just picked up a 950XL and 950 from MS store (in US). BOGO deal plus traded in 3 phones (925, 920, and 1020) for an additional $450 credit - final price with tax $239. Great deal but still a bit sad to see the 920 and 1020 go - those phones were tanks!
Windows Central Newsletter
Thank you for signing up to Windows Central. You will receive a verification email shortly.
There was a problem. Please refresh the page and try again.