Free Xbox Live Gold this weekend for US and Canada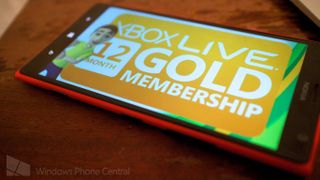 Microsoft has a Valentine's Day gift for the US and Canada. Xbox Live Gold member benefits for Xbox 360 will be free for all Xbox Live subscribers from February 14-16th. This is a good time to check out the latest entertainment experiences on Xbox 360, if you've been holding off. Online multiplayer gaming will be also be available for free, but additional subscriptions may be required to access select apps.
The offer begins at 12:01 a.m. PT time this Friday, February 14th and ends at 11:59 p.m. PT on Sunday, February 16th. Regardless of your current Xbox LIVE subscription status, you will have access to online multiplayer gaming, Video Kinect, and the entire catalog of entertainment apps.
An Xbox Live Gold subscription usually costs $9.99 for one month and $59.99 for one year, but deals show up once in a while. Enjoy your Free Gold Weekend!
Via Major Nelson
Windows Central Newsletter
Get the best of Windows Central in your inbox, every day!
As much as I like Microsoft the US are their market, the rest of the world are second class citizens =/ Google is quite similar too.

Canada is part of the US?

Its still considered North America Posted via the WPC App for Android!

"Considered" North America? Canada IS part of North America, and so is Mexico in case you were wondering. I'm surprised (and pleased) that MS included Canada in this promotion. Canada is often left out, but maybe times are changing.

Mexico is Central America for your information

You need a geography class...

Guess what you're right and I am wrong. Geography was never my favorite...(end of discussion)

Ummm, no, Mexico is part of North America.

Well that's just stupid of them!

I got a month free this month here in UK. I went on the xbox site to renew my gold and it said "try a month for free" (or something like that). But, I've had my XBL account for years now so I don't know why I got a free month. Still, I'm not complaining. :D

Download the two free games of this month!!!

No game downloads...
just online gaming...

"Nothing for you Europians" - MS

"Indonesia ? Is there WP & Xbox user there. forget them" - MS

Again No Love For Europe!

Do your Europeans even celebrate valentines day? If not, then stop whining, you got boxing day and a free FIFA game!

Wow, what rock do you live under?

You get other days and half price everything compared to the rest of us... Xbox one is $714 in the uk and more in other parts of the Eu Posted via the WPC App for Android!

Yes we do. That's kinda offending dude, America is not the only country with holidays

Hey, get back to school and learn something! Or, before U do some smart considerations.....Bing it

To all those offended, suck it. But really tho, I don't know about Europeans and how or what holidays they celebrate vs the US.

I was gonna comment something like this: "hahaha I have a pc now..."
Then I saw it's US only...
You got me ms, good one ;)

Now i can do FB on my xbox this weekend lol

Sadly no love for india.. Just like other bing services. This partiality sometimes really annoys me.

Will we get bing services after 8.1 update

That has not been mentioned anywhere yet (P.S: I was looking for it too when they revealed WP8.1 features). But yes, I was happy to see most of the services and features people requested in uservoice.com has been listed in WP8.1 update. So you can vote for bing services here anyway: http://windowsphone.uservoice.com/forums/101801-feature-suggestions/sugg...

For Bing services set US in phone settings as region.. or select English U.S. as language

That works partially. I mean by doing so you'll get only US local bing search results, not Indian. You neither get bing rewards and other services so what's the point of doing so?

What will i get if I do it?

What does it have to do with xbox live?

Does anyone know the reason why Xbox Gold/Marketplace does NOT accept the Microsoft Account balance. It's ridiculous!

Do MS know the UK exists?

Oh WOW thanks! Lol...3 whole days. No thanks I'll stick to Playstation Plus.

You probably should go out more.

Why does Microsoft think no others outside of the U.S. and Canada have any Microsoft products!?!?!

Cause you're all third world countries

Im starting to dislike Microsoft!!fuck you very much!!they never bring any offers to the uk!!

Right micky. Sort it out now. Uk here. Nathin for us as usual.

Why do you Europeans complain so much?

Because americans have Pitbull...

That's an ignorant comment! Why do the U.S. constantly invade others country?! Stfu .

Not American but Canadian

I am a Xbox Live member. What is the benefit of these 3 days to me?

You can start multiplayer gaming via online with your buddies..

I've not found any perks, but does anyone know if this does anything for us who don't own an Xbox? Does gold do anything for my phone?

Microsoft's loyal fan base must pay to access features that every other device and OS offers to their loyal fan base for free.