The full Windows 95 launch keynote is now viewable on YouTube
It has screaming Steve Ballmer, Jay Leno's chin, and everything else you've ever wanted.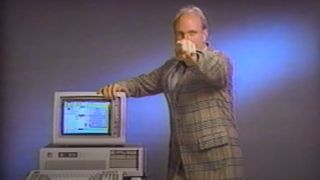 (Image credit: Blue OS Museum)
What you need to know
Windows 95's keynote launch event is viewable online in its entirety.
Bits and pieces of the event have floated around the web for ages, but this may be the only long-form, all-encompassing video of it available online right now.
It features Jay Leno, Steve Ballmer, Bill Gates, and all the nostalgia you can handle.
Everyone loves a good Microsoft time capsule and a trip down memory lane. After all, remember that epic video of Steve Ballmer ripping off his shirt before going full-on Aquaman in Lake Bill? Well, this is your chance to relive that sort of historian hype via the full-length version of the Windows 95 launch keynote, now available on YouTube for your viewing pleasure.
That's right: Some kind soul dubbed Blue OS Museum has uploaded the hour and a half, feature-length keynote for Windows 95 onto YouTube. It has everything you want: Bill Gates talking up the strange, futuristic notion of "electronic mail," Jay Leno doing bits and skits, and even some vintage 1986 footage of Steve Ballmer yelling and pointing fingers.
Windows 95 did a lot for Microsoft and the computing world at large, playing a big part in establishing the plug-and-play concept, the beginnings of today's Start menu philosophy (which some would argue Microsoft has regressed with Windows 11), 32-bit support, and loads more. So if you want to see where the magic began, there's an hour and a half of Jay Leno's chin up above worth taking a look at.
And don't forget about other iterations of Windows that have crawled out of the memory hole in recent times. Specifically, Windows 3.1 just turned 30 years old. You can thank that OS for your ability to copy-paste, among other things.
Robert Carnevale is the News Editor for Windows Central. He's a big fan of Kinect (it lives on in his heart), Sonic the Hedgehog, and the legendary intersection of those two titans, Sonic Free Riders. He is the author of Cold War 2395. Have a useful tip? Send it to robert.carnevale@futurenet.com.
A minivan, huge earrings, an OJ Simpson headline ... the only thing this 90's nostalgia trip was missing was Monica Lewinsky. And maybe Pearl Jam. And you know me - I went straight to the Ballmer bit.

It's the highlight of the video, so no one can blame you.

95 was a lot better just by making winsock obsolete. Internet for the masses soon followed.

Eh? Winsock 2 was added to 95 as a service pack later in life.
Not sure why you think it's removal would have been a big deal, it's just Windows version of BSD sockets over TCP/IP?

That it was built-in, supported and didn't have to be scrounged up (with instructions) over BBS systems was very helpful vs Win 3.0/3.1. It is easy to find all the info now on the internet with google; back then, not quite so straightforward. Of everything 95 did, this was the foundational addition. YYMV.

Still have my family's Aptiva 2168-M71 with 16MB (upgraded to 64MB) of RAM, Pentium I 133 and Trident 9680XGi. Ran and still runs Windows 95. Although I updated it a few years ago to the OEM Service Release 2.5 from 26th November, 1997. Purchased in July of 1995, making it 27 years old this year.

Rolling Stones 'Start Me Up' was the perfect song for the commercials. I remember upgrading to Win 95, running Netscape and some sort of 14.4 US Robotics dial-up modem...

Those were the day my friend, I hope they never end

Ah Joe Belfiore, the guy who screwed MS with their mobile efforts for 15 years to come
Windows Central Newsletter
Get the best of Windows Central in in your inbox, every day!
Thank you for signing up to Windows Central. You will receive a verification email shortly.
There was a problem. Please refresh the page and try again.