Weekend Entertainment: Listen to The Game or watch Dead Rising: Watchtower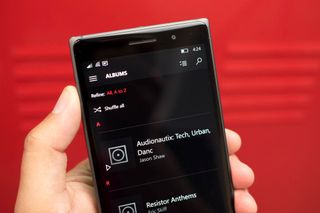 Every week, lots of new stuff drops on Groove Music and Movies & TV, and it becomes hard to keep up. Well, that's where we come in. Every weekend we'll highlight some of the hottest albums and singles on Groove Music.
We'll also let you know what movies and television shows just dropped on Movies & TV for your viewing pleasure. It's the weekend, and we'll help entertain you.
Groove Music
The Game - The Documentary 2
The Game has released countless albums in recent years, but none has had the same commercial success as his first album The Documentary. So here we are ten years later with the follow-up to that album accurately titled The Documentary 2.
This album is stacked with features and tracks. The Documentary 2 has 19 tracks and a total of 21 featured artists. My favorite songs so far include Summertime, On Me, and 100.
Listen to on Groove Music (opens in new tab)
Arty - Glorious
Arty is a 26 year old electronic DJ/producer from Russia. He has been active since 2011 but shot to popularity in 2011 when he was nominated for best breakthrough DJ but lost to Afrojack.
Although releasing tons of songs in the years, Glorious is his first studio studio album that he has made. The album features 14 songs that will sure to pump you up during a workout or just to put you in a dancing mood. Stronger, Inertia, and Poison For Lovers are easily my favorite songs on the album. If you enjoyed this album as much as I did let us know in the comments below.
Listen to on Groove Music (opens in new tab)
Movies & TV
Dead Rising: Watchtower
Dead Rising: Watchtower takes place between the events of the Dead Rising 2 and Dead Rising 3 video games. News reporter Chase Carter and his camerawoman have been covering the stories of a quarantined area in Oregon. Unfortunately, the drug administered to keep the virus at bay is no longer working and they find out that the city is going to be annihilated.
Watch on Movies & TV - $14.99 (opens in new tab)
Do you have plans to watch or listen to something else this weekend? Let us know in the comments below! Also, if you have any suggestions for next week's post you can always hit me up on Twitter @JonDollison. Have a great weekend!
Windows Central Newsletter
Get the best of Windows Central in your inbox, every day!
Game album was ok. Not as good as the first documentary or even Devils Advocate. It was solid though.

I will do no such thing. I will watch baseball and maybe listen to some Emery or Haste the Day, depending on if I have to drive or not.

Watched Dark Rising for free on crackle, good movie, but definitely better when it's free! The Game still there, lol, was literally just wondering if he was still putting out music earlier today.

I was looking forward to The Documentary 2, didn't get a chance to listen to it yet though

If you have a xbox/groove music pass, yeah.