GAME Reward now has a full universal Windows 10 app for PC and Mobile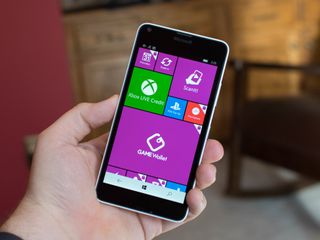 If you live in the UK and play a lot of video games, you most likely have uses GAME as one of your source for buying new titles and accessories. Now Windows 10 and Windows 10 Mobile users can download the revamped GAME Reward app, which lets them collect points from their purchases in store and online.
Here's a look at the features of the app:
Access the App using Cortana!
Collect and redeem Reward points through the App.
Change the design of the App by selecting one of the available backgrounds in settings.
Scan games in store with Scan it, the new scanner, to find out all the product details, watch game trailers and find out your personalised price for the product.
Move the tiles around to suit your needs, make your favourite features bigger on the App home screen.
Complete exclusive accolades to earn bonus points, and view your progress against each one.
Quick links to the online store plus links to Xbox credit, PSN credit, FIFA points and the Nintendo eShop.
Change the font of the app. - Get trade-in prices for your old games with our integrated Trade-in price checker.
View our charts, and link straight to products on the web to buy or pre order.
Looking for mobile games? Check out our recommendations.
Add GAME Reward to your phone home screen and see the tile change.
Find your nearest store with the built in store locator, even follow them on twitter!
Keep your contact details up to date to make sure you don't miss out on offers exclusive to Reward members as well as other great content & promotions that are relevant to you.
Connect to the in store WiFi available through the app.
Thanks to Joey Dark for the tip!
Download GAME Reward from the Windows Store (opens in new tab)
Universal.... I'd say it's working. ROJO > ARLINGTON, TX > LUMIA 1520 ≥ 950... WAITING FOR 6.2" SURFACE PHONE

Hmm, where are all the naysayers now? :P Game is pretty big in the UK albeit they did shut a few stores down but they are still verrrrrry popular and they do have some stonking good deals too.

GAME are hit & miss for me. I hate them for having a monopoly on the majority of Collector's/Special/Limited Editions these days but it's it's the main if not only reason I buy from them any more.

I don't like the fact they do have a monopoly hence I why tend to do my bargain shopping at the local high street shops. However you can pick up pretty good bargains there - I picked up gears 1, 2, fable 2 for £1 (x360 titles) each - albeit preowned but they were in incredibly good condition. They practically look brand new as all of em have the manual / booklet also in mint condition.

I do most of my shopping online whether it's for games or anything else (apart from food) to get the best deals :p and it's something I used to be able to do with CEs, SEs, & LEs until GAME got taken over and have a monopoly on them :(

GAME shutdown completely in Australia

The link isn't taking me to the app for some reason. Posted from Windows Central for Windows 10

Try this one: https://www.windowscentral.com/e?link=https2F%2Fclick.linksynergy.co...

Sorted, thanks. Posted from Windows Central for Windows 10

Because Game is a UK only retailer? The stores are called "Game", this app is for their catalogue, reward points and so on.

Oh I see, my bad first time I'm hearing of them being around in spain as well. I can see where the confusion is steming from :), usually companies have their regional portals linked at the bottom of the website. Game.co.uk doesn't have a visible link for Game.es (spanish website) at the bottom.

It used to be in Australia, and it's in a few other countries IIRC

Because GAME is a UK-only store?

Physical stores maybe, but the app's functionality is mostly linked to the website which is UK only (although I do believe they will ship outside of the UK under a certain weight).
Do the Spain stores even have the loyalty program?

It used to be in Australia too, and it's in a few other countries IIRC

coz the company only operates in UK

Why do you need a reward card app for a store you can't shop in?

But you can't shop at GAME UK, which is where the reward scheme in question is based. Your question shouldn't be why can't you have this app, and why haven't you got a Spanish reward scheme with a spanish app :)

There is an app for ios and android in game stores on spain.. With rewards

I apologise. I thought they were sold to GameStop as there were rumours about that happening back in 2012. I also looked after you mentioned that and can see they're still up and running (found the Spanish website) and just about managed to find the Android app. Only thing I can suggest is emailing them/sending them a message on Twitter and asking for a Spanish Windows Phone app, or an update if one already exists.

@Racxie. It would have helped if Game.co.uk had Game.es linked to the bottom of their website lol as usually regional portals are linked or they have a globe icon.

I don't know, maybe it is in the article? "If you live in the UK and play a lot of video games, you most likely have uses GAME as one of your source for buying new titles and accessories."

It's sad their parent company hmv gave up on selling games in their own stores

What tile size is THAT? On the mobile

It's inside the app. So its custom.

Just installed it, this is actually a very good app! Wondering if is been ported from iOS!because is not often we receive well thought through apps.

The game app for WP8.x has been getting constant updates so yeah it's been pretty well maintained and they even had wallet integration right out of the gate if i recall correctly (could be wrong, it's been almost 4 years lol).

It is good that they pay attention to the Windows platform, however I have just noticed that many areas don't work on our two Lumia 950 XL handsets however this could be on all devices, areas not working include camera for scanning, Charts, Promotions and etc... tried to email them when the app asked for feedback and email bounced instantly with message highlighting that the address did not exist therefore perhaps I spoke too early though the design is perfect.

How's the tile so big? Am I missing something here?

How did they get the 4:3 tile!?!

I'm all digital on my ps4.Ps store deals are awesome yesterday I got resident evil revelations 2 deluxe edition for 20$ India.

Nice little app, love the interface design, but ultimately 90% of the app is a web wrapper. All the news articles, charts entries etc just lead to the web browser. x.x

For anyone wondering also, yeah, it's Continuum enabled.

Well good for them I say, keep the apps coming !!!

Noticed this update on my phone the other day, but didn't realise it was a UWP app that's also on PC now. GAME have always had pretty decent support for Windows Phone in the past. This will be a good app to have on Xbox One in the future too, considering it's all to do with gaming
Windows Central Newsletter
Get the best of Windows Central in in your inbox, every day!
Thank you for signing up to Windows Central. You will receive a verification email shortly.
There was a problem. Please refresh the page and try again.