Gameloft Holiday Sale - 9 Windows Phone games discounted by at least 50%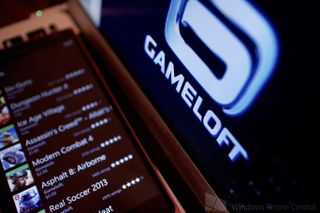 Need some games to fill up your Windows Phone device? Now may be the perfect time because Gameloft, a popular video game developer and publisher based in France, has just reduced prices on nine of their best games for Windows Phone by at least 50% for the Holidays. Check out the discounted titles after the break. You might find something you like.
Order & Chaos - a true real-time, full-3D MMORPG on your Windows Phone. Now $2.99 (Store link)
N.O.V.A.3 - Fight for mankind's survival in this space shooter. Now $2.99 (Store link)
Modern Combat 4 - first-person shooter with real-time online multiplayer. Now $2.99 (Store link)
The Amazing Spider-Man - The official game from the 2012 movie, "The Amazing Spider-Man." Now $2.99 (Store link)
The Dark Knight Rises - The epic conclusion to filmmaker Christopher Nolan's Batman trilogy arrives in the exclusive video game inspired by the movie. Now $2.99 (Store link)
Lets Golf 2 - Newest edition of the popular Let's Golf series is just the thing you need for the most exciting golf adventure you'll ever find. Now $1.99 (Store link)
Assassin's Creed - Altaïr's Chronicles HD - You are Altaïr, a Master Assassin sent by the Order of the Assassins on a quest to steal the Chalice from the Templars in order to end the Crusades. Now $1.99 (Store link)
Brain Challenge HD - Complete brain training program with total brain activity coverage and a personalized coach to help all brain profiles. Now $1.99 (Store link)
Uno - The world-famous card game is faithfully reproduced for mobile and also features exciting new rules. Now $1.99 (Store link)
You can check out the entire holiday collection here. Which of these nine games from Gameloft are you buying? Let us know in the comments!
Windows Central Newsletter
Get the best of Windows Central in in your inbox, every day!
Thanks for the heads up on NOVA and Order! By the way, Mass Effect is also on sale for 2.99

Sweet. While the above games are fantastic, Mass Effect is the one I've really been wanting to go on sale. =)

Yeah I also noticed Mass Effect. Another thing is (unless I missed anyone posting this) NBA Jam seems to have dropped to £1.49 on the marketplace.

Unfortunately I am seeing Mass Effect at $3.99 instead of $2.99

2.99 as in £2.99. $3.99 isn't bad either though!

I need to stop buying all these big games.. Until they start allowing apps to be installed in removable memory

Take advantage of the deals, just uninstall them and redownload them after 8.1 is released.

Great advice. I have a couple of games on the phone that I'm hesitant to play through because of future games like San Andreas. My 822 is almost tapped out.

Awesome. Maybe we can get more players of Order and Chaos

It's deserted because it's awful, not because it's expensive

I played it for a few weeks then I remembered why I stopped playing MMORPG's on PC, they're boring as crap grindfests. That said, I may jump back into it at some point but I like having an "end goal" and the issue with MMORPG's (and, for that matter, a lot of time management style games) is there really isn't any "you've won" gratification and I need that level of justification of my game playing. Oh well. Stuff.

Been waiting forever for N.O.V.A 3 and Order & Chaos to go on sale! Wootwoot! #SaveXboxWP

Can't understand why people still loves Nova3 , it lags horrible on my Lumia 920 (is it only me ?)

Seems to run smoothly on my 928, which as the same specs as the 920. I'm actually surprised that N.O.V.A3 isn't more popular. Modern Combat 4 is extremely popular on Windows Phone and this is basically the same game with a few tweaks in a sci-fi setting.

Actually, I agree now. The load times are slow and it crashed once too. But it doesn't lag at all in-game and still seems like a fun game. Plus, checkpoint progress was saved even after the crash, so it was easy to resume. Worth the $3.

Must be their farewell gift to Xbox live fans. :)

No,no,no,no i cant get another big game. I neeeeeed space for GTA. Dam you WPC. Oh well Chaos, here i come.

Waiting for GTA. Anyone know the price?

People in the WPC comments have gotten awfully rude. Its 5.99

You are right. Rude comments. Btw, you got the decimal off, its $599.99

Apart from NOVA and Chaos these have all been on sale in the last month or so..... Why don't they just drop the prices permanently seeing as xbox games on WP are now dead!

Right, so Microsoft have said that Xbox on WP is dead then?

If developers stopped releasing Xbox-Games...it's dead. Remaining Xbox titles are now zombies.
Microsoft doesn't need to say anything. Actually...given the fact that the dropping of Xbox on WP games is entirely Microsoft's fault...they better keep their mouths shut.

Dead or not, don't let them off the hook so easily; tweet them nonstop till they cry: #SaveXboxWP. Make it the 21st century version of getting pilloried.

Yeah, I'm gonna get Nova! :D

Why did we never get Lets Golf 3? Love that version.

Because they could never be bothered to fix LG2 despite them knowing full well about the problems inc a part of the game that was never ported over to the WP platform and then including an achievement linked to the missing portion.

Let me be frank, and say, hi I'm Frank.

Comedy isn't your thing...

Woop order and chaos here I come!
#savexboxwp

Its not dead. Just not much of a selling point with just cheevos and slow updates. Needs more umph.

#SaveXboxWP! Microsoft needs to streamline the Xbox for WP certification process so we can get 1. more game, more quickly, that are more easily updated, and 2. more games from indie developers via an ID@Xbox-esque system for Windows Phone, 3. more games from big studios like Microsoft Studios (where the hell are you guys with only 2 major Xbox on WP releases this entire year!), EA, and Ubisoft (now that Gameloft has seemingly defected). Buying these games and then telling @gameloft that you bought them because they are Xbox games would help them realize that we want our cheevos on WP!

I'm not sure I really want Gameloft to keep the Xbox support as most of the games I've seen from them have unobtainable achievements that were never fixed and probably never will be. Just out of this post's list: Amazing Spiderman, Modern Combat 4, Brain Challenge and Let's Golf 2; all with unobtainable achievements, hell brain challenge has like 5 and for most games they have been promising a fix for more than a year now. Not a big deal if you don't care about achievements, which I do, but it's about not getting what you are paying for; which is a full game with all the advertised features working properly. Hope this situation gets sorted soon as I really love getting achievements on the go and being able to play with my Xbox friends and stuff, but seeing the support for it is dying is very sad. I'll probably pick up Order & Chaos if anyone plays it and wants to play together, feel free to add me; my GT is my username.

I agree that the fact that Gameloft has releases so many games with broken achievements and has yet to fix them is unacceptable. This is one reason we are lobbying Microsoft via #SaveXboxWP to fix the certification process, particularly for updates, to make it easier for developers to make Xbox games and keep them updated.

Wish i had space in my 925 to buy these. Oh well.

Just buy what you want on the Windows Phone website using an PC.

Not quite a deal I must say

I'd buy that for a dollar....but not much more.

Finally NOVA is on sale :)

Asphalt is only $.99 as well.

Asphalt has always been 99 cents. I assume you're considering Asphalt 7 because it's the most awesomest Asphalt on Windows Phone. If you're talking about Asphalt 8, well then have I got the thread for you: http://forums.wpcentral.com/gamers-lounge/249754-asphalt-8-not-xbox-title-lets-mobilize-reverse-trend-savexboxwp.html

Ya that's a bummer for 8. No idea why they did that. I love getting achievements on my phone!

Is Order of Chaos worth it? As an Xbox title it probably won't be updated nearly as much as if it were an non-Xbox title right? Very frustrated in the lack of Xbox support and stupid policies.

If you like MMORPGs, this is the best one on Windows Phone. It's absolutely worth $3 if you like that genre.

I got Order and Chaos on Android for 0.99 during Thanksgiving.... I really miss the Nokia GPS app but game selection is simply too limited. (Just got Final Fantasy 3,4 , 5 on Android, too... I gave my mom my Nokia Windows Phone and she really likes it. Another thing I don't understand is that the same games usually cost more on Windows.I wonder if Microsoft charge more fees...

I'll gladly pay more for the same game with Xbox integration. Makes the game better and is something not on laggy Android or overpriced iPhone. That's why, to me, the gaming scene is better on WP.

You are dreaming, Xbox integration has basically zero value, and we're missing loads of decent games that have been around for forever on competing platforms

Xbox is a WP feature, adds social connection with your friends, sense of completion with achievements and is a differentiating factor from other platforms. Far from zero value, unless you also consider other platform features like live tiles have zero value too?

If Xbox integration had "zero value" then Xbox integration wouldn't exist. Don't be obtuse. The same game with Xbox integration is boatloads better than without it. I'd rather have 10 games with Xbox integration than a 1000 games without it.

It's a deserted mess with terrible controls, a thin, insipid plot, and lousy game play.

Just waiting on GTA and I'm set!

Where's grand theft auto!!!!

wish these titles can be available on my Surface :(

Modern Combat 4 is amazing, buy it. If you don't have NOVA 3... Try out the demo first. The game looks like it could be amazing and the story seems cool, but the frame rate drops were unbearable for me. Same goes for Batman, but that game was just too simple for my taste. It's a single button masher. If you have the 1520 with the Snapdragon 800 all of these games should be very smooth though.

Nice deals, but ill wait till the sdcard support arrives for games to install, my 720 phone memory os almost full

Is the Nokia black available to install I've checked, nothing available

I would have bought spider man and dark knight bt it doesn't support Lumia 520...

I would rather buy these big games in Windows 8 store to play them on tablet or PC. Phone is not good game device.

What we should have is cross platform games you can play in your phone and continue on your tablet. Unfortunately Microsoft has dropped the ball on this as well so its a rare occurrence.

Now it's time to find people who will actually play Order & Chaos with me lol

Does anybody know how long is this promo? I am currently on vacation so no WiFi here. I may be able to get back home after December 25, 2013. Thanks!
Windows Central Newsletter
Thank you for signing up to Windows Central. You will receive a verification email shortly.
There was a problem. Please refresh the page and try again.