Gameloft Holiday Sale - 9 Windows Phone games discounted by at least 50%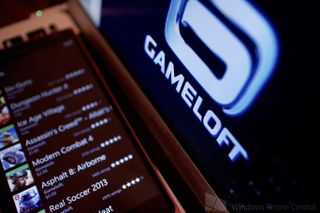 Need some games to fill up your Windows Phone device? Now may be the perfect time because Gameloft, a popular video game developer and publisher based in France, has just reduced prices on nine of their best games for Windows Phone by at least 50% for the Holidays. Check out the discounted titles after the break. You might find something you like.
Order & Chaos - a true real-time, full-3D MMORPG on your Windows Phone. Now $2.99 (Store link)
N.O.V.A.3 - Fight for mankind's survival in this space shooter. Now $2.99 (Store link)
Modern Combat 4 - first-person shooter with real-time online multiplayer. Now $2.99 (Store link)
The Amazing Spider-Man - The official game from the 2012 movie, "The Amazing Spider-Man." Now $2.99 (Store link)
The Dark Knight Rises - The epic conclusion to filmmaker Christopher Nolan's Batman trilogy arrives in the exclusive video game inspired by the movie. Now $2.99 (Store link)
Lets Golf 2 - Newest edition of the popular Let's Golf series is just the thing you need for the most exciting golf adventure you'll ever find. Now $1.99 (Store link)
Assassin's Creed - Altaïr's Chronicles HD - You are Altaïr, a Master Assassin sent by the Order of the Assassins on a quest to steal the Chalice from the Templars in order to end the Crusades. Now $1.99 (Store link)
Brain Challenge HD - Complete brain training program with total brain activity coverage and a personalized coach to help all brain profiles. Now $1.99 (Store link)
Uno - The world-famous card game is faithfully reproduced for mobile and also features exciting new rules. Now $1.99 (Store link)
You can check out the entire holiday collection here. Which of these nine games from Gameloft are you buying? Let us know in the comments!
Get the Windows Central Newsletter
All the latest news, reviews, and guides for Windows and Xbox diehards.