Great PC games you don't need an expensive GPU to enjoy
Not everyone has the funds available to purchase or build a powerful gaming PC. Here are some of the best games you can play on low-end hardware and laptops.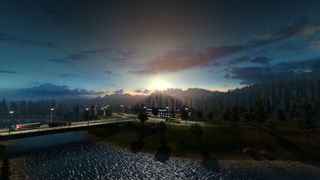 Having the best graphics in the business doesn't necessarily equate to an amazing game. Some AAA titles with excellent visuals and powerful requirements have been real let downs. Should you not have the money set aside to purchase a new GTX 10 series GPU or happen to only be able to game on a laptop, there are still some quality games out there that are worth checking out and do not have high requirements.
Euro Truck Simulator 2
Euro Truck Simulator 2 ($19.99) is an insane game and remains to be one of my all-time favorites. Sure, it's a simulator about truck driving and you're probably wondering "why would I want to endure hours of driving?" Thing is, SCS has done an excellent job at recreating the experience of driving an actual truck across the UK and mainland Europe. The map has been scaled down and places aren't anywhere near real sizes, but overall it's a super-fun game to lose hours in.
Coupled with actual truck driving are business management (you can hire new drivers, buy new trucks, build and develop bases), in-depth customization and the freedom to go anywhere you want, however you want. When you're ready to take a job, pick up a trailer and get cracking. It doesn't take a powerful PC to play ETS2 too.
Terraria
If you've yet to hear about, let alone play, the classic survival adventure game Terraria ($9.99), then you're in for a real treat. This indie game has sold millions of copies and amassed thousands of positive reviews on Steam for good reason. The low cost and numerous post-launch updates have turned this little game into an adventure title that soaks up hundreds of hours.
Build a base, survive the nights, kill bosses and mobs for loot, explore the depths of the world, collecting valuable metals for crafting and advance into hardmode for more of a challenge late-game. The best part about Terraria is the game utilizes a pixelated art form and is a 2D sidescroller, which makes it work even on less powerful PCs. Get some friends involved and you'll have a blast.
See at GOG (opens in new tab)
Risk of Rain
When you are rocking a laptop and want to have some fun, Risk of Rain ($8.99) is a quality choice, mainly due to the fact you only need a keyboard to play it. What this little gem is an action-packed experience that increases in difficulty ever five minutes. There's a fine balance to Risk of Rain, which is to clear levels and progress, the longer you dwell in a level the more coin and XP you receive but the monsters will also grow even more determined to take you out.
There are loads of buffs that can be purchased and acquired, which makes each playthrough interesting, especially when you take into account the different classes that can be unlocked as you play through.
See at GOG (opens in new tab)
Stardew Valley
It doesn't matter whether or not you're into farming, there's no question that you should check out Stardew Valley ($14.16). Not only are you handed a blank canvas in the form of farm land, but the game offers other elements to keep you entertained. As the newcomer to town, you'll have to build relations with villagers, venture into the dungeon for loot and other goodies, and make money from crops and produce.
There are a number of mini-games included for good measure and everything works well with a connected controller, so be sure to have an Xbox One gamepad at hand. With only 2GB of RAM required for stable gameplay, you'll be more than able to get started with your new plot of land.
See at GOG (opens in new tab)
FTL
Faster Than Light (commonly known as FTL — $9.99) is a roguelike space adventure game that is terribly hard to master. You're in charge of manning a ship and leading a crew as you flee a rebel fleet through many sectors. Everything is randomized to offer unique playthroughs, and it's of paramount importance that you select upgrades, manage crew, buy weapons, switch load outs, and oversee resources to succeed.
Combat is fast-paced and fluid, as is movement across each sector. Just don't get too comfortable in your well-armed ship as FTL has every desire to pull you off your high horse in but a few seconds. And seriously, buy the soundtrack to FTL — it's excellent and worth every penny.
See at GOG (opens in new tab)
The Binding of Isaac
The Binding of Isaac ($4.57) runs on almost anything, thanks to simple graphics and gameplay. But don't overlook this exceptional roguelike title — it has everything ready to reel you in and absorb hours upon hours of your time. There is a massive amount of content to plow through in each playthrough here, and you'll play through that a lot because you will die. Many times.
The story revolves around a young boy who flees into a dungeon in the basement as his mother attempts to take his life in order to prove her devotion to a mysterious Godly voice. You'll need to fight through hordes of terrifying creatures, using nothing but your tears. It's a strange game with somewhat questionable content, and this is what makes it so charming.
See at GMG (opens in new tab)
Undertale
Any role-playing game fan needs to have Undertale ($9) in their library. Not only can it run practically the weakest of PCs, but it's executed perfectly. Undertale flips many things on their heads, so you're likely going to experience a few points where you believe you're making a good decision, only to be utterly in the wrong. This is then backed up by stellar writing and music.
You play as a human boy who has fallen underground into a monster populated world, and not everything is as it seems. It's charming and a must-have for even more powerful gaming PCs.
See at GOG (opens in new tab)
Minecraft
You likely don't require an introduction to Minecraft ($26.99), which is now owned and supported by Microsoft. The game allows for creative minds to explode in a world of blocks, while at the same time offering those who prefer adventures to explore underground caves, take on teleporting monsters, and defeat bosses. The game will also run on many low-spec PCs, including Windows tablets.
As shown in the image above, it's also available on Xbox.
See at Microsoft (opens in new tab)
Hearthstone
Hearthstone (free) is a card collection game that allows you to build up decks of fantasy cards from the world of Blizzard games like Warcraft and Diablo. You can then enter competitive ladders to climb up and beat other players, relying on random draws and strategic plays. Highly addictive and will play on pretty much any hardware.
Pillars of Eternity
Coming to us from the fertile grounds of Kickstarter is the incredibly Pillars of Eternity ($18.09). The amazing nod to older (and much loved) Infinity Engine RPGs is a modern take on the classic adventure games like Baldur's Gate and Planescape: Torment. With Pillars of Eternity, we've got gorgeous backgrounds and cool visual effects that don't require powerful PCs to run.
You even become the lord of a stronghold where you'll need to manage defenses, deal with attacks, and send party members on quests. The main quest line will guide you through the expansive world, but you can absolutely take time out to speak to every NPC you come across and visit other towns and locations off the beaten track. An amazing game.
See at GOG (opens in new tab)
Windows Central Newsletter
Get the best of Windows Central in your inbox, every day!
Rich Edmonds was formerly a Senior Editor of PC hardware at Windows Central, covering everything related to PC components and NAS. He's been involved in technology for more than a decade and knows a thing or two about the magic inside a PC chassis. You can follow him on Twitter at @RichEdmonds.
Hex shards of fate is definitely missed here.

I had more highlighted but didn't want to list to go on forever. May look to work out a way to get more options included without having a requirement to scroll for five days. :-P Cheers for the suggestion though!

also include Outlander. We are working on the mother of updates that will add Creative Mode and ... XBOX CONTROLLER SUPPORT :) :) https://www.microsoft.com/en-us/store/p/outlander/9wzdncrfhxx8

http://semispher.es/ really should be on this list...

This list is of no use! Everyone knows you don't need a GPU to run 2D games. Talk about Minecraft, then it can run on a 1 GB ram mobile phone as well;")

I think you guy should post more articles like this. Lists of games that don't take much GPU power (AAA titles 2011 and earlier) are very much needed.

Definitely needed!
I couldn't afford a gaming PC yet have a Surface Pro 2 as I was at university so needed the portability and have an XB1.
I do however know that games like Deadpool, South Park Stick of Truth and LEGO Movie Video Game work flawlessly on it which I love playing.
I realise there is a SurfaceProGaming YouTube channel, but an extensive list would be awesome!

League or Legends is my favorite game that runs on almost all hardware, free to play as well. Spend money on skins if you want them, but there is no pay to win.

I'd really recommend checking out Factorio - I would have a hard time going back to Terraria or Minecraft afterwards. Also worth a mention is PlanetSide 2 - solid freebie game I used to play a lot with friends on low-spec laptops. Other than those two, you've hit most of the bases!

Civ4 is also a epic game that wil run on low end systems!