GameStop should have Xbox One in stock this weekend (US Only)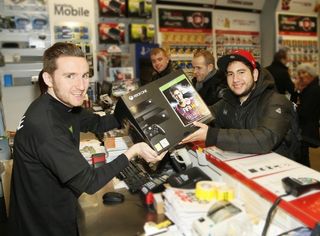 If you are still on the hunt for Microsoft's latest gaming console, the Xbox One, and you live in the United States, then you might want to check out GameStop this weekend. It is being reported that the brick and mortar retailer will have the consoles in (along with Sony's PS4) starting today and continuing into the weekend.
Remember, all stores will have a limited number of consoles in stock, so if you plan on grabbing a next generation entertainment system – do so now. There is no telling how fast stock will sell out, but you can be rest assured that GameStop will most likely be cleared out of Xbox One consoles by Sunday.
If you aren't near a local GameStop, Amazon US is currently showing stock for the Xbox One on their website. To visit Amazon.com you can click here (opens in new tab) and to find a local GameSpot store near you, click here (opens in new tab).
Happy Hunting!
Source: CNET
Just went to Costco tonight. They had a bunch for $480 each.

Was anyone picking them up, or was it desolate?

Nope, no one was even looking at them. Most people don't think Costco for electronics, just food and toilet paper.

Saw a few at Target last week. 475$ when u sign up with their card program.

Last sentence says Gamespot, not GameStop.

Seen one at target tonight .. And some lady grab it up!
Thank God I got my day one edition.

Too bad Gamestop will not sell it to you (PS4 either) unless you buy one of their ridiculous bundles.

Not true, I bought mine from gamestop, no bundle.

That's only on the website to get rid of extra stock of games that nobody wants.

I noticed both Toysrus and Meijer had a couple. I think Microsoft saved some stock to catch the late shoppers right before Christmas. I didn't see any PS4's.

Dude, I haven't been able to find any PS4s anywhere. I was only able to find a bundle the next morning after it came out and afterwards...Nada...Zip...Zero. I was at the MS Store today and they had XBOX ONES in stock. Finally got to play one too. It's not as big as I thought they were. I tried out Killer Instinct and got whooped by the AI!

We have over 40 PS4s and a dozen X1's at WalMart.... Were selling the X1's but have a hold on sales of the PS4's, though we have sold a bunch anyways.... Might wanna check WalMart's in your area.

They were supposed to give him the Xbox in a bag....funny picture.

Go for amazon, gamestop doesnt hold many units in stock.

I ordered one on Amazon today and on my way home I stopped at gamestop in Southport Indiana to look at accessories. The counterguy said they have some Xbox One's. I logged onto my amazon account and cancelled the order. 4400 Gamestop points later... Only crappy part is waiting til Christmas to open it all up on my wife's orders....

Nice wife you got there...My woman won't buy me video games unfortunately but maybe she'll surprise me this Christmas and buy me an Xbone...Nah, not at $500 she won't!....Good lord that's a lot of money...LOL

Oh that's brutal. My wife wouldn't be able to that. She'd be right there with me playing it!

Thank god I already got my Xbox. Might get a ps4 as well though.

Costco had like 20 sitting out today in Orlando for 479$.

I'm glad I got the DayOneEdition, but it looks like Microsoft made a lot of Xbox One Consoles for the Holiday, with over 2 million sold in 18days and stocks being replenished quickly.

Just grabbed one before I saw this article!

Large batch of PS4's this Sunday at WalMart beginning 8am. Also will be online but not certain on the time

We received about 40 PS4 at mine and sold nearly half of them before we got the email to hold sales... Been receiving and selling X1 steadily the whole time. Last I saw there was about a dozen on the shelf to be sold.

I dont understand why you would have something in stock and then be told not to sell it...who does the email come from corperate or sony?

Because we had the shipment come in early, and it goes on ad this Sunday, so they want to make sure there is at least SOME in stock for when it does.

Just kill the desktop!!! It has no more sense. Can't you see the differences in every aspect? Windows 8 is faster, relevant, fully customizable, unique and user friendly. It kick off android and iOs, is a matter of time while we get the more relevant apps!!! Go Microsoft!!!!

well you might be glad Xbox One doesnt have desktop! :P, and android and iOS arent videogame consoles so everything is ok about it!

Got mine. Week late addition on launch from Microsoft store.

Got one tonight at Gamestop

I'll get the X1 when the price drops. Not too interested in their exclusives just yet. Having a blast with my PS4. I'm almost tempted to switch to one of those waterproof Xperias but then I remember it has Android on it ;) Sony could do so much better with WP.

Motorbikes being my mode of transportation, I'd almost kill for a water proof Windows Phone. It sucks not being able to have the phone mounted to my gas tank during rain and snow for easy navigation and music settings. Admittedly I am considering giving up Windows Phone for a Galaxy Active or the waterproof Xperia.

Send your device to get waterproofed.

Here WalMart, Sams, Target, Best Buy, & Gamestop have them. I picked mine up at GameStop Tuesday because their trade value was higher than Best Buy. GS was about $95 for a 320 Slim with headset; BB was only $50
Windows Central Newsletter
Get the best of Windows Central in in your inbox, every day!
Thank you for signing up to Windows Central. You will receive a verification email shortly.
There was a problem. Please refresh the page and try again.