Destiny 2 Guardian Games: Taraxippos and The Title god rolls
The best PvE and PvP rolls to get during Guardian Games 2023.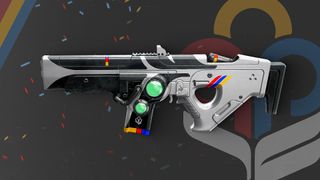 (Image credit: Bungie)
Destiny 2's annual Guardian Games event has returned, and until it ends on May 24, players have the opportunity to acquire two weapons exclusive to the event — the brand new Taraxippos Scout Rifle and the returning The Title SMG from last year. Both are fantastic and can roll with some excellent perk combinations, including top tier "god rolls" for both PvE and PvP.
In this guide, we'll detail each PvE and PvP god roll for the Taraxippos and The Title so you know which rolls you should keep an eye out for during the Destiny 2 Guardian Games. We'll also go over why these specific perk combinations are worth hunting down, as well as how you can get each weapon while the event is active.
Destiny 2: Taraxippos god rolls and how to get
PvE God Roll: Arrowhead Brake, Appended Mag, Outlaw OR Fourth Time's The Charm, Hatchling
PvP God Roll: Arrowhead Brake, Tactical Mag, Zen Moment, Explosive Payload OR Cascade Point
New in this year's Guardian Games is Taraxippos, the first ever Strand Scout Rifle and one that both looks and feels incredibly similar to the Hung Jury SR4 Nightfall weapon. Like Hung Jury, Taraxippos can roll Explosive Payload in the fourth column, which is normally a top notch perk in both PvE and PvP. However, since Strand weapons in the Kinetic slot do 10% less damage than normal Kinetic weapons, you'll be better off with a roll that synergizes with Strand subclass abilities.
With this in mind, our PvE god roll for Taraxippos couples Outlaw or Fourth Time's The Charm with Hatchling, with Arrowhead Brake and Appended Mag straightening out the weapon's recoil direction and raising the capacity of its magazines. Hatchling will cause a Strand Threadling to spawn each time you get a precision kill, which will then seek out other nearby enemies and explode. Threadlings are useful for all classes, but they're particularly valuable when paired with Warlock Strand builds, especially if you're using the Swarmers Exotic leg armor that makes all of your Threadlings Unravel enemies and spawn from Tangles. Outlaw gives your reload speed a huge buff when you get a precision kill and Fourth Time's The Charm directly returns ammo to the magazine if you land rapid precision hits; both perks pair perfectly with Hatchling.
The damage debuff Strand weapons get in PvE isn't active in The Crucible or other PvP modes, so here, Explosive Payload's extra damage and elimination of damage falloff is significantly more viable. We've chosen to partner it with the Zen Moment perk that reduces recoil and incoming flinch as you damage an opponent. Together, these traits transform Taraxippos into an incredibly deadly long-range dueling weapon. Alternatively, you could opt for Cascade Point instead of Explosive Payload, which temporarily gives the rifle a massive fire rate increase for a few seconds after you've gotten a kill with another weapon. For barrel and magazine perks, we recommend Arrowhead Brake and Tactical Mag for a good balance of improvements to recoil control, stability, reload speed, and magazine size.
How to get Taraxippos in Destiny 2
While you'll get a curated roll of the Taraxippos when you first begin playing the Guardian Games (notably, it has both Zen Moment and Explosive Payload), you'll need to deposit Medallions and light Guardian Games torches on The Tower to get additional drops of the weapon.
Medallions can be earned by completing Contender Card objectives and various Destiny 2 activities, with high-tier Gold and Platinum Medallions dropping from Nightfalls, raids, dungeons, the Competitive playlist in The Crucible, the Trials of Osiris, and Defiant Battlegrounds on Legend difficulty. These Medallions have the highest chance of dropping Taraxippos when dunked, so focus on getting as many of them as you can. Torches, meanwhile, can be lit by progressing the Guardian Games quests you can pick up from Eva Levante at The Tower.
Destiny 2: The Title god rolls and how to get
PvE God Roll: Hammer-Forged Rifling, Ricochet Rounds, Threat Detector OR Perpetual Motion, Repulsor Brace
PvP God Roll: Hammer-Forged Rifling, Ricochet Rounds, Dynamic Sway Reduction, Rangefinder OR Swashbuckler
While The Title didn't wow players when it was introduced in 2022's Guardian Games, its refreshed variant is turning heads thanks to some new perks that make it extremely effective in both PvE and PvP. On top of that, it's an Aggressive Frame SMG, which is a weapon archetype that's currently at the top of the game-wide meta right now thanks to its high damage and deep range (for an SMG, anyway).
In PvE, it's difficult to recommend anything other than Threat Detector or Perpetual Motion and Repulsor Brace, along with Hammer-Forged Rifling and Ricochet Rounds for some extra range and stability. Threat Detector and Perpetual Motion buff your reload speed, handling, and stability whenever you're close to enemies or actively moving around, respectively, and Repulsor Brace gives you a full Void overshield whenever you kill a foe affected by Void debuffs like Volatile, Weaken, or Suppressed. Every Void subclass has easy access to Volatile Rounds thanks to Fragments like Echo of Instability or Exotics like the Gyrfalcon's Hauberk, so pairing them with this roll will turn you into an unstoppable tank. Void setups have always been strong, but with Repulsor Brace weapons like The Title, they become some of the best Destiny 2 builds in the game.
For PvP, The Title is a very potent alternative to The Immortal or IKELOS_SMG_V1.0.3 SMGs. While its raw stats aren't as impressive, it's unique in that it can roll both Dynamic Sway Reduction and Rangefinder. These two perks give the weapon superb accuracy, stability, and range, helping it compete with other meta Aggressive Frame SMGs and wipe the floor with other primary weapons at close-to-mid range. Swashbuckler is also a viable option for players with melee-focused builds, as melee kills will instantly proc the perk's full 33% damage buff. Like with the PvE god roll, you should look for Hammer-Forged Rifling and Ricochet Rounds for your barrel and magazine traits.
How to get The Title in Destiny 2
Like the Taraxippos Scout Rifle, you can get random rolls of The Title by depositing your Medallions and lighting torches at The Tower. Try and focus on earning Gold and Platinum Medallions from harder activities so you maximize your drop chances, as you're less likely to get The Title to drop when you dunk Bronze and Silver ones.
Note that the curated roll of The Title you get at the start of Guardian Games is excellent for both PvE and PvP. It comes with Smallbore, Ricochet Rounds, and the choice between Envious Assassin or Perpetual Motion in column three and Repulsor Brace and Rangefinder in column four. It doesn't have Hammer-Forged Rifling or Dynamic Sway Reduction, but Perpetual Motion is great in PvP and stellar in PvE, and the best perk for each is available in column four. If you don't have much time to play and can only focus on getting god rolls for one of the event's weapons, we recommend focusing on Taraxippos since The Title's curated drop is this good.
---
Destiny 2: Lightfall is available now on Xbox Series X|S, Xbox One consoles, Windows PCs, and PlayStation systems. In it, you'll take the fight to Emperor Calus, gain access to Strand subclasses and their unique abilities, and more.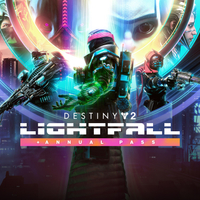 Destiny 2: Lightfall
The Lightfall expansion takes players to the neon-soaked city of Neomuna on Neptune and pits them against the fearsome Shadow Legion — all while the threat of Darkness Pyramids, The Witness, and his new Disciple Emperor Calus looms overhead.
See at: Microsoft | GMG (Steam)
Get the Windows Central Newsletter
All the latest news, reviews, and guides for Windows and Xbox diehards.
Brendan Lowry is a Windows Central writer and Oakland University graduate with a burning passion for video games, of which he's been an avid fan since childhood. You'll find him doing reviews, editorials, and general coverage on everything Xbox and PC. Follow him on Twitter.