How to preorder the ASUS ROG Ally gaming handheld at the best discount
Have it in your hands by this summer.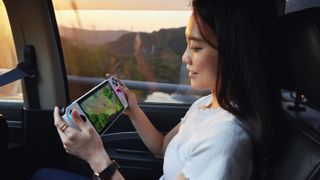 (Image credit: Asus ROG)
The upcoming ROG Ally is the most powerful handheld gaming device we've seen yet and it will be able to play far more games than the Steam Deck can. Soon everyone who wants one will be able to get their hands on this device when it releases on June 13, 2023. But you don't have to wait until this date to secure your ROG Ally as the handheld is already available for preorder.
Here's where to get the best discount when buying the ROG Ally along with some useful information for those interested in it.
How to preorder ROG Ally in the US
In the US, the ROG Ally can be preordered at Best Buy or directly from the Asus website. It's looking like this handheld is going to be rather popular and stock could run out very quickly each time it becomes available. You might need to make multiple attempts to purchase it in order to nab one. It has an MSRP of $699.99, but you can get it for cheaper if you use the right discount code.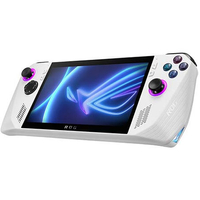 This gaming handheld runs Windows 11 Home and can be used to access several gaming services and storefronts. It's far more powerful than the Steam Deck and will be available this summer. You can preorder it right now.

Preorder at: Best Buy | Asus (US)
Best Buy discount code for cardholders: Q2FY24SAVE10PL
It really doesn't matter which of these retailers you preorder the ROG Ally from as they will both get the handheld to you as soon as possible. However, if you happen to be a Best Buy credit cardholder already then you can get a $70 discount after entering in code Q2FY24SAVE10PL at checkout to bring the price down to $629.99, which saves you about the cost of a AAA game.

Additionally, using a Best Buy credit card to buy the ROG Ally from Best Buy should earn you 5% back in rewards points from this purchase. You could use this reward to get yourself a new controller or another cool accessory for your new ROG Ally.
How to preorder ROG Ally in the UK
Anyone living in the UK can preorder the ROG Ally from either Asus or from Currys. Of the two retailers, we recommend trying to go directly through Asus since Currys has a mixed reputation when it comes to customer support. If something goes wrong or you need to speak to a representative, Asus will likely be able to resolve your situation more satisfactorily.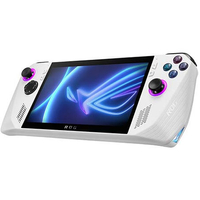 Access a variety of gaming services and video game retailers in order to play your favorite titles on the ROG Ally. This powerful device features a 7-inch FHD display with a custom APU for powerful performance.

Preorder at: Asus (UK) | Currys (UK)
Is the ROG Ally a good handheld?
People who have been able to go hands-on with the ROG Ally, have said very positive things about the gaming handheld. The custom AMD Zen 4 CPU combined with the 8 RDNA 2 GPU and 512GB SSD seem to be well implemented in a way that makes for smooth performance. Meanwhile, the 7-inch FHD touchscreen looks crisp and brings colors with plenty of vibrance.
However, as previously mentioned, the one big unknown at the moment is battery life. Hopefully, the device will be able to last for up to eight hours, but we will need to perform extensive battery testing before we can verify this.
Should I buy ROG Ally or Steam Deck?
From a cursory look at ROG Ally specs it's clear that Asus' handheld beats out Valves in just about any ROG Ally vs Steam Deck comparisons. The ROG Ally has a more powerful SoC (system on a chip) that Asus claims can be 50% faster than the Steam Deck for smoother performance. Additionally, the ROG Ally has a far better display that supports resolutions up to 1080p at 120Hz, which is better than Steam Deck's much lower 800p and 60Hz. So if performance is a big deal for you, then you really ought to go with ROG Ally.
Not to mention, since the ROG Ally runs Windows 11 Home, it can be used to access far more programs, stores, and gaming services than the Steam Deck can. This means you're far more likely to be able to play the best upcoming PC games including Diablo 4 on ROG Ally (which you can't play on Steam Deck without hacking it). You should even be able to play Steam games that aren't compatible with Steam Deck on the ROG Ally, which once more makes it the better option.
Get the Windows Central Newsletter
All the latest news, reviews, and guides for Windows and Xbox diehards.
Self-professed gaming geek, Rebecca Spear, is one of Windows Central's gaming editors with a focus on Xbox and PC gaming. When she isn't checking out the latest games on Xbox Game Pass, PC, or Steam Deck; she can be found digital drawing with a Wacom tablet. She's written thousands of game guides, previews, features, and hardware reviews over the last few years. If you need information about anything gaming related, her articles can help you out. She also loves testing game accessories and any new tech on the market.
Valve, in an anti-MS spite-based move in not offering a Windows version created a significant hole in the market, which it looks like ASUS has addressed. Good. I hope this device does very, very well. Neither my kids nor I have much need for a portable gaming device right now (we have Xboxes in various rooms), but if we did, I would grab one or more of these based on what I've seen so far.

Having said that, I still hope MS releases a portable system that ties more directly to the Xbox ecosystem, running games in my Xbox library over my Windows gaming library. Even better, combine both! That would be so appealing, I might have to buy one even without a need for a portable system.

Reply

100%

We've been craving an Xbox handheld for a while; at least some of us have.

It's wild that Windows 8 nearly went in the direction of a handheld-friendly fork, but that was kinda the end of it.

We need Microsoft to take handheld gaming more seriously overall. I don't doubt that some devs within the company see the value in it, but convincing those in charge is probably a significant challenge.

Valve, in an anti-MS spite-based move in not offering a Windows version created a significant hole in the market, which it looks like ASUS has addressed. Good. I hope this device does very, very well. Neither my kids nor I have much need for a portable gaming device right now (we have Xboxes in various rooms), but if we did, I would grab one or more of these based on what I've seen so far.

Having said that, I still hope MS releases a portable system that ties more directly to the Xbox ecosystem, running games in my Xbox library over my Windows gaming library. Even better, combine both! That would be so appealing, I might have to buy one even without a need for a portable system.

Reply