Investing in content from the Epic Games Store? You'll now get rewarded.
Turn those V-Bucks into Real Bucks.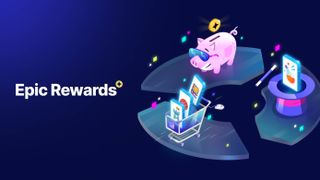 (Image credit: Epic Games)
What you need to know
Epic Games Store have launched Epic Rewards, which will reward gamers with 5% back on their purchases.
The 5% rewards will apply to the purchase of games, apps, add-ons, or virtual currency and can be used as a discount on future purchases.
---
Do you like free stuff? Of course you do! That's why you love the Epic Games Store, where you can get free games every week and never spend a dime on anything else... probably (or quite possibly not, considering Epic reports $355 million dollars in third-party spending last year.) But hey, free is free.

The Epic Games Store, has just launched a new reward scheme, named Epic Rewards. Epic Rewards will give customers 5% back, in-store credit, for every eligible purchase they make.
From today, Epic Rewards can be earned purchases made on the Epic Games Store. So that's games, apps, add-ons, subscriptions and even some virtual currencies like Fortnite V-Bucks. You'll get 5% back as credit to your Epic Rewards account two weeks after your purchase, and show up in your digital wallet to be redeemed on anything you want from the store, if you actually want to pay for anything that is. That being said, there's also a pretty great sale going on right now.
Still, joking aside, Epic's reward scheme is more generous than Steam and Nintendo's programs, so despite the memes, you can't fault Epic for trying to tempt more customers to its storefront. Steam has Steam Points, which give you 100 points for each dollar spent. These points can't be used against future game purchases though, only cosmetic items for your profile or animated items for supported games.

Nintendo's reward scheme offers Platinum and Gold points, for completing tasks and purchasing games, and these can be redeemed against future purchases but these tend to be at a 1% value rather than 5%. Xbox also has a scheme called Microsoft Rewards, which is actually a rather great way to get Xbox Game Pass for free.
Epic Reward points also have a generous expiry date on them of 25 months, so if you are a regular customer of the store you'll have plenty of time to build up a balance worthy of another freebie.
Gaming laptop deals: Dell | Walmart | Lenovo | Best Buy | HP | Amazon | Razer
Epic is known for offering tons of free games through its store front in its attempts to take on Steam. Death Stranding is available to play for free right now until May 25. Epic also only takes 12% of revenue from developers and publishers, as opposed to Steam's 30%. It hasn't stopped them from getting in gamer's bad books in the past, with their timed exclusivity deals on games like Borderlands 3 leading to outrage on social media from people who just don't want to download yet another launcher.

Do you make purchases from Epic Games, and if not will this win your wallet? Comment below!


Get the Windows Central Newsletter
All the latest news, reviews, and guides for Windows and Xbox diehards.
Jen is a News Writer for Windows Central, focused on all things gaming and Microsoft. Anything slaying monsters with magical weapons will get a thumbs up such as Dark Souls, Dragon Age, Diablo, and Monster Hunter. When not playing games, she'll be watching a horror or trash reality TV show, she hasn't decided which of those categories the Kardashians fit into. You can follow Jen on Twitter @Jenbox360 for more Diablo fangirling and general moaning about British weather.