In news that will surprise absolutely nobody, Ubisoft delays Skull & Bones — again
The game that keeps on sinking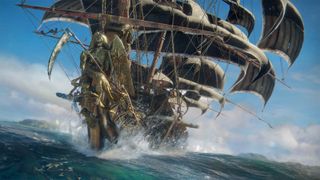 (Image credit: Ubisoft)
What you need to know
Skull & Bones, originally announced at E3 in 2017 has been delayed again for around the sixth time since its reveal.
The announcement came in Ubisoft's financial report, which states the game is now targeting the first quarter of 2024.
The game has had a mired development schedule, with Ubisoft Singapore being said to suffer with difficulties nailing down the game's direction.
---
Skull & Bones, first unveiled to eager audiences at E3 2017, generated immense interest thanks to its seafaring gameplay, reminiscent of the beloved Assassin's Creed IV: Black Flag. However, the game's development journey has been nothing short of unfortunate. Initially slated for release in Fall 2018, it has suffered a series of relentless delays. The most recent setback, announced during a Ubisoft earnings call, has pushed the game's launch window to Q1 2024. With Ubisoft maintaining an air of vagueness regarding the title's development, our hopes are sinking.

Prior to this announcement, Skull & Bones had already been rescheduled from March 2023 to a 'late 2023-early 2024' timeframe; today's news firmly indicating that the game won't be gracing our shores this year. Considering the slew of incredible games that have graced 2023's gaming landscape, this delay may be a strategic decision for the game's prospects.
Skull & Bones: What is going on?
Skull & Bones' troubled development journey has been plagued with obstacles from the beginning. Recently, the game faced another setback with the departure of its third creative director. A story published by Kotaku, citing anonymous sources, suggested that Elisabeth Pellen's time at the studio was abruptly curtailed, sparking speculation about the underlying reasons for her departure. Officially, Ubisoft claimed Pellen's move was a promotion to another studio within the company, and she was due to leave at the end of 2023 as part of the pre-planned transition.

However, this is just one piece of the puzzle. Previous reports have unveiled a host of issues behind closed doors at Ubisoft regarding Skull & Bones' development. The game has seen its development costs skyrocket, and it has had to contend with fierce competition for resources and staff from larger Ubisoft titles, notably The Division 2. Insiders say it has grappled with a lack of a clear creative vision and persistent changes in scope and gameplay from the project's beginnings.
Recently, closed betas were conducted on the PC, drawing mixed responses from players. This further casts doubt on the game's readiness for a full-scale launch. Nevertheless, these betas have also garnered some positive reviews and extensive feedback from players, making the upcoming release all the more intriguing, with its final product and reception hanging in the balance.
To all our players, thank you for your participation, your passion and the invaluable feedback you shared 💕! The servers are now officially closed but keep your eyes open as more news and updates about #SkullandBones will be coming 🏴‍☠️!August 28, 2023
Delays are never a bad thing
While the ongoing delays to Skull & Bones have become a running joke in the gaming community, they are mostly tongue in cheek. As far as I'm concerned, a delay to a game is never a bad thing and signifies that developers are actively listening to player feedback and implementing necessary improvements. It's much better to delay a game two, three, four or in this case SIX times rather than realease something the studio can't be proud of, and that players will tear apart.

It's far better to postpone a game two, three, four, or in this case, even six times, rather than releasing something that the studio can't be proud of, and that players will inevitably criticize. Let's not forget the cautionary tales of No Man's Sky and Cyberpunk 2077. These games faced intense scrutiny upon launch, and it took multiple patches and years of revisions to regain players' trust. While it's possible to turn a lackluster game launch around in the long run, in the current gaming landscape of high-quality releases, it becomes increasingly challenging. Some of the target fanbase may never return.

I believe that if Skull & Bones is still not ready by March 2024, another delay is warranted. We may jest about the delays, but in the end, all is forgiven when a fantastic game finally launches.
Skull and Bones will release, eventually, on Xbox Series X, Xbox Series S, Windows PC and PS5 in 2024... maybe.
Get the Windows Central Newsletter
All the latest news, reviews, and guides for Windows and Xbox diehards.
Jen is a News Writer for Windows Central, focused on all things gaming and Microsoft. Anything slaying monsters with magical weapons will get a thumbs up such as Dark Souls, Dragon Age, Diablo, and Monster Hunter. When not playing games, she'll be watching a horror or trash reality TV show, she hasn't decided which of those categories the Kardashians fit into. You can follow Jen on Twitter @Jenbox360 for more Diablo fangirling and general moaning about British weather.
This sounds like a textbook case of sunk cost fallacy to me. This game was supposed to capitalize on the hype surrounding Black Flag. Now, I remember jumping on the Jackdaw and having the time of my life like a lot of folks. However, that was 10 years ago. A decade. One tenth of a century. Another thing that worries me is how is this game going to look? Development hell for this long? Did they find a graphics level and stick to it or have they been trying to improve the graphics too? I'm just saying I hope hope hope that this game is great. But if they "pulled the plug" so to speak, I wouldn't be upset.

Reply