Level up your Halloween and Christmas light displays with Govee's brand-new festive range
If you liked the curtain lights, you're going to love these.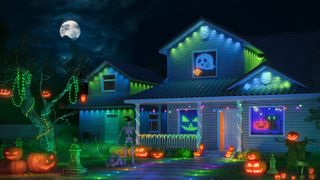 (Image credit: Govee)
What you need to know
Govee, creators of numerous smart lighting sets for the home, are launching two new festive sets for the holiday season.
The Govee Christmas String Lights are available now for $59.99 for 33ft (10m), and the 66ft (20m) for $89.99.
The Govee Permanent Outdoors Lights Pro is the industry's first cuttable permanent outdoor light, starting from $399.99 for 100 ft (30m). These will launch on October 16.
Govee will release full Christmas Lighting Sets from November, with an indoor and outdoor bundle.
---
Read more
- Amazon Big Deal Days are live
- Review: Govee Glide Hexa Pro LED panels
- Light up your dorm with these curtain lights
Govee is a brand that offers a variety of products for seriously cool lighting effects. They make everything from wall panels, LED strips, to smart bulbs to create an immersive gaming environment. All of it's products can be controlled by the Govee app and sync seamlessly together, but they also work well with other smart home devices such as Alexa and Google Home.

Govee has certainly been pushing the boat out with its recent launches, if you thought the curtain lights were crazy you're about to be stunned by this new selection of lights. If you take your Festive decor seriously then the new indoor and outdoor ranges from Govee are just what you need to take your Halloween or Christmas lighting to a new level.

The Govee Christmas String Lights are the brands first official Christmas lights and can be used on your Christmas tree indoors or for an outdoor display. Starting from $59.99 for the 33ft (10m) version and $89.99 for the 66ft (20m), these are available to buy right now from Amazon or Govee direct.
The Govee Christmas String Lights aren't just your average LED string lights, you can have a lot of fun with Uni-IC Control. This lets you change each LED bead individually for endless customization and creating your own designs. There's even a built-in microphone allowing you to sync them with holiday music (or even some heavy metal if you want to use them for Halloween).

The lights are also compatible with Govee Dreamview to synchronize them with any other Govee products you have around the home.
The next launch doesn't drop until November, but it's a special one. Go(vee) big or go home with these Govee Permanent Outdoor Lights Pro, the brnads latest flagship lighting set for illuminating your entire house. These have been developed based on feedback from the original Outdoor Lights and are said to be a significant upgrade packing some impressive tech. You'll pay for it too as these start at $399.99 for 100ft (30m), the 150ft for $549.99, and the 200ft for $699.99.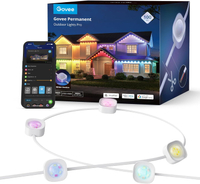 Govee Permanent Outdoor Lights Pro | from $399.99

Make your home stand out this holiday season with this lighting system from Govee. Whether you want a spooky effect or a warm, inviting festive light show, these can be left up all year round and changed to fit the season. You can control the lights with your voice, app, or remote control, and sync them with other smart devices.

Buy at: Amazon | Govee
The Govee Permanent Outdoor Lights Pro are an industry first, as you can cut and stick them in whatever layout you want. New IC tech prevents them overheating or changing brightness, and a five-channel RGBWW control lets you change the brightness and color of each light segment.

The lights install with screws or tape depending on the material of your outdoor area, and like the Christmas lights are waterproof with IP67, but also with high and low-temperature resistance.

What may appeal about these, too is the ability to sync with security cameras and other lighting devices. Govee state they would be "serving as a robust deterrent against potential intruders." There are certainly some unique ways you can let people know they are on-camera, perhaps have your side walls light up with "WE SEE YOU". Joking aside the press images show some beautiful scenes made with these lights and it will be interesting to see what consumers come up with.
If that's not enough lighting for you, Govee is also launching some bundles in November focussing on indoor and outdoor lighting so you can easily combine its products for the perfect Festive scene.
Christmas Light Set: Govee Christmas String Lights, Govee Curtain Lights, Govee Outdoor Light Show Box.
Christmas Lights Set Plus: Is focused on outdoor lighting with the Govee Outdoor Permanent Lights, Govee Christmas String Lights, Govee Outdoor String Lights, Govee Outdoor Light Show Box and Govee Curtain Lights.
We don't have prices for these bundles yet, but I hope to encourage newcomers to the ecosystem, that there'll be a decent discount for purchasing more than one product from the Govee range. So watch this space and we'll update when we know more.
Get the Windows Central Newsletter
All the latest news, reviews, and guides for Windows and Xbox diehards.
Jen is a News Writer for Windows Central, focused on all things gaming and Microsoft. Anything slaying monsters with magical weapons will get a thumbs up such as Dark Souls, Dragon Age, Diablo, and Monster Hunter. When not playing games, she'll be watching a horror or trash reality TV show, she hasn't decided which of those categories the Kardashians fit into. You can follow Jen on Twitter @Jenbox360 for more Diablo fangirling and general moaning about British weather.