Overwatch 2 is currently the lowest-rated game launch of 2023 on Steam
Steam has reviews, Battle.net does not, and it shows.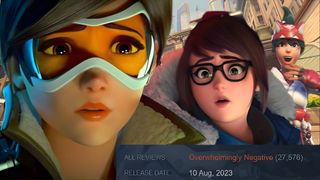 (Image credit: Windows Central)
What you need to know
Overwatch 2 officially launched on Steam August 10.
The reviews so far are overwhelmingly negative, with 86% of users so far giving a thumbs down rating.
Most reviews are fans frustrated with the failure to deliver promised PVE content and charging $15 for story missions.
---
Blizzard's Overwatch franchise has faced a rough ride lately, with the original shooter being replaced by a free-to-play 'sequel' in Overwatch 2. This was always going to be a tough sell to fans of the game who were uncertain of the new model. However, Blizzard has not done themselves any favors with the rollout of the new game, leaving fans disappointed by various aspects, such as lackluster seasonal content, overpriced microtransactions, and delayed PVE content. Overwatch 2 has been criticised for not being a sequel at all, but a glorified expansion pack.
In perhaps an attempt to boost the game's popularity, Blizzard announced that Overwatch 2 would be available on Steam, but it seems that players have used this opportunity to express their frustrations with the development and the current state of the game by review-bombing the listing. Only one day after the launch, it is currently the lowest-rated title on Steam for 2023. That is quite an achievement.
As of this writing, only 14% of players have given a thumbs up for the game, and it is currently showing an "Overwhelmingly Negative" rating on the Steam store. Ouch.
While the ratings are certainly not to be ignored, it is worth noting that the game has only been on the store for a day and most of the reviews are not discussing the gameplay or performance of the game at all. Instead, they are venting their frustrations over the current state of affairs with the development and delivery of the live service title. So, what exactly are players unhappy about?
Lacklustre new content and failure to deliver promised PVE
"The people who make Overwatch porn work harder than the people who make Overwatch." reads one of the reviews on the Steam listing. Joking aside, this and other comments reflect the views of many fans who feel that the new content for the game has been low effort and not up to the standards of its predecessor.
Blizzard's promise to deliver PVE Story content with the sequel was one of the main selling points of Overwatch 2, but it was later scrapped due to development challenges. Instead of a separate mode that would expand the lore, introduce new hero talents, and offer long-term progression, Blizzard announced that some story missions would be incorporated into the seasonal content.
Season 6 launched yesterday, and it remains to be seen whether the new content will appease the fans, but many players have been disappointed by the previous seasons, which they claim were just recycled from older updates. For example, Winston Beach Volleyball was criticized as a rehash of Lucioball. If Blizzard struggled to deliver their original vision for PVE, then the players expect them to focus on delivering quality and replayable content for the seasons. However, many players feel that Blizzard has failed to do so and are further outraged by the fact that they are charging $15 for the story missions.

High price microtransactions
In addition to charging for story content, the new free-to-play model has not gone down well, and players believe they are getting a raw deal trying to earn rewards in events compared to Overwatch. The slew of microtransactions in the game now stifles much opportunity to earn anything aspirational from just playing the game, as the best skins and even new heroes are locked behind paywalls.
A prime example of this was the Halloween event in October 2022, 'Halloween Terror', which offered little in the way of free rewards for completion compared to the Halloween event in previous years, where you could earn numerous Epic skins just for playing the game. In 2021, when Overwatch was still alive and kicking, you could earn three Epic rarity skins over the three weeks of the event by completing certain game modes, in addition to new sprays and icons. In October 2023, however, you had to fork out $40 for two new skins. In a game where cosmetics play a huge part, this seems unfair.
what_40_gets_you_in_overwatch_1_vs_overwatch_2 from r/Overwatch
The Battlepass, something that is supposed to reward players for spending time in the game, has been criticized for not giving enough currency to at least make a purchase from the store or buy the next season pass. Unlike Fortnite's model, which lets you earn V-Bucks to ease the pain of continuously buying content.

Another sore point has been the addition of new characters into the Battlepass, which some players see as a pay-to-win mechanic. In a competitive game, everyone wants to have access to the same characters. It is possible to 'earn' the new heroes by grinding, but the hours required are deemed unreasonable by many players who don't have the time to commit to the game. By charging for fast-track access, Blizzard seems to be banking on this frustration.
Can Overwatch 2 recover?
The launch on Steam has not gone well so far, but that does not mean the game itself is awful. The review system is being used by frustrated players to vent their anger. This is not the first time a game has been review-bombed following some unpopular decisions. Recently, Diablo 4, another Blizzard title, was pushed down on Metacritic following possibly the most unpopular patch release in the franchise's history. However, the season 1 launch was still crowded with queues to play, indicating that there were a significant number of people still excited to play the game.

The same can also be said for Overwatch 2. Despite the negative reviews, it still has a current high of 61,551 concurrent players on Steam, so there are definitely many people enjoying the new release. Time will tell if the review numbers improve in the following days, as people actually experience the game through Steam. However, many reviews are not necessarily criticizing the gameplay itself, but rather expressing their dissatisfaction with the core being "damaged by such intrusive greed". Yikes.
Get the Windows Central Newsletter
All the latest news, reviews, and guides for Windows and Xbox diehards.
Jen is a News Writer for Windows Central, focused on all things gaming and Microsoft. Anything slaying monsters with magical weapons will get a thumbs up such as Dark Souls, Dragon Age, Diablo, and Monster Hunter. When not playing games, she'll be watching a horror or trash reality TV show, she hasn't decided which of those categories the Kardashians fit into. You can follow Jen on Twitter @Jenbox360 for more Diablo fangirling and general moaning about British weather.