Unrecord: The game that looked too real to be true — until now
Developers put the controversy to bed with behind-the-scenes proof.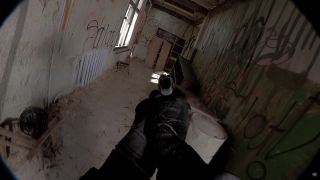 (Image credit: DRAMA)
What you need to know
Unrecord is an upcoming first-person indie shooter created with Unreal Engine 5 featuring hyper-realistic graphics and a unique body-cam perspective.
A gameplay trailer sparked skepticism as some presumed it fake or pre-rendered, but developers have since provided behind-the-scenes footage and Q&A.
The game has no release date nor confirmed plans for ports to other platforms besides PC, currently playable with a mouse and keyboard.
---
Having your indie video game project as fake for being 'too realistic' must feel like somewhat of a compliment. The unusual responsibility of proving that in-game footage of upcoming body-cam-perspective shooter Unrecord is a playable work in progress fell to indie developers with an appropriate namesake; DRAMA.
Unveiling the first gameplay trailer, developer Alexandre Spindler was treated to a viral explosion of interest on Twitter mixed with skepticism and, apparently, arguments. Unrecord owes some of its hyper-realism to the game engine of choice, Unreal Engine 5, notorious for its ability to generate uncanny visuals at a more accessible level with free software.
So many people thought the trailer was either a pre-rendered video or another form of trickery involving real-life footage that the DRAMA developers were forced to address the apparent controversy with a Q&A response on the Unrecord Steam store page. Either way, whether or not the specifics of the gameplay will translate to enjoyable mechanics seems irrelevant at this point. Unrecord has made a name for itself as a game too realistic to be authentic and proved the skeptics wrong.
My initial impressions of the footage still showed telltale signs of real-time rendered graphics, with slight hints of 3D models phasing through one another and faked reflections bouncing off shiny surfaces. Still, my overall takeaway was that Unrecord must be a VR game, given how much the camera moves around independent of the on-screen arms. However, DRAMA devs proved me wrong with a couple of responses.
When asked whether Unrecord is being developed for VR headsets alongside the regular version, the answer was an unfortunate but firm no. Console ports aren't out of the question, but DRAMA devs focus on traditional mouse and keyboard controls for PC. A global release is at least on the cards, with devs explaining that if Unrecord were intended to be a scam, it would be of blockbuster proportions, given the implied production costs so far.
For those who thought Unrecord was fake or a video, sorry. 😌 pic.twitter.com/41ESKMISy1April 20, 2023
Finally, putting any doubts to bed, Spindler shared some behind-the-scenes footage of Unrecord's development environment running inside the Unreal Engine 5 tools. Flying the camera completely detached from the player, we can see common effects like bloom coming into effect in real time, albeit more intensively than ever. There's no planned release date yet, but this 'definitely-a-video-game-thing' is making steady progress.
Windows Central take
Unrecord is unique thanks to its bodycam-style perspective rather than the first-person view used by most shooters. It reminds me of a similar attempt in Kane and Lynch 2: Dog Days, a sequel released by IO Interactive in 2010 that tried to replicate handheld camcorder footage in its cutscenes and gameplay. Both games exhibit a pixelized censorship filter over certain moments of violence, but Unrecord takes things to previously unseen levels.
It seems obvious that a game aiming for hyper-realism probably won't target mid-range PC hardware, so its success will rely heavily on its ability to optimize for more lightweight components via graphics options. Still, it's a refreshing change from the endless slew of shooters styled after action movies, and Unrecord could quickly join the ranks of the best PC games if it manages to release without drawing the attention of censors.
Also, it has me feeling somewhat uneasy during some gameplay footage. Are we finally hitting another significant leap in graphical fidelity that makes you question whether graphics are close enough to real life? Still, it's exciting, and I've added it to my Steam wishlist.
Get the Windows Central Newsletter
All the latest news, reviews, and guides for Windows and Xbox diehards.
Ben is the channel editor for all things tech-related at Windows Central. That includes PCs, the components inside, and any accessory you can connect to a Windows desktop or Xbox console. Not restricted to one platform, he also has a keen interest in Valve's Steam Deck handheld and the Linux-based operating system inside. Fueling this career with coffee since 2021, you can usually find him behind one screen or another. Find him on Mastodon @trzomb@mastodon.online to ask questions or share opinions.