No subtitles? No problem. Windows Live Captions could make gaming accessible to all
Live Captions could be the ultimate accessibility tool if Microsoft would ever update it.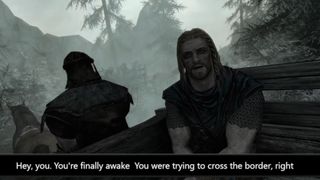 (Image credit: Ben Wilson | Windows Central)
What you need to know
Live Captions is an accessibility tool in Windows 11 which generates live subtitles for any audio source playing on your machine.
Added to Windows in September 2022, it can be activated via a simple Windows key + Ctrl + L shortcut.
A user on Reddit has shared their experiences of generating live captions for video games that otherwise lack the feature.
---
Microsoft added Live Captions to Windows in September 2022, expanding its accessibility options, albeit restricted to only understanding US English. However, it can listen to speech from any audio source playing on your Windows machine, highlighting just one useful feature of the 22H2 update. Activated via a simple Windows key + Ctrl + L shortcut, the customizable captions window allows you to filter out profanity and change text formatting. Very cool and super helpful in browsing the web.
Live Captions also offers something beneficial to gamers in a way you might not have considered. Sharing their experience on Reddit, one clever user adopted the tool to provide live subtitles for Assassin's Creed, a game with an unfortunate lack of subtitled dialog. It's not perfect, with some spoken lines coming through with unusual swaps for certain words. Still, for any game featuring an American protagonist (no shortage there,) it's been working pretty well, particularly on titles like Halo 2: Anniversary.
Xbox promotes accessible gaming with various programs and peripherals, and Live Captions could operate perfectly inside this ecosystem. Well, it could if it received any attention since launch. Knowing the flexible caption toolbar was added to Windows 11 over half a year ago, I had expected some enhancements when I tried it out this week. No such luck, with any character expressing anything but a clear-spoken American accent ending up subtitled with a mix of kind-of-close-captions to total gibberish.
The potential for a powerful accessibility tool is now built into Windows without needing third-party software downloads or manual setups of audio devices. Still, it'll be doomed to appear on 'ten things you didn't know about Windows' content for the rest of its days if Microsoft doesn't offer significant updates. With the growing capability of AI, specifically tools capable of cleaning up muddy audio, there's not much room for excuses to leave Live Captions in the dark. Especially not when Microsoft intends to lead the way with billions of dollars spent on Bing Chat, Copilot, and its other AI-powered projects.
Head to the Accessibility section of your Windows 11 Settings menu to personalize the toolbar and text, or bring the toolbar up with the previously mentioned Windows key + Ctrl + L shortcut and quickly try it for yourself with any game (you might need to run it in a window, though.) It works on anything, from older Xbox Cloud Gaming titles streaming without subtitles or even self-emulated titles of your own retro backups.
Live Captions proves to be another excellent use for lesser-known Windows tools that could grow to something spectacular if it earns any extra attention from Microsoft's internal team. Fingers crossed, they add functionality for more languages besides US English so that I can cheat on my Duolingo lessons or enjoy games in other languages, whichever you find more believable.
Get the Windows Central Newsletter
All the latest news, reviews, and guides for Windows and Xbox diehards.
Ben is the channel editor for all things tech-related at Windows Central. That includes PCs, the components inside, and any accessory you can connect to a Windows desktop or Xbox console. Not restricted to one platform, he also has a keen interest in Valve's Steam Deck handheld and the Linux-based operating system inside. Fueling this career with coffee since 2021, you can usually find him behind one screen or another. Find him on Mastodon @trzomb@mastodon.online to ask questions or share opinions.