Someone made the Magic School Bus in Starfield, and it looks incredible
Where the road ends, adventure begins!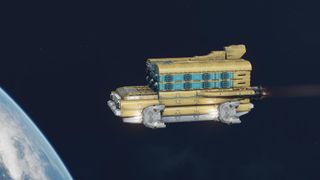 (Image credit: u/SP7R on Reddit)
What you need to know
You can build and customize your own spaceship in Starfield, the new title from Bethesda.
One player created a flying Magic School Bus from a popular children's show in the US and UK in the nineties, and they even went to space in a couple of episodes.
---
Starfield guides
- Space and ship combat explained
- Where to buy ship repair parts
- How to rename ships
- How to trade with ships
As of a few hours ago, Starfield hit the 6 million players mark making it Bethesda's biggest launch of all time, and it's easy to see why. The endless exploration, dynamic storytelling and ship customization have delighted fans of Bethesda's games old and new. Ship customization can be as big or small a part of your playthrough of Starfield as you choose, but some players are really going hard on their designs, this player has managed to create a replica of the Magic School Bus, from the educational nineties show of the same name. If you've no idea what that is, perhaps you are too young, but you can still enjoy these amazing photos taken in the game of a space bus built for adventure.
Image 1 of 4
I'm probably one of the few UK readers that will remember The Magic School Bus, and not just because I'm over 30, but because it wasn't as big a show in the UK. In the US though the show aired on PBS kids between 1994-1997 and taught America's kids all about science and the world around them, with the bus actually going to space in a few episodes.

If you're not familiar with the show, or if you want a nostalgia hit check out the video below and enjoy the theme tune being stuck in your head for the rest of your day.
Reddit user SP7R is clearly a nineties kid who was a big fan of the show, and has done an amazing job bringing the school bus to life in Starfield. We may not be getting planetary vehicles anytime soon but at least we can fly buses in space, right?
What is even more apt is that many famous quotes from the show encourage experimentation and exploration, just like Starfield. "Take chances, make mistakes, get messy!" being one of many examples and included on the Reddit post as an ode to this great show.
Phil Spencer goes full circle with Microsoft
When we shared this fun build on Twitter, Phil Spencer filled us in on an interesting bit of trivia from the Microsoft archives. Microsoft actually published some educational Magic School Bus games back in the nineties, including 'The Magic School Bus Explores the Solar System'. In fact, if you are looking for something a bit less than Starfield's huge download size, you can get the game here in a neat 298 MB zip file. Spencer himself actually worked on the games, so this must be a great full circle moment for him.
Funny round trip for me, I actually worked on the Magic School Bus titles from MS way back in the day. This made me smile. https://t.co/qv9zGrUD1F pic.twitter.com/RgrZ2f8f93September 8, 2023
While you may want to try this build yourself, one thing that may halt you in your creativity is enough credits to pull off your designs. We have no idea how much this cost in-game to make, but it must have taken some serious hours of grafting in space. Some players have found sneaky ways to earn credits using the physics in the game to steal, but if you want to earn credits the legitimate way we have a guide for you. If you count smuggling contraband as legitimate...
Get the Windows Central Newsletter
All the latest news, reviews, and guides for Windows and Xbox diehards.
Jen is a News Writer for Windows Central, focused on all things gaming and Microsoft. Anything slaying monsters with magical weapons will get a thumbs up such as Dark Souls, Dragon Age, Diablo, and Monster Hunter. When not playing games, she'll be watching a horror or trash reality TV show, she hasn't decided which of those categories the Kardashians fit into. You can follow Jen on Twitter @Jenbox360 for more Diablo fangirling and general moaning about British weather.