Achieve More, Earn Less — unless you are an Xbox Game Pass subscriber
Microsoft Rewards just got a little less rewarding.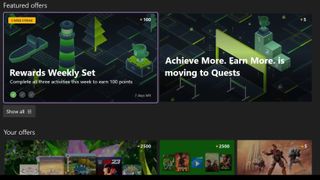 (Image credit: Jennifer Young - Windows Central)
What you need to know
Microsoft Rewards lets you earn points for searching, shopping and gaming on the Microsoft ecosystem. These points can be redeemed for various rewards.
'Achieve More. Earn More' (AMEM) was a daily reward available on the Xbox dashboard, rewarding 50 points for earning an in-game achievement.
After days of showing as 'under maintenance' AMEM has been removed completely as a reward option, to be moved to Quests.
Quests are only available for Game Pass subscribers.
---
Microsoft Rewards is a free, no-brainer program that lets you earn points going about your daily tasks on the platform. Points can be earned by shopping, using Bing search, and gaming on Xbox, Windows PC and mobile. Unless you subscribe to Xbox Game Pass, you've just lost one of the most popular rewards methods, as it's been moved to Quests which is only available for subscribers.
Acheive More. Earn More (but only on Game Pass)
The 'Achieve More. Earn More' (AMEM) punch card on the Xbox dashboard, rewarded players with 50 points on each day they earned a new achievement in-game. It was a popular way to net 50 points daily, however, it was often wrought with issues. Reward participants would often take to social media and complain that AMEM didn't track achievements properly and it was regularly taken down for maintenance.

So it was no surprise when the most recent outage of AMEM had gone on for days. Players checking their Reward punchcard for the reward have been met with an 'under maintenance' message for over a week now, rewarding us with just 5 points a day for the inconvenience. The message read that "our team is actively working to solve a technical problem with the offer."

The punch card updated today, and it appears that the problem has been solved, albeit with a total removal of AMEM from Microsoft Rewards. The dashboard now shows a new, apologetic message from Xbox stating that Achieve More. Earn More will be moving to Quests from April 4 2023 as a daily achievement. It will no longer be available via Microsoft Rewards.
What are Quests?
Microsoft Quests are tasks that you complete to earn rewards within your game library. Whilst on the face of it this seems a small change, a simple bit of housekeeping, it actually means that the opportunity to earn those daily points will now be exclusive to Game Pass subscribers only, as Quests is exclusive to subscribers. The message doesn't confirm if you will still be rewarded with 50 points either.

The message from Xbox states non-subscribers to Xbox Game Pass will still be able to use the other activities available on Microsoft Rewards, but gamers are still expressing their displeasure with this on Twitter and Reddit. 50 reward points a day adds up considerably over the year and this is definitely a blow to fans of the Microsoft Rewards program. This news comes just days after the $1 offer of Game Pass Ultimate has been removed from the store for new subscribers.
Windows Central's Take
Whilst at surface level, this news does seem negative, it only takes a cursory glance over the Microsoft Rewards online communities to see how many issues were ongoing with the AMEM punch card, and helpdesk staff regularly had to apply points manually due to failed tracking.

With the task being a daily reward this probably spelled a lot of work hours for Xbox for minimal reward. Their inability to permanently fix the issue, and regularly needing to remove it for maintenance has no doubt been a major driver in this decision to make it a Game Pass subscriber perk only.

This move is likely down to business, AMEM leads to multiple support tickets and if those players are also Game Pass subscribers, it provides a little more give and take to the situation. Taking things away and making them a paid perk is never going to be viewed on kindly though, just ask Twitter Blue.
Get the Windows Central Newsletter
All the latest news, reviews, and guides for Windows and Xbox diehards.
Jen is a News Writer for Windows Central, focused on all things gaming and Microsoft. Anything slaying monsters with magical weapons will get a thumbs up such as Dark Souls, Dragon Age, Diablo, and Monster Hunter. When not playing games, she'll be watching a horror or trash reality TV show, she hasn't decided which of those categories the Kardashians fit into. You can follow Jen on Twitter @Jenbox360 for more Diablo fangirling and general moaning about British weather.