Like RGB on your Xbox controllers? You'll love this new launch from PowerA
The Lumectra range launches today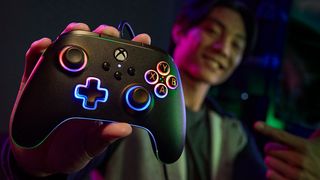 (Image credit: PowerA)
What you need to know
PowerA has launched a new ecosystem of lighting accessories, Lumectra Zone, which features an update to the popular Spectra Xbox controller and an LED lighting strip.
The Advantage Wired controller for Xbox Series X|S with Lumectra is available now in black and white at PowerA.com, Amazon, and other major retailers worldwide.
The standalone controller with Lumectra RGB will have a starting MSRP of $44.99 in the US, and comes in black or white. The Lumectra RGB LED light strip is available separately for $19.99.
The bundle of the Advantage Wired Controller for Xbox Series X|S with Lumectra and a 4-foot RGB LED Strip is available for $54.99, saving $10 when purchased together.
---
Roses are red, violets are blue, I adore RGB products and Xbox controllers too. Luckily, PowerA answered my love letters today and launched another RGB controller for Xbox as a successor to its popular Spectra wired controller. The new Advantage Wired Controller for Xbox isn't simply a 'Spectra 2 Electric Boogaloo' though, it's part of a new range of lighting products being launched by PowerA. The Lumectra range will be an ecosystem of RGB technology added to various PowerA products, starting with the Advantage Controller which comes in Black or White for $44.99, and an LED lighting strip for $19.99.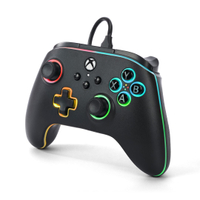 Read more
- The best Xbox Controllers
- The best Xbox headsets
- Govee Hexagon light panels 'Ultra' model look stunning
All of the above-mentioned products are available today from PowerA, Amazon and GameStop and you can purchase a bundle of both the new controller, which is officially licensed by Xbox, and LED strip for $54.99, representing a $10 saving.

Both controllers come with the programmable back buttons that feature on PowerA's other controllers, which are increasingly needed in more demanding games like Starfield and Armored Core 6.

Controller fans may already be familiar with PowerA products and the Spectra Infinity controller, which also had vibrant RGB lighting. We test its products regularly at Windows Central and most recently I was impressed with the PowerA Nano Enhanced controller which is a miniature Xbox controller with those increasingly important back buttons I've come to miss when using the standard Xbox controller.
Image 1 of 3
The gamepad also has 3-way trigger locks, dual rumble motors and more lighting and color modes than the Spectra, as it comes with the new Lumectra technology. The connection has also been upgraded from Micro-USB to USB-C to be in line with more modern controllers.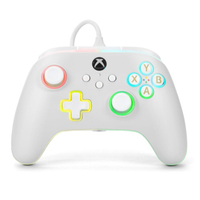 Can you ever have enough controllers? I don't think so, but there are those who disagree and may not be looking to add to their collection. If that's you and you just want to try the Lumectra technology on the LED strip alone, you can purchase it through Amazon or PowerA as a stand-alone item for $19.99.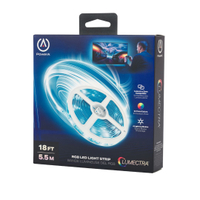 We hope to put the new PowerA Lumectra range through its paces soon and bring you a review, and more importantly, some pretty pictures of what looks like a beautiful bundle from PowerA. Controller fans, watch this space!
Get the Windows Central Newsletter
All the latest news, reviews, and guides for Windows and Xbox diehards.
Jen is a News Writer for Windows Central, focused on all things gaming and Microsoft. Anything slaying monsters with magical weapons will get a thumbs up such as Dark Souls, Dragon Age, Diablo, and Monster Hunter. When not playing games, she'll be watching a horror or trash reality TV show, she hasn't decided which of those categories the Kardashians fit into. You can follow Jen on Twitter @Jenbox360 for more Diablo fangirling and general moaning about British weather.