Govee updated its Hexagon light panels with an 'Ultra' model and they are stunning
These lights are set to dazzle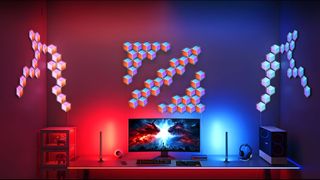 (Image credit: Govee)
What you need to know
Govee, creators of the Glide Hexagon light panels have announced an Ultra version of its popular lighting solution for gamers.
The Govee Glide Hexagon Light Panels Ultra has triple the lighting power of the basic range and a 3D design to give more depth to your immersive lighting.
The panels will be available to purchase from September 25 via Amazon and Govee's website and priced at $349.99
---
If you're a fan of funky lighting, you are probably already well acquainted with Govee's huge range of products. From wall panels, LED strips, smart bulbs and more they specialize in immersive lighting for your gaming setup that all sync seamlessly with other smart home devices like Alexa and Google Home.

We've reviewed the Govee Hexagon Pro lights before at Windows Central and were impressed with how easy to set up. Not only that, but how impactful they were once installed — well now we may be about to get more dazzled, as Govee has announced it's launching an Ultra version of these lights, and you'll be able to buy them from September 25 in the US.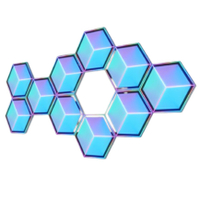 Govee Glide Hexagon Light Panels Ultra

It's most ambitious lighting product yet, these Govee light panels use a new 3D surface and line design to light up your gaming area in a more dynamic way. They will be available to order directly from Govee on September 25, and will also be sold through Amazon.

Buy at: Govee | Amazon (coming soon)
What's different about the Glide Hexagon Pro Ultra?
Read more
- Review: Govee Glide Hexa Pro LED panels
- Review: Govee LED Neon Rope Lights
- Light up your dorm with these curtain lights
- Lenovo Legion Go images leaked
- Back to School 2023
You might be wondering why these lights are so expensive, compared to Govee's other products. Govee is known for being a more affordable alternative to its main competitors, such as Nanoleaf, but these lights have some unique features that justify the $349.99 price tag. For starters, they have 129 LED beads in each panel, which is three times more than the previous versions, making them ultra vivid (hence the name).

Govee also claims that this is the first product in the industry that combines line and surface illumination methods, creating a stunning 3D effect that adds depth and dynamism to your gaming setup. These lights would be perfect for streamers who want to impress their viewers with their eye-catching workspace. Besides these selling points, the lights also offer:
Two color variants - Meteor Gray which emits softer more gentle lighting, and Lunar White which is a transparent shell for more intense colors and brightness.
Enhanced DIY and customization - In contrast with the previous versions, these panels have 10 microcontroller units (MCUs) so you can be more flexible with your chosen designs and there are no limits to which splicing direction you choose when positioning.
Three illumination modes - Individual line, individual surface and combined line and surface mean there is more depth of design possibilities here than in any of its previous wall lights.
Wide compatibility - the lights work seamlessly with Govee Dreamview, Razer Chroma, Alexa and Google Home so you can use both for home lighting and also sync with your gameplay. You'll be able to control them with your voice, a remote or one of the aforementioned apps.
Setting up the Govee panels is very simple and they work well with your existing smart home products. However, you do need a flat and clean surface to install them, such as a standard wall, glass, or wood. In our review, the previous panels didn't take well to wallpaper but Govee does advise against this. The kit comes with 10 panels, but you can combine up to 21 of them in one design if you really want to go wild with your lighting.

The lights will be unveiled officially at the 2023 League Championship Series which takes place on August 19, no doubt because of their appeal to gamers, and we hope to see more images of them in action. So far, we think these lights look great, and look forward to seeing what designs people come up with when they hit retail on September 25. We bet they'll look great with those crazy curtain lights Govee just launched too.
Get the Windows Central Newsletter
All the latest news, reviews, and guides for Windows and Xbox diehards.
Jen is a News Writer for Windows Central, focused on all things gaming and Microsoft. Anything slaying monsters with magical weapons will get a thumbs up such as Dark Souls, Dragon Age, Diablo, and Monster Hunter. When not playing games, she'll be watching a horror or trash reality TV show, she hasn't decided which of those categories the Kardashians fit into. You can follow Jen on Twitter @Jenbox360 for more Diablo fangirling and general moaning about British weather.