Xbox's new policy — say goodbye to unofficial accessories from November thanks to error '0x82d60002' (UPDATE)
Error 0x82d60002 informs players their devices will be blocked. Here's why.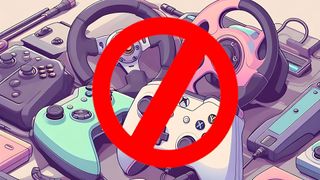 (Image credit: Bing Image Creator)
What you need to know
From November 12, 2023, Microsoft will no longer allow unauthorized third-party accessories to be used with its Xbox consoles.
Players are reporting a warning message displaying on Xbox when plugging in unauthorized accessories, notifying them of the date their accessories will be blocked with "error 0x82d60002."
Xbox advises returning the accessory and instead referring to its list of authorized products on its website.
The message is shown due to the latest console build, which is said to be causing console issues when using these third-party accessories.
UPDATE (October 29, 2023): We've heard from sources familiar with Microsoft's plans that this may be related to Microsoft expanding its program for approved third-party wireless Xbox controllers. Most Xbox third-party controllers right now are wired.
UPDATE (October 30, 2023): Microsoft has responded to our questions for clarification around this new policy.
UPDATE (November 1, 2023): Microsoft has further clarified that users who connect USB devices through the Xbox Adaptive Controller for accessibility purposes will not be impacted by the new restrictions.
---
UPDATE (November 1, 2023): Microsoft has sent us some further clarification on how the new enforcement policies may impact accessibility devices.
Users that are connecting devices via 3.5mm ports, or via the USB sockets on the Xbox Adaptive Controller will not be impacted by these restrictions. This is to ensure that third-party devices designed for accessibility will remain viable.
"There is no impact to players using the Xbox Adaptive Controller and any peripherals plugged into the Xbox Adaptive Controller's USB and 3.5MM ports. This includes both licensed Designed for Xbox devices listed on the Accessories Hub Page, as well as those that currently connect with the Xbox Adaptive Controller. If you do not receive an error code, then your accessory will not be impacted. For questions, please reach out to the Disability Answer Desk."
Microsoft has reaffirmed that devices that connect directly to the Xbox via USB that are unlicensed and do not have authorization from Xbox will stop functioning after two weeks. The grace period is to allow users to return and replace those devices.
---
UPDATE (October 30, 2023): A Microsoft spokesperson has responded our questions for comments on this new policy, which is affecting certain manufacturers in the coming weeks.
"Microsoft and other licensed Xbox hardware partners' accessories are designed and manufactured with quality standards for performance, security, and safety. Unauthorized accessories can compromise the gaming experience on Xbox consoles (Xbox One, Xbox Series X/S.) Players may receive a pop-up warning that their accessory is unauthorized. Eventually, the unauthorized accessory will be blocked from use to preserve the console gaming experience. For a full list of accessories that are supported on Xbox consoles, please visit www.xbox.com/accessories, our support pages here and here, and our Designed for Xbox Partner Hardware Program page here."
There's still no official word or reports yet on whether XIM or Cronus controller-spoofing mouse and keyboard adapters will be banned as a result of these policy changes, but manufacturers like Brook Gaming who build unlicensed, but fair adapters for fighting game sticks seem to be caught in the dragnet. We'll be sure to update you on further changes.
---
Original article:
In a significant development for Xbox users, the era of tinkering with your console to use unapproved accessories is drawing to a close. Xbox has taken a definitive stance by instituting a new policy that will block the use of unauthorized accessories with its consoles, effective as of November 17.

This decision has already begun to reverberate amongst the gaming community, and many have already had a warning about it on their consoles in the form of error message 0x82d60002.
The error message states:

"A connected accessory is not authorized. Using unauthorized accessories compromises your gaming experience. For this reason, the unauthorized accessory will be blocked from use on 11/12/2023.

For help returning it, check with the store it came from or contact the manufacturer. To see authorized accessories, go to www.xbox.com/accessories. (0x82d60002)."

Please note my image of the error message is a UK-based console, so text and date formation will differ.
I got wind of this error message when a family member messaged me about her Xbox One controller acting up. The controller, to put it mildly, looked like a budget version of the real deal — a 'we have Xbox controllers at home' vibe, as the kids say. Not surprisingly, it refused to work with her Xbox, leaving her quite frustrated.

Not only did she receive the warning message, and error code 0x82d60002, but the controller already failed to function with the Xbox. I asked for a photo of the controller, and I'm not surprised it didn't work, given the included adapter looks like something you get for free at the bottom of a box of cereal.
Jokes aside, the message she received on her console was an interesting one, and in further digging it became clear that this is more than just a one-off problem with a quirky controller. It's a big shift that's going to impact all those accessories that don't have the Xbox seal of approval. Made more apparent by Xbox redirecting the user to its own official storefront.

One of the brands feeling the heat from this upcoming change is Brook Gaming, known for its third-party gaming accessories. With reports of problems cropping up on some of their products, they took to X (formerly known as Twitter) to address the issue.
Xbox console-related product Issue Update pic.twitter.com/QK0N41LmHWOctober 20, 2023
The post from Brook Gaming reads:
"DEAR GAMERS, We extend our heartfelt appreciation for your unwavering support and interest in Brook. We find it necessary to share crucial information with you regarding our Xbox console-related products, which may encounter functional disruptions in the near future.
Recently. we have received player feedback concerning these products when used on Xbox consoles (the latest OS version 10.0.25398.2266. released on 10/16) during online gameplay. An error message may appear: "A connected accessory is not authorized." We deeply regret any inconvenience this may cause you. The Brook engineering team is fully committed to developing a solution to maintain product quality and functionality. Please trust that we will spare no effort in identifying potential solutions. Once further updates become available. we will promptly notify you through our official community platforms."

Affect products listed by the brand are:
Wingman XB 2 converter
XB Fighting Board
With partial functionality affected on its UFB fighting boards and steering wheel adaptors.

Brook Gaming's statement highlights a series of issues that have been plaguing third-party, unlicensed accessories, particularly since the rollout of console build 10.0.25398.2266, which was released on October 16. Interestingly, digging deeper into the matter reveals Reddit posts dating back to September, with users on reddit voicing concerns about a wide range of accessories, including joysticks and racing wheels like the Thrustmaster TMX Pro. This brand regularly features on this site and in our Best Racing Wheels for Xbox discussions.
While it's unclear how many products are affected by this issue, there's no indication yet that it has impacted Cronus or XIM accessories. Cronus and XIM accessories are controversial since they allow users to mimic a mouse and keyboard as an Xbox controller. This functionality provides them with a competitive edge in FPS games like Call of Duty, since they offer boosted turning speed and rapid-fire functionality without sacrificing aim assist. However, XIM and Cronus accessories have been used for accessibility purposes as well. As of right now, we haven't seen any evidence that these types of accessories will be affected by the recent changes since Xbox has historically been unable to detect them, but we're investigating.
Why is Microsoft doing this?
Our sources indicate that Microsoft is lifting restrictions on the ability for third-party hardware manufacturers to build wireless accessories for Xbox Series X|S devices. Indeed, this year we saw the PowerA MOGA XP-Ultra launch, which is among the first official third-party wireless controllers that isn't simply a re-skinned Xbox standard controller, or a patent holder such as some of SCUF's accessories.
Excellent Xbox controllers like the Razer Wolverine V2 Chroma are let down solely by the fact they are wired. Microsoft previously had no easy path for third-party manufacturers to get wirelessness into their controllers, with only headsets getting approval via a special Microsoft security chip. Now, we're hearing that Microsoft does have an approval process for official third-party wireless controllers, and this new restriction may be a result of new security measures to put restrictions on inputs that could circumvent play or inject unfair advantages.
The downside, of course, is that Xbox's new policy is affecting many "fair" accessories, particularly in the case of fighting game joysticks and other similar accessories.
Will this affect my third-party accessories?
As long as you're using a product from manufacturers that have officially paid for the Xbox license, you should be in the clear. Brands like SCUF, Turtle Beach, Razer, and others featured on our Best Xbox Headsets and Best Xbox Controllers lists fall under this category and won't be affected by the recent change. Wireless headsets already need a security chip approved by Microsoft to incorporate wirelessness on Xbox, but it seems this is now being extended more broadly to controllers and similar accessories too. Generic mice and keyboards for Xbox will be unaffected for games that support them, and USB HDDs and SSDs will be unaffected too, such as those from our Best Xbox external SSDs and HDDs article.

The problem seems to revolve around gamepad and input brands that haven't acquired this licensing but still market their products as compatible with Xbox. It appears that Microsoft is actively blocking these items.

Windows Central has reached out to Microsoft for comment on the decision.
Get the Windows Central Newsletter
All the latest news, reviews, and guides for Windows and Xbox diehards.
Jen is a News Writer for Windows Central, focused on all things gaming and Microsoft. Anything slaying monsters with magical weapons will get a thumbs up such as Dark Souls, Dragon Age, Diablo, and Monster Hunter. When not playing games, she'll be watching a horror or trash reality TV show, she hasn't decided which of those categories the Kardashians fit into. You can follow Jen on Twitter @Jenbox360 for more Diablo fangirling and general moaning about British weather.