Take control of the Big Easy with Gangstar New Orleans for Windows 10 PC
Gangstar New Orleans is an action-adventure game for Windows 10 that sends you to the French Quarter to battle your way through the criminal underworld.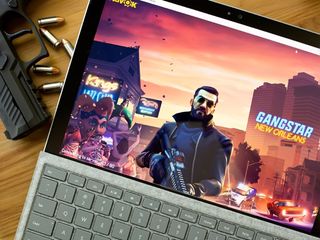 The free game is available for Windows 10 PC and has you undermining gangs, battling zombies and dealing with crooked cops. The Gameloft game sports quality visuals that are reminiscent of a graphic novel and gameplay has plenty of twists and turns to keep you busy. Game controls aren't terrible but could use a little fine tuning to become more user-friendly.
The game comes across as an acquired taste, but if you like the Grand Theft Auto (opens in new tab) style of games you should find Gangstar New Orleans to be a fun time-consuming Windows 10 game.
Gangstar New Orleans has you playing the role of an upstart criminal who must battle his way through the streets of New Orleans. The game includes dozens of missions, each with its own unique flavor based on the various districts of New Orleans. Its gameplay involves a mixture of driving and combat challenges, along with hunts for resources that can be used to build or upgrade gear.
As you establish your turf, you must defend it from other players who are searching for resources of their own, forming the game's multiplayer component.
When you first launch Gangstar New Orleans, a series of brief tutorials walk you through the basics of movement and combat. The game supports touch, keyboard/mouse and gamepad controls, with the gamepad being the best of the three options. The touch controls are decent from a tablet, but keyboard controls seemed very cumbersome.
From the game screen, a movement joystick is in the lower left corner of the display and an assortment of action buttons are nestled in the lower right corner. These action buttons change based on the event. For example, an accelerator and brake button appear while driving and a duck, run and shoot button are present during combat.
Your point of view is controlled by moving your mouse around or swiping on the touchpad. The mouse/touchpad also controls the movement joystick, making it very difficult to move around with any gracefulness. The dual joysticks of a gamepad eliminate this issue.
From car chases to shootouts, gameplay is a mixture of tactical strategy, stealth, speed and timing. You need to take advantage of the protective cover (cars, corners of buildings, etc.) to shield you from enemy fire. There are also times that you need to approach enemies from behind and eliminate them in a stealthy manner to avoid alerting their comrades.
Its gameplay also involves a decent amount of dialog. Character interaction and internal thoughts can reveal clues or direction needed to complete a mission. Objectives are highlighted on a thumbnail map on the game display. If you tap on the thumbnail, it opens a full-screen map that includes a summary of your mission for reference. As you complete assignments, experience is earned, loot gained (new weapons and cars) and you slowly rise with the ranks of the criminal world.
Just keep in mind that Gangstar New Orleans is not an ideal option when you only have a few minutes to spare for gaming. Missions can take 10-15 minutes to complete and if you exit the game mid-mission, you lose any mission progress.
Fun game but maybe not for everyone
Gangstar New Orleans delivers eye-catching graphics and plenty of street level action to Windows 10. Controls, on the other hand, could use a little fine-tuning. It would be great if your point of view followed your main character's movement automatically. Otherwise, playing with keyboard controls can be a little frustrating.
The game does a nice job of providing a variety of characters to deal with ranging from Voodoo Witch Doctors to local thugs. It also provides a nice illustration of New Orleans, minus the hordes of people roaming the sidewalks at all hours.
While an enjoyable game to lose track of time with, Gangstar comes across as more of an acquired taste than something with across the board appeal. If you enjoyed similar games such as Grand Theft Auto, you'll likely enjoy Gangstar New Orleans. If you are looking for a game with more arcade-styled action and less storyline content, you may want to look elsewhere.
Download Gangstar New Orleans from the Windows Store (opens in new tab)
George is the Reviews Editor at Windows Central, concentrating on Windows 10 PC and Mobile apps. He's been a supporter of the platform since the days of Windows CE and uses his current Windows 10 Mobile phone daily to keep up with life and enjoy a game during down time.
They just released City Mania for PC and Mobile, and it's a fun Sim City clone 😁

meh game, ill wait for the 2 other Gameloft games. the blitz brigade clone and a dungeon crawler i believe it was?

No mobile?? I'm surprised, usually GameLoft is all in on W10M

Windows Phone are dead no one interested

Then why did they just released one of their other games on mobile?

What makes you think that when people are asking for games for that platform? Makes less than no sense.

I used Windows Phone from the Cingular 8125 -> Lumia 950xl. I just switched to a ZTE Axon 7, and although I don't or really ever use apps, I could not stand missing Skype calls from my daughter. Nothing against Windows Phone, as I loved the Windows devices throughout the past 12 years, missing a call from my daughter cannot be tolerated. Sorry. Pretty sad too that Skype is Microsoft's program and they can't get it to work..... My phones I have owned...
Cingular 8125
Cingular 3125
HTC Tytn II
HTC Touch Pro / Touch Diamond
HTC HD II
Samsung Focus ---> Samsung Galaxy
Samsung Focus S ----> Samsung Galaxy S2
Lumia 620 x 2 (Daughter)
Lumia 920
Tried the HTC HD8 (Android version), brought it back. It sucked.
Lumia 1520
Lumia 630 x 2 (Daughter)
Lumia 950xl x 2
ZTE Axon 7 There was one model I forgot what it was that was a Windows Mobile Candybar type of phone. I didn't see it on Wiki. But ya... I 've been a proponent for Windows Phone forever. Still am. I would still use it if I didn't miss a call from my daughter via Skype.

Anyone remember AirTouch and LA Cellular???😄

I thought this was supposed to be coming to windows mobile?

George Ponder brandishing his firearm on WC... 🤔

Duh! That program in last O_O

I'm too hooked on L4D2 I got for free years ago on Steam.
Windows Central Newsletter
Thank you for signing up to Windows Central. You will receive a verification email shortly.
There was a problem. Please refresh the page and try again.