Gears of War 4 and Mafia III optimized graphics drivers released by AMD and NVIDIA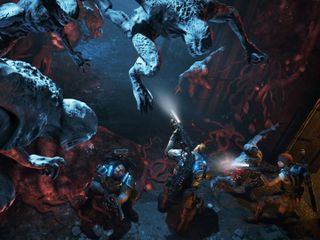 NVIDIA and AMD have released their latest drivers for their GeForce and Radeon graphic cards, respectively. The new versions have been optimized for Microsoft's Windows 10 PC version of its sci-fi shooter Gears of War 4.
NVIDIA has also posted an extensive guide for the graphics settings that developer The Coalition have put in the Windows 10 PC version of Gears of War 4, so that hardcore gamers can get the best looking visuals from the game on their gaming rig.
The new 373.06 WHQL drivers from NVIDIA are also optimized for the PC version of 2K Games' open world crime action game Mafia III, which goes on sale today, along with optimizations for Shadow Warrior 2, the first-person shooter that will be released on Oct. 13. AMD's new Radeon Software Crimson Edition 16.10.1 drivers are also optimized for Gears of War 4 and Mafia III.
The Ultimate Edition of Gears of War 4 is now available to play, and the standard edition will go live on October 11. If you need a new GPU to handle to game, have a glance at our best graphics cards roundup.
Check out our Gears of War 4 review
Need more? Don't miss our other coverage of Gears of War 4 including:
See on the Xbox Store (opens in new tab)
Windows Central Newsletter
Get the best of Windows Central in in your inbox, every day!
Mafia 3 is incredible so far, some of the best storytelling I've ever experienced in a game.

Are you playing on PC or Console? Price is twice as much on Xbox One but might be willing to pay it to play on my Xbox if it runs well....Can't wait for Scorpio so we can stop asking this question, never seems like it got to this point with previous gen consoles where I'd question if a console game was really playable or would achieve a solid 30 FPS :-/

i haven't noticed the frame rate drop at all, that being said the lighting isn't amazing so I'm guessing concessions were made to ensure it runs smoothly. oh, and I'm playing on the One.

That's cool, I don't mind the console version not looking like it's maxed out on PC as that's obviously not possible. But Just Cause 3 has a massive performance gulf and the console version is frustrating at times when it drops to low 20's I love playing games on my Xbox One, so I buy a lot of them on there. Obviously LOVE Play Anywhere titles since I get the best of both too.

>Mafia 3 is incredible so far, some of the best storytelling I've ever experienced in a game. Dam, now I cant wait to get it... I didn't have to see this :-\ I ordered it 2 days ago, it shipped today, picturing I would get it Monday or Tuesday... I wanted to finish up a game or 2 before starting another one...that is what this weekend is for (a few games I got to 80-90% done and a new game came in, just finishing them up) Too many games just too little time....sigh..

I was reading the reviews on Gears 4 and it appears you cannot play competitive multiplayer vs Xbox Players. That's a bummer. I was really looking forward to buying that game for mainly that reason.

That would be unfair, why don't people understand that

How so? You can just limit multiplayer to controllers only vs KB+Mouse when playing Xbox players.

since the new driver, the magnifier in windows 10 have a lag of a few second that was not there before... I'M using a Geforce 660 Ti
Windows Central Newsletter
Thank you for signing up to Windows Central. You will receive a verification email shortly.
There was a problem. Please refresh the page and try again.