Geometry Dash jumps over to the Windows Phone Store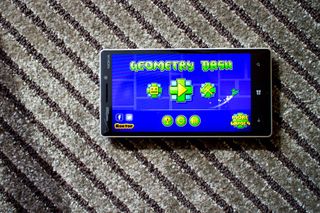 Geometry Dash has been on Android and iOS, but it has recently made its way to the Windows Phone Store. It's frustrating to play, but you'll want to keep trying. We go hands-on with this difficult platformer on the Nokia Lumia Icon.
Head past the break to watch the gameplay video and see if it's worth your time.
Features:
Rhythm-based Action Platforming!
Lots of levels with unique soundtracks!
Build and share your own levels using the level editor!
Unlock new icons and colors to customize your character!
Fly rockets, flip gravity and much more!
Use practice mode to sharpen your skills!
Challenge yourself with the near impossible!
You start out with a square-shaped character that automatically moves towards the right. Tap anywhere on the screen to jump and avoid spiky obstacles. Press and hold on the screen to do consecutive jumps.
The progress bar on top of the screen lets you know how far you've completed a level. If you hit a wall or a spiky obstable, you start again from the beginning. Select practice mode if you prefer to have checkpoints where you can restart near the spot you recently crashed.
To alleviate some of your frustrations, Geometry Dash has a couple features that will keep your mind off the main game. You can customize the look of the character. Icons and colors become unlocked when completing certain things. For example, the color yellow gets unlocked after you jump 1,000 times.
If you have a lot of free time, Geometry Dash also lets you create your own levels. We're already having a hard time completing the first two levels, so we don't think we have the need to create extra levels.
Geometry Dash costs $1.99 at the Windows Phone Store. There's no free trial available in this initial version, but we think it's worth the price. Check it out and let us know what you think of the game in the comments.
Thanks for the tip, Ronan B.!
Windows Central Newsletter
Get the best of Windows Central in your inbox, every day!
No free trial? Lazy developers.

The developers would have been lazy if they hadn't ported the app to Windows Phone at all, the app is worth buying and would encourage the developers to port more of their future games to Windows Phone.

Disagree about the 'app is worth buying' - I'll be the judge of that AFTER I've had an opportunity for a trial of the app/game. While $0.99 since might be a small price to pay, I decide on what I value as being worth my $0.99!

Got this for free on my iPhone. Fun, but definitely not worth $1.99, imo.

Unless there's a sale time on iOS appstore. Cause the last time I check, this game isn't free. The only free version of this game is the lite version with just 3 stages, not full game. Well, of course if you didn't jailbreak your phone :))

Looks like Impossible Game...

Definitely not impossible, so much fun and works great even with low-end Lumias.

Is this an official version?

huuuuuuuuuuuuuu no free trial ............

Seriously, should be a store requirement!

C'mon game runs great, it's full functional buttery smooth port of ios game! P.s. It lags on lots of androids.

I doubt this game lags on Android. They're all to busy playing Real Racing 3 and Half Life 2 anyways.

The Lite version is in the works for Windows Phone, just haven't had time to finish it yet :) Thanks for writing about Geometry Dash! Best, Robert (the developer)

Wonderful! I mean you and your games :D

Thank you thank you thank you :)

You got my money, thanks for supporting WP! BTW, the store description says "iPhone 5 widescreen support!" :P

Ah nice catch, will update the description :) (Lazy copy paste error ^^)

Thank you! This is great! :)

I was the one who tipped WPCentral about the game, anything in it for me? ;-)

BS. I sent this tip in 2 days ago....

It's not Free so I won't download it

What a great loss for the developer... Not.

Is this only for WP8? Cuz im stil on 7.8 or whatever, I have it on the iPad tho. I downloaded it toady and got the first level done, and im about 65% done with 2nd. Its fun!

It has free trial on android. Why not on wp

Read the comments of this article... The developer himself has mentioned that he is working in the lite version of the game now (free version)

Hi Guy, Today i just dowloaded modern combat 4 free of cost ( FROM INDIA) its was showing 160 INR in store, but when i dowloaded it came free don't miss this hurry yupc guys :)