GestureSign makes Windows 10 even more touch-friendly
You can save some precious clicks by using programmable gestures with GestureSign.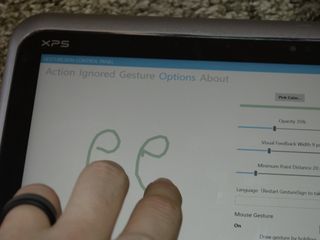 Windows 10 has some nice touch-related options already, but GestureSign takes that to the next level. You can program gestures to help you navigate the operating system, jump around within apps, and can also perform gestures with a mouse or precision trackpad.
The app is available for free on Windows 10.
See in Microsoft Store (opens in new tab)
Gestures in action
Using GestureSign is straightforward. It comes with gestures assigned to certain tasks such as volume up and down, launching a web browser, or closing a tab on a website, but all of these are reprogrammable. You can set any action that the app can do to any gesture which can include combinations of holding and swiping. For example, volume up is preset to tap and hold one finger while sliding another finger up.
These gestures work quickly and allow you to zip around Windows 10's interface. The touch inputs are handy on tablets and touch screen devices and the app also supports precision mouse gestures as well as mouse movements. My test device doesn't have precision drivers so I couldn't test that aspect of the app.
You can also set gestures to do different things depending on what program you're using. This is great because some gestures that I'd like to use to naviate the desktop are similar to things that do other tasks within Edge so I can avoid a conflict.
Why isn't this built in?
Sometimes you use an app and wonder why Microsoft hasn't just built this funcionality into the operating system. Eartrumpet is a great example. While GestureSign isn't perfect, it's close to fitting into this category. Microsoft has made strides to make Windows 10 touch-friendly but one of the knocks on the operating system is that tablet mode took a step backwards when upgrading from Windows 8.1. GestureSign doesn't replace the features that got lost in that upgrade but it does improve usability in tablet mode while also working nicely with a trackpad or mouse setup.
Because GestureSign isn't built into Windows 10 directly, there are some issues. The biggest problem is that touch inputs and swipes often perform other tasks, especially within apps. You can get around this some by programming gestures that don't conflict, but some of the more intuitive options are already assigned in apps like Microsoft Edge so you have to use less natural-feeling options.
I also felt like it was obvious I was using an app at times while testing it out which for an app like this is a negative.
Overall thoughts
GestureSign is a great addition to Windows 10, especially if you use a tablet or a device with a precision mousepad. You can save time and navigate programs and the operating system with less effort and movement. This is a great example of an app that you can download once and then leave running without thinking about it.
GestureSign isn't perfect, its biggest flaw being that Windows 10 already responds to certain touch imputs which can clash with your gestures, but it's still worth trying out, especially since it's free.
Pros
Adds functionality
Can be used with touch or precision mousepad
Saves time
Free
Cons
Doesn't feel native
Sometimes gestures clash with other touch elements of Windows 10
See in Microsoft Store (opens in new tab)
News Writer and apps editor
Sean Endicott brings nearly a decade of experience covering Microsoft and Windows news to Windows Central. He joined our team in 2017 as an app reviewer and now heads up our day-to-day news coverage. If you have a news tip or an app to review, hit him up at sean.endicott@futurenet.com (opens in new tab).
i can't say enough good things about gesture sign. have been using it for a long time now and was thrilled when it came to the store. microsoft really needs a native gesture engine that is as feature rich as this app because yeah, some gestures do clash with certain apps (looking at you edge). but navigating firefox with finger swipes to switch tabs, open/close tabs, open find bar, jump to address bar/search bar is just so intuitive it's a true pleasure. it's also a way to make programs that aren't touch friendly, touch capable (like irfan view). i'm definitely using my sp3 more as a tablet because of gesture sign.

Was it really noticed just now? I've been using it for... 3 years? I've used it even before Windows 10 came out. Of course, it was a desktop app back then.

I just need one: A gesture to open the taskbar and Start, both or which are stupidly cumbersome without a keyboard >_>
Windows Central Newsletter
Thank you for signing up to Windows Central. You will receive a verification email shortly.
There was a problem. Please refresh the page and try again.