Here is how to get back the Modern Start Screen in Windows 10 Technical Preview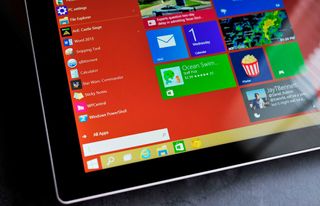 Today, Microsoft unveiled their Windows Technical Preview for the new Windows 10 operating system. There are obviously plenty of questions from users about upgrading to the Preview, and one of those has to deal with the Modern Start Screen.
If like me, you installed the Technical Preview but you would like to get back the Modern Start Screen, here is a quick and easy way to make that happen.
The current preview is mostly geared towards IT professionals and those on a desktop PC. Knowing this recommendation, I still installed it on my Surface Pro 3. As expected, the Windows Technical Preview sets the Start menu preference by default depending on the presence of a mouse or keyboard detected. As such, my Surface Pro 3 was in Desktop mode with the new Start Menu and Modern combo. However, I could not get back to the familiar Modern Start Screen, which is ideal for tablet mode.
Microsoft made it relatively easy to switch between the two and to set the default. Here is how.
Toggle default Start Menu or Start Screen
Search
Type in 'Navigation Properties'
Go to tab 'Start Menu'
Toggle 'Use the Start Menu instead of the Start Screen'
The system then tells you to log out and back in again to make the change. Now, my Surface Pro 3 behaves just as it did before. Note, however that as far as I know, you cannot have both the Start Menu and Start Screen working in tandem. In other words, when on the Desktop and using the Start key, it uses whichever is the default.
What about Continuum?
If you watched the presentation yesterday, you might recall Microsoft's new Continuum system. Continuum lets the OS switch dynamically between the Start Menu and Start Screen automatically when a keyboard is added or removed. This coveted feature "solves" the problem described above, but Continuum is not quite here with us yet, which is why of course it does not work.
Regardless, if you want to install Windows 10 Technical Preview on your x86 or x64 tablet, go right ahead.
Daniel Rubino is the Executive Editor of Windows Central, head reviewer, podcast co-host, and analyst. He has been covering Microsoft here since 2007, back when this site was called WMExperts (and later Windows Phone Central). His interests include Windows, Microsoft Surface, laptops, next-gen computing, and arguing with people on the internet.
It's cool
I love modern start, but I'll try a few days the new start

Yup, it's all about trying the new!

I don't see how this is better. Seems a lot more complicated, ugly and cluttered than it was in Windows 8. Now I need to hit a pop-up dialog box every time I remove the touch cover to tell the machine whether I want to draw in Photoshop or Fresh Paint? Now I have this ugly big list of old fashioned applications going down the left side of the screen? This is garbage. Really bad interface. Yuck. To say this is not finished is an understatement. It's not even the beginning of a good idea.

I'd honestly like it better if I could disable the oldschool list on the left. I hadn't used the old start menu since XP, I just hit windows and typed up until 8 when the new start screen made it useful.

Google "Classic Shell" There's already a Windows 10 version!

Yeah! you've read that article from Verge I understand :P

I hated that article ("Windows 10sion" on The Verge). Proves you can't please everybody no matter what you do. yuk

The verge will never be pleased with Microsoft

everyone over at The Verge seems to paid by Apple or something. Idk. Noobs.

You can please everybody, the problem is you can't please The Verge especially if its not Apple product :p
Never read more biased article than that windows 10sion one

I gave the new start menu half a day, but it's not as good as the start screen so I just switched back.

Continuum? Get Kira and Alec on this pronto.

Good show. Need to catch up on Season 3 still.

Just watched the season 3 finale last night. This is epic...

Damn good show. Season 3's ending was crazy!

I really hope Showcase renews for Season 4. I hope they give me good news, its the best Sci-Fi show on TV right now.

How applicable is this for even this (our) lot of Windows fanatics? Just asking, are many anticipating downloading the preview, have an extra computer so the preview does not lock up your main PC?

This makes the case for virtual machines (vmware, virtualbox) you install into it and play with it from inside your main computer. You do have to have the resources to run both, but its a good way to play with it without risking everything else you have loaded.

Or, you could dual boot from an VHDX. Keeps both installs, give Windows 10 access to the hardware, and removes the need for a hypervisor.
http://technet.microsoft.com/en-GB/library/hh825691.aspx

Dual boot is another option, if you want to use it like your daily driver but still have something to go back to. This way you can be more helpful to Microsoft by truly giving it a good run.

Windows 8 has Hyper-V build in. No need for VMware or whatever. Hyper-V rules anyway. For quit some customers Hyper-V entered the building and VMware left the building.

Except Hyper-V doesn't work with Connected Standby feature used in SP3. You need to do a bcdedit and create a boot configuration with hyper-v disabled if you want instant on that the SP3 ships with after enabling Hyper-V.

HyperV in Windows 8 doesn't work on all systems, so in my case I need to use VMware Player.

Have a 2tb drive partitioned just for this situation. Haven't booted into that drive since the last preview. Just finished formatting it, and installing now.

Daniel, Is it worth it for the Pro3? Or should i just wait?

What device are you coming from? I just went from a launch day SP2 to an SP3 about 4 days ago

I was using my Surface RT, Dell Venue 8 Pro, and a Win7 Desktop before i got my pro3.

I went from a Samsung Series 7 Slate (11.6") to a SP2 (10.6") way back. And from an SP2 to an SP3 (12") recently. Biggest change was the size and the type cover 3 as the only option. Performance is a bit better other than the crazy wifi issues (I use it in desktop mode at work and tablet mode at home). The screen is THE best. The fan was running crazy and loud the first couple of days but its silent now. SP2 was a good size but too heavy compared to the RT and SP3. SP2 also ran without any issues for me so that's a plus. SP3 wifi is buggy. Trading in or selling the SP2 brings the cost down and makes it a more worthy upgrade especially if you can get it bundled with a type cover. I would wait for some deals to pop up if possible.

Daniel your installation is complete?

Along with IE, Cortana, Notification Center, and many unknown features this is not on this Technical Preview yet. Microsoft has never done this before, this is very early in the production phase, it was said several times that consumer features such as IE and Notification Center will be announced in early 2015. I would bet on CES which is held Jan 6-9 for 2015.

Excellent! Continuum is the key that was missing from Windows 8. The cool thing about this preview is these bits will come to us when ready for a spin. I expect to see this feature by the public preview Q1.

The real thing that was missing was windowable modern apps. But continuum is a nice complement.

"Windowed" means has windows. The apps don't have windows. They are windows. But only some of the time. That is to say, they can be made into windows. Hence, windowable. The English language is a powerful, flexible thing.

Lol, "windowed" is how they've been discribed since the ability started being talked about. When they aren't full screen, they are windows into the app. Just because they're chromless doesn't mean they aren't considered windowed. You can say what you want, but windowed is actually a word and windowable isn't, and sounds a bit ridiculous in my opinion.

What about our Dell XPS 2720 AIO that allows us to use both Keyboard\ mouse and touch screen all at the same time?

When keyboard is docked it is Start by default. When you undock the keyboard you have the Continuum (Metro) start screen. Simple as that. Or as far as I got it haha :)

I think he meant an All-In-One PC, that enables simultaneous use of touch and keyboard/mouse combo, not a detachable tablet :)

It's a touch screen desktop. I can use both at the same time currently.

You. areeee. going. TO. break. Continuuuuuum , Nist. you have been warned. naw idk man I guess its up to you, choose the default as the new start menu hybrid and pin all your live tiles as you had before :D

Aye, I have a Sony flip, will Continuum recognize on devices like that?

Anyone running this using Hyper-V? I'm going to try it after I get home from work.

Yup it was a painless Hyper-V installation. The only thing of note was that you have to be quick with hitting a key to boot from the virtual DVD drive. This was a Windows 8.1 64 bit host with a 64 bit Windows 10 Guest.

I am. The 64bit version. And it's working. I guess. The taskbar crashed when I clicked on the start button - now it does absolutely nothing, not a single icon on it is working. Also, in case you want to have an idea of what to allocate I gave it only 1 GB RAM and 256 GB HDD. Next I will upload the VHD to Azure. There I've got more resources.

Not being able to have both start screen and start menu at same time isn't really s problem is it... I mean wait a day or two and Iobit.com will probs update their program that allows you to have the start menu back, which would give you the possibility of both at same time... That's if Iobit do update the program... :/

Well, for the sake of the 1% that likes the Start Screen, I hope Microsoft makes it a bit easier to choose as default for end consumers. While I don't believe the vast majority of Windows users will do this in the retail version, there's no point in not giving options for those who want. Yeah, go to the taskbar isn't exactly hard but still. They could put it as an option, for example, upon start-up. I'll be waiting a few days (or weeks) to see how stable is the release and how well does it work on the SP3 before I go ahead and intall it.

I couldn't agree with you more, Herbert!

When I heard "continuum" I was expecting it to be like Yosemite's "continuity" but I wish Microsoft looks into this later on. By the way, once you're on tablet mode, why does it giveyou a back button shown on the taskbar?

As it stands right now, according to Joe, the back button is displayed for going back to the previous task. Since the feature is still a demo no one really knows how it behaves

If that's the case then it will be consistent with Windows Phone, though I love the current implementation in Windows 8.1 where I can quickly glance-and-go between my Start Screen and previous Desktop/App by just pressing Windows key.
I'm guessing that the Taskbar will be also the on-sceen Navigation Bar for tablets, just like on Windows Phone.

Is the Technical preview relatively stable? That is the only thing keeping me from installing it.

Is the Charms Bar completely gone? I loved the Charms.

Its only gone with the start menu but bot if you revert to the start screen

Unfortunately not correct on desktop (unless there is a way to turn on). Even with start screen enabled I am not able to get charms from hot corners. I have to use ctrl+c to get them. Not happy about that.

Same here. The charms bar was an excellent addition.

I can only get them from ctrl+c, not from hot corners. Boo...

I'm running it on ESX 5.5 and the display settings suck, not compatible vmtools display driver I presume. I only get 1024x768

This is why people get annoyed at Microsoft, just when developers such as Mozilla get a 'modern' browser going Microsoft decides to largely scrap it.

They aren't scraping it. Modern apps will run side-by-side on the desktop and full screen in tablet mode.

It is far from scrapped. Just because they can now be windowed does not mean metro, new apps are going anywhere. If anything this will help the store grow. I believe it will n

Mozilla scrapped modern Firefox themselves. It had nothing to do with Windows 10 as you can still run modern apps.

Why did they bring back the shadows? Won't this impact performance? Can we disable them?

Continuum is an epic idea

Nice Wallpaper Daniel, is there an Download link or is it privat?

This is a relief. I was thinking that I was going to have to stay on Windows 8.1 to ensure that my Surface behaves the same. Thanks for posting this article.

Windows 7 users can upgrade to the final version for free? Via Windows Updates, i just wanna know.

I heard the preview is only available for x86 PCs

Niceeeeeeeee, btw how looks animations in this "windows 8 mode" ? Like on windows 8, or they are as simple as on windows 10??

So to anyone using the Windows 10 preview, is the metro internet explorer version gone now? Or is it still available when u go into tablet mode? I only see the desktop version in pics. I really like the metro IE and would love to know if it is still there or not? Thanks.

I would guess it is only there if in metro mode. Will check it out once I am up and running.

Update: Only finding desktop version in the preview.

Wait, what?!!! No Metro IE? Yet ANOTHER stupid aspect of Win10 I hate!

If it's there, I can't find it. Desktop version was pinned to my start screen.

Well that's a bummer, i was going to install this on my venue 8 pro but i guess I'm not any more

I hate, hate, hate that charms are gone in desktop mode. I was willing to give the new start menu a try, but I think charms missing is a deal breaker for me.

Even after changing to start screen, I am not able to activate the charms on a desktop. Not installing this on my SP3. You have some steel ones Daniel. Anyway, very disappointed by not having my charms. Grr. Anyone know of a way to turn them back on?

There is absolutely no way I'd install this on a machine I actually use. I hate Win10 so much, and given that it's barely a Beta means you're really asking for trouble if you put it on anything other than a testing machine. I'm more than just disappointed about not having the Charms. I currently get rid of the Task bar and I prefer accessing Charms from both the Metro and desktop sides.

Ctrl+c opens them, which is nice. But i want to activate with mouse.

Can the task bar be removed from the Start Screen in W10's current state?

It goes away somehow after a few minutes. Have not figures out how to do that or make it stay gone short of auto hiding it.

Avoiding my tablet for now.....As it works fine with Windows 8.1 and dont want to format it to start over.... I might install a backup program, clone the drive, then MAYBE I will attempt it on the tablet after I do a test restore... The real question from me is, Is there a lot if any real changes to the "Start screen" ?

None from what I can tell. That app list to the left is not present for me. (which I am happy about. Looks ugly where it is in the screen shots) Also, it didn't sync my start screen as it normally does, though it asked me if I wanted to.

Nice! The start screen. I love it!

Can you pin regular/win 32 (why do they call it that?) apps to the left column in the start menu, like how you can in windows 7?

Cool. If you right click an exe what options do you get? Pin to start menu AND pin to start screen? You can still pin them on the start screen right?

I think pinning them to start will pin to both. I will test.

And I don't want it work! I don't want any hint of desktop or quasi-desktop ruining my user experience. I'm happy that I can make the real Start screen the default, as long as that works on every type of device I have, that's at least ONE good thing about Win10. Now, what about how the Metro apps run?

You can change them to full screen from the ellipse menu on the top left.

Though it seems snapping in full screen is not there. Cannot grab a full screen app and set side by side like 8/8.1. So far not impressed with this build. Will be giving lots of feedback.

I'm glad MS is letting you choose. Good thinking. Should have already done that :P

Can I just say that I LOVE the drop shadows and borderless windows? So happy with the new design approaches.

This is an amazing step for windows. I actually really liked the moder start screen, but felt kind of like empty for me (i don't use so many apps that use the live tile). With the new start sceen I can adapt the size to what I need and even return to the full modern for tablet mode. AMAZING!

It's very simple. Just make the option to toggle between the two UIs and let use choose. I remember back when XP came out and folks didn't like the new Start Menu, but MSFT had a option to view it in "Classic" mode. Windows 10 should of been what Windows 8 was. Allowing the end user to toggle instead of forcefully push Modern UI was its downfall.

Thanks, I think when you get use to the 8.1's start menu you feel how good and useable it is

But how do you see apps? Just scrolling down like usually?

on that video i noticed that even in tablet mode modern apps does not occupy the entire screen space because there is a taskbar on the bottom. i dont want to see that taskbar on tablet mode. windows 8.1 gestures and looks are trully amazing on a tablet. as an owner of a surface pro 3, i appreciate microsofts effort to improve the desktop part and to have a better bridge with modern os but i dont want windows 10 to be less metro. i would only install this preview once continuum is working and that im pretty assurred that on tablet mode, modern apps are on true full screen and swipe from left gesture to switch apps is still there.

they probably havent finished the continumm stuff yet? they've only shown a mockup video during the annoncement

I installed it on a second partition on my laptop. During the install it asked where to get my settings from and listed my 8.1 desktop so I picked that. Nicely it gave me the Start Page. I never even saw it show the menu option.

Awaiting Surface Pro 3 to launch with Win 10 in India...hope, wish comes true soon.

The best thing about the start menu, is that it performs well via RDP or Citrix or whatever. Means that Windows is usuable as a thin client solution again. Currently running it via low end Dell FX130 thin client over RDP, MUCH better.

I looked at this preview but as soon as it told me to uninstall my virus protection (not just temporarily disable it) I said "No thanks"

I really don't like the new start screen. I would have preferred the return of win7 start menu, with the metro apps treated as regular menu items. I suppose I will just see it if grows on me.

thank god.. i got stuck over there :D

Hi there, I just upgraded my Acure w501(with Touchscreen) from 8.1 to Win10 Tech Preview but I can't get into the Metro Mode/Start Menu! I followed the instruction above...but I don't have the Check box "'Use the Start Menu instead of the Start Screen'"?! Thanks for any input /hans

Hi there, I just upgraded my Acure w501(with Touchscreen) from 8.1 to Win10 Tech Preview but I can't get into the Metro Mode/Start Menu! I followed the instruction above...but I don't have the Check box "'Use the Start Menu instead of the Start Screen'"?! Thanks for any input /hans

This is not longer relavant, the start menu is gone :(

The option of "Use the Start Menu instead of the Start Screen" does not appear in the settings.

This article is no longer relevant for those that have a desktop computer and want the Windows Start Screen back. There is no Start Menu tab for some of us and when turning on Tablet Mode, it won't boot to the Start Screen. I want my tiles back the way I had them so I can get my information at a glance as the tiles update me. I don't want to have to keep clicking on things to get information. Please tell desktop users how we can get the Windows 8.1 tiles to appear how we had them while using Windows 10.

I think I have the same problem. I have no start menu at all. No metro tiles. Zilch. What I open Start Menu and Naviagtion Properties, I don't even have a Start Menu Tab. I only have three tabs: Taskbar, Navigation, Toolbars. :(
Windows Central Newsletter
Get the best of Windows Central in in your inbox, every day!
Thank you for signing up to Windows Central. You will receive a verification email shortly.
There was a problem. Please refresh the page and try again.