Here's how to get the new Microsoft Paint Preview app for Windows 10
By Daniel Rubino published
Here is our new quick how-to guide on installing the new Paint Preview app for Windows 10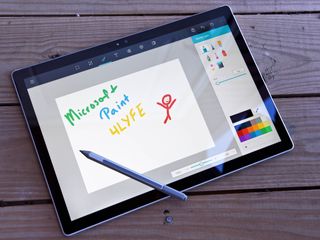 Over the weekend some videos were posted revealing the all-new Microsoft Paint app coming for Windows 10. Yes, the little art app that could is getting a big makeover in the new few weeks and now you can try it early.
Today on Twitter, Gustave M., who's known for is Interop and GusTools, kindly posted the Paint .appx file signed from the Store. That means a simple sideload to your PC will let you try out the app right now.
Installation is very easy, and we'll show you how to do just that so you can play with Paint on your lunch or dinner break!
Sideload Paint Preview for Windows 10
Grab the .appx file hosted here on Mega
Double-click the downloaded file; you may be asked to associate .appx files with App Deployer (this is part of the Anniversary Update)
SmartScreen Filter may give a warning; Click More info instead of Don't Run
Select Run anyway to run installation
Select Install from the installer
Choose Launch when completed or find the app in your Start menu
That's it! The app is signed so you should not need to have Developer Privileges enabled. However, you can turn those on under Settings > Update & security > For developers > Sideload apps/Developer mode in case you do run into any problems.
To our knowledge, the new Microsoft Paint Preview does not run on Mobile. It is not clear if Microsoft intends to change that in the future or due to the 3D rendering only proper PCs will be able to handle the graphics. This current leaked .appx is is only x64, but an x86 version should be posted soon.
Overall, Paint Preview runs quite well, but we have seen some crashes on occasion. Interestingly, it appears Paint may use the dedicated GPU in the Surface Book to help with 3D rendering. That claim is inferred from our experience of trying to detach the clipboard while the app is running, which is blocked (you need to relaunch the app in clipboard mode).
While the new Paint app benefits from a touchscreen and pen neither are required. In fact, you can use your finger on a touchscreen, your mouse, or any object to do your drawing
Once this app is installed, you can easily uninstall it just like any other Windows app. Also, if Microsoft updates the app in the Store you may also start to get app updates as well.
It is expected Microsoft will announce the availability of this app and more later this month during their Windows 10 October event in New York City. Stay tuned as we'll be there to cover that event as it happens.
What do you think of the new Microsoft Paint? Let us know in comments after you tried it!
Daniel Rubino is the Executive Editor of Windows Central, head reviewer, podcast co-host, and analyst. He has been covering Microsoft here since 2007, back when this site was called WMExperts (and later Windows Phone Central). His interests include Windows, Microsoft Surface, laptops, next-gen computing, and arguing with people on the internet.
I'm a huge MS Paint nerd/fan. Glad to see this app! Granted, I can't draw for nothing, but I do like to copy/paste a lot and use it as a poor man's Photoshop! Note that the current .appx is x64 at the moment, but an x86 version in an .appxbundle is likely to be posted sometime soon.

I grew up using Paintbrush (the original name). This looks great but I wish they would have chosen an UI layout similar to the OneNote app, this is yet another completely different UI and also extremely large, even for a touch first app.

Well, i would like to see this for MOBILE also even if they won't be able to implement 3D rendering. This is a cool app in any case. :D

I'm getting an update for an app, newcastle, in the store yet it won't install, only gives error code. Any idea?

I notice that the eraser on the Pro 4 pen doesn't erase.

Right, it just touch-enabled. Doesn't seem to be any Surface Pen integration yet.

That's one of the features I really like about Fresh Paint.

You could imagine that this feature would get put into paint consider it is getting developed as we try it?

Hmm... Whenever I try to launch it I'm informed that the preview isn't available to me and directed to the Store listing https://www.windowscentral.com/e?link=https2F%2Fclick.linksynergy.co...

I get the exactly same fault

It's worth noting for those who are sideloading the new Paint app that it seems to be using the new release numbering scheme Microsoft has recently adopted that merges year and month, which means this build release, 1604-2, was compiled in April 2016. As such, this is a pretty old build and many of the bugs you'll be facing may very well have been fixed already when it's officially released for preview by Microsoft.

At least for me, this app does not have the 3D Freehand mode, which is its biggest selling feature from the video! I have a HP Spectre 360 which only has intel GPU, so that might be a factor, I don't know.

ya, looks like pretty much all of the cool features in the video are missing from this build. Still neat! But ya, I'll just wait until the full version comes out

Unfortunately, as soon as your PC checks for app updates, it will be replaced with an app called "Newscastle" that fails to launch.

Newcastle is the Windows Store codename for the refreshed Paint app, per Walking Cat's earlier leak this year: https://twitter.com/h0x0d/status/727139756069384193 That was when we found out a new Paint app was in development. Wouldn't surprise me if Microsoft added the bogus Newcastle app to the Store in order to break Paint leaks from working. :)

Turn off automatic app updates then, and just install other updates manually until this comes out officially. Posted via the Windows Central App for Android

Nah, not worth it for me, I'll just wait for an official release.

Not worth it for an awesome new paint just to manually tap some buttons?!

It's not awesome (as per the vids) yet, it's missing lots of features or they're broken/disabled, it's clearly an early release. And yes it'd be silly to disable auto-update just for this 1 app, for some of us it's too late anyway, as it auto-updated almost right away, rendering the app unusable. Sure I could uninstall/reinstall the appx & disable auto-update, but no thanks, I'll wait for another update to come through, if that never works then I'll uninstall & wait for the official release.

For me after an update via the Store, it still launches an app called Newcastle (previously Paint Preview), but it's blank. I wonder if it's worth keeping this installed, as eventually they may push the final release through this code-name/channel? Or would it be best remove, so as to avoid complications when the formal release comes out???

That's what I meant when I said it fails to launch, yes, it does spawn a window that doesn't close itself automatically, but the window is blank. I don't think it's worth keeping it installed. Just download it again when it gets released officially.

Just download it again when it gets released officially.

So IYO they won't push the public release through the same channel? It's just that I'm not following MS/Win news, have decided not to at all for the next ~6mth. Focusing on many other interests...

@Gatanui Did you see my response ~48hrs ago, I don't suppose you could spare a few final mins: http://www.windowscentral.com/get-new-microsoft-paint-app-windows10#comm... Thank-you.

Yeah just ignore, classy stuff...

Check some posts from above.

Aaand??? It already installed for me, you read all the posts here. Instead of necro-posting all over the thread.

Well the update won't install so... Don't delete the appx package!

Am I to believe that this app won't come to mobile?

Too early to tell, I'd say.

I'm sure it'll come to Mobile one day. This would definitely make sense on a "Surface Phone". Also, it's such a cool app ! Mobile use would be nice even w/o 3D rendering.

I can't wait for the day when there's only one Windows. No matter what device is used

Not sure where you're from but that day has already been here for us brother!

Is there a tutorial on how to extract games into .appx? a couple games I own have been delisted, but I have them still on an older slower tablet. would be great if I could stract them and reinstall them on the new system

I wonder if a Mobile Universal version is in the pipeline.

doesn't know what the eraser does on my Surface Pen lol

Mine says "Check your account", any ideas why?

I got it to install ok. I don't see how to get that 3D effect though. Maybe it doesn't give you that when you draw with a mouse?

Probably correct.
This is a touch first mouse second app. :)

Got the program. Learning it. Love the 3D objects. The tools work great. Still early, I'm sure. Still a big fan of Fresh Paint, though.

Hope it gets selection,lasso,magic wand and layers with blend fearures

For now, it looks and feels very poor in terms of functionality and quality of drawing, nothing but an app to doodle something very primitive, I'm a bit disappointed. Layers would be very indeed. Hope the final version to be much better. Now OneNote seems to be more powerful with it's drawing features.

I love the historical undo glider. We need that in more apps! Also, what's a *.cool file? it's the format the app asks for when I try to import a 3d model. I've never come across a 3d object with a *.cool extension.

Does this replace the stock paint program? Also does this still have the resize option that the program does? Really the only time I use the stock paint program is to resize a picture that is too large to upload to a forum or website and would hate to lose that option.

No such problem(s) here, on this b0x; Windows 10 Enterprise N 2016 LTSB 14393.x as Microsoft Store does not exist. It's an awesome (liberating) experience: http://i.imgur.com/WbBTl0a.png ... Also many other things are fixed, in this release, such as completely blocking the MHTML Engine starting with Internet Options (http://i.imgur.com/l8ioGYu.gif), through using gpedit.msc to turn-off /disable everything (Windblow$ has little idea that the 'net is up and running, http://i.imgur.com/hO3kJyc.png) and, finally, completely blocking the Internet Exploder in Comodo Firewall - along with a host of other Micro$oft programs, including Windows Explorer! :)
Windows Central Newsletter
Get the best of Windows Central in in your inbox, every day!
Thank you for signing up to Windows Central. You will receive a verification email shortly.
There was a problem. Please refresh the page and try again.