Microsoft makes it official and announces October 26 Windows 10 Event for NYC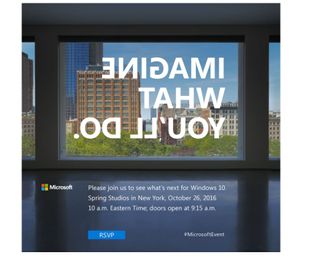 As expected Microsoft has just sent out media invites for their next Windows 10 event to be held in New York City on Wednesday, October 26.
The invite gives no specifics on what to expect although we have heard reports of a Surface All-in-One plus various Surface accessories. Also, refreshes to the Surface Pro 4 and Surface Book could also be announced although any firm details are lacking at this time. However, there is nothing expected regarding a 'Surface Phone' or 'Surface Mobile' device.
The event starts at 10 AM ET and will likely be live streamed as usual. Windows Central will, of course, be there as well to cover any hands-on with new devices as well as doing our usual live blog, so stay tuned for that.
Windows Central Newsletter
Get the best of Windows Central in in your inbox, every day!
Daniel Rubino is the Editor-in-chief of Windows Central, head reviewer, podcast co-host, and analyst. He has been covering Microsoft since 2007 when this site was called WMExperts (and later Windows Phone Central). His interests include Windows, laptops, next-gen computing, and for some reason, watches. Before all this tech stuff, he worked on a Ph.D. in linguistics, watched people sleep (for medical purposes!), and ran the projectors at movie theaters because it was fun.
Nadella's showtime....LOL
Lets see what the "cloud first, mobile first" CEO brings!!!!

Some "REAL" push to 'Mobile' hopefully?

you mean an "Android" launcher?

I would be fine with that

That'd be awesome if Microsoft provided a Windows mobile-like launcher for Android! I use Launcher 8 today on my GS7 and it works really well. Having one directly from Microsoft would be even better.

Let's see if they even mention Windows 10 Mobile. Lol. They are quiet about it.

You could switch to the other side. They have press events to announce new watch bands.

This event is about Windows 10 only and it has no place in either cloud or mobile (W10M is dead), so I doubt Nadella will be interested in participating.

For dead mobile OS it sure has one hell of an after life

And all 20 users agree with you! ;-)~

Yeah, W10M is nice on paper, but soon there will be NO affordable (to consumers) device left to run it! I love it on my 950XL, but once the 950XL is dead, what's next ??? I can't afford an entreprise-grade device, and the cheap Lumia line has been killed... not much left to run this wonderful W10M OS !!! Now that Nokia is getting back into mobile (with Android) and that Microsoft is developing all their apps for Android and iOS (some of which even have more features on non-windows platform) Perhaps it is time to jump ship! No W10M hardware to run W10M = W10M dead (at least for the consumers, Entreprise market seems to be more important as part of the "All Cloud" strategy!). Microsoft long said that the Surface Phone (as the 950XL!?!) is dedicated to the "Fans" (ask a fan what he thinks of his 950XL?). It keeps being delayed (rumoured for quite some time now...). This tells us that Microsoft no longer cares about their consumer "fans" base (see the band etc) and simply wait, with further delays, that they no longer have any fans (they all have been forced to jumped ship) so that they don't even have to produce the Surface Phone and can kill it, like the Band... After all, Microsoft always said that it is up to OEM partners to create the hardware (as if they would? when they have bigger and better-supported alternative platforms (apps development, larger potential customers/developers base, etc.) !)

Thanks for your input... Also Win10 is one platform in many form foctors...

More items for iOS and Android. I don't get excited anymore about these events even though I try to keep hope alive.

"Imagine what you'll do".....in MS's vision....spreadsheets, memos, the scattered business letter......thats about it!

Imagine what you'll do on your macbo... oh, that's right there's no applications for the Mac. See, I can spread blatantly false information as well!!!!

ha ha....writings on the wall "chosen one". All MS is interested in cubical warfare..

Hmm... can your Macbook/Mac/iPhone do stuffs like W10M does and have greater security than W10M?

"imagine what you'll do" ... if Microsoft continues to abandon the consumer market by completely killing Windows 10 Mobile and solely focus on the Cloud and Entreprise... Is this title a warning to consumer fans (or disillusioned ex-fan like me!) to use Microsoft apps and service on Android?

it's "Mobile First, Cloud First", not "Cloud First, Mobile First"

How can two things be first? what a dumb slogan....

Then you are both NOT first....you are tied....your either first or your last....and MS is not first....sooooo

Lol ok there Ricky Bobby. Troll a little better next time.

Glad you got that reference...maybe there is some sense of humour in you afterall!

now its going to be a long 2 & 1/2 weeks..... tic toc tic toc....

im just glad theyre actually having an event. i was getting worried they had little to show, re: surface phone delays, surface line next march, band team reassigned... It takes marketing and press events to convince consumers (and developers) that you're relevant.

Surface book ans Surface Pro 4 LTE,surface 4,surface mini with continuum pro,xbox tv and xbox stick, launching of desktopp apps,hololens and xbox,a new operating system( lighter x86)

A surface mini would not need continuum if it is running full windows 10

A Surface Mini should be RT-like, aka W10 Mobile

Yeah how about no. It should be full OS or it's pointless.

charles they already have RT, just gimped it and called it continuum....wool pulled!

I have a Surface Pro 3 and use Continuum on it all of the time!

A NEW CEO would be perfect!

A commitment and investment to consumer market with affordable W10M devices and a Band 3...

I have been hoping for a Xbox TV stick for almost 3 years now. I hope at least this time it materializes.

seems very unlikely to me.

Or may be buy Roku.. I think that seems likely ;) :D

Yeah, Roku has been very good to me. It's annoying there is no way to watch my Windows store tv/movies through the Roku.

Or, a Surface drone. That can't fly and stays on the.................Surface.

or if it does fly it just goes around in circles because it has no direction.

The direction is known. You clearly don't agree. Sucks to be you I guess

Nope it does not suck to be me...I sold all my Microsoft devices because they were pure **** on windows 10. I am having a much better time using my solid, fast, stable, reliable apple devices. PLEASE humour me on the direction of MS mobile plan? I would love to know! seeing as even they have no ******* clue on what they are doing with it.

What are you still doing here then apart from trolling?

I'd be happy if they just fixed the battery life on my Surface Pro 4. When I bought it, the battery went from 100% to less than 20% in 2 hours. By surfing and commenting on web pages like this. After improvements and before the AU, 2 hours of work would keep the battery above 50% -- still not fantastic. But today, it went from 100% to 14% in 1 h 45 min when I essentially sat in a cafe and worked on a Word document. And now I read that the new Dell XPS 13 (HD screen) has a battery life of 22 hours... (ok, perhaps they are exaggerating, too...).

Do you think they will use this forum to also announce the much fabled Surface Phone?

No Posted via the Windows Central App for Android

Surface phone on x86 is not happening.

So don't mean they couldn't an announce it at the event what does it not being x86 have to do with if they announce it or not

Because they are NOT developing one...that is why they are not announcing the surface phone..wow, people.

Steve, you've made that claim before and I've challenged you on it (interestingly you didn't answer me). How do you KNOW Microsoft are NOT developing a surface phone. They have repeatedly said they are developing new devices, and have not once (as far as I can tell) said they are NOT developing a surface phone. So, once again, how do you know? Are you an employee in their design/development department? (in which case, I'd suggest you'd have been fired long ago). While you may indeed be correct, you are spreading rumours and misleading readers of this forum by so emphatically stating something that you are not sure of.

How about how do you know they ARE? there has NOT been any information AT ALL on anything to suggest they are...considering they are "retrenching" meaning driving windows 10 mobile into the dirt, and burrying it. So please stop spreading rumors and misleading readers Cough*fanboys*cough into thinknig there is such a device on the horizon by so empathetically stating something you are not sure of!

Could do; they announced Scorpio way ahead of release, they might do the same this time to try and drum up some interest in it. Less likely, but could happen. It's been long rumoured and they know people know.

Yup.. And don't forget the HP ELITE X3!!! Announced wayyyy before the release !
Same way, we can have the Surface Phone.

Imagine what I'll do... I imagine I'll watch, be underwhelmed, get no real info on Mobile hardware, and not be interested in the all-in-one. However, I'll hope to see a SP5, even if I expect that to not happen.

I feel the same way. All I really care about at this point is Surface Pro 5. But seems like that is very far away.

I think the current devices will stick around for at least another year or two. We got yearly Surface revisions in the past because the device had lots of room for improvement. Now I would dare say it's near perfect. When MS releases new Surface hardware it takes months to iron out the drivers and various other glitches, there's a reason Apple and Lenovo don't overhaul their entire PC lineup yearly, and I think Surface devices are probably in that same type of product cycle now.

The gap from the SP3 to the SP4 wasn't big. You basically got a magnetized Surface Pen and that's about it. There will be a new Surface Pro, almost certainly, as Microsoft is the only company really pushing that market with a device (the mostly-tablet hybrid). It might be just the same device with a Kaby Lake chip inside, but there's no reason for them to stick with Skylake while refreshing the Book.

Because i just bought a Surface pro 4, i will be pissed if they release the new one. No, I a m joking, as pure hardware the current generation of Surface Pro 4 are really good for one more year. Only place i want improvement is, Surface Pen and battery life. Surface pen requires a lot of pressure to leave ink on the screen, Apple pencil leaves it in the dust, high initial activating force of surface pen tires the handwriting muscles quickly. And battery life is mostly unacceptable, Anniversary update is riddled with bugs. I don't think They can make surface pen as good as Apple pencil in one year. Nor has battery technology leap frogged any further in the past one year. I think they should just give the chance to Windows10 to mature as an OS, make it more battery efficient and Pen centric, make up their mind which form factor, screen size, they want to promote. Or they should just combine both SP4 and Surface book, to get a longer battery life. On the other hand if they come up with any thing that is less impressive than apple pencil, in terms of IAF or Sampling rate of the digitizer. It will be a huge disappointment.

I'm starting to think that they really like October. This should be interesting.

They like October too much! They will announce it in October 2016, and release it in October 2017.

Lol! I'm going to guess January 2017 at the earliest.

It would be fantastic if they surprised with a Surface Phone, but I suppose its unlikely. But what if? Maybe this is where WhartonBrooks' Cerulean Phone will be unveiled? Maybe nothing? We'll see!

Forgot about that thing. They had an event scheduled for early september, then they cancelled at the last minute and no one's heard from them since so... Idk? I'm inclined to be pessimistic and believe the project is dead to be honest. The WhartonBrooks website does not inspire confidence.

I hope they present a new "Band" wearable....

Me too. The media has been depressing lately regarding Microsoft wearables. I really like the band 2, but the hardware/software of the band needs to line up with the Windows 10 family. Right now it's just a side accessory with a lot of potential.

I held off replacing my band 1 expecting the 3 to arrive this month. I doubt its going to happen now. Shame, now I'm hoping to pick up a band 2 in a bargin bin.

Band is discontinued. Try buying one from the Microsoft store....

I just replaced my 4th Band2 for strap splitting. I love the band and use it 24/7, but they really need to improve the quality.

I hope they announce their firing their entire marketing team.

oohh yes please and they recruited the top Apple Marketing team with unlimited budget ! So that people know that they can buy fantastic Microsoft products like the Band, which failed to sale as nobody knew it ever existed !

I'm hoping against hope that it's something like a "surface watch" and that's why they are killing off the band. Pure speculation, but since they couldn't get IoT to work in the band, maybe they are starting from scratch.

What....microsoft ditch something and start from scratch....NAH......you kid!

I hear it's going to be relaunched as the "ActiveSync".

Lol that sounds more like a windows Service than a device name.

The new microsoft band is available at all finer business supply stores as well as walmart....comes in a nice pink/purple box, has many different sizes but they changed the name to acco!

Some software stats and stuff. Surface AIO and accessories, Kaby Lake refreshes in the rest of the Surface line-up with improved Pen support. Maybe an HoloLens upgrade or new Xbox accessories, but there won't be the most anticipated Surface Phone or any Bands. :P

Surface lineup with Kaby Lake and Thunderbolt 3 would be great. SurfaceConnect needs to die. Also a native USB Kinect would be awesome. I sure would love to use my Xbox One S for Skype and Cortana.

I've been thinking a native USB Kinect would be a great idea. It would make PC use a lot easier and would keep the device afloat until Scorpio VR could revitalize it

I'd be happy with SurfaceConnect still on the tablet itself, but with thunderbolt 3 on the dock. I'm not sure if TB3 is enough for everything SurfaceConnect carries, including device power.

Surface Phone sneak peak? Just like they did with Scorpio.

At the most a random slide showing a silver corner of something

Isn't that enough to keep many people's hopes up? Right now everyone is like "is mobile dead?" "after hp no windows phone?" "what would I do if they cancel mobile totally?" Instead of these we are going to have an excited crowd waiting for the Surface Phone.

Agreed... I hate the thought of having to use an iPhone or Android as my daily driver... Come on Microsoft release something new and cool in the phone space!

This is my worst nightmare.

It'd be enough for me. In a few months when the x3 goes down in price I'd pick one up off ebay, and that would be more than good enough to last me another year. I just need to know I'm not prolonging the inevitable.

Ars Technica says likely not much new hardware. :(

They normally announce new hardware in October. So ass technica could be wrong

Lol, ass technica... lmao! ​I would not put much stock in what Ars Technica has to say

That's not actually what that article says.

Yup, I fixed it just before you posted. They said 'not a wide array' of new hardware. Better! :)

that means they are releasing the new mouse and keyboard. thats not a wide array of hardware.

That site has been long useless

Based on the invite, the Surface AIO will obiously have a transparent display (warning - link to Windows hating site "The Verge")

Not sure where you get the idea from that The Verge supposedly hates Windows?

It's not like they've proclaimed Windows Phone dead three times already, keep adding unnecessary snarky comments to most Microsoft-related articles, did not review the Anniversary Upgrade, didn't just give the XPS13 a 6.5, or anything... Nope.

It's not exactly spelled out in big bold letters "WE HATE WINDOWS" but there are snarky comments, deriding remarks, and other such nonsense and then they praise Apple for everything... so yeah.... courage

Thats just truthful journalisim. Windows 10 does suck..even with the anniversary update. Windows phone is essentially dead. it has a .3 market share. Thats like, say ford selling 2 cars per year.....in this current time. they would be dead in a week.....or less.

That's called an opinion and you know what they say about those....

Yep...a very logical opinion. the same opinion that states android has the most sales in smartphones....windows 10 mobile has the least...even less that BB10. thats awesome performance there!

Not when your opinion is stated as fact even when it's blatantly wrong!!!!!

But the thing is "chosen one", its not blatantly wrong...only in fanboys eyes.

Mr. Ntouroutlis...Thank you! again, fanboys eyes are clouded with rose colored windows. Us who took them off, see the REAL picture here.

Windows 10 sucks is an opinion! Windows phone is essentially dead is an opinion!! Android has the most sales in smartphones is fact. To mix them is misleading, attempting to hide opinion as fact (something you seem to do regularly).

It's just Steve... no need to get angry with him. He's just bitter about Windows 10. If Microsoft were to reverse course today and redo Windows 10 Mobile based on the Windows Phone 7 ideology you would see a rapid turn around in Steve's opinions. Still I think he's just lashing out because Microsoft made one too many bad moves/decisions and he's hoping to keep anyone from making a "mistake" in his eyes of choosing a "bad" platform. ​Honestly Steve does have a lot of things right. Microsoft has made so many blunders and bad decisions. They really were on the right track with Windows Phone 7 and 8 (including 8.1). Windows 10 did start out as a really bad OS. All of those points are true. However, I think the part where most people differ (meaning Windows fans vs those who despise Windows/Microsoft) is what can be done with the mistakes. It is my opinion that the mistakes can be changed and fixed. I also think that where Windows 10 is heading now (after much fighting with Microsoft) is on the right track. Steve might just have a hard time understanding why anyone would want to stick with a "dying" platform. For instance I once stated that I would never buy an Android or Apple device and Steve "guaranteed" me that I would buy one once Windows 10 Mobile "fails". I don't think he fully understands just how much I don't like those platforms (and I know some others who are like that as well). I guaranteed Steve I will never use an Android or Apple device as my personal device. My backup is Ubuntu and beyond that Jolla. Steve seems to think this means flip phones (which I really don't understand... but that's for a different time), but I will stick with smartphones just not the 2 leading platforms. However, I don't think Microsoft is going to die so I will probably never have to move. So while Steve is trying to get everyone to be pissed at Microsoft and have people understand him, he's not exactly sure how to understand those of us who are sticking to Microsoft and why people would not choose the popular platforms. I think that befuddles him. Anyways, the point being it's just Steve. He's on all of the articles with some kind of post like the one you replied to and it's really no use. Steve is just as much a member of WC as you or I am. You can call him out on things that he states as facts, but don't expect him to change (also helps not to be angry with him, or others who have differing opinions than you). He has valid points and opinions. Now I do wish his comments were more of a debate type rather than saying "nope you're wrong because you're a fan boy" but I do understand where he is coming from.

I understand what you're saying, and appreciate the reasoned response. I hope my comment didn't express anger or a personal attack on Steve because that was certainly not the intent. My issue with what he writes is that he is making statements of fact that he isn't able to defend (ie. they're his opinion). Of course he's entitled to his opinion, as we all are, but someone reading these comments could be easily mislead by his comments. Simple example: As a casual user, interested in the possibilities of Windows Mobile and where the development it's heading, I come to this forum to learn some more. I see Microsoft is hosting an event in October to inform us of where things are headed, and see there's some debate on this forum over the possibility of a thing called a surface phone. Of course I don't know what that is or even if it exists or whether it will ever exist. And then Steve comes along and says rather bluntly it will never exist. Damn, my hopes are dashed, better look elsewhere... That's wrong and I don't think should go unchallenged

NO...you have it wrong summer moon...WINDOWS 8.....you should know that by now!(insert smiley face here)!

whoops my bad Steve, windows 8/8.1 :) (Windows phone 7 is my preference)

I'm most excited to see what Panos has to show. Last year's show was very exciting! They set a high standard last year. I remember how Panos joked about the reveals not being that exciting because of all the leaks. Hopefully they tightened up on the leaks and bring us a bunch of surprises. :)

Wouldnt it be cool if the demise of the band was a farce so they could have a big reveal? No one expecting a new band or phone....and then bam! Surface AIO is good but not exactly exciting...even if it did have a see through display. What are the actual benefits of a see through display other than being new and cool?

Well, they may have stopped with the Band but.... What if they go full-smartwatch? That then is no longer a 'band', its a watch and a whole new product line. They kept the Band development secret right up until they first announced it, so surprises can happen. Yeah, this is highly optimistic. Oh well.

The Band was not a total surprise, there had been rumors about MS working on a watch or a fitness tracker. The Surface Book was not a surprise either although rumors had us expecting just a normal laptop. Only truly big surprise I can think of is HoloLens, I don't think anyone expected that at all. I'd actually be pretty happy to learn more about their plans for hololens, they've been pretty quiet about it lately.

I'd rather have a fitness oriented band than a smartwatch. The market seems to agree, with even Apple going in that direction in terms of features, if not form factor.

Please put down the crack pipe. Samsung, LG, MOTO, apple all have smartwatch form factors as their major watch. Its great they have fitness apps on the watch...thats logical. Apple has not changed the form factor of the watch since they designed it....

It might have been exciting, but most of those products/product lines that were announced are now discontinued (all Lumias, Band 2).

Dona Sarkar did mention she was using 5 different phones right now "including an unreleased one" on Twitter in relation to a question about her use of an iPhone. That's more hints of a Surface Phone than we've seen in a long while.

Could be one of the OEM phones

It's probably the Note 7 (3rd Try).

She did? That's news to me, and some welcome news too! :) Now I'm curious

There won't be any Surface Phone unveiled this year. This site, and journalists with Microsoft sources like Mary Jo Foley and others have stated that over and over again. Any 'Surface Phone' mobile device is a later 2017 event, probably this time next year.

probably this time in 2027 when they reboot windows another 10 or 15 times.

Well per Mary Jo's article today " If and when anything like a Surface Phone ends up materializing, it will likely be late 2017 or maybe even not until 2018, my contacts have said recently." http://www.zdnet.com/article/microsoft-schedules-its-fall-hardware-event...

I would hate to see Windows Phone die out, but unless MS does something radical to address the crippling app issue, I don'tsee how anything new is going to breathe new life into their phones.

never actually understood time zones like that!!!

Just in time for a nice afternoon cup of tea.

thank you no sugar for me please

Surface book 2, band 3, and surface phone and our home will preorder several of each of these, could be costly....

I would like an update to the Surface 3.

Hello Aaj jo windows ka market itna down hua hai na wo sab tum logo ki wajah se. Yaar abhi tak sala ye decide nahi ho paya hai ki windows 10 official ka launch karege. Sare engineer kya kar rahe hai ek baar me windows 10 kyo nahi bna rahe

Nope. Hinglish (Hindi + English)

Windows 10 ko officially launch hue 1 saal ho chuka hai

That's a fairly large window for your imagination. Nice metaphor not quite hidden there.

Aur ha ek din aisa ayega ki windows phone ka naam mit jayega hamesa ke liye. Mai 5 year se windows chala raha hu

Sala abhi tak sare phones ke liye call recorder nahi launch kar paye na hi background downloading kya ho kya raha hai.

Background downloading hai aur call recorder har jagah par legal nahi hai

Sare engineer kya chhutti pe hai

Man to karta hai is phine ko dustbin me daal de aur xiaomi ke phone chalaye

xiaomi?.... dustbin?... what are you talking about?

OK, guys!
​Will you two finally get a room?
​This is painful to read.

The ultimate mobile phone. Tired of waiting Posted via the Windows Central App for Android

The Pixel Phone was just announced. Posted via the Windows Central App for Android

Can pixel run a full desktop OS when connected to a monitor?

Yes. Unlike Continuum the Pixel is capable of running free form and multiple apps when connected to an external monitor. Posted via the Windows Central App for Android

Yes, unlike the windows mobile phone that CANNOT run full desktop OS......its just a gimped RT version. wool pulled!

So you're saying that those ARM based Pixel devices can run x86 based applications not just gimped ARM versions. No, ahh then it's no better than the "gimped RT version" that Continuum runs!!!!!

No, they can run other OS's .....you have such a clouded fanboy vision it's hilarious!

Oh, trying to troll me now are you. Calling us all Windows fanboys on a WINDOWS FANSITE is just moronic. Why are you still here!!!! The point is the both solutions are ARM based therefore neither are that useful anyway!!!

Beg to differ, the "others" have applications and programs written for them, unlike contiuum which has only the basic word processor, spreadsheet and power point programs...typical MS stuff for cubical life.

thats ok You cannot always be right.....but its the truth...all MS products going forward under the RULE of this moron of CEO will be all cubical drivien...those poor poeple who just stare at a 4x4 grey carpeted wall all day making a few "leaders" rich. MS is that product. IBM for the new era!

And personally, I don't like it :/

Have you used it? I think its the nicest android phone to date. those and the HTC thats coming out soon! Much better than what your getting from microsoft..

I am hoping they will bring about a new round of cutting edge Nokia Windows Phones with tons of new usable apps. (i can hope, right?)

That's not hope. That's pure fantasy lol Posted via the Windows Central App for Android

Why the hell would you want Nokia/Lumia phones. They are history and the best move by Microsoft. Microsoft branded phones are the future and have just barely begun. Everyone put **** on Surface when it came out now look at it. Surface phone is a FACT and will 'surface' soon. Wharton Brooks phone will be awesome. The biggest problem MS lovers will have will be which devices to buy, which phones? Band will most likely morph more toward a phone that does same as already and more. Surface 5 will be awesome, all-in-one awwwwwwwesome. Surface Book 2, can't wait.

Surface was garbage when it was first released. Now it is just an Ultrabook with Ok sales. Nokia was the only reason Windows Phone gained any traction and now you see what happened when they left. It is dead. Microsoft themselves have said they are going to wait for the next evolution of mobile. Windows 10M isn't it. It is only a matter time before they sunset the project. Posted via the Windows Central App for Android

Now I know you're as delusional as Steve Adams. If Surface was a failure then explain the iPad RT... sorry Pro!!!!!

I pad pro is pro because it has a bigger screen etc, so that you can do more on the screen, it has nothing to do with a keyboard as you ms fanboys suggest. Its pro because it is focused on the pro photographers, travelers etc...the surface pro is pro so that the cubical dwellers in grey offices can call it pro as in business professional....two totally different devices for two totally different applications. sorry to burst your fanboy bubble! remember Ipad and Ipad pro out sell the surface by a fair margin....

So, the Surface Pro has a larger screen as well, not a very compelling argument. The iPad Pro wouldn't even exist if it weren't for Surface tablets. Sales are irrelevant, while those "Pro photographers, travelers etc" will be using the ARM based mobile apps from Adobe the Surface Pro will quite happily run the full Adobe Creative Suite. That alone makes it a more capable device. I've also seen a small amount of "cubical dwellers" using iPads and MacBooks so Apple products are also used in "grey offices" as well.

HOLY CRAP your dense are'nt you! Sorry! you have no clue...please change your name...you are not worthy of NEO!

Into personal attacks now, keep on doing that as it's just more evidence!!!!

wahhhhhhh. butthurt fanboy. RELAX.....you are dense, and not worthy of the NEO name as he was "the one" but thats not personal attacks. trust me....lighten up ALICE!

No I won't, you come on here and troll the articles, call us all fanboys when we don't agree with you and now launch into personal attacks when someone argues the point with you. Who the hell are you to insult me and tell me I'm not worthy!!!!!!!

Can you even read? He wrote "Surface was garbage when it was first released". And it was. The original Surfaces forced Microsoft to a 1 billion write off. In fact, only with the Surface Pro 3 did Microsoft gained much more momentum and stopped losing money with them. Which is when the Surface Pro stopped being a tablet first and laptop next and switched that around. The iPad Pro is a copy of the Surface Pro 3 concept.

Yes the first Surface was but I wasn't making a comparison to that, was I!!!!

who cares...there is no comparison...The ipad is much better.

IF, I say IF, there's a surface phone in the works, MS badly needs to give us a hint or two. Like mentioned here before, Scorpio was announced way before release.

Why? what good would that do? especially for any OEMs that have finally come forward

It'd show they've got commitment to mobile and other OEMs might feel a bit better about trusting Microsoft and using their OS. If MS want manufacturers to take the leap of faith, they have to show faith themselves.

Take a look at the phones available on the microsoft store website. The Lumia line is discontinued & BLU has dropped Windows 10 phones completely. So once those are sold through there'll be .... 3 phones left by two OEM partners...? Doesn't seem tenable.

W10M may be in a bad place but MS have said they are committed to continuing it. You're talking about another matter, and I'm talking about something that could help it. You're backing up my point, actually, so thank you. What I'm saying is, if MS want OEMs to believe in W10M and adopt it, they have to signal that they believe in it too.

Yeah, where is that signal?

*sighs* The 'signal' is the very subject matter this little convo started about - Microsoft hinting at, announcing or even mentioning this 'Surface Phone', if it does exist, would be their way of showing that they themselves haven't lost faith in their OS. Cue the normal onslaught of comments about how they 'don't care' anyway - I'm just saying its a way of reaffirming commitment publically if they are committed and could help with the OEMs. I'm not one of those holding out for a Surface Phone, I don't personally want one, but if they do have one in the works then this is just an observation.

Off topic.. i have a question dat microsoft had stop the production of accessories and mobile from service center.. so will dey provide me battery for ma lumia 950 xl?? Because ma mob is switched off due to battery bulge from 2 months. Plz help me guys.... Posted via the Windows Central App for Android

Will announce the XBox One ProGamer, aka Project Scorpio, with a release date for November of this year. One can dream can't one?

You can dream, so long as you aren't disappointed that it's not going to happen.

Likely not coming even next year. Xbox boss said in the interview basically that Scorpio is currently just a few PowerPoints. They don't even know yet whether there will be physical disc drive or not. If launching in a year they should already be building supply chain by now and having disc or not should have been communicated to game devs.

Unless it involves Surface Pro 5, Surface Book, Surface Phone or a revolutionary device (à la Surface Book), it will be seen as a waste of time.

What revolution did the Surface Book bring?!

NONE.....its just another me too device...since when undocked it lost all its power...whats the point in that...I would rather just keep it as a laptop. It would at least be a powerful device then, but with that dumb looking hinge, then the lack of internals when undocked....JOKE! Its only revolutionary in the eyes of a fanboy with rose colored windows straped on.

Off topic.. i have a question dat microsoft had stop the production of accessories and mobile from service center.. so will dey provide me battery for ma lumia 950 xl?? Because ma mob is switched off due to battery bulge from 2 months. Plz help me guys... Posted via the Windows Central App for Android

If they are going to release a Surface Phone then redstone 2 needs to be finished first. Bugs need to be ironed out. They need to provide something refreshing. They can't pull another 950, which came with bugs from day dot. Only now after almost a year that they have sorted things out. They got away with murder.

"got away with murder." Overdramatic much???

Welcome to the comments section.

They murdered Lumia, so yes...

Whatever happens the fact is Microsoft are in Desperate need of something positive and good, I hope they do themselves justice, I also hope they learn from this to realise the amount of money required for marketting, something they have been usless at.... http://uk.reuters.com/article/us-google-pixel-advertising-idUKKCN12721U

You're coming at it from the standpoint that MS cares about the consumer market. Aside from gaming and maybe the SP4 line (though that's a fairly niche product IMO) all their moves show they are abandoning the consumer market. Stock price is good, earnings are good, the Nokia disaster is in the rearview. I don't think they desperately need to do anything.

Don't worry guys, we are getting announcements of Surface Pro, Surface Book, new band and THE SURFACE PHONE as well. Pretty evident from the sudden drop in price of all the current generation devices. There is price drop for 950 in Europe, almost 200$ drop in price of Surface Pro 4 in India. They have even removed 950xl from Amazon and Flipkart. Band 2 had already been pulled out. All these instances lead to only one conclusion: That we are in for a big treat. Plus It's rather a good time to announce Surface Phone rather than RS2 coz RS1 of lot stable now. Another point, you should recall the way surface book was under cover last year. Same thing might just happen with SURFACE PHONE as well.
Anyways hope for the best. Fingers crossed.

Uh, the prices dropped because they discontinued the product lines. Don't think that means a big treat is on the way lol.

I think the price drop are because they want to clearing out of the remaining stock of Lumias. They have probably stop manufacturing them for some time ago. As I understand it december is a deadline when all Lumia phone references will be removed from Microsoft stores/website etc..

sarangbk, I hope you are kidding in this post...if not you are WAY dilusional! Put down the MS crack pipe!

They are going to introduce the surface cloud platform. Where you can take any laptop, any pc and any mobile device, connect to the cloud platform and have access to every single Windows store app from everywhere! It will be released as an appp on iOS and android first and then Windows some time later. Ooh yeah and win10m At some point after that. Then they'll announce the discontinuation and retrench of the surface line into a "consolidated cloud system strategy", because now the surface line will be unneeded .Then they'll announce the sale of the Xbox division. finally the vision of "cloud first, investor first, money always" will come to fruition!

"Imagine what you'll do" Ok well we all know what a SP4 does, SB or an Xbox. The only thing we probably don't know is what Holo Lens might be able to do or what a surface phone will do (3 in 1). With the new OS updates scheduled for mobile RS2. The secret might be in the title. I am trying to imagine what the heck Microsoft can actually do. It better be good.

Wouldn't mind an updated Surface Book that's actually available in my country.

for those of you hoping for a "Surface Phone" announcement it ain't happening! MS has already said Mobile is not their focus THIS YEAR, which would make a reveal and release of a high ancitipated mobile device like that this year pointless without MS's full focus.

only thing i care about. If no phone, MSFT is useless to me as a consumer. I have a surfacebook, best computer Ive ever owned, but still not exciting like windows phone was in its first 4 years.

Unbelievable. This site has said again and again there won't be a Surface Phone this year. Microsoft has never even acknowledged the existence of a Surface Phone. The likelihood of a Surface Phone EVER coming out is less and less by the day. And yet people still flood the comment section with deluded hopes based on nothing else but acid trip dreams about a dead OS. As far as I go, I'm more interested in the potential Surface accessories (or, if they refresh the Surface Pro and Surface Book lines, those).

It's an internet site/forum for enthusiasts. Lighten up, its not a serious matter. ;D Besides, you're fine on Android, right? So what's the biggie?

I mean I do try but at this point, the amount of delusional is just sad. It's just like those people who keep asking Nokia to "bring back Symbian" (and believe me, there are quite a few lol). I'm perfectly happy on Android but I do use Windows everywhere else. So I'd rather Microsoft invest money in pushing things like the Surface Pro and Book forward (as well as new things) instead of wasting money on lost causes like Windows Phone and a "Surface Phone". Since Intel killed their mobile chips, the last hope-ship has sailed for Microsoft on mobile.

But... Surface Phone....it'll be made of of diamond and shoot lasers and make time travel possible and save the windows phone platform and be the number one selling phone of all time!

64 Bit version of mobile.

My prediction is Surface AIO, Surface Keyboard, Surface Ergonomic Keyboard, Surface Mouse, products from other OEMs such as Samsung Pulse and possibly a Surface 4, but I think that's unlikely. I'm not a desktop person, but it's always nice to see what Microsoft hardware team's been up to.

Yeah, another mouse and keyboard. WOW ..... what a suprise it will be.

This is probably the most correct and logical answer to whats going on at this amazing event. Good boxandwhisker!

I'm kinda curious though: if they are really working on Surface Phone and planning to release it next year's spring, is it better for them to keep it a complete secret? Or should they tease it - more or less in the fashion of Scorpio announcement? I, for one, need at least something to maintain my hopes that Microsoft isn't trashing Windows 10 Mobile so my vote is to latter but what do you guys think?

You don't have to worry, there is no surface phone, no need to keep anything secret....it's a pipe dream, a fanboy dilusion...nothing more.

I have to see their 2015 October event videos to get a feel for waht they actually talk about.
I'm guessing they'll talk lots about RS2 and what's coming in the Spring 2017. I'm wondering, if they'll have a better iteration of messaging as a platform and an update on bots, other than those few useful ones we have in Skype Preview today. It's been crickets since they last announced it and not much more. I wouldn't say no to a Surface 4, TBH. Since their Surface 3 base model has been out of stock for months now, hopefully the've got something to replace it with before the XMas season.

I wonder if they are really interested in continuing Surface 4 line, unless they go about rebranding it to be a more tablet-friendly experience and position it against, say, iPad Pro. If their goal was to provide budget 2-in-1, they now have that with Surface Pro 4 and its base model. Personally I think they need a clearer objective for the next iteration of Surface line, if there is to be one. Since we have 2-in-1 experience with Surface Pro 4, full laptop experience with Surface Book, remaining categories are: desktop, phone and tablet. We have rumors for the first two, but not many are thinking about the third. Maybe people think hybrid system on Surface Pro 4 is good enough but honestly its tablet experience is terrible in my opinion and merits some refinement.

Off topic.. i have a question dat microsoft had stop the production of accessories and mobile from service center.. so will dey provide me battery for ma lumia 950 xl?? Because ma mob is switched off due to battery bulge from 2 months. Plz help me guys.. Posted via the Windows Central App for Android

Develop something to compete with something that supposedly was a rip off of MS? I love this whole Idea! Ipad PRO is not a rip off of the surface just because it has PRO at the end of the name....sorry fanboys. Ipad was out first, had detachable keyboards first via 3rd party, long before surface, and they named it pro because of the larger screen size...not to copy the surface pro.

I'm a hardcore Apple fan, yet I also happen to use and like Windows. Please, stop calling me a fan boy. Back to the topic, however. #1: iPad was not first. Newton far preceded it. And even Newton was beat to it by PC manufacturers who made tablets before it, so your claim is not completely accurate. Topic #2. I feel that the point of contention about rip off here, which some Surface supporters have, comes not from how iPad Pro looks like, but how it is presented by Apple. See their commercial called "What's a computer?" .... Apple is showing it sideways most of the time reminiscing Surface and using the "touch, keyboard, write, computer" words to hammer in the message. These words are the same hallmarks of the Surface. I think this is while Surface supporters feel that Apple copied something, because before then, Apple was not a fan of pens and kept claiming that personal computers were dead. It comes down to the "semantics war" between Jobs and Ballmer about post-pc era, neither came in on top. I can see from this and previous discussions that you are highly opinionated, but please, try not to call people "fan boys" as a negative remark, yet still think that your comments hold any merit. I agree with some of your views, but not the way you convey them.

Thankyou, I said nothing about Apple "ripping off" Microsoft with the iPad Pro, I simply stated that it would not exist if Microsoft hadn't created the Surface range of tables first. Remember that Tim Cook stated that Surface was "diluted" and yet the iPad Pro now exists.

HA HA...funny post of the day....YOU TOTALLY SAID THAT IPAD PRO WAS A SURFACE RIP OFF! you are sooooo funny fanboy. please......The surafce is diluted. its is a comprimise as a tablet, its a comprimise as a laptop, and it's a comprimise as a desktop with the dock. Most of this is due to windows 10, and how it stripped out 90% of its touch usefullness, but when in the dock, it locks up, the keyboard is super chinzy. and so on. Apple's ipad pro is a tablet, only a tablet and was only touted as a tablet. It works awesome as a tablet. They do not try to make it a laptop, they do not try to make it a desktop its ONLY A TABLET....Thats where the DILUTED comment comes from and Tim Cook is SPOT ON in his observation. If you took off the fanboy glasses you would see this. windows 8, made the surface a great tablet, however thats gone now with the POS windows 10 software.

ok....please show me where the SURFACE was being sold before the IPAD.....I would love to see....I never said the Ipad was the first tablet....I obviously know that. But it was damn well sure released before the surface. As for fanboys......They really do not see the true picture of what really is going on with MS.

Probably not but they haven't killed it despite what other tech sites say as they leave out one crucial part, Mary Jo Foley stated that they are discontinuing the Band 2 and there will be no Band 3 THIS YEAR.

No, They have killed it, just that the fanboys here won't come to reality land....instead live in hopefull windows fanboy fantasy land.

Not trolling just spreading the truth...fanboys like you just don't like the truth!

Windows mobile tablet 8 inch

Xbox app streaming device

IM EXCITED FOR SURFACE PRO 5. Who wants my SP4? I dont need it after October 26.

I wish I could get an invite ):

Ceruface Phone confirmed!

At this point that phone is just as imaginary as the surface phone.

They may be giving a break to OEMs, rather than early notice of any phone that they may expect to produce. This especially if they are still quite a way off from being able to start production and shipping of anything. They can let OEMs take some of the risks, acting as testbeds for phones aimed at the enterprise sector, whilst gaining experience at improving the software. Maybe even some marketing expertise to be gained, which is sorely needed.

Great. First Daft Punk is set to reveal something, possibly an Alive 2017 tour on OCT 27, now this....

Imagine what I'll do? I'm guessing that'll be the only option, as MS slowly shutters all consumer products.

Exactly....Fanboys will imagine a surface phone, an os that works smoothly and a device that work as good as apples line. NONE OF WHICH ARE REAL!

Band 3 please. I don't care if it can run w10 or not and honestly I don't think that's neither practical nor necessary at this point. What I do know is I just ran a half marathon with my Band 2 today and have been training for a full marathon and it hans't skipped a beat. To sweeten the pot for you Windows lovers I sold my androird wear device for Band because it was way too inconsistent with tracking. I'd get a Band 3 in a heartbeat. Firmware or w10 (probably firmware preferred).

Waiting for a Surface ultralight notebook... ;p

ANDROID still has it's trolls making comments on Windows internet sites saying windows10 mobile is dead.Hmm the last I heard from the Windows 10 mobile team that was at Microsoft's ignite event in the last 2 weeks was it is not dead AND THERE WILL BE NEW DEVICES CONING TO THE MARKET PLACE !. Although there are rumors the Lumia smart phone brand is dead there has been no OFFICIAL STATEMENTS FROM MICROSOFT THAT THIS IS TRUE. WHO KNOWS MICROSOFT MAY HAVE IT'S FLAGSHIP WINDOWS 10 MOBILE SMART PHONES BE THE "SURFACE" BRAND AND IT'S CHEAP WINDOWS 10 MOBILE SMART PHONES BE LUMIA SMART PHONES, WHO KNOWS MICROSOFT MAY CLEARIFY ALL THIS IN DECEMBER,

Surface Pen for iPad Pro, Surface Mouse for Mac,
Surface Case for iPhone

Off topic.. i have a question dat microsoft had stop the production of accessories and mobile from service center.. so will dey provide me battery for ma lumia 950 xl?? Because ma mob is switched off due to battery bulge from 2 months. Plz help me guys Posted via the Windows Central App for Android

Microsoft seems to love this October 26 date, it always stands out since it's my mother's b'day. Pretty excited to see what they announce since there's been little to none leaked.

Albertico, I hope it does'nt spoil your mothers birthday, but don't get to excited for this event. Nothing amazing comeing from it.

Its hard to have interest in the MS events anymore. They used to unveil cool new products. With just Surface upgrades the events are no longer compelling. I'd love be surprised by something new but I'm not getting my hopes up... MS may "unveil" the Elite X3 since, with OS and firmware updates, it is now ready to sell.

It'll be a combo: Surface wireless ear dongles with mood ring; both loaded with sensors. :)

No it will be a traditional indian necklace with a little camera built in to steal more of your personal data....

Microsoft "Pro" android Launcher and a new bluetooth keyboard with windows hello built in. I'm going in with low expectations.
Windows Central Newsletter
Thank you for signing up to Windows Central. You will receive a verification email shortly.
There was a problem. Please refresh the page and try again.