Microsoft's new Surface Bluetooth Keyboard gets close to launch with new promo image
A new Microsoft promo image reveals what looks to be the Surface-branded keyboard accessory possibly for the Surface All-in-One.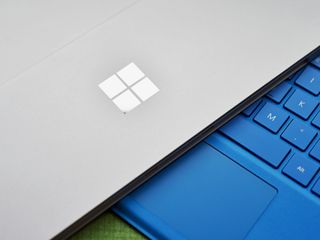 (Image credit: Daniel Rubino / Windows Central)
Last week, a filing at the Bluetooth Special Interest Group site revealed the name of a forthcoming keyboard accessory from Microsoft. Dubbed 'Surface Ergonomic Keyboard' the device received a qualification assessment by SIG on September 25.
The keyboard is thought to be a next-generation version of Microsoft's previous Designer Bluetooth Desktop kit announced in March 2015, which includes a minimalist Bluetooth keyboard and mouse.
We obtained through sourcing a new Microsoft promo image where you can see the new gray colored keyboard that presumably matches the magnesium coloring of the Surface series. The keyboard layout is also slightly different from the existing Designer Bluetooth Desktop kit (opens in new tab) suggesting this is not just a coloring change.
It should be noted, however, that this keyboard does not look ergonomic at all. There is another, second ergonomic Surface Keyboard coming as well in addition to a Surface Mouse. All will be grey with Bluetooth 4.0 Low Energy.
An announcement for the Surface-branded keyboards could come as early as this week, but definitely this month we are told.
Update: Some more information has been added to this article including confirmation of a second, ergonomic Surface-branded keyboard and Mouse.
Surface AIO connection
Current thinking is that this Surface-branded keyboard could be sold alongside Microsoft's rumored All-in-One Surface PC in addition to being sold separately.
We've previously revealed that Microsoft was considering various sizes for the AIO, but new information suggests they have settled on the 27-inch variant for the market (likely with a 4K display).
Numerous sources have confirmed with us that there is also a good chance that a patent filing earlier this year by Microsoft (spotted by MSPU) does reveal the near final design of the device, seen below.
In that patent filing, Microsoft refers to the design for a "modular computing device" with stackable components, rechargeable battery, voice, pen, touch, and even gesture interactions through a built-in camera. The patent filing also discusses the notion of a "central computing device" where "multiple devices are interconnected" to it including a personal computer, a television device, and/or a mobile device. A possible use for it would also be for existing Surface owners who could leverage the AIO as an augmented Surface Dock since, in theory, it would not need a CPU.
These ideas again reinforce our original reporting that whatever the Surface AIO turns out to be it will be positioned as a computer for the home and something likely for the living room.
The modular concept appears to address the biggest limitation of all-in-one PCs, which is their inability to be upgraded or have their core components replaced with newer iterations. By going modular the consumer can enhance, augment, or improve the PC, without ditching the whole unit.
A few PC manufacturers have already been exploring this area including HP and Lenovo.
Microsoft could announce the Surface All-in-One as early as this month. A recent report by ZDNet's Mary Jo Foley also heard by us suggested the company may hold a devices event sometime in New York City at the end of October. At that event, the company may reveal some new Surface-branded hardware while showcasing new devices from their PC partners.
Windows Central Newsletter
Get the best of Windows Central in in your inbox, every day!
Daniel Rubino is the Editor-in-chief of Windows Central, head reviewer, podcast co-host, and analyst. He has been covering Microsoft since 2007 when this site was called WMExperts (and later Windows Phone Central). His interests include Windows, laptops, next-gen computing, and for some reason, watches. Before all this tech stuff, he worked on a Ph.D. in linguistics, watched people sleep (for medical purposes!), and ran the projectors at movie theaters because it was fun.
Keyboard looks very clean, and minimalistic. Honestly, I like that. Most keyboards seem a bit "over done" (personal opinion). Side note, am I the only one hoping that the Surface AiO turns out to be a Smart TV of sorts? That would be pretty awesome. Just saying. :p

No indication of a smart TV. I think Microsoft's play there is definitely the Xbox One S. Although, in theory, this AIO could project to a TV too.

Another Smart TV play could be an Xbox TV stick, as rumoured a few months back. I'm not implying that it's coming in October, but given how easy it would be to put out such an inexpensive device (OneCore, Xbox UX, already existing app ecosystem), and that it could give some further help to Universal Apps, particularly of the media-playing and streaming variety as well as simple games (think mobile-type, but later versions in a couple of years could potentially be Xbox360 type games), and of course, Cortana - I'd be surprised if MS doesn't release some sort of Xbox streaming stick within one year.

Maybe, but from Microsoft's perspective they can instead sell you the console as a whole, give you the smart TV features, plus then ideally hook you into buying games and accessories for it. Not that I'm against it, I think it'll be cool to see happen, I just personally see it going the other way.

There is no market overlap: Whoever wants to play games will still fork for a full console, whether Xbox or PS4. An Xbox stick would tap into a different market - currently dominated by Roku, Amazon Fire, Apple TV, Chromecast, Android TV, Now TV, etc - which the Xbox is not competing in. It would not be aimed at gamers, though of course it would allow some sort of very light gaming. And if course, it would allow wireless continuum from your W10M device. As I said, despite the fact that such a product falls outside the recent enterprise focus, given how easy it would be to manufacture (the streaming stick hardware is quite mature, plus an emergent PC stick niche) and it would require extremely low software development (it would run W10 Xbox version), how well it would integrate with Store media sales (music, films) and future Store sales of games (the stick could sell games that are 1-2 generations behind the current full console - and all of them through the Store as well as Live Subscriptions, not to mention hardware accessories - controller, keyboards, cameras/kinetic, the opportunity to add W10, Cortana, and Bing to millions more devices not tapped by current product line, as well as giving a small incentive for Universal Apps to reach the Store (It's the only way I can see of a BBC iPlayer proper app ever reaching the Store) - I just cannot imagine Microsoft not doing it - particularly as its introduction would be fairly easy (compared to, for example, mobile) given the strength of the Xbox brand, the existence of a bare minimum of apps from the launch of the platform (Netflix, Kodi, etc) and the very real possibility of an existing game catalog (as I said, in 1-2 years such an inexpensive hardware updated stick could play many or all of the Xbox 360 games that have been added to the Xbox One backwards compatibility catalogue.

What I was saying is, they can give you all of that *and* be able to sell you games too if they make the only option an Xbox. For them, its money-making and money is of course what they're out for. They've focused so much on making the Xbox the 'do-everything' device, it isn't just a games console - it is designed not just to overlap those markets, but cover them both. It might not be perfect at it, but then again nor would a plug in stick that is based on the current Xbox ecosystem, because it would have the same apps etc. It's the whole premise of the Xbox One, to do it all.

I think MS do need their Movies app on cheap TV stick devices as everybody else is already on most of them. I don't think they'd brand something not aimed at gamers as "Xbox" though. They tried it in the past and people didn't buy into it. For example, Xbox Music was a terrible name if they wanted to attract non-gamers to it.

I would love some kind of TV stick, but it's going to have to be able to run UWP Kodi

I'm not sure how well a TV Stick could run the Xbox One UX tbh - I think it's possible but it would need to be a bit more pricey. The Xbox One struggles to keep it going smoothly at times, and things like the delay when pressing the Xbox button to go home etc. makes it look fairly unoptimised (The Xbox One isn't exactly bad spec wise, and should run that UX smoother than it does). I'm not hating on the UX, it gets the job done fine and I love my Xbox, but it does struggle IMO, it kind of feels like trying to move through treacle, not a huge deal but a C- could do better

The upgrable modular AIO PC is definitely the way to go. I'm sold.

It's an option, but you could get yourself a nice custom built PC with triple monitors for less and end up with more power to play with..

This AIO devoce looks like a 27" Surface Hub with support of touch, pen, gesture camera and 4K display. It is one of its kind exciting device. The main issue that I have with AIO PC is it is not upgradable. Now that problem is solved with this new Surface AIO.

Kinda figured as much. Honestly, I'd like to see either an Microsoft Surface branded smart TV (because the screen would be amazing), or preferably a low-cost media device, akin to Roku stick, Amazon Fire Stick, and Chromecast. Don't get me rong, I have an Xbox already. But sometimes you just want to turn the TV on, and go right to media. And if you wanted to bring your Microsoft content to another TV, this would be cheaper and cleaner (setup wise) than buying another Xbox, or using Continuum. Ultimately, I'd like to see Microsoft release an media-focues (UI wise), budget friendly device, which is highly portable.

The keyboard looks nice from the promo pic. I hope it's not marketed as Ergonomic as that has always been reserved for their excellent keyboards that actually have great ergonomics for the price. This looks like a very nice keyboard, but it's similar to the Apple keyboards from what we can see - They aren't the best for long typing sessions despite looking great and feeling nice to type on they don't have things like the inverted tilt which is much better for keeping your wrists straight - I definitely notice a difference with the inverted tilt over "standard" keyboards like the one in the promo pic

This keyboard looks terrific. As a sidenote- I'm kind of shocked that there isn't a Surface branded blutooth KEYPAD accessory. Seems like a logical choice considering they are going for the productivity market and excel is one their most widely used tools. But this keyboard looks terrific.

Boring....,,,need to see a Surface Phone.

Loll... Yes, I agree that would be awesome. But, at least we're seeing something!

Has anyone else noticed that when Nadella speaks of mobile he makes absolutely no sense?
"We are going to conceptualise the importance of our integral collaboration between our best abilities, and OneCore, which is the core of mobile, and everything surrounding our cloud vision. That will push mobile obtusely to garner developers core scalabilities, and I know this will enable grown in that area"

lol that's not a real quote from him surely?!?

Just a simple backlit mechanical keyboard would be nice. Something that didn't feel like the cheap AIO keyboard + mouse, nor a crazy gaming keyboard. Plus, that would allow me to fix the dang keys if they broke. My SP4 has a sticky 0 key

I don't think mechanical sells well to the average consumer tbh - Too noisy for most, and the average joe LOVES the chiclet style keys as shown in the promo material for the KB.

While making this into a smart TV is a novel idea, I just don't see the appeal. What can a smart TV do that a PC cannot do much better? The smart features are just internet content. A full Windows 10 PC would be more apt to get the job done. Just get a PC and a larger 4k monitor with multiple HDMI and Display Port inputs, with audio out. You can connect your PC, XBOX console, cable box, or whatever. Then get a soundbar with subwoofer. Wireless keyboard with built in touchpad. Done deal. The more I read about AIO units, the more I get the impression we're just using a TV screen with mini PC format. We could just get a 65" 4K TV and connect a mini PC to it with bluetooth keyboard/mouse.

Would be nice if they made a Bluetooth surface keyboard for the sp4. There is a third party one for about 40$. I cant remember the name of the oem right now.... Not 100% sure about purchasing it though.

The whole point of a Bluetooth keyboard is that it doesn't have to be made for any device so not sure what you mean by a SP4 Bluetooth keyboard unless you mean the old Bluetooth type covers but my view is if you are going for a Bluetooth keyboard you don't need a type cover design really and I'd prefer something bigger and more robust.

Im just talking about in terms of being able to attach to the surface but be able to connect via bt. I love the design of the surface with the keyboard attached but there are situations where a bt keyboard would come in handy.

They used to make one. https://www.windowscentral.com/e?link=https2F%2Fclick.linksynergy.co... It works with Type Cover 1 & 2. Not so sure about the newer ones.

They already have it. It's a connector (made by Microsoft) that attaches to the end of the kb and makes it bluetooth. I've been using it for years with my surface kb for the surface pro 1

I Can't beleive they don't have a "Surface" branded Keypad. As a person who spends 80% or more of his day in Excel, it would be a great accessory to keep in the bag when I need to work on spreadsheets.

The keyboard looks like the Designer Keyboard but with a more traditonal layout. I like it, if it's Bluetooth I might have to get it.

Likewise. It would make a great companion for my grey Arc Touch BT mouse.

It will be interesting to see If it's bluetooth or not. In the past the MS Hardware line on keyboards has always been that those intended for desktop/home/office use will use a dongle, and those aimed at portable devices will use BT

I think the new surface all in one is a beige CRT with tower....

Donald Trump is beige and has a tower, sounds like your kind of guy.

I completely agree with the greatest weakness of most AIO PCs being very difficult to upgrade. My first AIO was an iMac 27 in 2009 with a Core2 Duo and 4 gigs of RAM. Loved the screen and all, but now it's just sitting there as an underpowered PC :-(, even any of my el-cheapo laptops is more powerful than it is. Good idea with the modular design - in that way, you always have at least something reusable from your investment (even if it's only the 'monitor'). I'm really curious to see what this stuff does!!

How dare you refer to a Mac as a PC. Posted via the Windows Central App for Android

I hope key readability is good. Also hope you can turn on back lit keys...that's something missing from bluetooth keyboards it seems. Even Macs don't know how to make keyboards backlit unless it's connected to a Macbook screen. How is the readability on the Surface book? ...since it seems the key coloring is similar.

"How is the readability on the Surface book? ...since it seems the key coloring is similar".

Great, no issues at all. You only want the lighting on at night though, during the day it does make it harder to read. It's mostly because just the letters light up and not the base around they key. During the day the letters look black, at night they are white, which is a cool effect.

Thanks! That's great news.

Modularity is only as good as the future modules you can get for it!!! A few years back, Samsung promised that you could buy a Smart TV (ES series) and then upgrade the core of the TV (CPU, Software, image processing, etc. ) with an evolution kit! At the time, they mentioned that they will support this for many years to come (>5-7 years)! The reality, there was only one expensive evolution kit for 1 year, and then Samsung drop the idea entirely!
Furthermore, at the time of the ES, there were only Full HD screens... now you need to update your TV (screen) to benefit from UHD, HDR etc! Very recently, Microsoft proved their unreliability with product line upgrade... Killing the Band after 2 years, and Windows Phone (except for the hypothetical long rumoured Surface phone which may never surface!). I am therefore very dubious and not at all confident in Microsoft ability to release and support new hardware modules in the future for their shiny AIO !!! The recent events (Band and Window Phone hardware) made it clear to me that Microsoft has absolutely no long term interests in consumer markets and products. They are an "IBM type of company," geared solely towards the Entreprise Market and not at all the consumer market. The AIO is a pure consumer product, (unless it is marketed as a "board room conferencing PC").
I am not prepared to be yet again part of a Microsoft experiment and will, therefore, prefer to look at companies where hardware is their core business (HP, Dell etc)...

To be fair, Microsoft hardware is meant to act as a catalyst for OEMs to take over, so while you might be part of an experiment if you get a Gen 1 device, OEMs may pick up the slack amd bring out something better, or Microsoft may make it all the way to Gen 4,5 and 6 etc. There's really two problems that can happen with this modular type system (just like the Samsung TV), one is not enough people are interested and it becomes too costly to develop new modules that only a few people will buy, the other is that it causes sales of brand new hardware to decline because people are upgrading instead of buying new and that can cause companies to loose money. Both scenarios make perfect business sense to cancel the product.

Yeah it's definitely a risk. I think if they make it to gen 5 or 6, backwards compatibility of the modules is really important. But that also can be difficult since hardware can change like you see with different iterations of the surface/surface pro.

I would want one of these in the living room to get rid of the TV.

In the image under the Windows Central logo there is something curved. I'm corssing fingers it is a touch mouse. I loved the smoothness and the gestures of the last touch mouse, even if two died on me in less than 3 months.

I always wanted a bigger/portable monitor to extend the capabilities of my SP4 or L950XL. I hope this is it and not an AIO, a Surface branded lapdock would be great too!

When is microsoft's october event? It's already confirmed?

If they pair with Wacom for the touch screen, it might compete well with iMacs for designers. N-trig tech isn't up to par yet for drawing. But I think I'm too ambitious.:/

I'd rather have n-trig for compatibility with existing surface pens.

ooh ... just seeing the update now. maybe there's still hope for a proper keyboard. boo. I was really hoping for a big ergonomic bluetooth keyboard that I could actually use for work. curious that the surface dock shows up in the picture. not exactly new hardware, and has its fair share of issues.

I can't share the photo, but I've seen the ergo. It looks just like the current Sculpt ergo, but grey and they built in the NUM keys to the side (not a sep device like it is now).

Oh awesome, I thought there was just one keyboard which was the new ergo. Interested to see what the next model will be like before I replace my current Sculpt Ergonomic with a new one (It 's taken a beating over the years) Might hold out for this! Bit disappointed it will have a Num Pad but will reserve my judgement until I see it. I'll still have time to snap up a new Sculpt Ergo at the time this is announced. The "desktop set" for the sculpt ergo mouse and keyboard had some decent prices drops on Amazon Uk recently.

replied to wrong comment. ignore

My perfect kind of 'modular' would be, if the base (with computing parts), could be bought separately, so anyone with a Surface Pro 3/4, could power this screen as well.

So... you want a... Monitor..?

If this new keyboard is as nice to type on as the Surface Book keyboard then I'd love to pick one up, too bad I just dropped £80 a month ago on a Logitech one

Looks like they took the SP4/SB keyboard and applied that tech to these. Seems like a great idea.

Should be worth a look then, not a fan of the colour though, but let's face it, colour doesn't really matter if it types like a dream!

Which Logitech keyboard did you go for? They make some of the best keyboards and mice money can buy so you may find the new peripherals from MS still aren't as good. I'm looking at some new Logitech stuff at the moment for my home office. If you buy the higher end stuff (like you have) they can be quite hard to beat on quality.

I got the k830, the key selling point for me is that it comes with Bluetooth and the standard wireless too. I don't like Bluetooth keyboards / mice much as in the past I've had a lot of trouble with them going to sleep and having that 1 second delay for it to wake up again which is frustrating, however, Bluetooth really comes in handy too especially if you rock Continuum via wireless. So far I'm pretty happy with it, but the typing experience just isn't that great compared to what I felt when typing on the Surface Book keyboard. To be fair I haven't noticed that wake up delay on the k830 so maybe with Bluetooth 4LE that issue is a thing of the past, would still be nice to see standard wireless on this Surface Keyboard though as my main development laptop doesn't have Bluetooth but I'm sure there's a million USB adapters to solve that problem.

I use the K380, bluetooth and switchable between 3 devices and it is small but works great! Coupled with the MX Anywhere 2 mouse, again switches between 3 devices, it makes a great desktop and travel set!! https://surfacedeals.wordpress.com/2015/11/03/the-bluetooth-keyboard-for... Works great with Windows 10, Windows Phone, my wife prefers it over her Apple iMac keyboard too!

My experience... Best laptop keyboards - thinkpad Best standalone keyboard - Microsoft ergonomic 7000

Was the Ergo 7000 the wireless version of the superb Ergonomic 4000?

Is that one a backlit keyboard? It seems odd, but it's hard to find a keyboard with backlit keys (unless your into gaming.)

Looks like a gray version of the keyboard Apple has been selling for years now. Really expected Microsoft to come up with something more premium for a "Surface" branded device. Since it's fullsize and not foldable it's obviously not meant to be used on the go, so they should have ditched the lame, slim laptop design for more premium full-travel keyswitches and some other cool features like a detachable numpad that you can dock on the left OR right of the keyboard for left handed users.... just SOEMTHING to set it apart and make it deserve the Surface moniker.... Personally i had hoped for a sleek Topre board in a VaporMg chassis with a detachable numpad..... but no, just a re-painted Apple clone.... this is not what Surface is about, Surface is about revolutionizing and not cloning 2010 Apple. Very let down, let's hope at least the "ergonomic" keyboard is more premium

You seem to know a lot about the keyboard from the glimpse of a picture. Let down by a product not even announced but you seem to already know everything It's NOT coming with

It's using the same key tech as the SP4/SB, which is really good. It's not just a color change.

I hope it has the same feature as the Logitech K800 where the backlighting comes on when you place your hands over it to type.

It's a keyboard. Unlike pcs, laptops and convertibles you can only do so much. Posted via the Windows Central App for Android

I'm currently typing on one of those Mac keyboards. No, it isn't bluetooth because Apple doesn't know how to make a bluetooth keyboard with a number pad on it. I don't know much about keyboards, but I can see the basic things. This one will likely have backlit keys, Apple only knows how to do that on a MacBook. It's a full size keyboard & bluetooth. Also, the color is a WAY better choice....strange right. Apple's white keys start turning grayish brown pretty quick. This is an extreme example: https://www.bing.com/images/search?q=dirty+mac+keyboard&view=detailv2&&i... But I hope you're right. I hope that add something extra and cool that we just can't see in this little image.

No indication for a fingerprint sensor on the image. Maybe the mouse hase one? A Surface Keyboard/Mouse would be the perfect place to push Windows Hello.

I'm guessing the AIO will have a realsense camera. If the keyboard doesn't have a fingerprint reader, then Eikon readers are a cheap but good solution.

The real sense solution is definitely more secure. Fingerprint readers are just a joke to bypass as more and more people have them and figure out ways around them. Recent one includes someone using his cat to unlock the galaxy note 7 reader. It takes a lot of patience but works for whatever reason.

Sorry but FUD about fingerprint readers won't work. It's the best solution right now.

I like the AIO concept, but the grey keyboard seems too Apple to me. I like the black version a lot more.

Keyboards from Microsoft, phones from Google.

"These ideas again reinforce our original reporting that whatever the Surface AIO turns out to be it will be positioned as a computer for the home and something likely for the living room." I love Windows Central, but this is just dishonest. Your original report predicted that this AIO would be something like a coffee-table/Pixel Sense for the living room. The patent and latest stories refute, not reinforce, that original reporting. And while your current article still claims that these ideas reinforce the idea that the AIO is "something for the living room" what on earth gives you the impression that a desktop AIO is "for the living room?" I love WC, and it's OK that you got this one wrong. But man up and be honest about that.

Disagree. We never aid "like a coffee-table/Pixel Sense for the living room" but I did say the design would be premium, something that you want to be seen and elegant. I think it is clear that PixelSense and Surface Hub ideas are coming to the consumer market and the AIO may be the first instance of that shift.

what on earth gives you the impression that a desktop AIO is "for the living room?"

People who work at Microsoft who told me how they want to position it. Who told you otherwise? It does not preclude people from using it in a home office, bedroom, or rec room. But some of the ideas behind this is that others can plug their devices into it i.e. it can be a family computer. Have you not seen the Yoga Home 900?

I think it's interesting to position it as something for the living room. I think it could work out when there are 42" plus versions of it (one day maybe). The thought of a living room PC makes me feel a bit nostalgic of the days when a household would have a single family PC that was in one communal area of the house (such as the living room) Could still see that working for people who have kids who they want to keep an eye on or help with their homework. "Living Room" could also easily apply to being in a Play room, kitchen, or home office. The surface AIO almost definitely won't be for me (I'd rather a custom PC with a multi-monitor setup) but people do buy all-in-ones. They are GREAT for reception PCs in shops/offices etc. too. At a large law firm I once interviewed at they were running all iMacs in the lobby....Until you look at the screen and see they are all running Windows, they used iMacs for the premium look they offered, nobody ever really competed in the premium space very well but MS doing an AIO could kick the OEMS up the ass like the Surface did. I can definitely see the merits of the AIO

Daniel, you did more than say the device would be Premium and Elegant and thefore have those things in common with PixelSense. The exact quote from your prior article: "Is this the consumer PixelSense? Putting all the pieces together and it appears that Microsoft is combining its original PixelSense table-PC concept from 2005 with its new Surface Hub.​ However, instead of being marketed at large institutions this device is destined for consumers in the living room. . . . The original Surface based on PixelSense was commercially unveiled in 2007 by then Microsoft CEOSteve Ballmer. It would be very interesting if exactly ten years later in 2017 the device becomes a consumer reality." That sounds like PixelSense/coffee table for the living room to me, and that's what I was referring to.

For what it's worth, I agree with you - I remembered the PixelSense reference without even clicking your link. It seems to me that Daniel is separating the "report" about being a premium living room fixture, from the later speculative/hopeful paragraph about it being the consumer realization of PixelSense (i.e. "this claim is complete guesswork on our part"). However, what is a reasonable inference of including that, other than that what he heard from his sources was pretty darn similar to the coffee table PixelSense concepts? If Daniel intended to say, "this could be a big step towards actually getting something like PixelSense in consumers' living rooms in the next decade," then "It would be very interesting if exactly ten years later in 2017 the device becomes a consumer reality" was not the way to say it.

This team could make the Surface Phone a possibility, I hope something's in the kitchen. Surface designs are 10 times better than any device that's sold today. If the team could take up the responsibility to reintroduce the Band, it'll will be my dream come true. A health tracker device coming from msft is a must, smartwatches are boring...

Can't wait to see the Surface AIO. Hopefully it will lead to even lower prices for AIOs in my price range. ;)

Love the modular idea. At work, I currently have (3) monitors connected to a maxed-out i7. Its big, ugly, and has a mess of wires behind it. So...I'm assuming I could get (1) Monitor w/ Digitizer, (2) Monitor w/o digitizer, (1) CPU module w/ i7, (1) GPU module. While others at my work might need only (1) Monitor w/o digitizer and (1) CPU module w/ i5. This is great for IT, as they can plug-and-play based upon user needs, and swap-out parts as they go bad. Meanwhile, the CPUs look clean with very few exposed wires.

I'm kinda getting a sense of a theme going on here. Pretty sure Surface Book was Microsoft's first full-blown attempt to create a modular device, with a discrete GPU that can be toggled on and off by attaching the tablet portion. I saw the patent for the modular AIO a few months ago and thought that there is a trend. This approach brings together the two opposing camps in desktop market - AIO and custom PC - and provide best of both worlds. It is another product that blurs the line between categories, which is central to Surface philosophy. I am skeptical though, that we will get to see all our expectations realized at the supposed October event. The idea for a modular AIO might come in later generations, as something in a patent has no fixed date of release. My prediction is that in this event, the AIO will just be sold as a desktop + tablet (like, drawing tablet) hybrid. But again, it is one of those products that fits very nicely into Surface family. It sort of also makes me wonder if Surface Phone might have a modular functionality but who knows? That being aside, the keyboard seems a bit underwhelming but I haven't seen the product yet.

interesting, looks possibly like a touchpad nestled around the arrow keys...

I also have the Logitech k830. It is very nice. Love all it's features. Only drawback is it's not foldable.

It looks very ugly. Hopefully thats not the final.
Windows Central Newsletter
Thank you for signing up to Windows Central. You will receive a verification email shortly.
There was a problem. Please refresh the page and try again.