More Surface all-in-one PC rumors point to official reveal in late October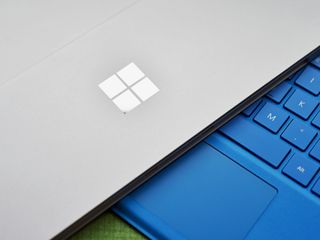 (Image credit: Daniel Rubino / Windows Central)
A new report has some more rumors about Microsoft's plan to announce a new Surface PC that may be an all-in-one device. The product could be officially revealed as part of a Microsoft hardware press event that is rumored to happen sometime in late October.
Windows Central previously reported, from our own sources, that Microsoft has been working on a Surface-branded all-in-one PC, and that it has been testing three different display sizes (21-inches, 24-inches and 27-inches). Today, ZDNet's Mary Jo Foley says her sources claim a new Surface-branded product is coming with the code name "Cardinal" and that it "could be positioned as a product that can turn your desk into 'a studio.'"
Microsoft has not yet confirmed plans for a hardware press event in October, but ZDNet says that it may happen the week of October 26 in New York City:
The event may also show off a number of third-party Windows 10 devices from various OEMs. ZDNet adds that its sources have indicated there won't be any hardware updates for the Surface 3 or Microsoft Band 2 this year.
Dang... Was really hoping for a Band 3 this year. The Band 2 tearing defect is killing me.

I'm with you a new surface 4 and a band 3 would have been nice.

Me too.... believe it or not, I'm still using my Band 1. Was really hoping to make it last until Band 3, but looks like that could prove difficult - it's really showing its age.

I'm still rocking the Gen1 band too, some minor scuffs and a little separation on the battery side seals, but nothing that really makes it not useable. I'll hold out for the Gen3, hoping they go the way of the apple watch and make it formally water resistant.

Yes, the water resistance thing is killing me! I have the Band 1 as well and am scared to find out how water resistant it is. Lol Posted via the Windows Central App for Symbian

Oh, so you are the one the bought Band!

Troll harder. In my near environment it's even the most bought wearable.

"my near environment" having a radius of roughly 10 inches, of course.

Well, the average is about 5.5 inches.

What are you trying to say, buddy? I don't understand your English. You can't troll without speech, bro!

Um, what? You talk pretty one day!

I read a medical article last week where they had surveyed that men who were born with and suffered the abnormality of a micro penis, were heavily into trolling on the internet. Something to do with nothing better to do with their time.

Just replaced my Band 2 for the 2nd time, for a ripped Band again. As well as my wife's for the 1st time.

On my 3 Band 2, and now its ripped.

Agreed, I'm waiting on my second replacement to arrive.

If there is no Surface phone next spring, and no other new WM10 device from HP, HTC, Samsung, or any other "partner"... Wow [worried]

i dont think any other major oem wil make WM phones anytime soon, may be after the surface phone (if its successfull). like samsung did with its win 10 tab !! :)

Me too....been holding on and rockin with the Samsung ATIV SE waiting for Verizon, Samsung to allow thewin10 update. Hate to have to try BlackBerry as I use Office daily on it.

Why aren't they updating firmware for Band 2 recently if there isn't going to be a new band....

More time for a better and revolutionary product, I hope so. The Surface phone that people and fans deserve.

What about the Surface Phone? Any news?

What about the Surface Truck? The Surface Chair? Surface Bathtub? Surface Umbrella?

They are releasing a Surface ninja cat

That's the exact kind of cat I'm looking for.

Surface Bathtub would be awesome but I want a Surface Worktop for my kitchen nothing like cutting up vegetables on a touchscreen while watching Netflix

Apparently all-in-ones are priority.

According to this article it might not come until late 2017 or 2018 if at all. I am not sure how to plan to keep the hype until then. W10 phones will be almost non-existent at that point. Even today sales are miniscule. Posted via the Windows Central App for Android

"Surface Phone, if it does materialize, could be considerably later, sources say." Yeah...

If you listened to the latest WC podcast from the other day Daniel R and Zac B where all over that.

I didn't, will do. But if you are able to summarize the bottom line here, that would be fantastic (for me and others, I am sure)! :) Posted via the Windows Central App for Android

What about reading the article?

I am starting to have serious doubts that there is such a phone. It looks like MS may have given up on phones. Can't blame 'em.

Pc pc and pc what about mobile apps, still there is a huge huge gap of official apps and MS is doing nothing about it.Really bad experience. I don't think they love their own Lumia's because they know it has failed badly due to unattainable apps.Most of their workers use iphone's, this is how they care about wp users. I didnt purchased my set for just camera, shopping and few old games.I will provide a huge list of missing apps soon.

No one cares about Windows phones, including Microsoft.

UWP is also dead fail strategy do you think Android iphone will allow the devs to do something for MS they wont and never.

Hello everyone, my name is No One.

MS doesn't care about phone users

They do, just the ones running iOS or Android.

What do you want Microsoft to do?

Come out openely and say that WM is Dead and they are not sure if they will support WM10 with Apps, features and devices...

WM is dead. They killed it with Windows Phone. That was like 10 years ago, fool. WM10 was never born. How could they support something that never existed, fool?

They need to be honest. They need to tell their users whether or not the platform has a future. If they are pulling out of mobile, that's an entirely defensible and probably smart decision. However, it renders UWP mostly moot and means those few of us stragglers on WP/W10M should move on. If someone could tell me how to get MMS working on my PRIV, I'd be all in on that phone. Two days ago the last gap in MS products closed: One Note for Android can now open encrypted pages. That means there's really no reason to stick with WM as, I can assure you, Android and iOS are both much, much more powerful across the board. I can't think of a single thing I can do on my L950 that I can't do, as well or (usually) better, on my PRIV. PS Anyone know if there's any way to have Cortana replace Google Now with a long-press on the circle button?

the whole path forward is to get people using windows 10 touch devices to cause developers to create windows 10 UWP apps. then, they'll push the developers to flip the switch to create those apps for phone as well. i don't see any oddity to how microsoft is moving forward.

Yup, that's the thinking/dreaming I guess. Unfortunately, the UWP strategy has borne little results so far. :(

I think it's had tremendous results so far. It's driven many developers away.

Giving thumbs down wont change the facts and you will face the frustration of missing apps more and more

I hate when there's rumours about Msft Products, rather they keep conference and wow all of us,instead of people who can't keep their damn mouth shut, and look it's which product line also SURFACE! , Msft should fire people who talk about upcoming product releases unofficially.

It helps people plan and make smarter purchases based on their budget.

same can be said after official announcement

Agree. But more information sooner is never a bad thing.
Example: I learned about the band 2 being scaled back months ago from my insider. I thought it was because a band 3, was coming this year. Now I have the info to make the decision if I want to pull the trigger or not

The thing I find with rumors is that there is always a better and shinier product coming just around the corner. And when that product comes out, I hold off because there are rumors for an even shiner one.

Yes there is always new tech coming. That should go without saying. But as a responsible adult making responsible purchasing decisions, in the case of technology weighing price versus hardware and software features you're looking for, some purchases makes less sense than others simply due to timing of product cycles.

Hoping to see innovations in the MS products otherwise will fail in the competition.

An AIO PC works best for my family and the space that it occupies. I am ready to upgrade our current 2008 model Gateway AIO (which runs W10 AU pefect, btw) to something with a little more horsepower so this comes at a perfect time. I, for one, am anxious to see what MS has in store for the AIO market.

holding on to my Lumia 950 and its 6200 mAh battery

well the surface line is usually supposed to redefine the market in a particular segment. it'll be interesting to see what they have in mind for an AIO. what will they do different or new?

Surface brand everywhere including Mobile! Bring it on MS!!!

I don't want a Surface Phone until early 2017 if it's not ready for the prime time. Let's hope for the big thing (AIO).

Well, it seems it won't be even early 2017. Later, if ever.

My guess is the Surface AiO will somehow make it easier to use a touchscreen on a PC. Until now, even if a PC comes with a touchscreen, it doesn't really get used cause the form factor doesn't work with the human interaction (arm gets tired holding it up that long). My guess is this somehow easily swivels or something between a mouse/keyboard setup and a touch setup.

Hopefully. It is exciting. But I hope the pricing will be a bit more affordable than then Surface Book. I'm looking to upgrade to an AIO, and this may be it.

I have a touchscreen DELL Inspiron AIO that has a swiveling arm. My daughter uses it all the time!

Confused because of all the Band 2 discounts recently. If there's no Band 3 on the horizon, why are they dumping all the B2's? I'd like to take advantage of (another) $150 or $175 B2 for my family, but not if a B3 is coming out by say EOY or next spring.

Perhaps, like phones, its another market MS will be retreating from due to total product failure.

I hope you are wrong but suspect you are right.


"Surface Phone, if it does materialize, could be considerably later, sources say." As confidence inducing as it gets!

Surface Phone, if it does materialize, could be considerably later, sources say.

hehehe.....Coming Soon (tm)

You know what? Got a brand new 950 and love it. So, you all keep winning

I bought the L950 the week it came out. I hated it. Hated it. And I hated it because it objectively sucked. In every way. Buggy, laggy, crashy, poor battery life, unreliable text messaging, terrible camera, crappy build quality, etc. But, I have to be honest, MS have worked really hard to improve it. The built-in apps, which were just total garbage, top to bottom, are now pretty good. And after the Anniversary Update, it is now reasonably stable and bug free. Battery life has improved tremendously from maybe 2-3 hours at launch to a more respectable 6-10. Messaging nearly always works. The camera no longer regularly takes several seconds to focus. Panarama's back. Slow motion video's there. And the pictures look excellent. The build quality can't be fixed by software, but my zebra wood Mozo case has made a huge difference in how I feel about the phone. If MS could unify their interfaces so that key interactions were universally at the bottom of the screen and got rid of the hamburger menus throughout, I think it would be a pretty nice device if only developers weren't abandoning the platform in droves. Too bad that, after all this work to turn a **** into a diamond, it looks like MS is backing out of the whole enterprise. Where's the real flagship made of high-quality components and running this now polished OS?

Wait so no pro 5 or surface 4. Wtf Posted via the Windows Central App for Android

Wonder how much the AIO would be.

I am all for waiting for the Surface Phone to be fully developed and the software be ready for it, but pushing it back to over 18 months from the introduction of the previous "flagship" (950/950XL) seems a bit ridiculous. I might start shopping for a cheap iPhone. Not giving up yet, but might have to start getting myself better acquainted with what I may be driven to. Wife already has a 6S, and it has been great for her. I just keep holding out for what is "Coming soon" with W10. Its been a good 5 years with Windows Phone/Mobile for me, but things are not looking too bright.

Sounds Like it is going to be at least 2 years since 950 if it is released at all. There is just so much risk to buying a Windows phone these days. With decreased developer support due to non-existent sales, W10m may be discontinued in the near future. It makes much more sense to buy something else and wait to see what happens. Today there is no compelling Windows phones due to this risk. Posted via the Windows Central App for Android

It's completely possible to be emersed in the Microsoft eco system and still use an iPhone. I use and iPhone and I'm a big Microsoft fan using all their services. MS has all the iOS app that I use on my Surface Pro 4. OneNote, Outlook, Groove, OneDrive

I will surely get a test machine at work.

Why doesn't Microsoft sell it's products to all countries when it's competitors sell theirs??? Why doesn't Microsoft allow cortana to be used globally when we can use Google search anywhere??

The "Surface Phone" won't be a phone, it has to reinvent or create a whole new category just like the Surface Team does with everything else they have made. :)

I'm quite a bit disturbed by the reported idea that the Surface phone will come later than next spring. Hoping it's just feinting. I don't think it makes sense to release it nearly 2 years after the 950/xl. I've been saving money to buy one, but I can't hold out forever with my Lumia 640. The insider updates are driving me crazy with the ridiculous 8GB of internal storage.

I don't expect this is what MS will release, but a product I would love is: A 24" monitor that supports touch and Surface Pen. Preferably with a USB 3 hub and speakers built-in Plug in an extention box, and it becomes a thunderbolt 3 monitor with the GPU the the extension box. Maybe even powerful enough to run a second monitor. Plug in a different extension box and it becomes an all-in one PC, while still supporting the above two other usages. Switching the input on the monitor also switches which PC controlls any USB peripherals plugged in, like a built-in KVM. Total pipe dream, I know, but that would be a totally revolutionary product for me.

I think this all-in-one rumour is a red herring. Really? An All-in-One?! That's the great new idea? MS has been releasing products that have been driving new product categories, devices that others have tried to copy. But the market is already awash with all in one PCs from the cheap and underpowered to ones with considerable power and hi-res screens. HP even produced the sprout, ugly as anything, but it had some impressive capabilities. I really can't see MS entering this market, it will just annoy the OEMs and I can't imagine how they are really going to bring anything new to this product category either. What I really expect at the October event, is the next Surface Book, Surface Pro, Surface Phone and Band (although I put the Band 3 at only just over 50% chance of launch (I want one so maybe just wishful thinking!). MS has finally got its device launches in sync with Intel's product cycles, why lose the advertising advantage that offers? Imagine the advertising for the next surface book; Latest intel processors and a concrete promise of an improvement in Windows with the launch of the Redstone update in a few months' time – must be a marketing dream. With the launch of the current surface book MS proved they can keep things under wraps, I think they have just got better at this. Also there are sales on the surface book and some large stores near me have stopped keeping surface pro and surface book on display, although they still sell them so I think new products are very close to launch.
Windows Central Newsletter
Thank you for signing up to Windows Central. You will receive a verification email shortly.
There was a problem. Please refresh the page and try again.