Finally got Windows Phone 7.8? We'll help get you started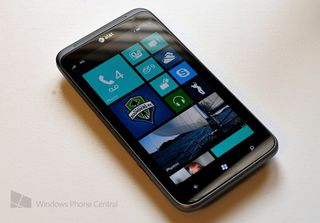 The Windows Phone 7.8 update is here. Well, it will be once you're able to update your hardware should you not go down the manual route. We've all be eagerly awaiting the notification that there's a new build available, but what if you overlook a new feature or miss new functionality through excitement (with or without comforting alcohol), or simply not being aware that such magic exists? We'll quickly run you through on how to get started with the 7.8 update.
Microsoft has already detailed what's included in the latest released, but we'll quickly run through what feature controls the arms, and how you can move the legs to not reproduce the famous QWOP jog. Now, where to begin? Here's what we'll be covering in this quick walkthrough:
Resizing Live Tiles on the start screen
Unlocking the added accent colours
Setting up the lockscreen to load rotating Bing wallpapers
That's it? There's not a whole lot to the update, I'm afraid. Unfortunately if you'd want to take advantage of new hardware and future enhancements, Windows Phone 8 is a definite upgrade. But for those who actually use a smartphone as a mobile calling device, the 7.8 update will prolong the life of the handset until an attached contract ends or funds are available for an upgrade.
Check out our quick visual run through of the update too:
Resizing Live Tiles on the start screen
Resizing Live Tiles is a new concept to those who are on Windows Phone 7, especially if you're not into reading up on what's new in version 8. So how does one resize said tiles to either reveal more information or shrink real estate down to a manageable level? It's as easy as moving tiles around, simply press and hold on any tile and live app shortcuts that support multiple sizes will have an arrow present in the corner, like so:
Hit the corresponding arrow to either shrink or enlarge that individual tile. It'll then blow up the screen or integrate into an available space between other tiles. Job done. You're now up-to-date with tile management. Moving on.
Unlocking the added accent colours
Setting up and configuring accents is a basic customisable setting, and is one most Windows Phone owners are more than accustomed with. Choosing different themes for the smartphone refreshes the look of the UI and any apps that make use of the system theme. This helps reflect the mood of the owner, or to spice up the experience.
Windows Phone 7.8 bumps the number of available colours to 20, further expanding the choice on how the phone looks when in use. This new collection of accents matches what's currently available in Windows Phone 8. To make a change, head on over to Settings > Theme.
Setting up the lockscreen to load rotating Bing wallpapers
The lockscreen is an important part of the Windows Phone experience since it's what first greets the user when either switching on or waking up a device. Information displayed here on Windows Phone 7 is limited to the time, date, any calendar appointments and a handful of icons to represent missed content (SMS, calls, email, etc.)
The issue with the wallpaper behind this content is that it's static. One has to change the image displayed manually by heading into settings or by adding an image from the Photos hub. Windows Phone 8 expands on this functionality by allowing apps to tap into lockscreen support and alter content and images automatically. This isn't featured in the 7.8 update, but we do get the next best thing - Bing wallpapers.
These wallpapers rotate automatically and offer a unique experience to manually configuring what's displayed. To set up the Bing wallpapers, head into Settings > Lock+ Wallpaper and you'll be in the right place for personalising your Windows Phone further.
So there you have it, folks. A simple walkthrough on what's new in Windows Phone 7.8, just in case you missed anything through our previous coverage.
Windows Central Newsletter
Get the best of Windows Central in in your inbox, every day!
Rich Edmonds was formerly a Senior Editor of PC hardware at Windows Central, covering everything related to PC components and NAS. He's been involved in technology for more than a decade and knows a thing or two about the magic inside a PC chassis. You can follow him on Twitter at @RichEdmonds.
Just use http://windowsphonehacker.com/articles/want_windows_phone_7.8_now_try_this_easy_tool-01-31-13...

I just did it, worked perfectly on my T-Mo Radar. They released a patch to make it completely/nearly stable. A nice update, it's nice being to rearrange the tiles better, it's nice having that extra screen space...it's amazing how much real-estate you gain...kinda like my phone now, I'll wait for WP9.


This is very true but did anyone else notice the disparity between the 7.8 and WP8 versions? For example the CNN app as well as many others that take advantage of the double wide functionality in WP8 are constricted to only two different sizes. It seems as if all the apps aren't updated yet for 7.8.

Hey... I am about to run the updater on my locked Tmobile Radar. I am a little hesitant as it is not my phone. Did you have to pick mulitiple language packs?
Thanks.

Don't you need a developer unlocked phone to install .XAP files?

On the download page it states "This is a XAP file; deploy it to your device using the developer tools or another sideloading application."

I just don't want to ruin anything with my phone if I give this a try.

You won't ruin your phone with the cab method or the WPHacker tool... Depeding on what phone you have, you can probably find the stock rom and always reflash the device. Done it a gajillion times...

You won't ruin your phone. I was wary at first, but I used the WP Hacker program and it did everything for me with one click for my T-Mobile HTC Radar. It updated perfectly and there are no glitches or mishaps. I read somewhere that T-Mobile has opted out of giving the 7.8 update (stupid on their part) so I really had no choice but to do it on my own. It works perfectly!

Just used this program on my DVP and it worked just fine. Took a while since my phone was at 7220.


Yes. It works. Both my 900s went that route last night. But on the story, I like it. Its never going to be a 920, but the accent colors and Bing wallpapers are a nice touch. I find I like the olive accent.

Yes ... it does. I upgraded my AT&T TITAN yesterday using Cab Sender method to Windows Phone 7.8. And now, I am enjoying every bit of it!

Cab Sender method keeps erroring out on my TITAN with some number 80070013, error message: An unexpected error occured. I tried several times and getting the same error everytime. I used WPHackertool on my HTC Arrive and it worked after several attempts. I tried this on Windows 8 OS. How did you get it done?

suseesk I am glad I can help you out as I was facing the same issue. Apparently some HTC Titan models neede a bootloader hot fix which after some digging I found herehttp://www.htc.com/www/support/news.aspx?p_id=415&p_name=htc-titan . It's very simple and easy to do and after you do this, the update will work perfectly on the first try. Let me know how it goes as this was very frustrating for me at first.

don't even waste your time with the cable trick - 7.8 was only pushed out to ATT L900 users + unbranded/unlocked devices (NOT locked to a US carrier such as ATT, VRZ, T-Mob, SPRT) use the Windows Phone Hacker deployment tool

I use wphacker method today on my tmobile hd7. Running 7.8 after 5 updates.

Everything should work perfectly! Just follow directions and in 20 mins or less you will be good to go! ...And to answer your question about the update being on the servers.....I highly doubt it. -no, I know this for a fact! There are tons of users on the US carriers, I think you would have seen multiple users on the other articles posted yesterday on whether or not they received the update or not. -after 1.5 pages of comments, I didn't see a single post by someone on ATT with another phone besides the Lumia 900 getting the update.

Everything works as it did before I started it. One thing I noticed is that my phone seems louder on lower volumes after the update. Not sure if its just me or actually is.

Not really. It took me a few minutes to understand the directions, but once I did using the CAB method was very easy. I was at 8107 so I had to install each update since then in order, but it went without any hitch whatsoever. Am now running 7.8, no glitches, no problems whatsoever.
By the way, I updated to 8107 this way when it was pushed out because I never got the update from AT&T. I didn't have a problem then either.

What is involved in unbranding a Titan I? I was able to unbrand a Quantum and got Tango but not unlocked. But you're saying phones have to both unbranded and unlocked?

Unbranded/or unlocked... I am saying phones that people bought either on some "non-US" based carrier OR "not tied to a US carrier" will/have received the 7.8 update. Basically, these "AT&T" phones have not received the update yet: Titan, Titan II, HD7s, Samsung Focus/Focus S/Focus Flash/Focus II, Surround, Quantum, DVP....am I missing any others? The Verizon Trophy and Sprint Arrive and T-Mobile HTC Radar / HD7 have yet to receive the update as well. As for the unbranding process of the Titan: I am only aware of the process (over on the Titan forum on XDA) that involves using a goldcard and forcing a European Titan stock rom onto your ATT Titan...however, I would totally advise against this as a lot of ATT Titans are getting half-bricked this way. (not including mine, as I have a fully unlocked ATT Titan with a custom rom on it)

Unbranded and Unlocked are not the same thing. My HD7 was unlocked out of the box, but it is Telstra branded so I have to wait for Telstra to release updates, even though I use Vodafone as my carrier. Unlocked just means you can use any SIM. Unbranded means it is not bound to a carrier in any way and you will get your updates independently (usually first).
If I go to the Telstra website it says they are only in "first round testing" of 7.8, but I was able to update using the cable trick. If AT&T aren't even testing then it won't be available at all.

Using your comment so people can see this. Got 7.8 on both mine and my gf's Lumia 900 on AT&T in Virginia. No tricks or anything. Just plugged it up and voila.

I got 7.8 on my lumia 900 on rogers in canada also no tricks

does your market place work? mine does not

My market place works but in the xbox live free section nothing comes up at all.

Not sure if this is also new, but when I play music in Zune without artist info it changes the lockscreen to Zune-themed aurora. Its pretty nice to look at actually.
Edit: Lol! Sorry didn't know that. I don't listen to much music on my phone until recently for some reason. Guess I never noticed it. Did they remove the player controls from persistently showing? Guess they changed it to show for a few seconds?

Where have you been dude?lol

If you have your music files tagged correctly you will get a scrolling artist name (new) + cover art (not new) with Zune when the tile is "big" or "medium"

That is a setting under lock screen since the very start

why yes...but the scrolling artist name text is new.

I doubt my at&t dvp (I have a 920 now) will get 7.8.

I've seen comments in other articles here of those with the dvp getting the update. I used the windows phone hacker tool to get my hd7 updated today.

I have a stupid mac, getting a vizio ca27t-a5 soon, though. :)

I also read that the mac connector worked as well for some people.

I meant I can't use the windows phone hacker tool with a mac. At least I think.

Why not just give it a try and leave the "I cant" home :)

Still trying the cable trick. I only managed to get the update showing ONCE (in like 100 attempts)...and I forgot to turn the internet back on. Stupid me. -_-'
Now here I am still pulling cables. I have no idea of the time at which I should pull the cable out (1-2 seconds I know but it isn't that simple). I've even tried with a chronometer on my WP8. What a frustrating thing.

Try having a stopwatch with you and do it about 6 sec, than the updates will pop-up :), happend we me today

THANK YOU! The 6 seconds did the trick! Installing now. My mother will be happy to wake up to a new looking phone :)

Two more tedious questions: do we get multiple select option in the messaging app? And does the background stay dark in email if that's the theme I have set?

Can you define multiple select? The email background is white no matter what.

He means can you tap the left hand side of conversations in the messaging application and select multiple conversations for deletion, ect. Previously on WP7 you had to delete each conversation individually. WP8 added multiselect.

Oh. Hadn't heard about that. Just tried it myself and definitely a no-go.

Nope on both. Looks like those are exclusive to WP8.

Dang that's too bad. There are a lot of non-hardware related updates that Microsoft left out. These two small things as well as being able to see more notifications on the lock screen for example were simply not included.

None of my AT&T Lumia 900s want to update, either naturally or by force...

I updated 2 lumia 900 from ATT yesterday, by force

Mine won't update either. I am looking forward to switching back to my L900, but would like the 7.8 update before doing so.

Not forgetting the slower response times to live tile animations, volume limiting, and the stupid lock screen music player change...

The slower tile animation takes some getting used to. What do you mean my volume limiting and lock screen music player change?

On lumia 710's, the default volume is 19\30. On lumia 800's, it is 13/30. Everytime you restart the phone, it reverts to the default volume. To see the lock screen issue/change, play some music, lock the phone and then look at the music controls on the lock screen.

Oh wow, that resetting volume does suck! I don't think I've noticed it on my Focus (but I'm also running a custom rom). I didn't notice the music controls on the volume bar until you pointed it out. I find it just as ineffective as the previous implementation.. I never liked the lockscreen music controls because it requires me to look down at it. It's frustrating while working out, and dangerous while driving!

Daniel you should do an article about the new 7.8 apps available.

why? there are like 2 new Nokia apps...that I believe haven't yet been released yet?

And... What about the applications that specifically support the new tiles? Like for instance TV Show, and Facebook?

I want to know which apps support double wide tile basically, as that is the only thing this update offers. I'd like WPCentral Double wide. having the choice is what matters I guess. Itd be nice to see apps function well and unique with each different size.

The only thing that can be double sized is your email tiles so far

No they aren't. But cool.

Games tile, calendar, people hub, and music/video are double wide.

Many of the apps providing new tile formats for WP8 don't work on WP7.8, because they need to add 7.8 compatibility with the new 7.8 SDK.

I was sort of hoping they'd add the high-contrast mode from Windows Phone 8. Pity. The new "Steel" gray doesn't quite work as such.
That said, the tile resizing is a pretty big feature, I think. I've got my People hub full size, my phone, email, messaging, and music at 1/8 size, and have three tiles at half-size (calendar, IE, games). I arranged everything so its super easy to use with just my thumb! As such, my start screen barely scrolls down (just three rows of tiles)... very nice :)

Yea, I love the Steel color, but it's almost impossible to identify new emails since the colors blend so much. I still use it though because I like that color so much!

I agree. Steel is my favorite new color.

Steel has well..we need a poll for favorite theme..
Resize tile is great, shrunk most of tiles to small, expect message, pics, calendar.
Bing wallpaper working but it has not switched yet, need connection to be on for it work correctly i assume.
Had to use tool to update focus flash with..so far so good..

How about an article spotlighting apps for wp7.8 that has double wide tile support ?

Hey what about the bluethooth and the ringtone apps that did not work even with the new 7.8 , i want to know if they are gonna fix that soon....

Anyone know if the samsung focus i917 can get 7.8?

Use the tool at WPHacker. I updated my 1st Gen Focus 1.3 tonight. Works fine, but it is my backup now... So I can't speak to calls or texts.

Yep. I used this method as well on my Focus. Didn't have a single problem. Took about an hour to bring it up from the keyboard fix update I had already. Just make sure you apply the right language packs each time you apply each update

I love the cobalt color. It's just the right shade of blue for me :D

Hell yeah! I'm sporting the cobalt too!

Yuck! After I updated everything was this colour... I find it way too dark! I'm rocking the cyan :)

Is it only me,or anyone else is getting the marketplace error? As soon as I slide to the "related" screen.. It says "error code=80070057"

I was getting that error yesterday, but it has since stopped today.

hasnt stopped for me yet!

cant DL ringtone maker and bluetooth share. :( why is this? ugh

bc Nokia has yet to release them yet. They did release them about 3 weeks ago, as I was using RM on my Titan (custom rom)...however, they blocked the download and installation of these two apps until further notice...

Anything else under the hood with this update?

It's a shame how this update didn't bring more features like the mango update did, I know some new wp8 features rely on hardware, but what about things like, the new Bing, or family rooms, or Xbox music, lock screen notification icons, print screen. do they need new hardware? Come on.

It sucks doesn't it? I don't understand why so many people are so anxious for this lame non-update. Yes I'll take the 20 new colors and adjustable tiles but my main beef is why no wifi keep alive? How hard would it be to impliment that? Sheesh!

The only thing i'd like to see is custom hubs or extra "screens" or an ability to categorise my apps. I'll avoid calling them 'folders' due to the inevitable hysterical responses that result. The new tiles will be great, as it means i'm not forced to use double-wide tiles for things like Pictures, and I can make the tiles for messaging, phone etc really small and keep them up the top on the screen at the same time.

Hell, Kids Corner would have been nice. IIRC that was supposed to be part of it.


I agree, kids corner would of been nice, but I can't even get the update for the start screen, lol, so really makes no difference for me;-)

You recall incorrectly :P

Can confirm the windowsphonehacker tool works with an ATT Titan II on Telstra!

YES! Just use the WPHacker tool that it works flawlessly . When selecting the language just select ENGLISH-US, it might take you 3 times beacuse of the 3 updates. (Dont know if it matter but I ran it as administrater)

Yeah worked perfect for my Titan 4G as well ;)


I have a Titan II on AT&T in the US, anyone know if this tool will work? Everything I have read so far says that the Titan II is different from the Titan I and no one has cracked the II yet. Just don't want to brick my phone and have to go back to the Android backup.

Tried the WP Hacker tool on my At&T Titan 2, went absolutely smooth, no problems at all.

WindowsPhoneHacker has updated the install windows phone 7.8 cab file to get your phone from mango to 7.8 it worked for me on my HD7S and the only language i selected was English (united states) took me about 8 trys i think? remember to do this at your own risk but alot of users are reporting that it works.

Is screenshot a added feature? I thought that was part of the update :(

Unfortunately, screenshot remains a WP8 feature.

Super fail. You can send video and ringtones through messaging now though.

So I no longer have a windows machine. I have a Surface and Mac Book. I'd like to update my Surround to 7.8 what are the alternatives.

Boot camp on your mac to load Windows or head to a friends house. Bring beers or Doritos if you head to a friends. :)

I was able to successfully upgrade my AT&T HTC TITAN to 7.8 using Cab Sender method. I faced no problem in upgrading to 7.8 and believe me... Windows Phone 7.8 works like a charm and looks delicious on HTC TITAN 4.7 inch screen! I can now keep HTC TITAN with me for next 6 months atleast!

Guys I just updated my HTC Titan from ATT USA with seven-eighter
http://windowsphonehacker.com/articles/want_windows_phone_7.8_now_try_this_easy_tool-01-31-13 amazing tool and supper easy to use. good luck to all

Tell me how you did that?? please....I can´t update my HTC Titan with this tool!! :( help me please!!

Download the latest version of the app, run as admin and make sure you check the right languages. There are some handy articles here about how to ser what languages are on your phone.

Does this wipe the phone?

No. It doesnt. All previous apps, app data, and messages remains in phone after 7.8 update.

Thank you! I think I'll try this. Wife wants adjustable tiles on her Titan.

It would be awesome if you guys could put together a list of the apps that have tiles compatible with WP 7.8. I know I'm asking a lot, but it really would be great :)

I expected the Rooms feature to be available in 7.8..

Anyone else have 21 colors? I do...

I also have that.Actually it Nokia Blue.Only for Lumua's

Yes. Carriers are allowed an additional spot. My VZW Trophy has Verizon Red as the 21st color.

Very informative article; thank you!

Upgraded my omnia w to wp7.8 using the trick to force it ..
But i dont see two options which were supposed to b there 1. Google as default search engine.
2.ability to share apps directly from list of apps simply by tap nd holding it to show options like pin to start uninstall and share also !!!

Well I've got the update yesterday but it was not 7.8. It was just a firmware update for me..
Don't know what happened.

There are 3 or 4 updates... keep updating!

I have updated my Samsunbg Omnia W aka focus flash to 7.8. Its really good update and i cant find bluetooth transfer feature anywhere. Doesnt microsoft included in 7.8 update?

for at&t ? im in D.C. btw

No.. i am in india and my phone is unlocked. name of artist and album now pass in bold white on the Zune icon. how is it working because i dont see any changes onmy zune icon..

it's still not present for Samsung. i am also eagerly waiting for that...

Force updated my Omnia W yestarday. Bluetooth share is exclusive to Lumias :(

I did follow cable removal trick. But now after 1 day of use, I am not sure what I have achieved by getting WP7.8 update. In few days this would not look new.

I still learned something new and I've been on 7.8 since Nov.

I was able to update my HTC Mozart and my wife's Lumia 800 by using the cable trick method. You may need extra patience as for me, it took me 20-30 try for each update (since there were 3 updates). I'm from Malaysia btw :)

Just updated an LG Quantum which my family currently uses on Straight Talk to 7.8 with the Seven-Eighter tool. Took a little while - had to run the tool about 8 times to get it patched to WP 7.8 but it worked (even though after each update the gui crapped out - just kept restarting the tool ad running again). Glad I saw the link!


What languages did you set? I have a Quantum on AT&T and I'm too afraid of selecting the wrong languages. Also, how long did it take for the tool to run each time?

also in the update:
Zune Live Tile gets the artist's name animated in bold letters.

Anyone manages to select google as default search engine? I thought it was possible???

yeah, where it is ? me too was hoping so possible in this update...

Whoever lied to you? Only Bing is hardwired into the OS.

Hey all, I got the 7.8 update from navfirme in November for my Lumia900... Here is a (small) list of new features that I'm aware of:
- resizable tiles
- extra accent colors
- Bing wallpaper (however, it doesn't rotate for me)
- ability to choose Google as your default search engine
- new office icon
- new Xbox icon
- new market place icon
- name of artist and album now pass in bold white on the Zune icon
- Bluetooth transfer (I was lucky enough to install before it got pulled out.. And it works perfectly :)
- ringtone maker (same)
That's it
Tell me about the Bing wallpaper... Does it rotate?

Most didn't get the google search thing

Just to make sure... It's under settings/applications/internet explorer/default search provider

Plus the new Windows Phone and Windows 8 logo on boot up. :)

I have the same "bug" with bing wallpaper. it doesnt rotate even days after... The same bug was there with a custom 8858 ROM, so this i just a bug wich is not fixed. or like i saw somewhere here in the comment that you need internet connection to be on for this, but why? is Wifi not an internet connection?! :S

I have another new feature!! When you are listening to music if you turn your phone on the volume and music control automagically pops down (no longer a part of the lockscreen)

AT&T LG C900 Updated to 7.8 :)

AT&T LG C900 Updated successfully to 7.8 :)

Thanks for the update, Rich. However, there really isn't anything much different or new that requires a tutorial. This should have been called 7.6 not 7.8

Still no screen capture. :(

hey, where is the option of setting Google as default search provider instead of Bing ?
And the IE has no tab button instead of refresh button in address bar...

And I still do not have this update

Just got OTA update notification.
Will try to update my Nokia Lumia 800 over the weekend :)

Update ready (lumia) + bluetooth share (Market place ( nokia collection))
Two tumbs up for Nokia..

No option to change search provider to Google :/

There is, check out in Internet explorer settings

Just updated to 7.8 but I cant see blutooth share app nor ringtone maker app in Windows store if i go manually it come as this app doesn't suport? guys any solutions!

I have the same issue I was able to get the Bluetooth share app but the ringtone maker won't download for me says its not compatible with WP 7.8 I'm using a 710.

I downloaded the apps weeks before the update rolled out. So far, no problems. Didn't Nokia pull them from the marketplace until further notice?

No update yet for my Lumia 710

Does anyone have lag on new start screen

I have lag....restored back to 7.5...nothing special about this update.

Yes quite a lot on lumia 610! a pain!

achieve to force the update (here from Argentina, Movistar on Lumia 900), that's all for this update????
where are the rest of the features???? It was not supposed that the whole experience of WP8 lock screen, as to modify notifications and live wallpaper, would be in the WP7.8????

Rich, you forgot I more feature in the 7.8 update. You can change the default search engine from Bing to Google.

How? Doesn't seem possible for all...

where did you get that option ?

Just updated to 7.8.
Nokia Maps is still the same as in 7.5: no offline maps. What a pity!


I have HTC Mozart, current build 7.10.810 (Mango), but the available update is 7.10.8112 (Not even Tango).
Should i update to 7.10.8112 first, then may recieve 7.8, or actually 7.8 just not available?
What previous build you guys have before recieve 7.8? Thanks

Yes, just update to what Zune tells you. 7.8 will likely follow up on this one :)

Can I force the update to the Samsung focus s yet ?

Updated my HD7 last night! The Seven-Eighter program really does work! I lost all hope when HTC said they weren't updating the HD7's. I'll wait for the ATIV S to come to the US.

The cable trick does not work for me. I tried two nights in a row without any success. And I am at&t user with L900. The whole concept of trying to push the new software via "tricks", or using some "hackers tool" sounds really strange to me, and I have a question: Did anyone in US received an official notification on a phone about available OS update? Thanks

What's with "unlocking" the new colors? There is no "unlocking". You just choose a color like you chose colors before.

just noticed a 4th update this morning. there is no version number or details other then 'Nokia update for windows phone'. up until now the phones i have updated finished with the 3rd 7.8 update until this morning. possible nokia has just uploaded an additional update of their own?

Has anyone updated his/her HTC hd7? Please am curious

i updated mine through SevenEighter program. since its the last update might aswel not wait. We waited long enough for the carriers to hold our promised prize. my phone is HTC HD7 t-mobile. the program updated my phone 5x, 5th being the 7.8 final hope you guys get it official or not. as long as we are satisfied

Hey,,Are you saying you successfully updated a locked HTC HD7 T-Mo device to 7.8 and, if so was it using te steps mention inthis article? I tried a few days ago but no luck.

thanks guys for your answers. i really appreciate. i'm giving my htc hd7 a try and will let you know when am done

Just as I predicted. Lame update with little extra functionality than the start screen tiles and new colors...

Totally agree, I updated my Lumia (ATT) phone runs faster, new home screen is nice, you can finally read the contact info as they have enlarged the font. For me the missing item is the fact that they did not include the ability to increase the messaging font, really how hard could that be.

Wow. You're good. You predicted exactly what everyone has been telling us for the longest time.

Got my Lumia 800 updated to 7.8 and can now use ringtone maker and Bluetooth share from Nokia

Successfully updated my 900 but it wasn't the 7.8 version number. It took 2 tries of the internet unplug force and it updated to something other than 7.8. This is my previous phone, ( now have a 920) and it was updated to mango last year. Does the fact that I get an invalid SIM notice affect the update to 7.8. I did not even realize there was an update between mango and 7.8.

My 900 updated no tricks required :D

Are you on at&t network? If yes, then what region? I am trying to understand how this "whole updating scenario" works, and when should I expect to receive a notification on my phone. Thanks

Honestly i can't say anyone knows because ATT hasn't been pushing the last two updates nessecary to get 7.8 right now. Your best trick right now is to try the new cab file method that now supports 7720 which will get you to mango bug fix tango in order. I had to hit install windows phone 7.8 and wait for it to install than the desktop app crashes, thats good, i did it 8 times and I ended up with 7.8 on my HD7S which is on ATT. I only selected english as my language pack and everything is fine zune even allows me to restore if i want to. Best of luck. http://windowsphonehacker.com/articles/want_windows_phone_7.8_now_try_th...

I updated my Lumia (ATT) phone runs faster, new home screen is nice, you can finally read the contact info as they have enlarged the font. For me the missing item is the fact that they did not include the ability to increase the messaging font, really how hard could that be.

I am on att Midwest region. Perhaps I just need to repeat the process and see if I can get to 7.8

I updated my AT&T Titan, which has Mango 7.5.7720 version... I used WP hacker method given here.. http://windowsphonehacker.com/articles/want_windows_phone_7.8_now_try_th... (use it at your own risk)

so far its awesome... no issues...

This is how it happend to me (copied from a comment in WP Hacker website, as mine is as his/her experience):
1st time - did first update - now on 7740.16
tool crashed after running it again now...
Edit 1: Just ran it again - now on 8107.79
tool crashed after running it again now... lol as long as it keeps moving idc
Edit 2: Just ran it again - now on 8112.7
tool crashed after running it again now... still moving lol
Edit 3: Just ran it again - now on 8773.98
tool crashed after running it again now... still going...
Edit 4: Just ran it again - now on 8779.8
tool crashed after running it again now... still going...
Edit 5: Just ran it again - now on 8783.12
tool crashed after running it again now... still going...
Its' Official! Just got the Blue Startup Screen now on 8858.136

also if your on att were 3 updates behind so it has to install those updates before it gives us 7.8 i got a new tango version each try

wow, how long does it take?

i got it on my 8th try some people more keep going if your willing to

I will keep updating my 900 until I reach 7.8. I mistakenly assumed that it would be a one step process. Thanks for the help.

No problem i wish you best of luck

That long of a wait for some new colors and tile sizes?

if you actually think about it its a really nice way to look at your start screen you can have the person you care about as a medium tile and people like freinds and co workers surrounding them, or you can fit facebook skype viber whatsapp tango twitter ect. as small tiles to quickly get a glimpse or quick access. I feel like we deserve more languages and the screenshot ability so we can compete more with the iphone 4 and older androids though.

Tmob HD7 is 5 updates behind, only need to select English for lang on all of them.

Not on my uk, unlocked 7 pro, yet

187 comments... not one about a successful Dell update. F*** Dell.

I left the 12 th comment down on my Dell Venue Pro, with the WindowsPhoneHacker program I updated 3 DVP's.


I did the cable trick to update my ATT Lumia. First impressions, phone runs faster and smoother. Contact info can now be read. Still can't resize mesage text font (how hard us that to do MS). Theme colors are a bit bland , just ok.

Currently I have a locked HTC HD7 running on T-Mobile in the USA. If I download and install the cab for 7.8 what will I miss if I do not have access to the new ROM. Is there a downsize to this type of modification? Also, is the new ROM for my particular phone available?

I have the same phone on tmobile us. I did this method and unless tmo had a firmware update to go with the OS update, nothing is missing. I am wondering if I put too many language packs on though. Clicked them all, may rerun utility later today and only pick the 5 I needed.

I do not like the new build of 7.8. The beta build was better. The new boot screen is too plain. There is no progress bar like 7.5. So I don't know if my phone is stuck or just loading. The arrow to apps screen is on the bottom now. They should have added a option to disable it. Its so awkward down there. Text doesnt resize on small tiles, so apps that use live text is useless now. Couple of apps are broken on 7.8, like the weather channel. Alert sounds dont go through my headphones anymore when plugged in.

The arrow app is an indicator that you've reached the end of your start screen and there is more to discover to the right. Same use as before, just a different location. I think it's a good visual. Small tiles are far too small to have legible text so I don't see how this is an issue. If an app is broken that's the developer's fault, not 7.8.

On the beta build the arrow was removed totally. Also smaller tiles were allowed to have text on them.

I am no proper tech head but no a bit anyone who can get my handset (hd7) updated with 7.8 i will give a new crisp £20 note to i have not got a pc with w8 or anything on it i dont know what to do i live in Staffordshire any help or anything els appreciated robo16@live.com or reply to this.

Finally got it installed in HTC radar.
Unlike lumia, this installs in Radar in 5 steps (for me, though)
1st time 8107 -> 8773 (3 updates)
there after 4 individual times (I was required to use cable trick)... and Voila...finally 8858 ...WP7.8
Mine is an unlocked HTC Radar from India.

These new tiles, they're HUGE!

"Thanks for the question. HTC does not have plans to deliver a Windows Phone 7.8 upgrade."
Complete disappointment!!!!!

Just use the manual CAB install method. It's easy and it worked flawlessly on my Titan. I updated it to both 8107 way back when and now up to the latest 7.8 install.

I have HTC Titan II and I don't see any CAB-file for it, unfortunately =(

still NO arabic keyboard !!!

Something not mentioned was you can now send voice notes through SMS. Start a new message, click the attach button, and your options should now be "photo or video" and "voice note". Maybe that option was there before and I just never noticed it. Haha.

That was the last update I believe =)

HTC apps don't have live tile support for 7.8 and i'm doubting they "have plans to update it"

Just put the seveneighter on my US Tmo HD7. was quick, fast, and easy. The Regular icons are HUGE now. Not much has changed I just like the look of a newer phone. Waiting for something similar to the 920 for Tmo before I upgrade.

Loving the new tile animations. Esp. the music tile. Very nice!!

Finally got it to work on my L900 via "force update" method, or should I say- via Mr. Daniel Rubino method? Thank you very much! Just wondering: was this method a "by accident discovery", or there is some "science" behind?

hey guys, i need some help here. i tried to update my hd7 using windows phone hacker tool. i have selected the language packs. when i click on 'continue', the tool says 'downloading updates' but stucks at 0% for over an hour. any help?

Are you using the 7-8'er? Mine took around 5 mins to install, but then again I didnt use WP Hacker tool.

FYI, you can use the automatic updater Seven-Eighter to get your Att Titan 2 up to the 7.8 update. My Titan 2 is on contract, normal locked phone. This gave me the official update from Microsoft. Its legit, not a custom rom, the real deal. Even Zune recognizes it once its installed. HTC is not putting out the update on att anytime soon. This was the easiest way to get it without hacking your phone.

Updated finally to 7.8. I thought Microsoft will give something more to old WP users, but just new live titles and bing wallpaper? That sucks.

Hello everyone, Just wanted to tell that I used the SevenEighter by the WPHacker and it worked great!! My Lumia 610 is running on Win 7.8 now. :)

After reading this, I think I'll just let my carrier update it. I'm in no rush to resize tiles. :-P

I've started to think that some carriers have opted out of providing the 7.8 update for good reason. I have the Verizon Trophy which I manually updated with the easy update tool previously posted. It may be that this phone is not capable of powering the latest WP7 update effectively. The new UI is nice however immediately I noticed that it has almost gone into slow motion. It seems everything moves 20% slower than it used to. For example when I recieve a text message now, the phone vibrates, pause, screen turns on, and about-2 long seconds later the banners shows up. All the UI animations are in slow motion.
Is anyone else experiencing a similair problem? I'm even more anxious now for my WP8 upgrade this summer.

Bluetooth Share and Ringtone maker app are not showing in marketplace. And when I found them through QR code it shows your software needs to be update or not for your region but I've updated today to 7.8....

seven-eighter - Works like Charm for HTC TITAN 2 . . . I m lovin it :)

Updated both Samsung Flash phones - the one still is dinging (!!!ARGH!!!) and the other works for the most part. I've had it go into a crash loop twice over the weekend (battery pull broke the vicious cycle) and this morning it was slow and laggy. Rebooted it and it was fine now. This is not a good thing.
I want Windows Phone 8. :grrr:

My reply messages on gmail reply are not being delivered after 7.8 update. It sends a blank message instead

Just used the tool and it worked perfectly with my HTC Titan. :)
刚刚用了这个工具,HTC Titan完美升级。 :)

Does my Samsung Focus S will receive this update?. I'm still waiting the update :(
Ohh, By the way If I force the update, I would update my Samsung. Hope you say yes! :)

The Only complaints I have in WP 7.8 is Bing Search.. NO Music Search and NO more saving images directly in BING SEARCH. WHY!!!!!!!!!!??
Windows Central Newsletter
Thank you for signing up to Windows Central. You will receive a verification email shortly.
There was a problem. Please refresh the page and try again.