Get your Surface ready, Halo Spartan Assault now available for download on Windows 8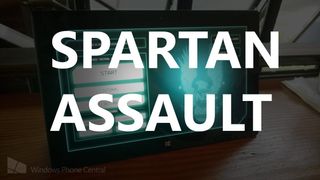 Today is the day, you can play Halo: Spartan Assault on Windows Phone 8 and Windows 8. We already gave you the link for the Windows Phone version, which only Verizon customers can enjoy here in the United States. But you can definitely get your Spartan Assault on with Windows 8, nobody is stopping you there. Read past the break to get the link for the Windows Store!
Halo: Spartan Assault is one awesome game. We've had a chance to play it a handful of times the past few months and can honestly say we're stoked for it. It's out for both Windows Phone and Windows 8, you'll need to buy the game on each platform if you want to play it. It goes for $6.99 and is worth it for the high quality game you get with future updates that will extend replay value. What's doubly cool is that your game state will save and sync across your various devices running Spartan Assault.
So what if you're not a 110% diehard Halo fan, which version should you get? My personal opinion is that the Windows 8 version is the one for you. Which you can now download. Why Windows 8 or Windows Phone 8? Well both are great, but the keyboard support, larger touch screens, and future Xbox 360 controller support make this version the one to get for variety. And if have a device like the Surface Pro you'll get 60 frames per second in gameplay versus the 30fps in Windows Phone / Windows RT / Atom processors.
Anyways, you can head to the Windows Store to get Halo: Spartan Assault (opens in new tab). It will cost you $6.99 (totally worth it).
Thanks for the link Austin A!
Get the Windows Central Newsletter
All the latest news, reviews, and guides for Windows and Xbox diehards.
I can't wait to buy it for wp8 and will be getting it on my surface tonight :)

That makes at least two of us!!!

How do I even retweet that?? This isn't twitter..

I think he means he's buying it for his Surface RT.

"It will costs you for $6.99."

Little bit of 'hood in that sentence.

Yo Keith, you can take me out the hood, but you will never take the hood out of me!

LOL, I love this community! So much fun here! My best spent money on Windows Phone Store so far, has been on the WPCentral app, and I've spent a lot.

True, actually the WP central app is 99% of what I do on my phone. The 1% is texting. So basically wpcenteal IS windows phone. :)

thanks Sam, just bought on my Surface RT
Edit: looking extremely good so far! Thank goodness for the W8 version, the VZW exclusivity won't hurt me so bad :)

How is it using keyboard and mouse?

Not bad at all. Run through the tutorial then hit the battlefield Spartan.

You can use a mouse and keyboard with the Surface version? Didn't know that. Thx!

The surface version is the Windows 8 version.

No trial, stopped buying blind a while back, guess I'll wait for the review.

Yeah, as badly as I want this, my sentiments are the same, so I am going to wait.

I took the dive and bought it. It's pretty fun. Kind of nice to see all the vehicles and weapons (dual weilding SMGs for instance). Same kind of limited ammo, so you are forced to pickup what you can find.
Graphics are really nice, easily one of the top games by far for the platform. They seem to stress in-app purchases; probably overkill for it being a 7 dollar game. Then again it is Halo, so they probably figured might as well.
The controls are really good on the tablet (some of the best for a mobile game). Takes a few moments to get use to driving the tank, but it works really well once you get the hang of it.

Not a big Halo fan but I bought this for my RT and it's pretty good. Agree 100% on the controls, probably the best of any game.

What did you think of the sniper? My eyes lit up when I first fired it a few weeks ago o_0

It's Halo....no review needed.

Waiting for a review of Halo ?? Lulzz

With no trial, I will wait for detailed review or price drop under $5.


I can buy some skittles with that

Halo is one of the most successful franchises for a reason. As others have said, no review needed. Whether it will be your type of game however is something a review will struggle to tell you.

I thought this was a game made for 2 sticks? I downloaded this for my Windows 8.1 HTPC all ready to use my 360 for Windows controller and the only option is to use a mouse and keyboard. What's the deal here?

Xbox 360 controller support is coming in an update slated for August.

You've got to be kidding me. An exclusive game like this that's made for twin sticks and it doesn't support a 360 controller out of the gate? Sigh...

Sir, the whole ordeal was already mentioned about a month ago at CES. :)

Must have missed that little detail....

It was mentioned way more than once across multiple articles and was in no way mentioned like a little detail. Do research before you buy next time.

Don't feel bad, I missed that, too. I thought controller support would be out of the box, so to speak.
The keyboard is pretty awkward. You control by WASD, but because the maps (especially the tutorial) are designed at a 45° angle, you press two keys at once a lot of the time.

Err that would be E3, CES was in January.

Seems that Rogers customers can download for windows phone 8 in Canada :)

Rogers customers can download the Windows 8 version of Halo on their phones?

yes thats for sure Rogers customers can download in canada on their phones.

Getting it for my surface rt

IM downloading it on my surface Rt uk, but its so s................l..................o....................w
To all the people downloading it atm, stop and let me get it first.

I know I have to buy it seperate between windows phone and Windows 8, but if I buy it on a Windows 8 PC do I have to buy the surface version as well?

Nope, unified store for PC/tablet. Separate for phone.

Downloading on a dell XPS here :)

Costs 6.99$ / 5.99€ / 4.99£

So glad I can play it on my surface while I wait to play it on my AT&T 920, I mean my soon to be 1020!

Downloading on my RT since my 920 won't play nice and refuses to download it (UK unlocked, unbranded phone, Panama region, US account... Globalization!)

is probably because you have a US account as Verizon has the exclusive for the US.

Cheaper version, 60FPS, big screen, Xbox 360 controller support (next month), well, I think I know which version I will buy...

I can't download it on my 8X from my phone even with 3.6GB free :( and it wont let me install from my desktop like I used to for some reason.

playing on my rogers lumia 920 right now!

Runs like butter on my Surface RT! It'll hold me over until I can get it on my Lumia 920 :)

I'll pass on phone version I carry my surface like a notebook plus battery can handle the game and if it dies I still have my phone

We need to download the game on both WP8 and W8 just to play? That doesn't make any sense to me.

Ummm No, if you want to play it on both the phone and W8 yes. But you don't have to get both to play....

That's what it said in the article, I was confused haha thanks. Edit: the wording is off, but I do understand what he was trying to say there.

No that's not the case. The wording in the article could have been read lime that, but you don't have to buy both.

Just downloaded on my PC. About to dive in

Is there a way to use the store credit that show in my Microsoft account on my phone for the Win 8 version on my surface?

Yes. Though, to be honest, I don't know how. I purchased it on my PC, and it came out of my Microsoft account automatically.

As I already have it for WP8 I'll wait for the 360 controller update before I get it for Windows 8 and RT

just continued where i left off on my lumia 920....on my surface pro. expensive, but great if i want to play anywhere i have a device or when battery runs low.

Who's idea was it to price the phone version higher than the PC and tablet version? You're even given more option on how to place with the W8 version as you can use a mouse + keyboard, touch with a tablet and in a future update you'll be able to use a controller.
What annoys me about this devide between phones and tablets. In the past MS have bragged how devs can code once and port anywhere so you could play your games on any device. The thing is, people don't want to pay for the same game more than once just so they can do that. Just get it together MS.

Agreed. There are so many games I want on both my 8X and Surface RT that I cannot because of the lack of universal purchases, this game being one, along with Galactic Reign and Skulls of the Shogun. Problem is, both versions are the game are expensive and sometimes buy-only. That's why H:SA is only going on my tablet. I will wait for universal purchases before I download it onto my Verizon 8X.

If i remember right, you only need to buy Galactic Reign once, in your other devices you can play the full game (although i think you need to buy it again for achievements on both). That aside I am all for unified purchase (not necessarily unified download as I do believe software should be optimized for phones and don't want to store pc fluff here)

Guess I'm the only one this won't play for. Windows 8 laptop, never any issue with any Windows Store app, bought Halo: Spartan Assault, installed, won't play and goes to desktop.

Don't feel too bad. I'm on an Asus EP-121 tablet. i5 Processor. 3G RAM. Internet connection. ALL THE REQUIREMENTS LISTED BY MICROSOFT and 343i and Vanguard. I run Windows 8 Pro 64x. And still. The app crashes after initial 'Halo: Spartan Assault Screen'. ----------------------------------------------------------------------------------------------------------------------------------- Called Microsoft, and after the regular "Bounce me around like a rubber ball routine," (Department shifting... Because the "Not my problem, mentality" that permeates Microsoft and Subsidiaries Tech Support. I finally Spoke with a Representative, labeled as only HugThisDudeMitch, I got what I have never received from Microsoft in over 23 years of patronage to their equipment and operating systems... I received my money back. <:-O It even feels weird to say it in my head. Microsoft... Paid... ME!? Try it. If it works for those of you who can't use the game you paid for??? Awesome. :) --------------------------------------------------------------------------------------------------------------------------------------- Anyway.. I have a somewhat reliable thought that this crash is caused by a minimum screen resolution which no one knows about, or haven't informed their customers about yet, I mean no one knows.. I and Microsoft Tech Support have searched... well, short of the poor people who waited patiently for the release of this game, only to be left disappointed AFTER THEY PAY even though they were never informed of any restrictions accept for the fact you need Windows 8 86x,64x, or ARM support. Get your money back if you don't get bouncy balled out of the system, that is. ;)

Thanks, that's good to know. App crashes on Halo: Spartan Assault screen is exactly what is happening to me.
Wondering if I change the resolutions...

I had the same problem trying to run on my desktop. I have an Nvidia card and after updating to the latest beta driver it works fine. Maybe it just needs a reinstall, I had some other app games that use to do the same thing and they now work also.

I'm having the same problem. The game crashes after the splash screen. I have uninstalled and reinstalled the game a number of times without effect. I don't have an nvidia card, but I'll check if there are any driver needing updating. If that doesn't work I'll contact MS.

Sam, any word on why certain people across the world are not able to download the WP8 version, especially those of us in Canada? It seems as if this is a Rogers exclusive, at the very least people who are using their devices on different networks (unlock of course) are not able to access the download at all. Its actually rather annoying, I feel like I'm being burned for not using my 920 on Rogers and going elsewhere.

Do you have 1Gb RAM on the phone you are currently using. 512Mb phones are not supported... YET. But soon.

Like I mentioned, I have a Lumia 920. 1GB phone. There is no reason it shouldn't be showing up.

Go to Windows Phone Central's main Home page on a computer or friend/family member's phone.
Select the article about Halo: Spartan Assault for WINDOWS PHONE.
Select the search button on your phone's lower charm bar, followed by the eyeball button.
Hover it over the article's provided QR code.
Done.

Doesn't work.
This isn't an issue of it not being on the store just yet in regular searches. People on Rogers are able to scan the QR code and download it just fine; all of us who aren't on Rogers are not able to download it because it says its not available for our phones.

can you say Rogers exclusive for Canda, the download page on the phone has a rogers logo next to the game.

Try the direct link and see if it's working. We'll reach out to Microsoft and find out about availability globally for WP8.

Hey Sam,

I've tried the direct link, QR, store search, going through the WPCentral app to install; absolutely nothing is working for me, even though other Canadian users on multiple networks say they are able to install it.
Salt in the wound is that I can buy the Windows 8 version so local availablity really seems to be all over the place right now, barring any exclusivity agreements we don't know about or just not allowing people using unlocked phones on different networks to be able to purchase it.

Very good game, well worth the wait. Got a little impatient there for a minute but hey I'm a halo fan = fanatic. I love me some halo. Actually feels like a halo game very impressed.

Trying to download on surface pro, but keep getting the error code 0x80080207 .. Someone HELP!

Can you use microsoft points to buy the win8 version? I got some left and want to waste them on something.


Got it for my RT. Awesome game.

I wasn't sure whether to buy this for my Surface RT or wait for it to be available on AT&T, but I just couldn't wait! lol
This is my first Halo game ever and I'm beyond happy with it! A very good game!

Downloaded it on my Asus notebook. This game rocks!

Been playing tonight on the RT. Good game but the upcoming controller support will make it better.

Off topic : I just love the intro music on your videos :)

Its available on the uk windows 8 store but not the windows phone store :/

I installed it on my 920 last night (uk) and it runs fine, the production levels are excellent and it really needed an advertising run in media about it, or have a tie in to offer windows phone with either 360's or XBoxOne pre orders

It is very strange... In France, only people with Orange or Sfr for carrier are allowed to download Halo... (my carrier is Orange, I'm happy :) ) . Do you know others country with exclusivity?!

Was playing the game earlier and it crashed my surface rt (8.1)and made it make a very loud buzzing sound even when turned off, it stopped when I turned it back on

Got it on my 920 now, in Australia

You need in excess of 3.1gb of free space to install. I think its about 3.5gb. I had to delete all my media, and a few games to get it to install. But it only uses about 700mb. Problem is will I need all this free space for the updates?

I thought it was Verizon exclusive for WP8, but for some reason I was able to buy and download it anyways, no complaints.