Getting fit with your Windows Phone; can we get a little accessory love?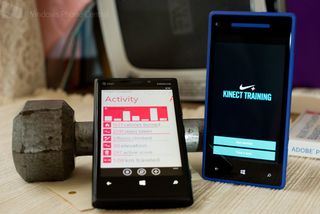 You can do a lot with your Windows Phone. From making a phone call to checking your email to watching videos or playing games, our Windows Phones have a ton of potential. February is fitness month here at Mobile Nations and we focus on the health and fitness capabilities of our smartphones.
The strength of our Windows Phone with regards to fitness rest with apps. Our weakness likely lies with the lack of direct compatibility with fitness accessories.
We have apps to track our exercises routines, that track our calories, and those that even help us rest. Windows Phone apps as HealthVault, Calorie Tracker, MyFitnessPal, and Runtastic all are great apps to help us along as we strive to maintain our health and fitness. We also use our Windows Phone to map our running routes, listen to tunes while exercising and collect stats on our distance based exercises. So it's not such a stretch to see our Windows Phone being a vital component to our fitness routine.
But when it comes to compatibility with popular fitness devices such as the Fitbit Tracker (opens in new tab), Nike Fuelband (opens in new tab), Sports Watch or even Jawbone UP we come up short. These gadgets come in handy to monitor our activity from measuring steps taken to calories burned to monitoring our sleep patterns. They are devices that compliment and extend the software component.
While we have seen little movement on the exercise accessories, I have to tip my hat to Fitbit though. While there isn't an "official" Fitbit app, the company has made available the API for un-official apps such as the Fitbit Companion and DotNetNuzzi Fitbit Activity Tracker.
Still, with an official Windows 8 Fitbit app (opens in new tab) available it shouldn't be too hard for an official Fitbit Windows Phone app to see the light of day.
Nike on the other hand shouldn't have any reason not to develop a Fuelband app for Windows Phones. Nike has a presence with Microsoft with the Nike+ Kinect Training (opens in new tab) Xbox game and a companion app for their Fuelband shouldn't be a stretch. Instead, just like Jawbone, they are focusing entirely on iOS support. Then again, the Fuelband isn't compatible with the Xbox software so maybe it's not such a natural fit after all for Nike.
The presence of third party apps and compatibility with other Windows Phone fitness apps such as Microsoft's HealthVault gave the Fitbit the nod when the Windows Phone Central staff began looking for a fitness accessory for our Windows Phone. We liked the convenience the Nike Fuelband has but combined with fantastic battery life and the presence of third party Windows Phone apps, the Fitbit was the natural fit. Just as we've seen a growth in fitness and health oriented apps for our Windows Phone, hopefully we will see companies take note and begin releasing official apps or products that embrace our Windows Phones.
So if you could see one fitness accessory come to Windows Phone, what would it be? An official app for what's already out there or something entirely new? Personally, I'd like to see Fitbit offer an official Windows Phone app that (and I don't know if this is possible) can sync directly with our Windows Phone. Even if syncing isn't possible, to have an official app where you can have full access to your Fitbit account while on the go would be really nice.
Windows Central Newsletter
Get the best of Windows Central in in your inbox, every day!
George is the Reviews Editor at Windows Central, concentrating on Windows 10 PC and Mobile apps. He's been a supporter of the platform since the days of Windows CE and uses his current Windows 10 Mobile phone daily to keep up with life and enjoy a game during down time.
I have the skeleton of a FuelBand stats app ready to go. Nike released what they're calling a "playground" for API data, but they haven't actually opened it up yet, so 3rd parties can't actually integrate. Frustrating - I realize Nike's priorities do not lie with Windows Phone, that's fine, but let the app developers fill the gaps!

And yesterday they said they didn't even care for Android.

This is discouraging! I have a fuel band and I use Nike Kinect. Having an app combined the 2 or even just work with the fuel band would be awesome! What can I do to get them to open it up completely?

You can tweet @NikeDeveloper and bug them about it, that's the only avenue I know of. And I've tried already...but there's strength in numbers :)

Cool - thanks, I'll grab my lantern and pitchfork :) and send them a tweet

I agree. It's good to vent here but the squeaky wheel gets the grease...tweet, email at Nike support on nikeplus.nike.com/plus/support then click the "still have questions?" link and send an email. The got back to me within 24 hrs. The guy that returned my email seemed to be a real person, as he addressed my concerns directly and not some canned response. I thanked them reply. If we are vocal about it in a polite way, we can gain some traction and their support. I'm going to tweet them now since I did not consider that before.

Windows Phone's only hope in getting Nike's support is for MS to unify the ecosystem.

Well Nike+ Kinect is a good start. The next Xbox with Windows will alleviate much of this coding differences for MS ecosystem. 70-80% of code will work on three devices...amazing.

One fitness solution that I would like to see become available for use is the Wahoo Fitness Blue SC speed & cadence sensor. In order for that to happen we'd need a Wahoo Windows Phone app, and Microsoft would need to update Windows Phone with support for Bluetooth 4.0 (needed by the Blue SC sensor). Apparently the Lumia 920 hardware is BT 4.0 ready, but the Windows Phone 8 OS isn't. Microsoft, as usual, is determined to keep Windows Phone behind the competition.

Yes! I need the Wahoo app ASAP for Phone and Sureface pro!

I have the Polar H7 sensor chest strap but i'm also waiting for WP8 to start supporting BT 4.0. Their Polar Beat app on iOS is pretty good. Microsoft needs to stop dragging ass and make things happen for the OS. Users are going to become impatient with the constant waiting for stuff that are already norm in other platforms.
I hope the next OS update address this very issue so tons of fitness accessories/apps can begin coming our way.


Wow. This editorial does not even address a big issue standing in the way of WP8 getting great accessories of any kind. Bluetooth 4.0. Please Windows Phone Central do some investigation into why Bluetooth 4.0 Low Energy support was not included in WP8.
You have written many articles regarding NFC which so far has turned out to be a bust in practical applications. Accessories help lock-in people to an ecosystem. I believe Microsoft made a mistake not delivering drivers and SDK hooks for BLE. It would be great to know if Microsoft understands how important this is for its next update.

Exactly right! I think Nokia 's working on this, but some investigatory journalism from wpcentral would be much appreciated.

Do you know if current hardware supports this? Particularly the Lumia 920 and 8X? I ask because you mentioned that it was a software omission by Microsoft...I'm wondering if I could expect an update to enable it. Thanks

I'm really hoping Basis releases an app for their watch/fitness tracker.

I would like to see Fitbit and Fitbit Flex integration. Since the Flex won't have it's own display, the phone integration will be even more key. I have had 2 different fitbits and the key to their effectiveness was seeing how close (or far) you were from the daily goal. This would often prompt me to do some more walking in the evening.
The third party Fitbit apps are ok but are lacking key features like the ability to log food or edit weight logs (both of which are possible on the Fitbit website) and I doubt they will ever have the built-in device integration which is so critical.

off topic but man that 8x is sooooooooooooooo tempting....

+1 request for an activity tracking Nike+ app for Windows Phone please?

Write to Nike support on the website for Nike+. I wrote them and got a response. I asked specifically for the Nike+ Running application that I left behind on iOS. So yeah, write the company an email and let them hear your request. Plus 1-ing is great but if Nike doesn't see it, they don't know how annoying it is that they don't support our platform.
I've always felt like iOS devices became popular almost because of the 3rd party support they receive, not that the designers of these accessories saw the critical mass and said "we have to design for that". There are plenty of super popular android and BB and WP devices that could use some 3rd party love and just don't get it, and it then appears that the device just didn't have what it takes to succeed, when really the lack of 3rd party support doomed them from the beginning.

Rant rant rant.... Sorry :) (also, not to take away from how far ahead iOS was at the time it was released as iPhone OS. It was quite compelling at the time.

I would love a Fitbit Flex or Nike Fuelband if I could actually use it with my Lumia 920. So disappointing there's still a lot of developers skipping out on Windows Phone considering they can use a big chunk of the code on a Windows 8 app as well.

I use fit bit one on my PC and aria scale. The floor counter is off from my driving.

I just sold my Nike Fuelband and moved over to Fitbit....
I loved my Fuel band but no mobile app official or otherwise is annoying, loving the extra data from Fitbit and only used it one day.
I will miss my fuel points and achievements though.

OK not accessory related but really need RunKeeper to release an official app. Caledos Runner just isn't up to scratch.

Runkeeper is no longer doing Windows Phone app, strictly iOS and Android. You should try Endomondo. I made the switch and I have found it to be a worthy replacement.

You can still log RunKeeper runs with the Caledos Runner app so there is a way to still use it although not "officially".
I wouldn't be totally against moving but being a paid elite member of RunKeeper I was resistant to go elsewhere. I'll take a look at Endomondo though.
Is it possible to export my existing runs from RunKeeper and upload to Endomondo? I would be dissappointed if I lost all my data if I moved to another provider.

For me, an official Fitbit app would be nice. To be honest, I've delayed my Fitbit purchase(s) based solely on not having an official app. It is nice that they have an open API for third-party developers, however I feel that a mobile platform should have native applications for hardware accessories. The API should be for hooking into a Fitbit account to share data, not for representing your brand.
And, although not a fitness accessory, it would be nice to have native Runkeeper and Fitocracy apps. Actually, nevermind about Runkeeper. It would have been nice a year ago (I know that they pulled their previous attempt at a WP7 app) but I've pretty much adopted Endomondo as my app of choice. Fitocracy would be nice though...

On the line of accessories, I picked up a armband from Kogan that was designed for a GIII which is a perfect fit for L920. I did have to cut a tiny hole for the headphone plug though.

Fitbit app would be most value to me. I have trying one out and having a real app would commit me to Fitbit. Glad that the 3rd party apps exist. I use both of them.

Actually, one of the biggest hurdles is the lack of Bluetooth 4.0 LP support in the windows phone OS, which is what most of those devices use to communicate. Some of the phones (e.g. Lumia 920) have the HW, but no OS support.

This has some promise and the SDK is open source.
http://www.indiegogo.com/projects/amiigo-fitness-bracelet-for-iphone-and-android?c=home

Amiigo requires BLE support so most Windows phones would be out, right? And the others with the hardware would need an update from MS to activate.

I pre-ordered a Fitbit Flex anyways, I'm fine with it just syncing with the computer as long as I can track my food through the mobile version of the web site. Sucks, but hey, with the adoption rate of Windows Phone who knows.

Nike Fuelband is probably the worst fitness band of them all

I might be me, but does it or does is not connect with the Polar H7 bluetooth heart band?
Windows Central Newsletter
Thank you for signing up to Windows Central. You will receive a verification email shortly.
There was a problem. Please refresh the page and try again.