GOG Connect lets you import select Steam games to your GOG library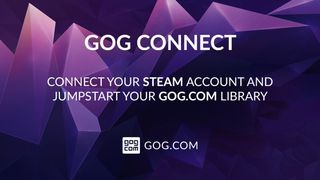 GOG is rolling out a new feature called Connect (opens in new tab) through which you'll be able to import select Steam games into your GOG library. The idea is that if you've already purchased a title on Steam, you shouldn't have to buy it again on GOG's platform. Hence the tagline: "Why buy the games more than once?"
The program has just over 20 titles at launch, with games from the likes of Deep Silver, Harebrained Schemes, Jonathan Blow's Number None, TaleWorlds, and more included:
The Witness
FTL: Faster Than Light
The Incredible Adventures of Van Helsing: Final Cut
Galactic Civilizations 3
Trine Enchanted Edition
Saints Row 2
Shadowrun Returns
The Witcher: Enhanced Edition
Unreal Tournament GOTY Edition
VVVVVV
To initiate the process, you'll need to go to GOG Connect (opens in new tab) and sign in to your Steam account. GOG will then scan your Steam library and import all eligible titles. While straightforward, we've had issues in getting the service to work. Head to the link below to see if you fare any better.
GOG Connect (opens in new tab)
Windows Central Newsletter
Get the best of Windows Central in your inbox, every day!
Harish Jonnalagadda is a Senior Editor overseeing Asia for Android Central, Windows Central's sister site. When not reviewing phones, he's testing PC hardware, including video cards, motherboards, gaming accessories, and keyboards.
Seems to keep saying there's an issue try again, my guess is they are getting slammed hard right now with everyone trying to do this.

There is a limit on the Steam API, so yeah, it's being flooded with requests. Took me about an hour to get connect happening, but apparently it may take a few days for it to finish the import. It will settle down over time, just the initial influx is massive. Have to respect GOG for this, great service.

Gotta love GOG and CD Projekt Red

Why would I want to do this?

Not really a good enough reason. I was asking myself the same question. What's the point of having yet another client added to an already too long list (battle.net,orign, ubisoft, steam, Windows store,rockstar...)

Because you want to support the GOG team. Because they have games you can't get on Steam. Because they may have sales that are better than Steam. Because, well, becuase. There's nothing wrong with GOG, and you can actually download and keep the game, backed up somewhere in the event that your Steam account is hacked, or otherwise inaccessable to you.

Because through GOG, you truly own the game. You can download the installation and back it up where as on Steam it must be installed through Steam. GOG requires no client. GOG galaxy is completely optional.

GOG does not require a client, though they have an optional one. You can download it directly through a browser and archive it however you want then run the installer without any internet connection at any time.

OK all thanks for your replies. It's just not for me then.

Forgot to mention that very often you get extras with the GOG version that you don't get on other services. Things like soundtracks, wallpapers and original manuals and other items that came in the box with the retail release, in PDF format.

Very nice! Only three of my well over a hundred games were added, but it's a nice first step. Posted via the Windows Central App for Android