Google's Fast Pair will soon help connect Windows PCs and Android phones
Google is working on its own way to connect Android phones and Windows PCs.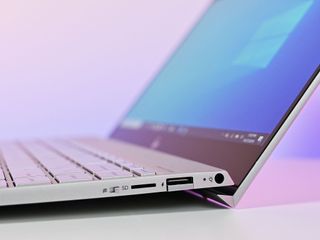 (Image credit: Daniel Rubino / Windows Central)
What you need to know
Google announced that its Fast Pair technology will work with Windows PCs by the end of 2022.
Fast Pair allows people to set up Bluetooth devices, sync text messages, and share files.
Google will work with Acer, HP, and Intel to bring the feature to select Windows PCs.
Microsoft has worked for years to bring Windows PCs and Android devices closer together. Now, it's Google's turn. At CES 2022, Google announced that Android phones will be able to connect to Windows PCs through Fast Pair. This will make it easier to set up Bluetooth devices, sync text messages, and share files through Nearby Share.
Google will work with Acer, HP, and Intel to support Fast Pair between Android and Windows sometime in 2022.
This week's announcement comes on the heels of the news that Google Play games will be available on Windows PCs this year.
"For the first time with Android, we're also focused on building for other platforms, like Windows, whether it's in gaming, productivity or other areas," said Google's VP of multi-device experience, Erik Kay.
The majority of Kay's blog post focuses on efforts to connect Android devices to other pieces of hardware, such as Chromebooks, headphones, and TVs. Our friends over at Android Central cover the non-Windows side of Fast Pair in more depth. Google's section about Windows PCs is relatively short, but it shows a continued interest by Google to integrate Android hardware with Windows PCs.
Microsoft's Your Phone includes some of the same functionality as Google's Fast Pair. Samsung, Dell, and other manufacturers have also released solutions for connecting Android and Windows devices. With Google working with big names in the PC industry, we should have yet another way to connect devices by the end of this year.
Editorial: Google's Fast Pair announcement for Windows 11 is pure garbage
Google states that Fast Pair will work with "select Windows PCs," though the company did not clarify how exclusive the feature will be.
Windows Central Newsletter
Get the best of Windows Central in your inbox, every day!
News Writer and apps editor
Sean Endicott brings nearly a decade of experience covering Microsoft and Windows news to Windows Central. He joined our team in 2017 as an app reviewer and now heads up our day-to-day news coverage. If you have a news tip or an app to review, hit him up at sean.endicott@futurenet.com (opens in new tab).
While I can understand kind of why people want their phones connected to their computer, myself I would not, i like to keep my phone separate from the computer and the only time they connect is when i use a USB cable to get photos off the phone, but then again these days, I save photos from the phone onto my NAs .

Being able to message from the PC and read notifications is great. Can just leave your phone where it is and still access phone features. Really useful. I use OneDrive to access phone photos or the USB cable in countries where Wifi is sketchy.

There is a reason why i like to leave the where it is and that is to have a bit of peace, the problem is with more sites forcing us to use the phone for 2FA, that is getting more difficult.
I don't have a Ms account, I don't need one., i do have a dropbox account, but only use it once in a blue moon these days.

Well different user may have different use case. Some want able to do some of their basic smartphone stuff while on the PC and not having to take your hands and eyes from the PC if you need to reply an SMS or take calls for example. It is a quality-of-life feature bascially.

Great. Windows has a different feature also called Nearby Share but it's only between Windows devices so has limited use. Your Phone is an app and a buggy app at that. Proper AirPlay between Windows and Android at the OS level is needed.

Your phone is fine for me. Nearby share is unnecessary feature in W10.

can we use your phone app to share pdfs? also photos and videos that are not from camera roll or screenshots?

I think Your Phone is more of a redundant one and they should have integrated that instead with Nearby Share. Why make it 2 separate thing if we can have a single UI for file transfer? They don't need a seperate Your Phone icon that only do one thing for one type of device. Heck we still have legacy Bluetooth transfer in Windows.

I don't buy from Intel, so I won't have to worry about this nonsense.

Your Phone has come long way and connects great with my Pixel 4a 5G. No need for anything else.

One of the problems is that it only works with certain phones and to get the full use out of it, you need a Samsung phone, as MS and Samsung have got in bed together.
A friend complained that if you type a SMS to someone using your phone, it doesn't get sent to the phone, so you get half of the conversion stored on the phone, which is pretty useless to be honest.

i send sms from your phone app all the time haven't had a problem at all.
Your phone app has advanced a lot in the last years.
I have a oneplus+ also not a Samsung. Everything i have wanted to do on your phone app has worked with no problems and cant really come up with uses i would use the app more for.

You don't need a Samsung phone anymore; Your Phone works excellent with my Pixel 4a 5G. No problems sending and reading texts, looking at notifications and making calls.

another super helpful feature- something i have needed all along and this helps me do it.
Nearby sharing on android is perfect, and on windows is meh. i often have to share documents and files from phone to laptop and the only way to do that so far is to upload it to onedrive.
your phone works fine for camera roll photos, but not for media downloaded from other sources.
if nearby share starts working with PCs and androids, it will make my life so much easier.

just have have sync enabled on onedrive. than when ever there is a change it updates the file making bouncing between devices easy and painless.
i can easily work on a document on my phone, than switch to same document on my PC, than switch to same document on my tablet and than switch to same document on my laptop all without waiting.
Same can be done on photos and videos,

but what about pdfs? i have to work with pdfs daily and the OneDrive unfortunately only syncs photos and videos. If it could synchronize the entire folder with all its contents like it does on PC, that would be the best solution indeed!

While people bash the buggy your phone app, I wanted to. show my wife a photo my brother sent me via MMS and my phone was in the other room on its wireless charger, I picked up my old and trusty Surface Pro 3 running insider preview Windows 11. I was able to show her the picture without getting up to get my phone. So at least Microsoft is doing what google is not apparently.