How to setup Your Phone on Windows 10 and sync data between your PC and phone
Learn how to setup the Your Phone app on Windows 10 and sync data between your PC and phone.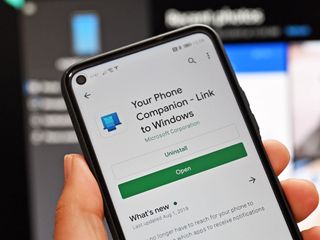 (Image credit: Windows Central)
Do you want to be able to access your Android smartphone's SMS messages, photos, calls, notifications, and more, directly from your PC? Well, with the built-in Your Phone app on Windows 10, you can do just that. Microsoft's Your Phone app brings integration between Android and Windows, enabling users to share data between their phone and PC with ease.
This feature is exclusive to Android smartphones, meaning if you use an iPhone, you cannot take advantage of the Your Phone app on Windows 10. This is because Apple limits what kind of information third-party developers like Microsoft can access. Android is a much more open platform, and as such, can integrate with the Your Phone app. With that out of the way, here's how to get Your Phone set up.
How to set up Your Phone for Windows 10
To begin, you'll need to download the Your Phone Companion app on your Android smartphone. Keep in mind; some Samsung smartphones may already have the Your Phone Companion (branded Link To Windows) preinstalled. If so, to open the Your Phone Companion app, head to Settings > Advanced settings > Link to Windows and then follow our guide from step 3.
Download

(opens in new tab)

the Your Phone Companion app on your Android smartphone.
Open the Your Phone Companion app on your Android smartphone.
Tap Link your phone and PC to begin the setup process.
Tap Sign in with Microsoft.
Enter your Microsoft account email and password, then tap Next.
Tap Continue.
You will now be prompted to allow multiple different permissions. Tap Allow for each popup that appears.
Tap Continue.
On your PC, open the Your Phone app.
On your Android smartphone, tap Allow to enable the connection between your PC and phone.
You can now begin enabling and configuring the different settings inside the Your Phone app on your PC and phone. That's all there is to it!
Windows Central Newsletter
Get the best of Windows Central in in your inbox, every day!
Zac Bowden is a Senior Editor at Windows Central. Bringing you exclusive coverage into the world of Windows on PCs, tablets, phones, and more. Also an avid collector of rare Microsoft prototype devices! Keep in touch on Twitter: @zacbowden.
The Microsoft Apps only needs to be used to set this up. I don't want to retain this app on my phone when I already have the Microsoft apps I want. If you uninstall the app the connection still works. Microsoft don't tell you that.

Microsoft doesn't tell you this.

And I was looking for ability to manage SMS via that app ...

It's coming, just not yet. I'm looking forward to that too so I can ditch these other apps I use for texting via my PC.

That's coming in a future version apparently

Why isn't the linking done in the Phone section of 'Settings' and the photos appear as another tab within the Photos app - more lack of integration :( Its just confusing for people and leads to dead end software/feature paths :/

I'm resisting jokes about Microsoft needing to grow up quicker, being the oldest player 'n all...

It's been a "baby" for a few years now.

The one limitation I've run into is it seems to only allow linking to a single PC currently. I have it linked to my Insider VM but can't also link to my desktop, laptop, and tablet.

I have linked mine to multiple PC's, but I believe you can only link to one phone.

I can't believe they published an app with such a shallow set of features. Wait. Only one feature. Their app collection on Google Play, besides Office, reminds me of that CD full of freeware/shareware I used to unpack with each new edition on PC Magazine in the 90's. I'm a Microsoft fan and use the full roster of products but come on guys. They need to tidy up.

Yeah, seriously, this app does almost nothing. And as other commenters have pointed out, it's easy to do this with existing OneDrive features. What's most confusing is, which app is now handling notification syncing with Windows? Is it the Cortana app, still in beta? Is it Microsoft Launcher? Or will it be this one? After uninstalling Cortana on my phone (it's almost completely useless) my notifications stopped - even though there appears to be some version of Cortana built into Microsoft Launcher. I reinstalled Cortana - but now I don't get any phone notifications on my PC. Search through the settings as I may I can't figure out how to get that working again. Do I really have to go back to Pushbullet? Do I really want to? Come on, Microsoft!

You are obviously not acquainted with the concept of Minimum Viable Product.

We use OneDrive. Pictures are immediately available everywhere.

Yeah exactly. This is a much better solution, especially with OneDrive Files OnDemand. It's useful if you don't use OneDrive though.

Why can't you just connect your android phone to your PC with a USB cable?

This phone on the top photo - can you tell me what model it is?

Lg G6. Ironic that they use it here, and I too no longer get Cross Device notifications from my G6 on my PC.
😒

So complicated. My Lumia 950 delivers photos to my W10 desktop much quicker with OneDrive.

So does my iPhone and Pixel, but that's not the point. This is the shell of much more capability...or so they say.

I have done this 3 times. My phone tells me I am linked. The your phone app on my laptop just keeps spinning its wheels and never progresses past the screen seen in step 6.

https://aka.ms/AA21rxc Feedback response from MS that has good information on how to clear your systems to get this to work. Followed these steps and it finally started to work for me. Kewl first step towards a good app.

Note: you need RS5 installed on your PC

Mine is only seeing thumbnails.

mine keeps asking for RS5, but its confirmed it isnt required - i tried to clear cashe, data on android, and reset the Your Phone app on my surface, and still not working. I tried to uninstall, and unlink my phone completely, still not working - frustrating.

Didn't MS just pull this app?

I said at the top that you don't need the Microsoft Apps on your Android device. You do because mine won't refresh until I reinstalled the app.

I'd give this a try if MS would ever send me the text link to the phone app.

I get offered the Microsoft Launcher not Microsoft Apps mobile app when I click on the link in my SMS. Which is odd as not everyone wants a new launcher.

Doesn't connect between my Sony XA2 (Oreo) and my SP(2017, Fast Ring), keeps asking me to update the Microsoft App, uninstall, reinstall, sign in, phone says I am fine, SP keeps spinning.

Can you connect 2 PC's with this?

Yes I have my phone connected to multiple PC's

I wish Apple iPhone could get this sync anytime soon. But I've been using Dell Mobile Connect and it works fine.

Just wish they would complete rollout of features such as Screen Mirror before they start adding other new features.

My screen mirror is working through the app.

I have everything sent to OneDrive, which performs a lot faster. Your Phone is so incredibly slow or poor performing in just about everything. Phone calls are an absolute laugh riot. I always have my phone with me, so this hag-performing software just doesn't bring anything to the table when I can use my phone directly. They have a LOT of work to do before this thing is ready to stop me from having my phone with me. A LOT of work.

I'd rather have my info locked down than have this feature. Would it be nice? Yes, in a double frosting sort of way, but the protection is far more important.

These are all of the features Apple users currently enjoy with a Mac and iPhone. Also some folks don't have the full Office 365 subscription.

Wow I did not know you could screen mirror and/or completely control your phone from your computer using Apple devices.

God I miss my Lumia 950...

I think it's not complete.
Windows Central Newsletter
Thank you for signing up to Windows Central. You will receive a verification email shortly.
There was a problem. Please refresh the page and try again.