Gorgeous TVShow for Windows Phone 8 updated with Lockscreen support and more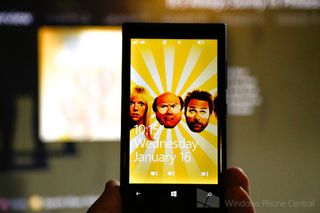 One of our favorite apps on Windows Phone is TVShow by developer Rudy Huyn (Dan especially loves this one). It last received a fairly big update in early-December when it made the jump to Windows Phone 8. That update at the time was mostly to get doublewide Tile support and improved graphics. Today it TVShow gets a proper update bringing functionality unique to Windows Phone 8.
Read on, crouton.
Windows Phone 8 has some unique features that other mobile operating systems like iOS and Android can't really replicate. Things like allowing apps to change the lockscreen and deep pinning parts of an app. Rudy has gone and updated version of TVShow brings those features and more to the table. If you update look forward to:
Lockscreen support
Voice commands
New Live Tiles
Better performance
If you aren't familiar with TVShow do yourself a favor and at least download the trial for a test drive. If you're a TV show junkie it's a great way to stay up to date on the season of your favorite show. You can get a quick overview for upcoming episodes, rate episodes, mark seen and unseen episodes, get notifications for when an episode is about to air, and much, much more.
The Live Tile is handy because it will display the number of unseen episodes and the list of TV shows for the day. That's just super awesome, I want to see your iPhone do that, but guess what? It can't. The lockscreen support is really nice too. It will cycle through images from your list of shows. Nothing puts a smile on our face faster than seeing Charlie, Sweet Dee, Mac and Dennis when we wake the phone up.
If everything you've read so far has piqued your interest in TVShows and you're keen to download, keep reading. Head on over here to the Windows Phone Store for it, use the QR codes below, or swipe to the right in our Windows Phone app to download directly.
The app is free with ads, or you can pony up $0.99 to remove those ads. It's also worth noting that the links above to this version of the app are for Windows Phone 8 only. Users running older version of Windows Phone will want to see the rest of the apps by the developer to nab theirs.
Get the Windows Central Newsletter
All the latest news, reviews, and guides for Windows and Xbox diehards.