Gorgeous TVShow for Windows Phone 8 updated with Lockscreen support and more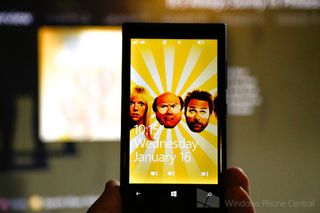 One of our favorite apps on Windows Phone is TVShow by developer Rudy Huyn (Dan especially loves this one). It last received a fairly big update in early-December when it made the jump to Windows Phone 8. That update at the time was mostly to get doublewide Tile support and improved graphics. Today it TVShow gets a proper update bringing functionality unique to Windows Phone 8.
Read on, crouton.
Windows Phone 8 has some unique features that other mobile operating systems like iOS and Android can't really replicate. Things like allowing apps to change the lockscreen and deep pinning parts of an app. Rudy has gone and updated version of TVShow brings those features and more to the table. If you update look forward to:
Lockscreen support
Voice commands
New Live Tiles
Better performance
If you aren't familiar with TVShow do yourself a favor and at least download the trial for a test drive. If you're a TV show junkie it's a great way to stay up to date on the season of your favorite show. You can get a quick overview for upcoming episodes, rate episodes, mark seen and unseen episodes, get notifications for when an episode is about to air, and much, much more.
The Live Tile is handy because it will display the number of unseen episodes and the list of TV shows for the day. That's just super awesome, I want to see your iPhone do that, but guess what? It can't. The lockscreen support is really nice too. It will cycle through images from your list of shows. Nothing puts a smile on our face faster than seeing Charlie, Sweet Dee, Mac and Dennis when we wake the phone up.
If everything you've read so far has piqued your interest in TVShows and you're keen to download, keep reading. Head on over here to the Windows Phone Store for it, use the QR codes below, or swipe to the right in our Windows Phone app to download directly.
The app is free with ads, or you can pony up $0.99 to remove those ads. It's also worth noting that the links above to this version of the app are for Windows Phone 8 only. Users running older version of Windows Phone will want to see the rest of the apps by the developer to nab theirs.
Definitely One of my Favs... A beautiful and highly functional app.... Plus Rudy was great when I made a suggestion. I give it a 10 out of 10 and of course its a must have.

I really like TVShow and PrimeTV. Both are great apps, but I think its time for us to put in a petition to MS to allow for up to 5 lock screen apps that will cycle info presented on the lock screen the way you can select notifications.. Its getting really hard to choose which one should be the only one to present information on my lock screen.

Yeah, it is difficult, but I ended up using this one as a double-wide tile because of how awesome the show art is, and keeping my weather app (I have the Amazing Weather HD beta) as my lockscreen. It is a spectacular and unique combination.

Thanks WPCentral ! You forget something! Voice command! You can now ask information to the app ;)






Som


No way! It's the second bulletin! :)

One think I hate is that I added the US show, suits. And there is no thumbnail image available for that in the shows column in the home page. Can the developer fix that? Frustrating to have blank picture among all the other beautiful thumbnails.

Cause TVRage has no thumb for This show but I Will add something to solve that next week ;)



Same goes for The Legend of Korra.

Hey Rudy...fantastic app. Any chance you might make a sister app for Windows RT(Surface) that can share your shows with SkyDrive? Would knock this thing out of the park.

Hi Rudy, Great App. But my all time new FAV show SCANDAL's background pictures are wrong. The background shows an Asian family. Could you please see if that can be fixed? Thanks and great job on this app, definitely worth the money paid :-)

Oops trolling alert. I wouldn't be surprised to see lockscreen functionality in iOS7 though (and Android 4.3), that's just how this industry works. Except Microsoft seems to refuse stealing great ideas from others.

That's because Microsoft is the "good kid" who gets caught and in trouble for the times they are bad while everyone else gets away with it.

TVShow is one of my must-have apps. I'm still rocking my HTC Titan but the app is one of the most well put together apps on the platform. The additions Rudy has made to the WP8 version is just making an already great app even better.

Wow, coulple of days ago I told him there was some lag in his app and now he already fixed it! Awesome developer.

Nice! currently trying out the free version, but the lockscreen alone would be worth the money i guess.

Really fantastic app. The only feature I sorely miss is an option to turn off automatic time adjustment with one's time zone. Prime TV has this feature and it really helps Non-US residents like myself.

I received your request, next week ;-)

I really love your app Rudy. But with the new update the app crashes when I open it on my HTC 8s. I re-installed it but that didnt work.

Thanks a lot, Rudy. Much appreciated.

PrimeTV hasn't been updated in over a year, and runs like dog sh** compared to this gem.

Installed app > added American Dad! > app crashed...
Uninstalled
Installed app > added Justified > opened show > app crashed......


Same here. It crashes when I open the app...

Wow, fast.
It works, thanks!! Really nice app :)

Crashes when i add a show, then try to navigate in said show on the app.

OK, found ! It was a problem with the Smaato ads, I disabled it, try to relaunch app in order to sync with my server to get information to not use this ad

Very interested in this app, but just wondering if there's a way that, if you add a show that is currently on Season 4, and you've seen Seasons 1-3 already, you can mark all previous episodes as Seen without having to go through them all individually? Have a lot of TV shows to add and would take ages if i have to manually do each episode of what I've already seen

Press and hold down on checkbox area...

@Duncliffe : make a long click on a episode or a season, a menu will appears with "mark previous episode as seen" or "mark this season as seen"


I have connected my trakt.tv account but I can't find any integration of trakt.tv in the App.
I cannot comment on any episode using trakt, episodes aren't synched with trakt. There are no benefits in connecting the trakt.tv account.
Am I missing something? Otherwise I will continue using wptrakt which may be simpler and not as beautiful, but at least it keeps my tv show progress synched...

Yeah that is one area that I hope he integrates more fully, would take this app to the next level then. It is still great regardless, but that would be the next big thing IMO.

Just wanted to say: AWSOME APP!
Hoping its not the latest version I have on my 7.8 custom rom Omnia, because I cant change to the full size live-tile.
Is lockscreen supported on 7.8?
Question:
It would be cool to be able to integrate the tvshow calendar with the phone calendar :)

wide Live tiles for all 7.8 device has been submitted this morning

Rudy, do you already have full trak.tv support in the meantime?
That's one feature I'm missing in this app. Last time I tried it there was no sync to trak.tv. Would be awesome to have it and would make this app everythine I need.

Agreed! I just bought TV Show to show my support, but I'd really really appreciate full trakt sync....

Yes, we need 2way Sync with trakt.tv !

My TVShow lite is crashes everytime an ad shows up on the bottom part of the page. 8x.

Working now. Is it possible to display the airing time as well as the date?

I freaking love this app! I've been using it since the last update was announced on here, and it has become one of my favorite apps alongside Package Tracker and Amazing Weather HD. Rudy has done an impressive job with this app to show just how great WP's design style can be.

Works perfectly now, NO crashes :) .
And I have to congratulate on this articles header image, its truly the funniest show made.

Fantastic app Rudy, just downloaded a trial and I like what I see. Love that you can search on youtube
for episodes.

Great app Rudy. If anything, its too cheap. Should be $2.

This app is so good. Well worth the money. I used to use PrimeTV for whatever reason, but the developer never updated it and it isn't nearly as beautiful. Also, thumbs up for It's Always Sunny.

Great app! Thanx for the tip :)

I really like this AP! Xfinity's tv grid page doesn't display well on my phone and they haven't come out with any ApS for wp8. This AP solves my problem

I hate you guys!!! You made me buy another (EXCELLENT) app.

Im having difficulty organizing my show. When i go to organize and move a show, that particular entry stays in one spot and all the other shows move. It's very strange. Awesome app, though. I love it.

A bug with Windows Phone 8 listbox, I fix that in the next update

Since it seems like Rudy is checking this thread, I'll just mention a minor thing I've noticed. The ABC show Scandal has the an apporpiate main picture, but the background picture that it shows once looking at episode information and appears on the live tile is from a different show. Minor, minor thing. It's not anything new, been that way since I got the app a few weeks ago. Best app in the Windows Phone Store.

I will analyze that, thanks

I love TVShow but it is very buggy. I've been using it for two weeks now and twice it has crashed. Now you'd think that isn't a big deal as the app is rather fast in loading. Unfortunatly when it crashes it forgets all my data! The first time i only just uploaded a back-up to Skydrive so it wasnt a big deal. The second time I had to download a back-up from 5 days before and I had to do some work to make it up-to-date again.
It is especially difficulty to select all episodes of a show you've seen many seasons of. It would be much easier if you could select complete seasons as 'seen' instead of individual episodes. For example I wont even begin to select all episodes I've seen of The Daily Show because that would take me forever. If it was per season then it would be done in a minute max.

You can long press to select all previous episodes or that season.

I think all the inage data comes from tvrage.com so I'm not sure if it would be better to address those incorrect/missing image issues directly to someone at that site, or for Rudy to do it since he knows exactly what data he's pulling from there.

Thank you very much Rudy. Your app is REALLY good and a must have for tracking shows. I appreciate your continued development and improvement.

Just wondering if you are now using the new SQL DB engine that comes with WP8?


Anybody else want an app just like this, and syncs via cloud with a Windows 8 app? I'm dying for one. Rudy, can we make it happen!? Please!

Love the app on my Lumia 800 with 7.8. Unfortunately, the latest update didn't give me the ability to pin double wide tiles. I tried pinning the app itself & individual shows. They support the normal (medium-sized) tile & the small tile but not the large tile. Also, some shows (like the US TV show Suits & the anime Dragon Ball GT for me) don't have a thumbnail and it doesn't look good while using such a beautiful app or on the Start screen. Apart from these little issues, I love the app! It's clean & beautiful. The ability to customize backgrounds is VERY nice! :)

This update was for WP8 devices only.

An update for 7.8 was also released. The description of the app (the paid version) says, "Now with Windows Phone 7.8 live tiles".

I've heard that this can only hold so many shows. Is this true? If so, how many? And do they take up much space on the phone? For instance, would there be a significant difference between tracking 10 shows and tracking 100 shows?
Windows Central Newsletter
Thank you for signing up to Windows Central. You will receive a verification email shortly.
There was a problem. Please refresh the page and try again.