Grab coupons for Indian online stores with the Couponraja app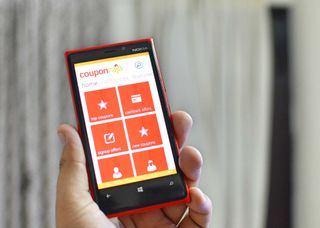 Couponraja (couponraja.com) offers coupons, promotions, and deals from over 1000 online retailers across India.
Launched in October 2011, the service attempts to be a one-stop source for big savings with minimum hassle. The company has launched their official app for Windows Phone last week that helps searching for and using coupon codes in an easy and seamless manner.
The app has a neat and modern user interface, and offers an intuitive user experience. You can redeem coupons and deals directly from your Windows Phone device instead of printing the coupons or making a note of them elsewhere. You can sign-up using your email address or your Facebook or Google account, although you can skip the step and access most features without logging in.
You can explore coupons through various categories, or browse through the top ones or new additions. The app allows you to add your favorite coupons and brands so you can check them out later frequently. You can also share individual coupons with your friends and family through the usual social channels.
Download the Couponraja app for free for Windows Phone 8 devices from the Windows Phone Store. There's a plethora of coupons and deals sites in India and it's a growing market piggybacking on the rise of ecommerce. Couponraja should get some positive mind-share and signups since it happens to be the first one on the Windows Phone Store. Grab the app and save on your next shopping, and let us know how it goes.
Yay! Now i can go on a shopping spree.

Thanks for the article Abhi! *rushing to store, wp store*

Wow! I was jealous about GROUPON app among android users! This is wonderful nw

Ohh come on India every where

Not from what I hear. Not a place you really wanna live. People take shits on the side of the road in public.

He's talkin in context of Windows Phone and its increasing demand and also the sudden increase in the number of apps in India..

Talking shit eh? Well what else other than arrogance to expect from ur kind ...

You live in a Perfect World eh? Social Life being bare to Minimum, 50+% sleep after taking Anti-Depression and Sleeping Pills? When was the last time you saw your Mom/Dad eh? Hope you know their where they Live? I could go on! Now don't look only between your 4 walls while reading my Lines, think of it as a country and talk! :)

Oh yea!! And I have heard that your country is filled with moronic dumbasses.
Oh wait... That's what I've only HEARD!! Not necessarily true rite??

That's why India made a 6 minute TV commercial to help encourage people to start using bathrooms instead of crapping in the road.

Commercials here are not longer than 1 minute+It's for only a small majority of people who don't have homes and are jobless+TBH it's for only pissing and NOT crapping that too only for males....And yeah it's better than being fucked naked on the road..Or having 2-3 husbands/wifes and then having divorces..Or disrespecting your elders and callin them by their names..Or wasting food the most in the whole world..See the condition in which you are before you point your dirty finger towards someone else..

+920 @ lienantchain n Aman2901 well said, guys, completely agree.

There might be such happenings for your region too. The only difference I think is that abhi is very active in updating such news

Oh come on US everywhere :p

Xolos wp is also on its way

That's cool app. Will check it out for sure..,

This is fantastic weekend.. The term "India" is all around wpc for days. Official apps, ecomm app sthen Indian OEMs and then shockingly awesome Cortana and now even Groupon in Indian version... Way to go .... No way any other phone can achieve this great feat within a release year... Right from wp8 to w8.1

Hi Dinesh. What is this shocking Cortana news you mentioned? Plz tell.

Wish there was a dedicated WPCentral for India. Could care less about all the India only apps.
Or at least a way to filter stuff that is only relevant to me being in the USA.

Your country is a small part of the World. Deal with it.

Ya even we need a filter from US based carriers like the verizon.. at&t..cricket..t-mobile..sprint news etc,,And even from the news regardin what basketball team Mr. Ballmer is gonna buy..
--------------------------------------
Best Solution- SCROLL TO THE NEXT ARTICLE IF YOUR NOT COMFORTABLE WITH THE CURRENT ONE!!

World is not usa contrary to what jerks like u think.deal with it..

I don't understand what's wrong in posting such news. If you don't want to read it, just skip it

If WPC starts to cover about all Indian apps then WPC will be flooded!!!

One situation where I regret using word flow.

The name is Couponraja lol :D

seems like a South indian movie name...

Raja Is King.. Coupon Raja means King of Coupons.. Any Mistakes in that :P ..

Is insulting a country allowed here like that seraph guy does? Well not really a good precedence to set.

2% moron are in every country,, community,,society and now even on WPCentral also!!!!!

Coupon RAJA, good app and service, one moer in Market now, Offercorner.in
Windows Central Newsletter
Thank you for signing up to Windows Central. You will receive a verification email shortly.
There was a problem. Please refresh the page and try again.