Grab the Fallout 4 Season Pass before it jumps up in price, with an extra 20% off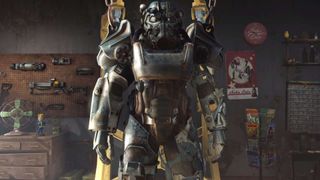 It has been announced that the Fallout 4 Season Pass will jump up in price, from $29.99 to $49.99 USD (£24.99 to £39.99). The reason being is that Bethesda has laid out more ambitious plans when it comes to the DLC pipeline. While this means more content is being planned for the post-apocalyptic wasteland, you'll need to fork out more for it upfront.
Luckily, it's still possible to pick up the entire Season Pass on PC for $29.99, before the price increases to $49.99 on March 1. As an added bonus, should you purchase it from Green Man Gaming, you'll be able to enjoy a further 20% off the original listing price with the code FEBURY-SVINGS-20PERC. Not a bad deal and one we urge you check out if you've yet to make the plunge and are interested in paying upfront for future content.
Simply hit the link below, add the Season Pass to your cart, check out with the above coupon and you'll then be set for future Fallout 4 DLC without being hit by the price increase. Do note that this is for the PC (Steam version) of Fallout 4.
See at Green Man Gaming (opens in new tab)
Rich Edmonds is Senior Editor of PC hardware at Windows Central, covering everything related to PC components and NAS. He's been involved in technology for more than a decade and knows a thing or two about the magic inside a PC chassis. You can follow him over on Twitter at @RichEdmonds.
You should probably state that this is PC only.

Jeez, even I missed that. Well spotted, chaps.

Yeah I nearly fell for that one too! Only spotted that just before I clicked on the last step!

Holy crap, that's the same price as the game itself.

Dlc and VC are destroying gaming industry.

Feel free to pay $60 for less than ten hours worth of campaign on a different title.

No, a generation that thinks that games are permanently worth only £40 regardless of the manpower needed to actually make them is what's destroying it. If games were allowed to rise in price like everything else then developers wouldn't need to rely on DLC.

Based on what evidence exactly? For as many games that it's done poorly I can probably cite an equal amount where it's done properly. Remember back when all you got was the game and that was it, never anything added to it? or are you too young for that?

Correct. Boycott all DLC.

Boycott Halo 2, 3, 4, 5, etc. too? I don't think developers of quality games care if people who don't value their time don't purchase their games. Reviews by appreciative players will sell games to the majority who value their own time and money.

Lol yeah good luck with your 1 man picket line. Posted via the Windows Central App for Android

Completely optional add-ons are destroying the industry? Nah I don't think so. Posted via the Windows Central App for Android

Preplanned marketing ploy. Clever. A new twist on an old stunt.
Not actually seen any DLC in years that was genuinely worthwhile.

Then you haven't been paying attention. Dying Light just released a huge DLC area that's the size of the map from the entire base game and added several new gameplay elements. Whether they're worthwhile to you is up to you, but some great for-the -money packs definitely exist.

Right. And that's I got the Following DLC for Dying Light, but I'm gonna skip on the season pass for FO4.

I'll wait for the complete edition on a steam summer sale. Not in a rush.

+640
But I'll also be waiting for a complete version on the One as well.

Do people pay for PC Games? PC Games DLC?? Singleplayer PC Games DLC???

Yes, because believe it or not we actually have jobs. The last time I pirated a game was around 16 years ago.
Windows Central Newsletter
Get the best of Windows Central in in your inbox, every day!
Thank you for signing up to Windows Central. You will receive a verification email shortly.
There was a problem. Please refresh the page and try again.