Grab these awesome Live Lock Screen custom wallpapers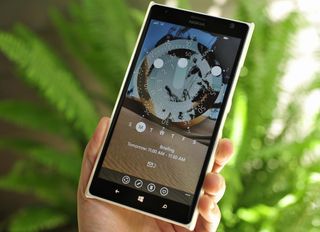 On Friday, Microsoft released the first beta of their Live Lock Screen app for Windows Phone 8.1. One of the neat aspects of the app is the ability to use custom wallpapers. Although adding your own image is in and of itself not groundbreaking, the prospects of creating images that leverage the unique clock designs is certainly enticing.
In our forums, some Photoshop enthusiasts are hard at work creating numerous backgrounds for the different clocks. A few members are posting the bare image plus the after shot to show how it looks in action on the Live Lock Screen, and there are a few gems that you may want to grab.
Even more, we would love if you have some image-creation skills to hop in that forum and show us what you got. The WPCentral community will certainly be thankful for your contribution. Simply log in to see the images and download them to your phone, add your own or if you have a great idea (but no skills), maybe suggest one for someone to make one?
WPCentral Forums – Kickoff new live lockscreen wallpapers!!
Hop into the thread above and let us see what you come up with to share!
Windows Central Newsletter
Get the best of Windows Central in your inbox, every day!
Daniel Rubino is the Editor-in-chief of Windows Central, head reviewer, podcast co-host, and analyst. He has been covering Microsoft since 2007 when this site was called WMExperts (and later Windows Phone Central). His interests include Windows, laptops, next-gen computing, and for some reason, watches. Before all this tech stuff, he worked on a Ph.D. in linguistics, watched people sleep (for medical purposes!), and ran the projectors at movie theaters because it was fun.
Are you asking me or telling me?

just telling and asking... maybe, maybe not.. :p

Yes, it's great people are doing this

I dont get the text visible in the Tokyo theme. [The one in the Very first Image at the top]. Just circles., Is there a problem with my handset L520. ?!?

Man some of the images are just pure brilliant...got a few....goong in again...

And guess what? It does work with 512MB devices, which is a relief since Microsoft previously said it would require 1GB of RAM or more at launch. Enjoy! MS know nothing...

We know we know but do they know they don't know?

Microsoft knows u didn't know that u thought Microsoft didn't know and now those who didn't know knows this what most already knows. So we know.

Cool stuff I got mine as redbull theme lol

Still not much more then a gimmick IMO.. It really serves no purpose and at the same time removes useful application of the normal startscreen. Had it on for a day or so, then removed it as it's really nothing anyone will actually need or use..

I share the same opinion. Once you're used to looking at all the info of awesome lock, it's impossible to lose it.

Awesome lock(and lockmix et al) is far too cluttered and busy. If you favour function over form, then the Live lock screen is probably not for you. But I LOVE the clean, minimal design and will do without a few weather readings(or whatever) I just hope Rudy and the boys fix the lag quickly

Cluttered? The apps are customizable, they are what you make it. If it's cluttered to you, you made it so.

You can only position them in so many places and cant resize everything. Believe me, I tried. Didn't like the results at all

Cluttered is different from position, and yes, they could add more positions and animate it now... But different strokes...

I was under the impression that these APIs would be opened up for developers so awesome lock could use these designs or make their own... I thought these were just demonstration lock screens to give a sample of what is possible.

We need gimmicks. We love f gimmicks

My lock screen shows "Resuming..." on opening it. Ridiculous as well as hilarious!

Just activate and deactivate Kid's Corner. It'll work normally again (it's a known bug)

I never saw a use for the one that cut some of the time off. With the pics of the buildings it actually makes sense now lol! Well done to the creativity!!!

I love that building wallpaper with the 3rd theme...

I'm most impressed with what people have done with the analog clock animation so far. It's beautiful with the right background

Great piece of art, now the new app seems worthy

I'm loving that thread and checking out regularly for new backgrounds. Especially like those backgrounds for Pocket type theme. We have some amazing talent here in our community..

I'd love to use some of the backgrounds with the Veneteasoft app. Have the API's been released yet?

Not yet.. And I don't think they'll release it soon. You know MS always likes to play The Waiting game with us ;)

Ask to @Belfiore.. All the dev community is waiting for this...
I now have 10 AWESOME new themes, but wont show them until final API is available ;)
Personally I uninstalled the beta as my 930 battery life passed from an entire day to 10 or less hours :/

Your version of the animated lock screen looks so clean and polished. I hope it won't take to long to get the functional app on the Store. Amazing work, even for a demo stage.

Live lock screen keeps bugging out for me the app is always crashing For example last night I left my phone to download a file on uc browser well the file finished downloading and the screen locked but when I slid it up to enter my password the password field was blank and showing the screen underneath. I ended up having to restart the phone to use it.

Cant stop showing off! :P My mates are jealous.. :D

I really didn't like the new lock screen app ..its buggy and there's only one good design ..

I'd reconsider using it again once it comes out of beta. I ran into way too many bugs and glitches. Plus performance was a little slower than expected. Also not sure how useful it will be in combination with glance backgrounds. But I'd be a little more enticed with some nicer backgrounds for sure.

what does glance backgrounds have to do woith anything?

With glance it's almost like having 2 lockscreens.

kinda? i dont see how it has anything to do with this app, its not like they are in anyway connected

I never said they were connected. Lock screen: Displays time, date and missed notifications. Glance: Displays time, date and missed notifications. I'd say they're similar in many ways.

Still don't see why a lock screen needs to look good with a glance screen?

I said I would be mode enticed to use it once some nicer backgrounds are around for it. Seems like my comment really bothered you.

How about solar system? :D

You've got an awesome idea mate!!

Heck yeah! I would love to see that. That might make me reinstall the app. Might....

Some damn talented people in our community, thanks for keeping us awesome.

Can someone just please make an app and have all these images in one place. Nice work

Still a useless downgrade until it allows me to put the weather somewhere on the screen. I'll stick with Amazing Weather HD.

Is there an app that lets you put the weather and use your own lock screen picture? All the ones I've tried so far use their own image.

Just about every weather app out there lets you use pwn image. Try amazing weather.

lock mix in the app store..

I would rather they have just put it in wp8.1 update 1 than to create a separate app for it. I don't understand the reasoning behind this.

I could be wrong, but I think the point is that the APIs are available for devs to use. Hence why Rudy did it and not MS. Again, I could be wrong, but that is how I understand.

how about improving wpcentral app wallpapers section with these and other user submitted ones?

Great! :) I'll surely post some wallpapers if I create some...

It was consuming my all battery so uninstalled

My phone is on standby for 5 hours to know if this thing will eat a lot of juice. After 5 hours its still on 100%

Has anyone downloaded them all? Would be great to get a OneDrive link to them. :)

I want a cortana lock screen, she can walk around and do handful things like reminding appointments, my health analysis... And ready to talk when being asked, lol maybe i ask too much

It was consuming my all battery so uninstalled

Yeah, we heard you the first time...

I want that coffee cup wallpaper..?

Post the pics here as attachments so we don't have to go to forums

...and when new ones become available you want me to constantly update the file for you?

Cool stuff but I think my current lock screen setup will be tough to beat: Bing image in the background, Amazing Weather HD on the top foreground with a 12-hour forecast and then calendar notificatiosn on the bottom foreground. Just, really convenient.

How to download these wallpapers.. I didnt get any link.

Check the forum link, provided.

Is it just me or are the clock wpapers broken. They don't work like they should...oh well.

Trying to find that background that went with the analog lock screen with the numbers used in the article but not finding it in the forum.

All of these awesome wallpaper are for 15:9 . Too bad for 16:9 like me :((

Sorry. I only have a 1020 so that's my excuse for my wallpapers. :(

If you can provide me with a screenshot of your live lock screen with both the 3rd and 4th lock screen types in use I can make some for phones with your screen size.

IM me them via the forums

I also prefer Lockmix, at least for the moment, as I can display more info with it. On my screen, I have the weeks weather, my next upcoming appointment, an "in case of emergency" contact number and also a countdown to a specific event such as a holiday (currently set to countdown to curry night with the boys). Of course the time and date is shown in the usual way along with notification icons for missed calls, text alerts and no. of unread emails etc. The app definitely has potential and I do like it, but needs to have the option to display more information.

The designs are awesome now whats left is for tbe app to improve the picture quality for the lockscreens

Absolutely great ideas, looking forward to more

Regardless of personal opinions whether it is gimmicky or not, I have to say that people are really creative to make wallpapers that takes advantage of the app.

Lumia 930 looks good with everything.

These are fantastic. I uninstalled because it was lagging to the point of being unusable but now I feel like downloading it again.

Help!! How do I get them to fit properly on my L1520?

Provide me with a screenshot of your lockscteen using the 3rd and 4th live lockscreens and I can adjust them accordingly

Okay how do u create your own lockscreen especialy for the watch circle

WOW. Now that's Awesome !!

Was just about to enable this app until it warned me that it would disable "kids corner" any knowledge on how to keep kids corner but also use this app?

have not seen any ideas posted but I am sure they are working on it

Where do I get the wallpapers?

Cool use of backgrounds! I'll try one of these once the live lock screen doesn't make unlocking the phone too slow.

What is the name of the app

Very clever backgrounds shown here, they do add style and just take the initial ideas to another level. I do want this on my 930 but waiting for improvement in function of app then its mine....

It's a really cool app, but also really laggy, I unnistalled it and now every time I unlock my phone there's a few seconds of "resuming" before my start screen appears. A friend with a Lumia 820 had the same problem (I have a 1020). Now I really regret having downloaded the app :/

All these images actually don't fit with Lumia Icon for it has a slightly different aspect ratio and probably resolution.

I can fix them if someone provides me with a screenshot of their 930 screen using the 3rd lock screen and the 4th lock screen.

Can anyone make something of this?
http://kikkidu.com/wp-content/uploads/2011/03/ball-maze.jpg

Or maybe a model of our solar system. At least those close to the sun!
http://edu.kde.org/kstars/feature/SolarSystem_thumb.png

has anyone tried the lock screen with the circles going round like a clock ? If so why no numbers in little balls?

I'd love to as soon as AT&T gets off their ass and gets 8.1 out to their 1020 customers. No transparency. No information. No timeline... just making us wait and maybe hoping we'll upgrade to a new phone in the meantime. Got to say, Apple has the right idea... they decide; not the telecoms.

The Eiffel Tower looks really nice on that circular clock!

http://www.windowsphone.com/s?appid=ecfdb7a5-43bf-4210-98ba-2096385b5956

Where can I get these wallpapers?