Groove UWP is now live in the Xbox One Preview, here's some first impressions
Groove UWP is now live in the Xbox One Preview, bringing some background audio goodness.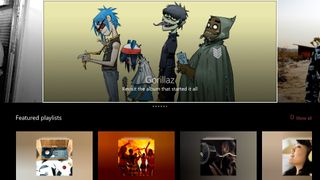 Available initially to testers, the Universal Windows Platform version of Groove will eventually roll out more broadly to those who have updated their consoles to the Xbox One Summer Update. Until then, here's a quick rundown of how it works.
There's no mouse-like joystick cursor in Groove. Instead, it uses element snapping similar to Movies & TV and other Microsoft-produced apps on the console. The main screen shows featured playlists, recent and most popular content, as well as Groove's new mood and activity-based playlists.
In this version, some of the elements have a square box, perhaps indicating a missing icon. This is a preview version after all, and it'll be refined further before heading out to the public.
Pressing the menu button on your controller opens the hamburger sidebar, which gives you access to your personal content. You can also just move your joystick to the left of the screen until it opens up the main menu.
Everything functions exactly how it does on the PC version, save for the fact that selecting a song automatically puts the app into full-screen mode, which plays a slideshow of photographs of the band or artist in question. The icons for media controls are currently missing in this version, but they'll no doubt arrive in the next update.
You can cycle through tracks by pressing the right and left bumpers, or fast forward and rewind using the triggers. The 'A' button selects, the 'B' button reverts to a previous action like in other UWP apps, 'X' stops music entirely, and 'Y' allows you to search from anywhere within the service.
Almost every feature available on the Windows 10 PC and Mobile version of the app is available. Background audio, Groove Music Pass, OneDrive integration, Radio, Playlists and "Your Groove" all work as expected.
Image 1 of 2
Fans of the previous version of Groove might be disappointed to hear that music videos appear to have been removed. I tested the app with a few albums that I know featured music videos previously to no avail. You can't download music for offline playback either. It seems that Groove on Xbox One will remain an online streaming service, at least for now.
Note: If you're in the Xbox One Preview, you will need to update Groove to get this working. Press the menu button while highlighting Groove in your Games & Apps to get it running. If you have the previous version of Groove installed, you might have to uninstall that first and then reinstall it from the 'Ready to Install' list to obtain the correct version.
If you're in the Xbox One Preview, jump on Groove and let us know what you think! Check out the links below for more information on the Xbox One Summer Update and Groove Music.
Xbox One Summer Update
Windows Central Newsletter
Get the best of Windows Central in in your inbox, every day!
Jez Corden a Managing Editor at Windows Central, focusing primarily on all things Xbox and gaming. Jez is known for breaking exclusive news and analysis as relates to the Microsoft ecosystem while being powered by caffeine. Follow on Twitter @JezCorden and listen to his Xbox Two podcast, all about, you guessed it, Xbox!
WOOT. I hope music videos come back, but I'm SO happy to see this launch!

Agreed, this is a really great first version though.

No news about anniversary update?

I you search music in the regular store, the old groove app pops up and videos are still there Posted via the Windows Central App for Android

The old Groove wont launch. It says it "requires an update" and once "updated" the new Groove is back. Need videos back asap.

Do you need still groove music pass to listen to the albums you bought?

Not if you own them, it has a purchased music filter, I presume that's what you mean?

Yeah, thanks so much. I hated that the other one was locked behind the music pass.

Ah nice. Yeah this one works exactly the same way as PC and Phone, save for offline playback.

Same Here ... its work Well for me too Recently Posted Mouth talking App

Neat, i just started a trial, and it's great so far.

Music videos are the number one reason I have had a Groove/Xbox Music subscription. It is great for entertaining purposes. If I recall, it was missing with XBO launch but they brought it back. If its missing, I won't come back.

I do agree with this. My kids love watching music videos and it's one of the main reasons I use Groove. I do hope they bring them back before launch.

If you search music in the regular store, the old groove app pops up and videos are still there Posted via the Windows Central App for Android

I expect the music videos to be brought back when all versions are updated with that feature. Imagine your Groove with music videos.

If you search music in the regular store, the old groove app pops up and videos are still there Posted via the Windows Central App for Android

Thing is music video feature isn't even new at all since it was even available on early days of Xbox Music, even Zune I think. They really have to return this feature. Also I hope that they will not stay with this approach being Groove only online music streaming on Xbox One. We know they want it to be an alternative music streaming service from Spotify. Groove has to be an excellent music streaming service and excellent for offline music player.

Used Your Groove's playlists this past weekend, even offline. Friends were impressed. No cell coverage there so no access to their iPhone and Android cloud music. The Kittie, Babes in Toyland, Portishead mix was the star.

Does this version of Groove allow local media playback? I really hope so, I can't stand to use that feature-stripped joke they call "Media Player."

Do I have to have a music pass for it to sync my music on OneDrive? Posted via the Windows Central App for Android

No. You can pay your music in OneDrive for free

I was only asking because my songs aren't popping up when I go to my songs and such. Only the ones I bought show up, not one's from OneDrive. Posted via the Windows Central App for Android

Go to your settings. You'll see "Sync my music" at the top. If it says couldn't sync, just quit and restart the app.

I am doing that, and it says sync complete, but still not showing up. Must be an issue with my music in OneDrive. Posted via the Windows Central App for Android

I wonder if my new playlists and songs added on my PC will sync... because they sure don't on my phone.

Now chase and MSN Posted via the Windows Central App for Android

You want a Chase app on your Xbox?

Yes I check my account on my phone when watching tv, so why not from my xbox which is connected to my cable box ? Posted via the Windows Central App for Android

Just a note; you are indeed correct about the boxes. It looks like they're using font icons that aren't available on Xbox.

Quit and restart the app, they are there.

I wonder if Windows will get a "big picture mode" for a similar experience with htpcs

It already has the full screen experience at least.

Yeah to be more specific it would be nice if we can control the ui with the xbox controller

Ah, maybe one day. Would be cool now the new controller had Bluetooth too

Listening to Swans, good choice sir!

Thanks dude, if you buy the latest CD, my name is in the credits. c:

Whaat? I'd like to hear that tale.

Another Xbox One feature bites the dust. If they don't bring back music videos I'm cancelling my subscription. I had a Zune Pass/subscription for a decade, very disappointed at the constant feature regression on Xbox and MS consumer products.

If you search music in the regular store, the old groove pops up and videos are still there Posted via the Windows Central App for Android

If there is enough complaints from the Xbox One preview users, there might be a change they will bring it back. Hopefully they will soon, though realistically it may take a while maybe couple of updates before it returns. They can't stay regressing features like this forever. Seriously though, they really have to avoid removing stuff that was good and gives value to their own products and services. Things like this mostly didn't even exist on other services or products and this what makes MS stuff unique in some ways, but unfortunately they're not afraid removing those things ending up being "me too".

It's not feature regression. They don't take the old app and remove features. They are building new apps from scratch, they can't just turn on all the features at once. But I do agree, video needs to come back, that is the main reason I subscribe (and jus renewed it yesterday in fact) and the only reason I bought a second xbox one for my kitchen..!!

You'll need to make quite the ruckus to get videos back. They left groove on PC and phone long ago.

Actually it's not difficult at all to retain features that were in the old app if they actually wanted to keep them. Especially given this is a confidant that has worked in software for over thirty years.

Can't even get the free trial without a credit card -.-

This is a really random question but does this app have achievements?
The old Grove app had 0G achievements so I refused to use it because I only want games on my GAMERcard.
Just wanted to make sure this was a new app and not an update of the old one!

UWP apps are currently unable to fire achievements.

OneDrive sync not work for me..

Quit and restart. Sync again and wait.

It's possible your OneDrive music folder is in the wrong place. My wife had the same issue and we found her Music folder in her Pictures folder. If you make a new music folder it will not be recognised as "the" music folder. If you log into onedrive and type https://onedrive.live.com/?id=music into the address bar and it will go straight to the correct folder. Once you've found the correct folder, you can move it anywhere you like. We moved it to the Main OneDrive directory and it works fine. Then just make sure all of your music is in there! Also be sure you are signed into the same MS account through all the platforms.

Not working. On PC work great but on Xbox One not working

Needs to have video, that is the main reason I subscribed to xbox music years ago. And also the reason I bought a second xbox one just for the kitchen...!!

I've heard tell of this thing called YouTube that has video streaming capability. They even have an Xbox one app!

No more music video??? Are they kidding us??? Posted via the Windows Central App for Android

Post the recent update, i have not seen any universal apps on my XBOX or in the XBOX one store. I have read news about the new Netflix, MSN weather, Camera..etc, but do not see any in my store. Am i missing anything, or is it the case for everyone? Please guide me if there is a different way. FYI.. I have tried searching a few times in store, going to Apps and games section to try update or install but no luck.

The icons will appear if you quit and restart the app. That also fixed the syncing issue I had at first. Just FYI.

Is the new UWP app as fast as on pc & mobile? Traditional app for Xbox one is frustratingly slow & unresponsive.

Man, I'm bummed to hear that music videos are being removed. It was one of the more innovative features of the Groove app on Xbox, and I had hoped to see it go the other way and become available on either UWP devices. I felt like it was a true differentiator that made the app really compelling experience on Xbox. I was never really clear on where they were getting the video content, but it never seemed to be widely available outside certain genres. It also had some rather sophisticated interactions with parental controls on a shared family console. But I would assume that it just required too much work to integrate into the UWP app or would be untenable to maintain and grow across the ecosystem. Maybe they'll figure out a way to bring it back eventually.

Do voice commands work via Cortana? Can you navigate through the app with her in a hands free mode? I'm having a problem with the new UWP Netflix app doing this. Can someone confirm?

Microsoft needs some type of remote app to wirelessly do things via phone or other device like control music, etc

Maybe something like SmartGlass?

Or the Xbox App... That's a great remote for Xbox One

They should add the music videos as an option for ALL Groove clients, rather than just taking it away from the Xbox.

Not surprised that videos are gone since this was never a feature on the PC or Mobile version. I do hope they are added back and offered on all platforms. But I do like what I see so far.

Any of you guys know if the groove music pass can be shared among the different users of the same xbox? Like gold is...

I hope it doesn't crash as often as Groove on PC, I stopped using it because I couldn't go an hour without having to reopen the program, kinda embarrassing when you are entertaining guests.

Crap, wife just sent a text complaining that the music videos are gone from Groove on XBox. They realy need to bring this back.
Windows Central Newsletter
Thank you for signing up to Windows Central. You will receive a verification email shortly.
There was a problem. Please refresh the page and try again.